CRIG Podcasts
From DigiRepWiki
On November 8th 2007 CRIG had a series of teleconference chats. The intention of these chats was to begin a discussion between members on how repositories might be improved (bluesky thinking). These chats are podcasted below with a mindmap of the chats as they unfolded. We ask that you take time to blog about one of the podcasts to help spread the word on the importance of repository improvement.
Please use the following tags in referencing these podcasts and mindmaps:
JISC
CRIG
Podcast
Mindmap
Audio Files
Individual files for blogging and listening below on this page (along with mindmaps!)
Audio files and archive formats at the Internet Archive
Chats
Our organising principle / metaphor for these chats has been "peeling the layers of the repository onion" or rather if a repository was a car how could we improve it? Starting under the hood / bonnet there are the separate pieces that make up the various engine parts like clutch, combustion chamber, and exhaust (repository APIs: search, get, put). There is then what you put in the car to make it run, be that petrol, bio-fuel or electricity (repository objects: IMS-CP, MPEG DIDL, DC, etc). There is then access to the car; how do we know who we want to drive the car and what are the methods of access: keys, driver's license (repository authorisation and identifications). The car must be able to accommodate various users like families, workers and salesmen (scenarios: researcher, teaching/learning, administrative). The "repository car" must be able drive in its environment on the left and/or right hand side of the road maneuvering various obstacles like roads, hills, dirt, snow (repository ecology). And finally, the car must be interoperable with other services like parking lots, bridges and ferry boats (other services: VLEs, OPACs and Interfacing Tools). Accordingly, as we peel the layers off of our repository car we begin to see how each must be innovative in their own application but also conform to the onion as a whole. <-- think we could get McLaren as a sponsor? ;)
Search in Repositories
Podcast Audio 14.3M VBR.MP3
chat leader: Martin Morrey; chatters: Rob Sanderson, Mike Taylor, Scott Wilson, Jim Downing, Malcolm Moffat and Ross MacIntyre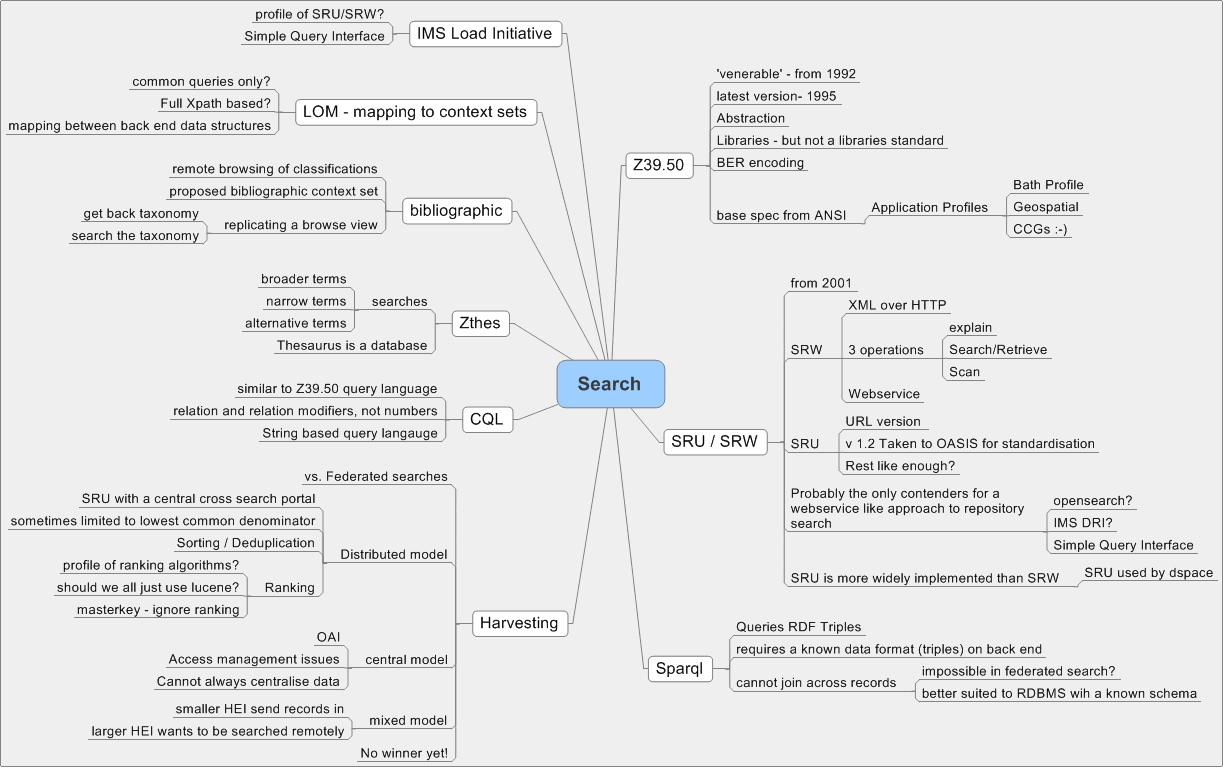 Comments: the discussion on federated search seems to have got split between SPARQL node and the harvesting node. Specifically, SPARQL can join across records. I think the point was that joining across records is difficult in federated search (so perhaps we should be excluding it from our thinking...)?
Get and Put within Repositories
Podcast Audio 13.6M VBR.MP3
chat leader: Julie Allinson; chatters: Stuart Lewis, Jim Downing, Martin Morrey, Richard Green, Chris Gutteridgea and Richard Jones

Identification
Pre-chat
Audio (MP3.VBR)[3]
chatters: Jim Downing and Simon Mcleish on the FAR project
Identification chat
Podcast Audio 14.7M VBR.MP3
chat leader: Jim Downing; chatters: Simon Mcleish, Paul Walk, Henry Hughes and Joss Howlett

Comments
Object Interoperability
Audio File 13.8M VBR.MP3
chat leader: Mahendra Mahey; chatters: Richard Jones, Richard Green, Chris Awre, Phil Cross and Brian Matthews

Repository Scenarios
Audio Files 14.3M VBR.MP3
chat leader: Les Carr; chatters: Lorna Campbell, Peter Millington, Peter Burnhill, Chris Awre and Richard Green

Repository Ecology
Audio File 12.6 VBR.MP3
chat leader: R John Robertson; chatters: Mahendra Mahey, Phil Barker, Cormac Connolly, Philip Hunter, Neil Jacobs and Les Carr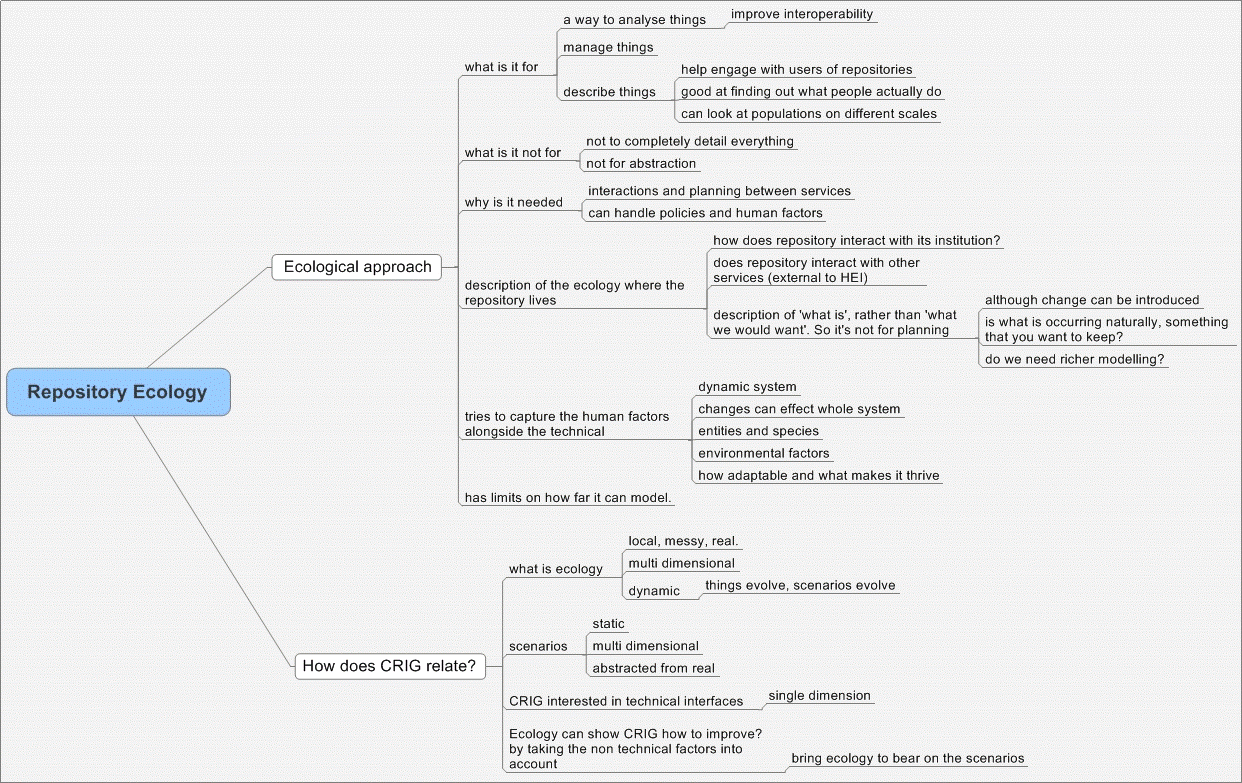 Other Services (interfacing with repositories)
Audio File 13.2M VBR.MP3
chat leader: Lorna Campbell; chatters: Howard Noble, Chris Awre, Simon Coles, Brian Kelly and Rachel Bruce