Newsletter Issue 21 - December 2009
It has been a packed year for UKOLN staff and we hope to bring you an overview mostly of three aspects of their work: firstly looking forward, some of the projects that UKOLN will be undertaking in 2010; secondly, some highlights on most important work that has taken place over 2009 as well as a round-up of most recent activity. We wish all readers of Focus on UKOLN the very best for 2010.
Open Science at Web-Scale: Towards Research 3.0?
In the past decade, we have been witnessing continuous and potentially transformative changes in the research paradigm affecting both scientific research methodologies and also research in the arts and humanities. These changes include a rapidly increasing deluge of data from highly computational science at new levels of scale and complexity, but also a tangible socialisation of science practice fuelled by social Web platforms and tools. Whilst this trend is proceeding much more slowly, it is gathering pace, illustrated by new publishing modes for the outputs from research projects and a more collaborative "team science" approach.
A major new UKOLN/DCC Report, Open Science at Web-Scale: Optimising Participation and Predictive Potential, was published in November 2009 which synthesised a wide range of themes, initiatives and innovations associated with Open Science. The Report unpacks "openness" and presents it as a continuum, where both access (sharing data) and participation (collaborative partnerships) are essential ingredients in an open science environment. At the far side of the continuum is citizen science where the public engages with scientific research practice and makes valued contributions - perhaps as collectors of data, perhaps as data curators - and examples are given to illustrate the potential. However, we need new ways of attributing, recognising and rewarding these more open and data-centric contributions to the knowledge base.
Of course, these transformative changes in research practice have significant implications for our institutions and for the research community. They also provide great opportunities for libraries and information services in terms of new data informatics roles, new skills and new curricula to provide capacity and capability to support the data curation effort ahead.
The Report is positioned as a Consultation Document and was launched as a cornerstone in the JISC Research 3.0 Campaign. Liz Lyon gave the Closing Keynote at eResearch Australasia in Sydney in November, and her slides are linked to the Report.
Further Information:
The report Open Science at Web-Scale: Optimising Participation and Predictive Potential
http://www.ukoln.ac.uk/ukoln/staff/e.j.lyon/publications.html#november-2009
eResearch Australasia 2009: Closing Keynote slides
http://www.ukoln.ac.uk/ukoln/staff/e.j.lyon/presentations.html#2009-november-australasia
21st Century Public Libraries Serving Digital Citizens
December 2009 saw a flurry of responses to the DCMS consultation document Empower, Inform, Enrich which provides a collection of essays about the modernisation of public libraries. In parallel with its publication, a Local Government Association/MLA Conference was held in London which featured a high-profile selection of speakers including Margaret Hodge MP, Minister of State for Culture and Tourism. Liz Lyon and Dame Lynne Brindley spoke in the session devoted to The Digital Future for Libraries towards the end of the day and posed some critical challenges to the sector.
Public libraries need to be positioned to engage fully with digital citizens who use the Web as a vital and integrated part of their daily lives, not only for work but also their leisure, culture and education. Digital citizens will be connected on the journey to work, may work remotely and will remain connected in their leisure time: how will public libraries respond to these changing patterns of behaviour?
Well here is one example: the District of Columbia Public Library was the first US public library to announce an iPhone app which enabled users to search the Library CityCat catalogue on their iPhone. Some recent media commentary suggests that the Mobile Web will be a key development area in 2010. Publishers, such as Time Magazine, are exploring ways of making their content more accessible to mobile users and the concept of the "Appgazine" may be one way of achieving this: delivering a magazine as an application for a handheld mobile device.
Public libraries can use Social Web technologies effectively to build communities, encourage participation and promote local history activities, such as the Yarra Plenty Library Local History Blog run by Liz Pidgeon, the Local and Family History Librarian. There are also exciting new opportunities for creative public libraries: we are seeing a growth in citizen science activities such as GalaxyZoo (astronomy) and the Audubon Society of Portland Christmas Bird Count 2009 (ornithology) which use the Web as an interface to engage the public. Will we see enterprising public libraries positioned as "citizen science hubs" in the future?
Further Information:
Serving Digital Citizens: Public Libraries in the 21stC?
Slides of presentation by Dr Liz Lyon, Director, UKOLN, University of Bath
http://www.ukoln.ac.uk/ukoln/staff/e.j.lyon/presentations.html#2009-12-14-LGA-london
DCMS publication Empower, Inform, Enrich - The modernisation review of public libraries: A consultation
http://www.culture.gov.uk/reference_library/consultations/6488.aspx
District of Columbia Public Library's Online Catalog, CityCat
http://citycat.dclibrary.org/
Yarra Plenty Library Local History Blog
http://yplocalhistory.blogspot.com/
Galaxy Zoo 2
http://www.galaxyzoo.org/
Audubon Society of Portland Christmas Bird Count 2009
http://www.audubonportland.org/local-birding/christmas_count
I2S2: Infrastructure for Integration in Structural Sciences
The Infrastructure for Integration in Structural Sciences (I2S2) Project is funded under the Research Data Management Infrastructure strand of the JISC's Managing Research Data Programme, with a duration of 18 months (October 2009 to March 2011). The project is led by UKOLN with partners at the Universities of Southampton and Cambridge, the Science and Technology Facilities Council, Charles Beagrie Ltd and the Digital Curation Centre.

I2S2 will identify requirements for a data-driven research infrastructure in "Structural Science", focusing on the domain of Chemistry, but with a view towards inter-disciplinary application. I2S2 will develop use cases that explore perspectives of scale and complexity and research discipline throughout the data life cycle. Two research data management pilots based on the use cases will examine the business processes of research, and highlight the benefits of an integrated approach. Both pilots will address traversing administrative boundaries between institutions to national facilities as well as issues of scale (local laboratory to national facilities, DIAMOND and ISIS respectively). Pilot 2, in particular, will apply the approach to Earth Sciences and demonstrate the benefit to scientific disciplines other than Chemistry.
A key component of the infrastructure will be a harmonised Integrated Information Model to include all stages of the Data Life Cycle which will build on the work started in the eCrystals Federation Project in Work Package 4: Repositories, Preservation and Sustainability. A "before-and- after" cost-benefit analysis will also be performed using the Keeping Research Data Safe (KRDS2) model, which will be extended to address inter-disciplinary requirements in I2S2.
Further information:
I2S2 Project Web site
http://www.ukoln.ac.uk/projects/I2S2/
eCrystals Federation Project, WP4
http://wiki.ecrystals.chem.soton.ac.uk/index.php/Work_Package_4:_Repositories%2C_Preservation_and_Sustainability
The ERIM Project
UKOLN has once more joined with the University of Bath's Innovative Design and Manufacturing Research Centre (IdMRC) to work on a project dealing with engineering-related data, following its involvement in the EPSRC/ESRC-funded KIM Project. The Engineering Research Information Management (ERIM) Project is one of six projects funded by the JISC's Research Data Programme under the theme of data management planning in Research Council-funded projects. It will devise and implement a data management strategy for research data generated by the KIM Project and other EPSRC-funded research at the IdMRC, in line with good practice established in both the digital curation and engineering communities.
UKOLN is providing one of the three researchers working on the Project, which runs from October 2009 to March 2011. The initial phase of the research will identify good practice in respect of data management planning, and pick out six research strands as case studies for detailed investigation. Later stages will examine the opportunities and benefits that exist for re-using and re-purposing datasets and related information produced by engineering research. The interplay of technical, legal, social and contextual barriers to reuse will be of particular interest. Finally, the Project will devise, implement and test a research data management approach and infrastructure, and use this experience to make recommendations to other research centres working in related domains.
The first outputs of the Project will be delivered in April 2010.
Further Information:
ERIM Project Web site
http://www.bath.ac.uk/idmrc/erim/
ERIM Project page on UKOLN Web site
http://www.ukoln.ac.uk/projects/erim/
Who's Who, and Why:
Mapping the UK Research Landscape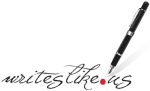 Starting from discussions held during 2007-2008 with Ana Alice Baptista of the University of Minho, Portugal, UKOLN has developed a prototype system that aims to map out researchers and their research interests and partnerships using a combination of formal metadata extracted from institutional repositories and the data held within them, as well as informal metadata collected from social tagging services around the Web. This prototype, writeslike.us, was developed as a JISC Rapid Innovation project lasting six months from an initial discussion during the DC Social Tagging workshop held at ElPub in Milan during June 2009.
Despite the turmoil of the past months, the impact of swine flu and of the worldwide financial crisis on international travel and workshop plans, the project has produced not only a functional prototype, but also a series of datasets that will be directly reused as a source of statistical data within other UKOLN projects such as FixRep. In addition to the publication of research aspects of the project, selected datasets will also be published directly on the Web as linked data for reuse by the wider community. For example, a large list of education and research establishments worldwide was compiled using a combination of data gathered from crowdsourced resources such as Wikipedia, Web crawling, and existing datasets. We expect to trial the prototype in various contexts within the next few months.
Further Information:
Writeslikeus project page at UKOLN:
http://www.ukoln.ac.uk/projects/writeslike.us/
Writeslikeus prototype
http://writeslike.us
Writeslikeus source code
http://code.google.com/p/writeslikeus/
FixRep : Enabling metadata triage
http://www.ukoln.ac.uk/projects/fixrep/
New Content on Cultural Heritage Web site
Over the past year further resources have been added to the Cultural Heritage Web site. The Ariadne digest continues to feature the articles of particular interest to the cultural heritage community and further titles have been added to the Bookshelf using LibraryThing. Regular posts on the Cultural Heritage blog from Brian Kelly, Marieke Guy and Ann Chapman cover a range of topics (upcoming events, new technologies of interest, news items, and reflections), while occasional guest posts offer a different viewpoint.
The IntroBytes briefing papers series - "a series of short introductions to various aspects of the Web 2.0 world written for the cultural heritage community" - continues to grow and now has more than 70 titles. The briefing papers are typically developed as resource materials for events run for the community by UKOLN; feedback from event delegates is used where appropriate to produce revised versions and most papers have a Creative Commons licence enabling free reuse with acknowledgement.
Further Information:
Cultural Heritage Web site
http://www.ukoln.ac.uk/cultural-heritage/
UKOLN IntroBytes
http://www.ukoln.ac.uk/cultural-heritage/documents/
Enabling Access to Palaeoclimate Data
UKOLN is working with the School of Geographical Sciences at the University of Bristol, the School of Earth and Environment at the University of Leeds, and the Department of Archæology in the School of Humanities at the University of Southampton, on a new JISC-funded data management project, PEG-BOARD - Palæoclimate and Environmental data Generation – Building Open Access to Research Data. Palæoclimatology, the study of past climate change throughout the Earth's history, produces results of interest to researchers in a wide area of disciplines ranging from archæology to biology. In the case of the Bristol Research Institute for the Dynamic Global Environment (BRIDGE), very large volumes of data - about one to two terabytes of raw data every day - are generated via simulations run on large high-performance computers (or supercomputers).
The PEG-BOARD Project focuses initially on auditing the large quantities of data currently held by BRIDGE. It will then explore policy and infrastructural requirements for ensuring that the data are appropriately managed in the future. An appropriate data management infrastructure will also facilitate existing patterns of sharing and reuse of this research data across many disciplines, as well as for media and public-interest reuse. This is expected to improve the eventual impact of the group's long-standing policy of making research data available immediately for reuse by the wider community.
Further Information:
PEG-BOARD at UKOLN:
http://www.ukoln.ac.uk/projects/peg-board/
Academia and the Web 2.0 World
Although professionals in UK Higher Education are using Web 2.0 tools and services, not much is known about exactly which services are being used, for what purposes, and by whom. Much of what we do know comes from references in reports and from anecdotal evidence. Accordingly, UKOLN has been working on a short study for JISC to find out more about the situation.
With a tight timescale and given the nature of what we were investigating, it seemed right to use a Web 2.0 tool as a way to collect evidence. So we set up a blog and advertised it through colleagues and a number of JISC mailing lists. Within the blogs we set up pages to discover which tools people were using for specific tasks such as sharing different types of content, connecting with people, messages and discussions, marketing institutions and working in virtual worlds. We asked respondents to say why they had chosen specific services and what was good (or bad) about them.
We also contacted 20 or so individuals whom we had identified as being active users of Web 2.0 services and created case studies about each of them. This enabled us to obtain a more rounded picture of how using Web 2.0 becomes integrated into someone's working life.
Because we collected the evidence via the blog, it was available for anyone to see right from the start, and people could (and did) comment on points made by others giving us a richer evidence base. The blog will remain available for the 3 years required for a JISC project.
The evidence points to the current time representing a transition point where early adopters are being joined by mainstream users. Nonetheless, there remains a proportion of users who are as yet Web 2.0-'illiterate'. The various Web 2.0 services are mostly seen as easy to sign up to and use, usually free to use and giving access to large audiences. The downside is that services may collapse trapping data, while institutions may block their use. Users often prefer to use Web 2.0 services even when institutional alternatives are available.
A parallel study on the situation in Australia, using a different evidence collecting methodology was undertaken by Prof. Jane Hunter (School of ITEE, University of Queensland). Reports from both studies were completed in December 2009. JISC has now published both the UKOLN report submitted by Rosemary Russell and Ann Chapman and the report submitted by Jane Hunter on its JISC IE Repository.
Further Information:
JISC SIS Landscape Study blog
http://blogs.ukoln.ac.uk/jisc-sis-landscape/
A Landscape Study of Shared Infrastructure Services in the Australian Academic Sector,
by Jane Hunter, Director of the eResearch Lab, The University of Queensland
http://ie-repository.jisc.ac.uk/439/
Digital Curation Amplified
Entitled "Moving to Multi-Scale Science: Managing Complexity and Diversity" the 5th International Digital Curation Conference took place 2-4 December 2009 in London. The conference programme started with a day of workshops covering different aspects of digital curation varying in style and content from discussion and discourse through to tools and training. The workshops were followed by an evening drinks reception at the Natural History Museum and a unique opportunity to browse the Earth's Treasury Gallery. Delegates were invited to take the escalator up through the giant Earth sculpture made from iron, zinc and copper and enter the gallery which displays specimens of the thousands of gemstones, rocks and minerals. A rare glimpse of some truly precious treasures.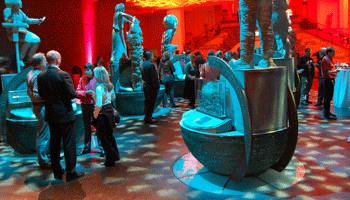 The main conference opened with a keynote from Professor Douglas Kell, Chief Executive of the Biotechnology and Biological Sciences Research Council (BBSRC) and included several other fascinating sessions including one on the Data Challenges of Citizen Science from Richard Cable, BBC Lab UK, a Day 2 keynote from Professor Ed Seidel from the US National Science Foundation while the conference closed with a presentation from Timo Hannay of Nature Publishing. The conference also included sessions on the US and UK Perspectives on Multi-Scale Science and offered a platform for the presentation of a range of peer-reviewed papers which looked at the themes of Metadata, Software, Preservation & Managing Risk, Institutional Challenges and Practitioner Experience.
For the first time ever the conference was amplified using a range of online social media tools, to help include those who could not make it to London and to capture the online conversation surrounding the event for future reference. The Digital Curation blog formed the central point of the coverage including summaries of sessions, video interviews with speakers and delegates, and much more. There was also official live commentary of each of the plenary sessions on Twitter. The response was fantastic with input from delegates throughout the conference, as well as comments from afar. Many delegates who have attended the previous conferences felt this was the best to date. The 6th International Digital Curation Conference will be held 6-8 December 2010 in Chicago in partnership with the University of Illinois at Urbana-Champaign.
Further Information:
5th International Digital Curation Conference 2-4 December
http://www.dcc.ac.uk/events/dcc-2009/
Digital Curation Blog
http://digitalcuration.blogspot.com/
Forthcoming Events
Pair Programming
19 January 2010
University of Exeter



http://www.ukoln.ac.uk/events/devcsi/pair-programming/

Dev8D
24-27 February 2010
University of London Union (ULU)



http://www.dev8d.org/
JISC CNI 2010
1-2 July 2010
Edinburgh, UK



http://www.ukoln.ac.uk/events/jisc-cni-2010/
Institutional Web Management Workshop 2010 (IWMW 2010)



12-14 July 2010
University of Sheffield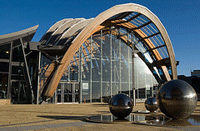 http://iwmw.ukoln.ac.uk/iwmw2010/
CILIP Cataloguing and Indexing Group Annual Conference
13-15 September 2010
University of Exeter



http://www.ukoln.ac.uk/events/CIG/2010/conf-exeter/
Other items of note:
Events for the DevCSI (Developer Community Supporting Innovation) Project will be announced on the DevCSI blog



http://devcsi.ukoln.ac.uk/blog/
6th International Digital Curation Conference (IDCC10)
December 2010
Chicago, USA



http://www.dcc.ac.uk
Further Information:
UKOLN Events
http://www.ukoln.ac.uk/events/
UKOLN Contribution Wins Acclaim at Design Conference
The International Conference on Engineering Design (ICED) is a biennial event organised by the Design Society to promote research into design thinking, theory and practice, with an emphasis on evidence-based research. The 17th conference in the series was held on 24–27 August 2009 at Stanford University, with the theme Radical, Relevant, Rigorous. In total, 379 papers were presented, with approximately one third chosen for 20-minute presentations and two-thirds for five-minute 'elevator pitches'.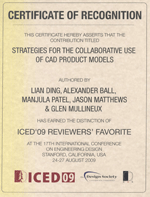 UKOLN collaborated with the University of Bath's Innovative Design and Manufacturing Research Centre (IdMRC) on a successful submission to the Conference. The paper, 'Strategies for the collaborative use of CAD product models' by Lian Ding (IdMRC), Alexander Ball (UKOLN), Manjula Patel (UKOLN), Jason Matthews (IdMRC) and Glen Mullineux (IdMRC), was presented in a 20-minute slot on the last day of the Conference, and was one of 38 selected as a Reviewers' Favourite. The paper describes how a combination of simple, lightweight formats for three-dimensional product models, supported by stand-off annotation files and preservation metadata, may be used both to make distributed, collaborative design work easier and to ensure the long-term usability of product model data. This work derives from research carried out by the IdMRC and UKOLN as part of the EPSRC/ESRC-funded KIM Project, which ran from October 2005 to March 2009.
The paper appears in Volume 8 of the printed Conference Proceedings.
Further Information:
ICED '09 Web site
http://iced09.stanford.edu/
RDA: We need to wait a little longer
In March 2009 Ann Chapman gave guest lectures on cataloguing to library and information students at London Metropolitan University and University College London. The lectures focused on how the international cataloguing community is developing Resource Description and Access (RDA) to replace the Anglo-American Cataloguing Rules 2nd edition (AACR2). Whereas AACR2 was still rooted in concepts applicable to physical formats such as books, serials and maps and had a strongly Anglo-American bias, RDA has been designed as an international resource that relies more on cataloguer judgement and with rules that apply equally to resources in physical and virtual formats.
RDA is still a work in progress. Regarding the content, the text of most chapters has now been agreed; work on the few remaining chapters has been deferred until after the launch of RDA Online. Work on the online product has taken longer than anticipated and a new launch date of June 2010 has just been announced.
Further Information:
Joint Steering Committee on RDA
http://www.rda-jsc.org/
SWORD3: Stronger, sharper, better, faster
After two highly successful initial phases, the SWORD Project is now gearing up for phase three. In 2005, JISC funded the initial SWORD project, led by UKOLN at the University of Bath, in partnership with CASIS at the University of Aberystwyth, the University of Southampton and Intrallect. The initial project aims were to agree on a protocol or specification for deposit, to implement a deposit interface into a number of leading repository systems, and to produce a prototype 'smart'-deposit client for testing the implementations.

So far the SWORD Project has produced demonstration SWORD deposit interfaces in the EPrints, Fedora, DSpace and IntraLibrary repositories. Prototype desktop, command-line and Web clients have also been developed, allowing for the testing of SWORD interfaces, and code for all of these implementations are available to support reuse and wider dissemination within the worldwide repository community. Case studies demonstrated the potential for using SWORD and highlighted some areas for refinement and further development. The project has also developed a Facebook application that allows users to deposit into a number of repositories from within Facebook, and some code libraries for PHP and .Net.
New tools continue to be developed using the SWORD protocol, including the Article Authoring Add-in for Word 2007, which allows direct deposit from the suite of Microsoft Office applications, and an open source SWORD Widget permitting deposit from popular Web tools such as Netvibes or any Web page.
We recently held the SWORD 3 kick-off meeting at JISC HQ in London. The aim was to brainstorm some ideas and firm up a plan of action. We are still in the process of working out what is feasible within the budget, but the front runners are a SWORD plugfest, and the development of some user guides and white papers explaining more clearly what SWORD does and does not do. The plugfest, ideally co-located with Open Repositories 2010, will look at identifying failure patterns and aim to get some fixes, thereby improving the interoperability of systems using SWORD. It will also be a good opportunity to build on the community around SWORD, and give people a chance to meet who have as yet only communicated via the email lists. Something we have spotted recently is that some people think SWORD can do almost everything to do with deposit, so we may produce a user guide to address this. Moreover, some developers are unclear how SWORD relates to the Atom Publishing Protocol in some areas; so we intend to provide some clarity here as well. If we can, we may also tackle the thorny issues of whether to provide some sort of package registry. There are many challenges here, and no doubt there will be stresses, strains and one or two headaches, but this is all part of what has made SWORD a success so far. Hats off to SWORD's phenomenal team of developers for their fantastic contributions so far.
Establishing a protocol and achieving a critical mass of uptake is notoriously difficult, but SWORD has made real progress towards the goal of making interoperability of deposit a reality. The SWORD community has grown, with real-life implementations of SWORD in repositories beginning to happen across the world, and regular debate happening on many fronts. SWORD seems to be growing stronger and sharper.
Further Information:
The SWORD Web site
http://www.swordapp.org/
Media Training for Software Developers.
Could You Describe Your Project in 20 Seconds to a Stranger?
The UKOLN team ran a very well-received intensive media training event for over 100 software developers at the City of Manchester Stadium between 3-4 September 2009. The event was organised largely to support programmers working on over 40 JISC-funded rapid innovation projects as well as other software projects not funded by JISC. The main objective was to support developers to communicate more effectively by describing their project in clear language so that a non-expert would be able to understand what it was about. The basic premise was that if people understand what you are doing, you are more likely to engage their interest.
To start off, over 50 presenters had to give a presentation of 45 seconds each to describe their project. There followed a presentation by Alice Guggan from JISC who provided top 10 tips on how all presenters could improve their 'pitches'. What followed next, unbeknownst to the delegates, were a series of surprises and challenges. Delegates were first told that they would have to repeat their presentation the next day. Secondly, they would have to enter a Dragon's Den (based on the popular BBC television series) for individual interviews where there would be media, technical and lay 'dragons' giving them practical feedback about their pitch (played back on video) and how to improve it. Finally, it was announced that they would only have 20 seconds to present their improved pitches the next day which certainly came as a surprise to some.
In the meantime, delegates were interviewed by journalists (another chance to practise their pitches), listen to various expert talks, talk code with each other and have further opportunities to practise their pitches and network. Listening to delegates, one could tell that they had really valued the feedback received and the 20-second pitches on day two were very significantly improved. The Dragons awarded prizes for the best and the most improved pitch. There were expressions of interest in using this approach in similar events in the future.
The event finally came to a close with a formal announcement from Paul Walk who introduced the new Developer Community Supporting Innovation Project (DevCSI for short), a project which aims to support and raise the profile of developers in Higher Education by running a number of workshops and commissioning reports and articles which will highlight the value that developers bring to their institutions.

Further information:
Rapid Innovation in Development
City of Manchester Stadium Conference Centre 3 - 4 September 2009
http://www.ukoln.ac.uk/events/jiscri-2009/
DevCSI Demonstrator
http://devcsi.ukoln.ac.uk/demonstrator/
DevCSI Blog
http://devcsi.ukoln.ac.uk/blog/
BBC TV - Dragons' Den - About the Show
http://www.bbc.co.uk/dragonsden/about/
UKOLN "On the Road"
UKOLN has begun building a library of interviews with members of UKOLN staff on a wide variety of subjects ranging from remote working to repositories. The interviews are recorded in an informal yet informative style and the plan is to launch these in early 2010. Some interviews are recorded face-to-face, some via Skype. Each has its own technical issues in terms of recording quality, though this does not detract from the content which, over time, will provide a source of information about UKOLN and its activities that can be listened to at any time via the UKOLN Podcast RSS feed.
During 2010, UKOLN plans to go "on the road" to record interviews with speakers and delegates at the numerous events it supports.
Social Web Workshops for MLA
UKOLN staff members have been touring England presenting a workshop entitled An Introduction to Web 2.0 and the Social Web. The workshop is designed specifically for the museums, libraries and archives community and looks at what Web 2.0 has to offer the cultural heritage sector, especially to small organisations with limited budgets and technical expertise. The workshops, which have been funded by the Museums, Libraries and Archives Council (MLA), are free to attend. UKOLN hopes to run 14 workshops in total; locations include Newcastle, Preston, Birmingham, London and Cambridge.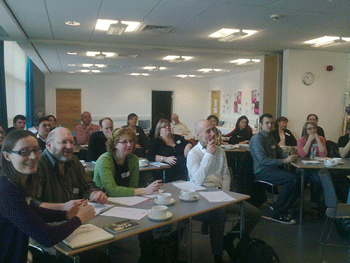 The workshop programme includes an introduction to the important concepts, break-out sessions, local case studies and reflection on the opportunities and challenges Web 2.0 presents. Course materials, such as hands-on exercises, slides and further references are made available under a Creative Commons licence so delegates can share them with their colleagues.
Further Information:
Forthcoming UKOLN Cultural Heritage Events
http://www.ukoln.ac.uk/cultural-heritage/events/
Resources on the UKOLN Cultural Heritage Blog
http://blogs.ukoln.ac.uk/cultural-heritage/category/mla-social-web-workshops/
Photos of Workshops
http://www.flickr.com/photos/tags/mlasocialwebworkshop/
The JISC Information Environment Technical Review
The JISC Information Environment (IE) is one of JISC's well-established strategic 'themes'. At a technical level, the IE is framed by some important documents: a 'technical architecture' and by a set of technical standards, both previously developed at UKOLN.
Since this technical framework was created, there have been significant changes in the wider technical environment such as the growth in Web 2.0 applications, cloud computing and the use of third-party services. Now that the technical foundations of the IE are more than three years old, JISC has asked UKOLN to review them.
A great deal of technical development has taken place under the umbrella of IE Programmes in the last three years. Some of this has been pure R&D, while some has led to deployed and supported services. The extent to which the technical architecture and standards of the IE have remained relevant to such developments will be a key question which the review will seek to answer.
The review has already started, and is due to be completed by July 2010. It is being managed by Adrian Stevenson with input from Paul Walk, and is informed by an ongoing process of consultation with stakeholders and with technical experts. For more information about this, including details about how to participate in the consultation, please have a look at the review's blog.
Further Information:
The JISC Information Environment Programme
http://www.jisc.ac.uk/whatwedo/themes/informationenvironment.aspx
Blog post describing the consultation process for the Technical Review
http://www.ukoln.ac.uk/jisc-ie/blog/2009/12/01/reviewing-the-technical-foundations-of-the-jisc-information-environment/
The Reality of Home Working
The Ramblings of a Remote Worker blog was established just over a year ago as a way for Marieke Guy (UKOLN Remote Worker) to share her experiences with others. While one person's experiences may make for an interesting read, they only offer a single perspective. Keen to create a richer resource, Marieke has sought out others working away from the office and solicited guest blog posts.
Remote working encompasses a spectrum of activities and where exactly people do their out-of-office working can be of significant interest. Lori Thiessen and Gregg Taylor of Coffee Shop Office explained how the increase in free wifi cafes now makes for a highly suitable alternate office. Amanda Hill, an archival consultant based in Ontario, Canada, who works on UK projects, offered insights into the new trend of long-distance remote working.
Some guest bloggers have focused more on technology than culture. Mike Boyce, manager for a US energy engineering manufacturing company, offered suggestions on how one can get the most out of video conferencing and Dave Cunningham from the University of Bath Computing Service posted on his findings relating to the most appropriate communication tools for his team. In what has since proved to be a really valuable resource to many, John Kirriemuir, a former UKOLN colleague, who classifies himself as a 'digital nomad', presented his 'remote working kit' for mobile working. His pointers included suggestions from hardware to software, and from applications to Web sites.
One of the most popular guest blog posts to date has been Paul Boag's exposé - The Reality of Home Working. Paul laid bare the myth that working away from the office is easy and explained how only by trial and error had he found the best way to get it to work for him.
So far two UKOLN colleagues have also written about their home working experiences. Stephanie Taylor posted about her endeavours to get out and about with her laptop while Monica Duke covered the issue of motivation. Others from the education sector who have also contributed narratives include Alistair McNaught from JISC TechDis and Martin Weller, Professor of Educational Technology at the Open University.
The Ramblings blog hopes to carry many more guest blog posts in the future.
Further Information:
Ramblings of a Remote Worker blog
http://remoteworker.wordpress.com/
Archive for the 'guest post' Category on Ramblings of a Remote Worker blog
http://remoteworker.wordpress.com/category/guest-post/
DRIVER Summit

Michael Day attended the second DRIVER Summit held at Ghent University Library, Belgium, on 20 October 2009. The event had two main objectives. Firstly, it was an opportunity for project colleagues to share information about open access developments in Europe, explaining DRIVER's role in helping to drive the repository agenda forward. The presentations provided updates on technical developments in D-NET as well as an overview of DRIVER support activities, including the project's increased focus on the compound objects known as 'enhanced publications.'
The second major objective of the summit was to launch COAR, the Confederation of Open Access Repositories. The objectives of COAR are primarily to support advocacy, to "enhance and progress the provision, visibility and application of research outputs through global networks of Open Access repositories." COAR is international in its scope, and founding members include organisations from North America, China and Japan, as well as from Europe.
Further Information:
DRIVER - Digital Repository Infrastructure Vision for European Research
http://www.driver-repository.eu/
DRIVER Confederation Summit, 20 October 2009, Ghent University Library
http://www.driver-repository.eu/DRIVER-Confederation-Summit.html
COAR: Confederation of Open Access Repositories
http://www.driver-repository.eu/DRIVER-COAR.html
COAR establishes a global knowledge infrastructure
http://www.driver-repository.eu/COAR-establishes-a-global-knowledge-infrastructure.html
DRIVER Studies Published
UKOLN has contributed to two DRIVER studies which have recently been published by Amsterdam University Press. They are also available via the DRIVER Web site. Rosemary Russell is a joint author of Emerging Standards for Enhanced Publications and Repository Technology and a contributor to Enhanced Publications: Linking Publications and Research Data in Digital Repositories.
The former work serves as a technology watch on the rapidly evolving world of digital publications. It provides a state-of-the-art overview of technical issues underlying the development of universally accessible publications, their components and linked information. The book consists of two parts: one covers new technologies and communities (the Grid, CRIS and long-term preservation), the other explores a framework for interoperability. The focus throughout is on 'enhanced publications'. DRIVER defined an enhanced publication as one that is enhanced with, for example, research data, extra materials, post-publication data, database records, etc. It has an object-based structure with explicit links between the objects. The interoperability part of the study includes sections on new standards and formats for enhanced publications, envelopes and packages, overlays, embedding, old and new publishing formats and Web services. The study has a dual purpose – firstly it has provided input for the technical team developing DRIVER's D-NET software, and secondly it seeks to inform the broader repository communities.
Further Information:
DRIVER
http://www.driver-community.eu/
DRIVER studies
http://www.driver-support.eu/newsevents.php?item=nThreenewDRIV29
CRIS-OAR: Interoperability across CRIS and repositories
CRIS-OAR is a project that seeks to increase interoperability between Current Research Information Systems (CRIS) and Open Access Repositories (OAR). The term OAR is used to cover both institutional and subject repositories. The project was initiated by the Knowledge Exchange, a European cooperative effort to support the use and development of ICT infrastructure for Higher Education and research. Members are DEFF(Denmark), SURFfoundation (Netherlands), DFG (Germany) and JISC (UK). UKOLN and STFC are participating in CRIS-OAR on behalf of JISC.
In most universities CRIS and repositories belong to different organisational divisions, i.e. the university administration and the library. Although there are examples of integrated systems, they are still the exception. Interoperability between CRIS has been addressed internationally by CERIF, and DRIVER has developed guidelines for repositories. Metadata interoperability across the two has not however been addressed on an international level. Outputs from the project will include a proposal for a metadata exchange format syntax for publication information, with an associated common vocabulary as well as best practice guidelines. Implementation would result in a number of metadata quality and efficiency benefits and involve a range of stakeholders. Given the current increased interest in research information management systems in the UK, results are likely to be of particular interest. The project is due to complete in February 2010 and results will be presented at a workshop during the CRIS2010 Conference in Aalborg in June 2010.
Further Information:
CRIS-OAR Wiki
https://infoshare.dtv.dk/twiki/bin/view/KeCrisOar/WebHome
Knowledge Exchange
http://www.knowledge-exchange.info/
CRIS2010
http://www.cris2010.org/
Institutional Web Management Workshop 2009
The thirteenth Institutional Web Management Workshop (IWMW 2009) took place at the University of Essex, Colchester Campus from 28 to 30 July 2009. The workshop was a great success with some 200 delegates from all over the UK attending bar camps, parallel sessions and plenary talks of relevance to practitioners involved in the creation and maintenance of Web sites for Higher Education institutions.
After a number of years successfully streaming the main plenaries it was felt that more resources should be put into supporting the remote delegates of the event. This was done through a number of mechanisms. The IWMW Twitter account offered general informational tweets before, during and after the event; however during the event there were also tweets from the IWMWlive account courtesy of a live blogger. The use of a hashtag enabled those tweeting about the event to have them aggregated with others containing the same tag. During question-and-answer sessions efforts were made to include questions from delegates attending remotely. An IWMW blog was populated throughout the three days with reviews, interviews, videos and images and once again the main talks were streamed. All the materials (including slides and images) from the event were made available promptly on online repositories (such as slideshare and Flickr) and in various formats from the IWMW site.
The next Institutional Web Management Workshop (IWMW 2010) will take place at the University of Sheffield from Monday 12 to Wednesday 14 July 2010. The call for participation opens 11 January.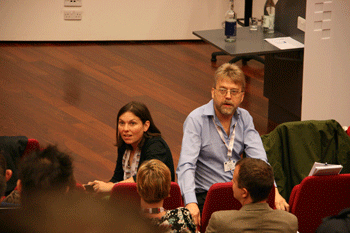 Marieke Guy (IWMW Chair) and Brian Kelly (Web Focus) take questions at IWMW 2009.
Photo courtesy of Ben Steeples, University of Essex.
Further Information:
IWMW 2009 Web site
http://iwmw.ukoln.ac.uk/iwmw2009/
IWMW 2009 blog
http://iwmw2009.wordpress.com/
IWMW and Twitter
http://iwmw.ukoln.ac.uk/twitter/
Amplifying IWMW2009
http://remoteworker.wordpress.com/2009/07/27/amplifying-iwmw2009/
IWMW 2010 Web site
http://iwmw.ukoln.ac.uk/iwmw2010/
The DCC SCARP Project
The DCC SCARP (Disciplinary Approaches to Sharing, Curation, Re-use and Preservation) Project was rounded off with a workshop entitled Disciplinary Dimensions of Digital Curation: New Perspectives on Research Data, held in London on 2 December 2009 in conjunction with the 5th International Conference on Digital Curation. SCARP was a Digital Curation Centre project funded between 2007 and 2009 by the JISC as part of its Digital Preservation and Records Management programme. DCC SCARP was project-managed by UKOLN, and involved DCC colleagues based at the University of Edinburgh and the Science and Technology Facilities Council.
The DCC SCARP Project aimed to explore disciplinary differences in data curation practice through immersive case studies of selected subject domains. Aims included the evaluation of existing curation practices and the identification of areas of existing good practice that could potentially inform developments in other disciplinary areas. Project outputs include a series of six detailed case studies, covering data curation practice in subjects as diverse as: atmospheric science, psychiatry (neuroimaging data), healthcare (telehealth data), the life sciences (the Edinburgh Mouse Atlas Project) architectural research and the social sciences (video data used in human interaction research). Colin Neilson of UKOLN produced the SCARP case study on architecture, where data remains resolutely hybrid, ranging from the purely digital data generated by computer-aided design and engineering software to the more traditional products of visual representation, e.g. sketches, plans, three-dimensional models and video.
Further Information:
Digital Curation Centre SCARP Project
http://www.dcc.ac.uk/scarp/
SUETr Project
This project ran from April 2008 until March 2009 and was funded by JISC as part of the SUE (Repositories Start UP & Enhancement) projects. The project was run by UKOLN, University of Bath, with support from the Repositories Support Project (RSP), Aberystwyth University, and the Digital Curation Centre (DCC). The project began by consulting with the project staff in the Start-up and Enhancement (SUE) strand 1 to develop a complete landscape picture of their training requirements. This informed the subsequent development of the training programme. All training modules were developed in collaboration with SUE projects and other JISC projects within the institutional repositories sphere along with external experts.

The training was delivered through a selection of appropriate delivery mechanisms, employing face-to-face training and exchange-of-experience sessions plus additional online resources developed to support and enhance the real-time training experience. The scope of the project was limited to addressing training requirements expressed by SUE projects. This was determined at the outset of the project via a survey of SUE project staff. Training was targeted primarily towards SUE staff, building on the results of the survey and additional consultations throughout the period of planning the training programme. Applications from delegates from JISC-funded projects other than SUE projects were invited when events were under subscribed.
The programme was made up of six events:
Interoperability
IPR & Copyright
Embedding repositories within an institution
Repository Policy
Understanding User Requirements
Multi Media Objects
The speaker slides and other information from each event were shared via individual event microsites.
The SUE staff supported the project by attending events, offering venues and providing speakers. They also made good use of the microsites and other online resources. The repository community seemed to appreciate a programme that was designed for a specific group of projects. Many positive comments were received via the feedback forms for each event, including the following:
"Good day, good speakers" (Interoperability event)
"Very useful session - I am better informed about copyright issues" (Copyright event)
"Excellent workshop" (Embedding Repositories event)
"I found the day very useful with loads of practical information that I could take back to our project" (Repository Policy event)
"I enjoyed the informality and the chance to chat to other participants" (User Requirements event)
"Thanks … for arranging the email address exchange and thanks to everyone else for sharing contact details. Now I know where to mail for help!" (Multi Media Objects event)
Further Information:
Information about the events and how they were managed can be found at
http://sueproject.wikispaces.com/
JISC Workshop on OCR and Digitisation
A workshop entitled Optical Character Recognition (OCR) for the Mass Digitisation of Textual Materials was held at the University of Bath on 24 September 2009. The workshop was one of a series of thirteen workshops and seminars funded by the JISC exploring "Achievements and Challenges in Digitisation and e-Content." The workshop organisation was led by UKOLN in close collaboration with its partners at the British Library and the PRIMA (Pattern Recognition & Image Analysis) Research Group at the University of Salford.
The workshop was an opportunity for participants: to learn about the current state of the art in the large-scale digitisation of historical texts; to look at the improvements in digitisation techniques that were being explored in research projects like the EU-funded IMPACT (Improving Access to Text) project; and to explore how OCR was being used in practical digitisation contexts and workflows. All workshop sessions were led by members of the IMPACT Project, an emerging European centre of competence on the mass digitisation of text.
The workshop began with an overview of the current status of text digitisation followed by detailed introductions to OCR technologies and techniques for the digital enhancement of images for optimal text recognition. The afternoon sessions provided some case studies, including an overview of the JISC-funded "British Newspapers 1620-1900" project at the British Library and an introduction to research being undertaken at the University of Munich on the use of language resources to support the digitisation of historical text collections. The final session was a panel discussion on digitisation challenges. Emma Huber of UKOLN has provided a workshop report in the form of a blog.
Further Information:
UKOLN Events: Optical Character Recognition (OCR) for the mass digitisation of textual materials: Improving Access to Text
http://www.ukoln.ac.uk/events/ocr-2009/
IMPACT Project
http://www.impact-project.eu
Emma Huber blog: OCR for the mass digitisation of textual materials: Improving Access to Text
http://ocr2009.wordpress.com/2009/09/24/panel-session/
Marieke Wins Remote Worker Award 2009
In September UKOLN research officer Marieke Guy won the Remote Worker Award 2009 in a prestigious ceremony at Cliveden House, Berkshire. The awards, organised by Remote Employment in association with BT Business, were for the individuals or companies that demonstrated how remote working had created the greatest positive impact on their work life. Marieke, who has worked from home for almost 2 years, faced some very strong competition from others working in both the private and public sector. She received the award for Remote Worker, the category for employees currently working remotely, out of office, or who are field- or mobile-based. She also received a special prize for the contribution her blog, Ramblings of a Remote Worker, has made to the community.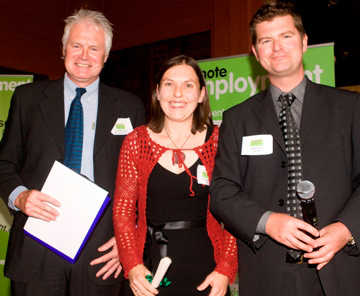 Marieke Guy (centre) won The Remote Worker Award and receives her prize from Rob Fox of Toshiba and Ken Sheridan of Remote Employment. Photo by ECP Studio.
Marieke is UKOLN's remote worker champion. In this role she has made efforts to improve working conditions for our other remote workers. Her initiatives include establishing a remote workers' discussion list, ensuring Skype contact during meetings and working with others to plan and deliver a remote worker training day. She has published a number of articles on remote working and given presentations on her experiences at events such as Online 2009 and the UCISA conference.
Further Information:
Remote Employment: The Remote Worker Award Winners
http://www.remoteemployment.com/The-Remote-Worker-Award-Winners.aspx
Ramblings of a Remote Worker blog
http://remoteworker.wordpress.com/
"A Desk Too Far?: The Case for Remote Working"
30 July 2008, Ariadne Issue 56
http://www.ariadne.ac.uk/issue56/guy/
"Staying Connected: Technologies Supporting Remote Workers"
30 October 2008, Ariadne Issue 57
http://www.ariadne.ac.uk/issue57/guy/
"A Support Framework for Remote Workers"
30 April 2009, Ariadne Issue 59
http://www.ariadne.ac.uk/issue59/guy/
EASTER
Evaluating Automated Subject Tools for Enhancing Retrieval
EASTER is an 18-month JISC project funded under the Information Environment Programme 2009-11. Work commenced on the project in April 2009 and it involves eight institutional partners, with UKOLN acting as the lead.
The purpose of the project is to test and evaluate existing tools for automated subject metadata generation in order better to understand the possibilities and potential limitations of current solutions, and to make subsequent recommendations for services employing subject metadata in the JISC community. The information centre chosen as a test-bed for this project is Intute. Selected tools for automated subject metadata generation will be tested in two contexts: by Intute cataloguers as part of the cataloguing workflow; and by the end-users of Intute who search for information in Intute as part of their research, learning, and information management.
The methodology includes evaluating several tools against a benchmark 'gold standard'. The best tool(s) will then be integrated into the Intute cataloguing workflow, which we will then evaluate. Furthermore, we will conduct a task-based end-user retrieval study to determine the relative contributions of automatically assigned subject terms and manually assigned terms.
Further Information:
EASTER Project Home Page
http://www.ukoln.ac.uk/projects/easter/
Intute Home Page
http://www.intute.ac.uk/
Enhanced Tagging for Discovery (EnTag)
Work continued on disseminating the results of the EnTag Project, a UKOLN-led JISC project, funded between 2007 and 2008 to investigate the comparison of controlled vocabulary and folksonomy approaches to resource discovery in JISC repositories and digital collections.
Peer-reviewed conference papers on EnTag were given at three major conferences: the Joint Conference on Digital Libraries (JCDL 2009) in Austin, Texas, the ISKO UK Conference in London, and the IFLA 2009 Satellite Meeting on "Emerging Trends in Technology: Libraries between Web 2.0, Semantic Web and Search Technology" in Florence. The JCDL 2009 paper, given by Koraljka Golub of UKOLN, was nominated for the conference best paper award.
Further Information:
Enhanced Tagging for Discovery (EnTag) Home Page
http://www.ukoln.ac.uk/projects/enhanced-tagging/
Enhanced Tagging for Discovery (EnTag): Results and Dissemination
http://www.ukoln.ac.uk/projects/enhanced-tagging/dissemination/
An Agile Approach to Dublin Core Application Profiles
Over several years, UKOLN has been engaged in research and development around tools and techniques to support the development of Dublin Core Application Profiles (DCAPs), notably within the IEMSR (Information Environment Metadata Schema Registry) Project. Some of these techniques and tools were demonstrated at a workshop in October 2009 at the International Conference on Dublin Core and Metadata Applications in Seoul.
Coordinated by the JISC, scoping studies have been completed around several possible Application Profiles, and candidate APs have been created for certain of these areas. This process has shown that there are some discontinuities between AP development and practical uptake, and in a bid to address this, UKOLN began to explore approaches to AP development.
The first guiding principle behind this is that AP development should be agile – favouring working solutions over future capabilities, and encouraging near-continuous engagement with users during the development process, responding to changes in functional requirements as both the developer and the user increase their understanding of the problem space. Secondly, AP development should be test-driven, emphasising the continuous testing of software (and its components) during the development process.
An important aspect of agile development is the ability to engage directly with all stakeholders in the process, but the intangible nature of application profiles means that users cannot engage with them directly - a barrier to engagement. We have explored several approaches to rendering APs tangible, notably paper-prototyping approaches that use simplified representations to draw the user into exploring the AP, software that performs a similar aim in a computer-supported environment, and paper- and software-based approaches toward rapid-prototyping of user interface facades.
This work was received favourably at the Dublin Core conference, and at a variety of other events; the ability to get 'hands-on' with metadata has been met with interest and enthusiasm.
Further Information:
Agile approaches to building application profiles
http://www.ukoln.ac.uk/innovation/tdd-dcap/
Staff News 2009
During the year we have been joined by Software Developer Andy Hewson, to work primarily on the IEMSR Project and Research Officer Emma Huber, who is working on the EU-funded IMPACT Project. We also welcomed Web Manager Thom Bunting, who is working on the eFramework and JISC IE Technical Foundations projects.
In August 2009 we said goodbye to two, long-standing members of staff.
Ali Cook was part of UKOLN from its very beginnings, providing essential financial and administrative support and contributing much to the Resources and Administration Team over the years.
After providing more than ten years of systems support and development, Eddie Young left to retrain as a maths teacher, a career where his skills and experience gained from providing user support to the many UKOLN staff over the years, will, we feel sure, give him a sound start in this, his new career path.
Colin Neilson also left this year, following the completion of the SCARP Project.
Paul Walk, who had been working as the Technical Manager and Software and Systems Team Leader, was appointed to the position of Deputy Director in November 2009.
The very sad news, during this year, was the death, in July, of Rachel Heery, former Deputy Director and R&D Team Leader, and a significant contributor to UKOLN successes, both past and present.
Further Information:
UKOLN Staff
http://www.ukoln.ac.uk/ukoln/staff/
Tributes to Rachel Heery
http://www.ariadne.ac.uk/issue60/editorial/#1
International Journal of Digital Curation
The Journal has published three issues this year, with its third timed to appear on the occasion of the 5th International Digital Curation Conference earlier this month in London. The current issue has sought to publish material from a wider set of sources including the Conference, iPRES and independent sources.
In the current issue, the first group of papers published has a broad theme of the organisation of data curation and sharing, from various viewpoints. It includes a description of some aspects of the most ambitious national curation effort, the Australian National Data Service, using "ANDS verbs" as their unifying metaphor. Elsewhere use is made of Georgia Tech's endeavours as an example, and suggests a 4-component model for universities interested in establishing their data curation activities to follow. Another paper describes an IMLS-funded study establishing Data Curation Profiles in several subject areas, seen as "useful guides for exploring, learning about and interacting with data producers and collecting information about datasets and collections".

The Chief Editor welcomes the paper selected by reviewers as the best paper in IDCC09 since it starts from a study conducted for the Research Information Network on data sharing practice in the Life Sciences, and shows how complex curation even in a single discipline area can be. A further paper discusses a more focused issue, also in the Life Sciences, applying the DCC Curation Lifecycle Model in the planning of an approach to curate a gene expression database. Elsewhere there is discussion of the preservation of earth observation data (with an emphasis on the knowledge required to understand them) using the authors' experiences in applying the OAIS model in the major CASPAR Project, while another paper looks at engineering, and specifically the use of Product Lifecycle Management approaches to preserve engineering knowledge.
At a more technical level, one paper describes the application of an archiver that preserves past states of a changing database, and its application to the World Factbook, while the other considers the risk factors implicit in storage, with interesting implications for the question of compression.
In addition there are three general articles in this issue. The first describes an updated architecture for JHOVE2, whose predecessor has been one of the most widely used tools in digital preservation. The next article addresses some of the issues that can arise when using emulation as part of a digital preservation strategy, based on the authors' experiences at the Netherlands National Library. Finally, the third article looks at some of the difficulties Cornell faced when planning preservation services for its large-scale book digitization programmes.
Further information:
International Journal of Digital Curation
http://www.ijdc.net/
Ariadne Web Magazine

2009 has seen a further four issues of Ariadne which has been published online by UKOLN since its launch in January 1996. It continues to offer a wide range of articles on topics of interest to information professionals in archives, libraries and museums in all sectors. Issue 61 offers articles on a variety of topics including: the importance of user engagement in the creation of digitised scholarly resources with case studies from the JISC Digitisation Programme; the creation of overlay journals for data publishing; the National Library of Wales' development of a strategic approach to Web 2.0; the enhancement of scientific communication through aggregated publications; an innovative tool to showcase UK research output through advanced discovery and retrieval facilities; the benefits and drawbacks of Archives 2.0 to the online version of Ireland's 'Documents on Irish Foreign Policy' series, and more besides.
The first issue of 2010 intends to carry articles, among others, on work on Xerxes at Royal Holloway, community archives and the potential for 2.0, a strategic view of the uses of intranets, and reviews of works on topics as diverse as plagarism, copyright, library mashups and giving users the LIS services they want. If you have a topic of interest to Ariadne readers, do contact the editor to discuss how it might be published in the Magazine.
Further information:
Ariadne Web Magazine
http://www.ariadne.ac.uk/
http://www.ariadne.ac.uk/information/
Contact the editor: ariadne@ukoln.ac.uk
Focus on UKOLN: Editor r.waller@ukoln.ac.uk