An Introduction To Seesmic
What Is Video Micro-blogging?
Twitter has been described as a micro-blogging application which allows users to publish short (<140 characters) snippets of text [1]. Video micro-blogging is similar but allows users to publish short (often less than 5 minute) video clips.
What Is Seesmic?
Seesmic [2] is an example of a video micro-blogging service. Users can record video clips directly from the Seesmic Web site (no additional software needs to be installed). Alternatively video clips can be uploaded or retrieved from sites such as YouTube.
The video clips can be viewed directly on the Seesmic Web site (as shown below and available at <http://seesmic.tv/videos/9E6jdYm8kF> or embedded in other Web pages.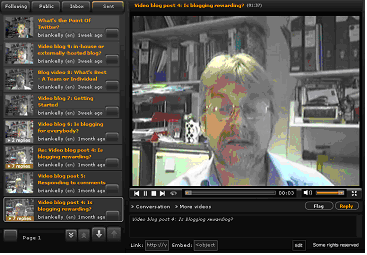 The screen shot shown above is of a video clip lasting 1 minute 27 seconds asking whether blogging can be rewarding. It should be noted that seven video responses to this post have been received.
Uses Of Seesmic
Sceptics argue that, unlike micro-blogging applications such as Twitter, video micro-blogging services such as Seesmic are difficult to process quickly, as it is not possible to quickly digest the content or skim through video content.
Seesmic fans argue that use of video can provide a richer form of engagement with the publisher of the post. A blog post on the UK Web Focus blog describes the potential for use of Seesmic as a mechanism for creating content for use in presentations, for reviewing such content and for encouraging others to provide feedback which can be used in presentations [3].
Viewing Seesmic Posts Using Twhirl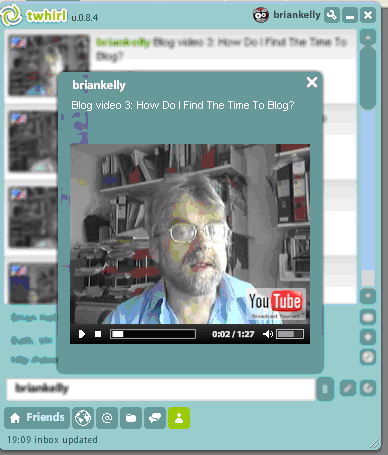 Seesmic video posts can be viewed using a Web browser, either by visiting the Seesmic Web site or by viewing a Seesmic video post which has been embedded in a Web page.
In addition a dedicated Seesmic client, such as Twhirl [4], can be used to view the video clips.
Twhirl was developed as a client for reading Twitter micro-blog posts. However it can also be used to view micro-blog posts from other services and video blog posts from Seesmic, as illustrated. An advantage with this approach is that new video posts from Seesmic users you are following will automatically be displayed in the Twhirl interface.
What Can Video Microblogging Services Offer?
It is too early to say whether video microblogging services such as Seesmic will have a significant impact. However as there is low cost to using Seesmic and it can allow users to gain experience in creating videos it may be a useful service for evaluating.
References