eLib: The Electronic Libraries Programme 1995-2001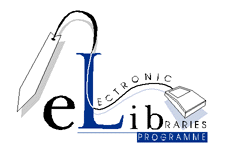 ---
About this Web Site
This Web site provided the central platform for the JISC-funded eLib programme. A background to the eLib programme is given below.
Following the successful completion of the programme, this Web site was frozen - no significant content was added and only minor updates were made.
---
eLib news and updates
August 18 1998
Chris Rusbridge has written an overview of the history and direction of the UK eLib Programme for the July/August issue D-lib magazine, Towards the Hybrid Library.
July 2 1998
Supporting Studies for the eLib programme are now available in Word and HTML formats. These cover a number of areas explored by the programme, and paper editions are now available from LITC (Library Information Technology Centre), South Bank University, London.
---
Introduction to eLib: the Electronic Libraries Programme
In 1993, an investigation into how to deal with the pressures on library resources, caused by the rapid expansion of student numbers and the world-wide explosion in academic knowledge and information, was undertaken by the Joint Funding Council's Libraries Review Group, chaired by Sir Brian Follett. This investigation resulted in the Follett Report. One of the key conclusions of this report was:
"The exploitation of IT is essential to create the effective library service of the future".
As a consequence, the Higher Education Funding Bodies in the UK invited proposals for projects which would "transform the use and storage of knowledge in higher education institutions". 15 million pounds was initially allocated to the "Electronic Libraries Programme", managed by the Joint Information Systems Committee (JISC) on behalf of the funding bodies. A series of waves of funding, proposals and projects has resulted in the eLib (capital L is correct) programme consisting of around 60 projects. Many of the projects are involved in, or tackle, overlapping or complementary themes; several of the projects and programme areas are also working closely with other digital/electronic library initiatives, some of these having a more international focus.
The first wave of projects began work in the spring of 1995. Project durations differ, so as some projects end, others either begin in further eLib waves, or continue through continuation funding or sponsorship. The programme is not overtly a research programme; its main remit is to provide a body of tangible, electronic resources and services for UK Higher Education, and to affect a cultural shift towards the acceptance and use of said resources and services in place of more traditional information storage and access methods.
Archive
An archive of the Interoperability Focus Web site is available on the Internet Archive (http://web.archive.org/web/*/http://www.ukoln.ac.uk/services/elib/). On 5 June 2013 this Web site had been crawled 346 times going back to 21 July 1997. The most recent archive was taken on 12 March 2013.
Note that this Web site is also available on the UK Web archive.