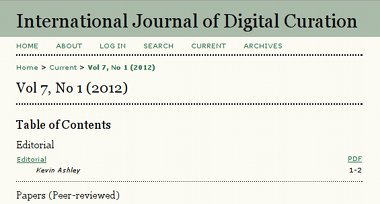 International Journal of Digital Curation, Volume 7, Issue 1
UKOLN has recently published Volume 7, Issue 1 (2012) of the International Journal of Digital Curation on behalf of the Digital Curation Centre. The issue contains eight peer-reviewed papers and seven general articles; of these 15 contributions, 11 were drawn from the 2011 International Digital Curation Conference held at the beginning of December last year and four were new contributions received by the Journal through general submission.
In his editorial, Chief Editor and Director of the DCC Kevin Ashley gives a personal selection of highlights from the issue. He notes how the use of grammars to validate file formats for preservation, as described by Underwood, represents a new spin on an established technique for producing compilers for programming languages quickly and robustly. Meanwhile, the work of Fetherston and Gollins to scope out a test corpus for file format identification and verification addresses a need that has hitherto been neglected. Some formats can be problematic in unexpected ways: Knight describes how curating XML documents at scale can unduly burden third-party systems.
Provenance remains an active area of interest. With respect to Web resources, Ashley urges readers to engage with the work of the W3C Provenance Group, as discussed by Groth, Gil, Cheney and Miles. Further papers discuss different techniques for tracking and surfacing the provenance of final results data.
UKOLN's Director, Liz Lyon, writes about the Informatics Transform as a model for realigning library services to meet the challenge of managing research data. Possible motivations for applying this model can be found elsewhere in the issue, with an article on the evolving data policies of research funders and a paper on the impact of Freedom of Information legislation. Further insights may be gained from an account of setting up an institutional data repository.
Data-intensive science is opening up a plethora of possibilities for answering hard research questions, so it is timely and appropriate to have an investigation into the sociology of such research based on an examination of data flows. A barrier to progress in this area, though, is a dearth of data; another article argues that a formal system of publishing and citing data may be a key factor in making more research data available. Even if data are freely available, there may be other barriers: with social media like Twitter, for instance, concerns about privacy and ownership give pause for thought.
Digital curation is still a maturing discipline, as shown by two papers that describe novel approaches to planning preservation strategies. One considers network modelling as a technique for choosing between options, while the other describes how one might assess the risks involved in migrating a corpus of resources from one format to another.
The publication of this issue of the IJDC marks some important changes for the journal itself. All its papers and articles now have Digital Object Identifiers (DOIs), making them easier to cite in a consistent fashion. The licence for papers and articles from volume 7 onwards has also been relaxed to Creative Commons Attribution (CC-BY), widening the range of possible channels through which readers can access the contents.
To read the Volume 7, Issue 1 of the IJDC, please visit the Journal Web site.
Note: You can find latest updates on our home page and previous articles in Feature archive.