Institutional Web Management Workshop 2011 Blog Now Live
While the IWMW Web site is the formal publishing mechanism for the event, the IWMW blog is intended to be the informal publishing/discussion outlet. It is likely to include discussion of themes, further details on plenary talks and parallel sessions, interviews with those involved, presentation of community ideas, and more. During the event we will also be posting interviews with delegates as well as video and audio content.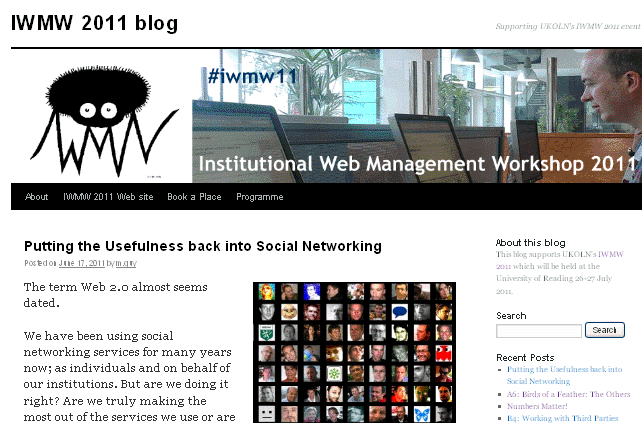 The IWMW first instituted an event blog in 2009 when it was recognised that it would meet and generate growing interest in the use of blogs in order to 'create an online community'. The recognised strength of the event blog is the opportunity it offers members of a community, in this instance institutional Web Managers (whether attending or not), to comment immediately and in context on the posts appearing before, during and after the event. Nowadays the blog has become part of the set of tools such as Twitter, etc used to widen the appeal of and interactive interest in modern events.
In the blogs which have been set up since that of IWMW 2009, we have noted some useful and worthwhile contributions which otherwise might never have come to light. For instance, in 2011 Paul Boag from Headscape wrote an intentionally controversial post Time to hire a web design agency? which generated a lot of discussion. Practitioners with a particular interest in the use of blogs in their work, whether research or in other areas of work, may be interested in the following items in the IWMW 2011, namely parallel sessions:
The UKOLN organisers are extremely keen to receive posts and comments to the blog from this moment forward through to well after the event has closed. We value the opinions and thoughts of delegates, whether they are attending in person or taking part virtually. We welcome comments whether on higher-level concepts surrounding the conference theme, or the topics it will be examining, suggestions as to useful reading relevant to the conference programme, past experience with technology or ideas raised during the event, anything you would consider as beneficial to the participants in this year's IWMW.
IWMW is an event for those involved in the creation of institutional (Higher and Further Education) Web sites. This year's event will run for two days and will take place at the University of Reading from Tuesday 26 to Wednesday 27 July 2011. Places are still available and cost £250 for 2 days. Price includes attendance at the workshop, 1 night's ensuite accommodation, conference materials, catering and workshop social dinner.
If you are interested in publishing a post on the blog please contact the event organisers Marieke Guy or Brian Kelly.
Note: You can find latest updates on our home page and previous articles in Feature archive.