Implementing A Holistic Approach To E-Learning Accessibility
Press Release: Best Research Paper Award At ALT-C 2005 For TechDis/UKOLN Holistic Approach To E-Learning Accessibility
A research paper outlining a model for maximising accessibility in e-learning has won the 'best research paper' prize from the Association for Learning Technology (ALT). The prize was presented at ALT-C 2005, the 12th International Conference of the Association for Learning Technology, held at the University of Manchester on 6-8th September 2005.
The paper, on 'Implementing a holistic approach to e-learning accessibility', was written by Brian Kelly of UKOLN (the centre of expertise in digital information management at the University of Bath), Lawrie Phipps, Senior Adviser for Higher Education at TechDis (the Joint Information Systems Committee-funded educational advisory service on accessibility and inclusion) and Caro Howell, University of Bristol.
In 2001, the Special Educational Needs and Disability Act (SENDA) extended anti-discrimination legislation to the education sector and placed a duty on higher education institutions to make 'reasonable adjustments' to ensure that disabled students are not disadvantaged. Much emphasis is now placed on accessibility in education, and it has generally become synonymous with Web or e-learning accessibility. The World Wide Web Consortium (W3C)'s Web Accessibility Initiative (WAI) has developed guidelines that help to ensure that Web resources can be accessed by people with disabilities. However, this paper argues that there is a need for a more sophisticated model for addressing accessibility in e-learning.
Over the past three years the authors have been working with academic staff, learning technologists and disability staff to find out how standards and guidelines fit in with the legislation on accessibility, and how they affect the learning experiences of disabled students. They have developed a simple holistic framework for the development of accessible e-learning resources, which takes into account the usability of e-learning, pedagogic issues and student learning styles in addition to technical and resource issues.
The authors feel there is a need to provide accessible learning experiences, not necessarily accessible e-learning experiences. They say there is a need to recognise that, just as IT has been used to provide accessible simulations of inaccessible 'real-world' learning, so accessible real-world learning resources can be used as a replacement for inaccessible e-learning resources. For example, rather than seeking to develop an accessible version of an interactive 3D visualisation of a molecule, lecturers should consider the learning experience provided by the e-learning resources and develop an alternative that provides an equivalent learning experience.
The model also recognises that accessibility is primarily about people and not about technology, so staff should take into account an individual's specific needs, institutional and subject factors when providing accessible resources.
The authors conclude that there is a need for a quality assurance framework for the development of accessible e-learning resources, which ensures that policies are provided and systematic procedures are drawn up for ensuring compliance with the policies.
Related Resources
Paper
Related Work
The paper builds on the following work which has been published in the following peer-reviewed journals or conferences:
In addition the following presentations have been given to a number of groups across the higher and further education and cultural heritage sectors in order to gain feedback on the work:
Survey Data
The initial motivation to explore limitations of the WAI model was faced on an automated accessibility survey of UK University home pages, carried out in September 2002 and repeated in June 2004. The surveys (which do not claim to detect whether Web pages are accessible, but whether they comply with guidelines which can be detected automatically) led to valuable discussions across the UK University Web management community regarding limitations of WCAG guidelines which led to the development of the holistic approach to e-learning accessibility.
The survey data is available:
Citation Details
Implementing A Holistic Approach To E-Learning Accessibility, Kelly, B., Phipps, L. and Howell, C. In: Cook, J. and Whitelock, D. (2005) Exploring the frontiers of e-learning: borders, outposts and migration; ALT-C 2005 12th International Conference Research Proceedings, ALT Oxford.
<http://www.ukoln.ac.uk/web-focus/papers/alt-c-2005/>.
Contact Details
For further information on this paper please contact Lawrie Phipps, Senior Adviser for Higher Education, JISC TechDis service (email Lawrie.Phipps@heacademy.ac.uk or phone +44 1904 717580) or Brian Kelly, UKOLN, University of Bath (email b.kelly@ukoln.ac.uk or phone +44 1225 383943).
About UKOLN
UKOLN is a centre of expertise in digital information management, providing advice and services to the library, information, education and cultural heritage communities. UKOLN is funded by MLA: the Museums, Libraries and Archives Council, the Joint Information Systems Committee (JISC) of the Higher and Further Education Funding Councils, as well as by project funding from the JISC and the European Union. UKOLN also receives support from the University of Bath where it is based.
About TechDis
TechDis aims to be the leading educational advisory service, working across the UK, in the fields of accessibility and inclusion. TechDis aims to enhance provision for disabled students and staff in higher, further and specialist education and adult and community learning, through the use of technology. TechDis is a JISC-funded service).
Accompanying Photographs
The following photographs are available.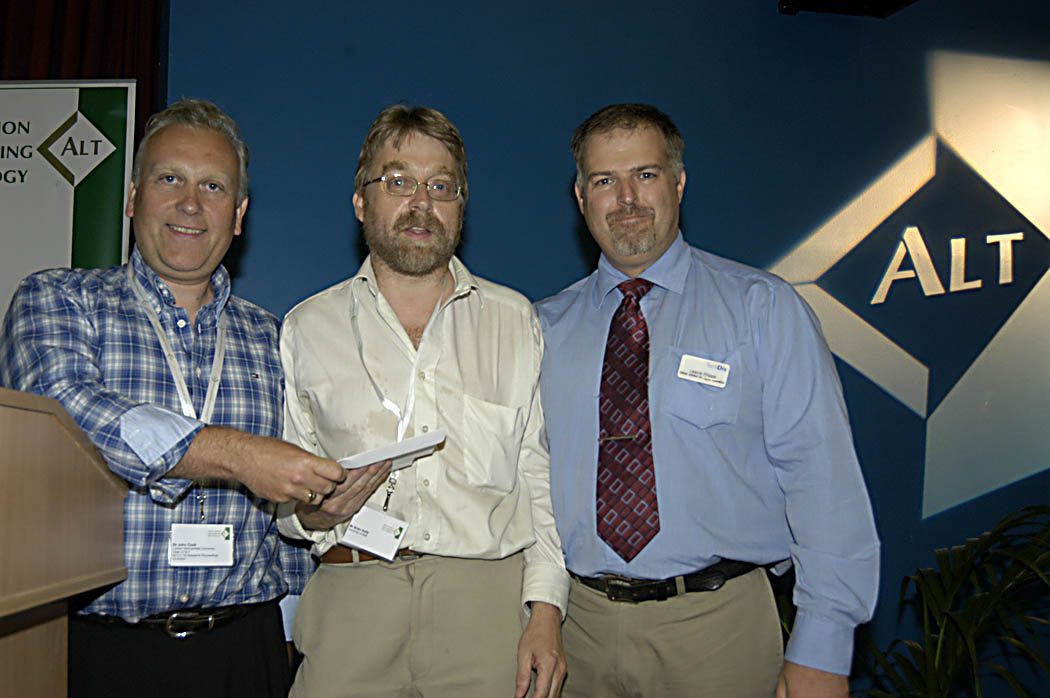 John Cook, Brian Kelly (UKOLN) and Lawrite Phipps (TechDis)