---
Over two hundred delegates representing twenty one countries attended Information Landscapes for a Learning Society; the third UKOLN Conference in the series Networking and the Future of Libraries, held at the University of Bath from 30 June to 1 July. Interesting and thought-provoking papers from a wide and cross-sectoral range of speakers were presented over the three-day event.
Brian Lang, Chief Executive of the British Library, opened the conference and Clifford Lynch from the Coalition for Networked Information in the US gave the closing keynote address. Delegates enjoyed a Civic Reception in the splendour of the Roman Baths and then went on to dinner at the Guildhall, despite strong competition from the England football team who were, as we were enjoying a superb meal, making their last attempts to remain in France. A full report of the conference can be found elsewhere in this Newsletter.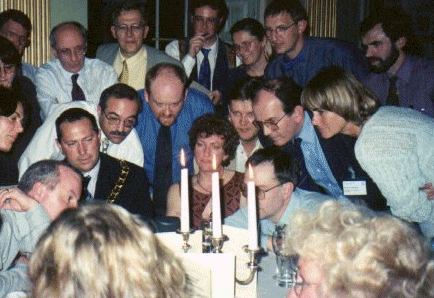 Delegates enjoying the Conference Dinner, and the World Cup, at the Guildhall
We would like to thank our sponsors, funders, Bath & North East Somerset Council and the University of Bath for their help in putting on this conference and for making this such a successful event.
---
This Newsletter is available free of charge. To be added to the mailing list please send your name (job title) and address to the editor, Sally Criddle, at s.criddle@ukoln.ac.uk
The conference marked 21 years of continuous existence at Bath of UKOLN and its antecedent organisations. We enter our 22nd year with an expanded funding base that now includes a range of strategic projects and initiatives, funded by the EU's Fourth Framework Programme, JISC and the British Library. We work closely with other national organisations and with a growing number of international collaborators.
We are commencing work on two new European projects, PRIDE and EXPLOIT and the eLib phase 3 project Agora. UKOLN will be the base for the new post of Interoperability Focus funded jointly by the BLRIC and the JISC. These initiatives are described more fully below.
New Library: The People's Network is continuing to have a major influence in our work in the area of public libraries and our involvement is being continued by Sarah Ormes who is working with the Library and Information Commission to take forward the recommendations of this report.
Updates on all our work can be found through out the rest of this Newsletter.
---
We have been awarded a new grant by the British Library Research and Innovation Centre to support our work from August 1998 to July 2001. This amount will be matched by funding from the JISC. The award follows the successful review by our funders last year in which UKOLN's 'international excellence as a centre for networking and new technologies' was acknowledged. Referees comments on the British Library bid noted our ability to deliver 'direction and leadership' and that no other European Country had managed to develop 'such a key focus in this vital area'.
News from the BLRIC
We are pleased to welcome Adrienne Muir, the new Digital Libraries Research Analyst at BLRIC with whom we will work closely on a range of issues. Adrienne succeeds Graham Jefcoate who is now the British Library's Keeper of Early Printed Works.
Adrienne previously worked at Loughborough University on Project Acorn, one of the JISC eLib projects. She has also held posts at the National Library of Scotland and the independent think tank, the Policy Studies Institute.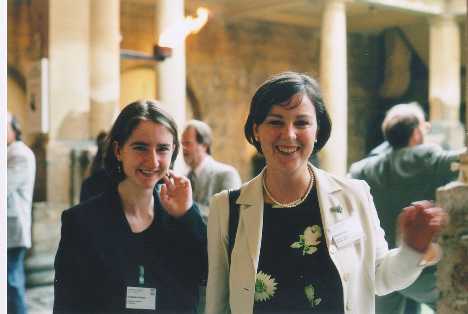 Adrienne with Elizabeth Graham of JISC, at the UKOLN Conference.
Adrienne says: 'UKOLN has an important national role in helping the development of information networks and making sure libraries are a central part of these networks. BLRIC continues to support UKOLN in its work and I am looking forward to working with UKOLN.'
Work on collection descriptions
We are pleased to announce that we will be supported by OCLC, BLCMP and Fretwell Downing in some work to develop consensual approaches to the descriptions of 'collections'. As reported elsewhere in this Newsletter, we continue to do work in the area of Metadata. Throughout this work, it is clear that metadata will be pervasive of distributed information environments. Metadata will be associated with information objects, with applications, with people, with organisations. It will support operations by people and by programs, providing them with advance knowledge of the characteristics of objects of interest and supporting sensible behaviour.
It has also become clear that there are niches in the current ecology that are not well addressed but which are central to mature services which help release the value of resources on the network and which promote effective use of people's time.
One such area is that of 'collection description', where a collection is a grouping of similar information objects. This is a poorly defined area at the moment, but one for which consensual approaches are urgently required. This is especially so in the current UK environment where a range of 'hybrid library' and bibliographic cross searching projects have been funded. Each of these will have to provide ways of describing the collections and services which are available to users of their systems. They will also be collaborating in the development of the 'Distributed National Electronic Resource', a higher education policy objective.
'Collection descriptions' provide forward knowledge about the services that are available to a user, allowing sensible discrimination between them and effective use of resources.
UKOLN has already carried out some background work in this area and a report which outlines some current approaches to collection and service description is in preparation and will be available at <URL: http://www.ukoln.ac.uk/dlis/models/studies/cld/cld.html>

Work has also begun on the PRIDE project (People and Resource Identification in Distributed Environments), funded under the EU Fourth Framework Programme. PRIDE is led by LASER and will explore the use of directory services to provide environment knowledge to distributed information services. It will investigate metadata and protocol issues in several service scenarios and it is hoped that it will make a significant contribution to supporting a key component in effective future systems. UKOLN will be contributing to the state-of-the-art and requirements phase which is underway, and to technical work later in the project. Further details about PRIDE can be found on the web at: <URL: http://lirn.viscount.org.uk/pride/>
---
As it has developed over the last three years UKOLN has been excellently supported by its committees. It has two guiding structures: the Management Committee and the Advisory Committee. The former is chaired by Richard Heseltine, the latter by Sheila Corrall. As we have now built up a portfolio of work, some of it with its own advisory structures, and as we are looking forward to a new period, it has been decided to consolidate our committee structures. The Advisory Committee will cease to exist in its current form, and we will extend the Management Committee slightly to ensure broad input. We would like to thank the members of the Advisory Committee for all their support over the last few years and we look forward to continued contact in various contexts. We would also like to express our thanks to Sheila Corrall for all her support of UKOLN over the years, as she steps down from the Management Committee. We will publish a list of Management Committee members in the next newsletter.
---
Interoperability Focus
UKOLN is pleased to report that it will be supplying this service, and is currently recruiting a staff member to work with UKOLN colleagues in this area. This initiative arose from discussions at the third MODELS workshop, where it was recognised that there were a number of areas requiring consensus and agreement if distributed working were to be effective. These included issues such as Z39.50 profiles, collection descriptions, and others.
Following the workshop, the British Library and JISC jointly funded a scoping study which recommended the setting up of a National Agency for Resource Discovery, and outlined a range of activities which would benefit from central attention. The scoping study was carried out by CERLIM and Fretwell Downing, with contributions from Geoffrey Hare and Index Data. It looked at issues in libraries, museums and archives and recommended the setting up of a NARD. The New Library: the People's Network report also recommended that the NARD be supported. The Interoperability Focus will carry out some of the recommendations of the report, but will not, at this stage, address the full NARD agenda. Its initial focus will be support for library interoperability issues, with special reference to profiles, resource sharing (interaction with holdings and circulation data), and collection/service description, including awareness activities and profile co-ordination, e.g. Z39.50, ISO ILL.
One clear reason for basing the post at UKOLN is because of synergies with existing UKOLN work. In time it is hoped to extend its remit to cover archives and museums, recognising that we share many of the same concerns, and also that users increasingly need to discover resources across domains. We will carry a fuller report in the next newsletter.
---
Over the last few years, the Dublin Core has emerged as a significant international consensual initiative to create a common approach to the description of network information objects to facilitate their discovery. Work has progressed through workshops and background group work to address technical issues. UKOLN has been closely involved with this work and jointly organised the second workshop with OCLC in Warwick in April 1996. We are implementing the Dublin Core in some projects, disseminating information about it, and have presented a tutorial in Luxembourg to EU-funded projects which wish to learn more about it.
The Dublin Core has been a voluntary initiative, owing much to the evangelism of its primary proponent, Stu Weibel of OCLC. Recently, it has been decided to formalise operations and two committees have been set up. Lorcan Dempsey sits on the Policy Advisory Committee and Rachel Heery and Andy Powell of UKOLN sit on the Technical Advisory Committee.
To find out more about the Dublin Core, follow links from UKOLN's metadata pages. There is also a link to DC-DOT, a tool developed by Andy Powell, which will generate metadata in a range of formats that includes the Dublin Core.
UKOLN Metadata pages are available at <URL: http://www.ukoln.ac.uk/metadata/>
---
The central theme of the 1998 UKOLN Conference was the construction of information and learning landscapes. The programme ranged from the exploration of distributed library architectures now being developed, to future gazing with the help of some visionary speakers.
The conference was opened by Brian Lang of The British Library, and the opening keynote address was then given by Richard Heseltine, from the University of Hull. His multimedia paper saw the future of libraries not as 'digital libraries' but facilitators in an 'information landscape'. Library users will no longer compartmentalise their information needs into specific areas, such as work, study and leisure, and expect to have to use different resources and services to fulfil each need. These users will want to operate in a seamless information landscape which allows them access to electronic information and resources from within their workspaces. Libraries need to come to terms with these new user needs and their new educational demands.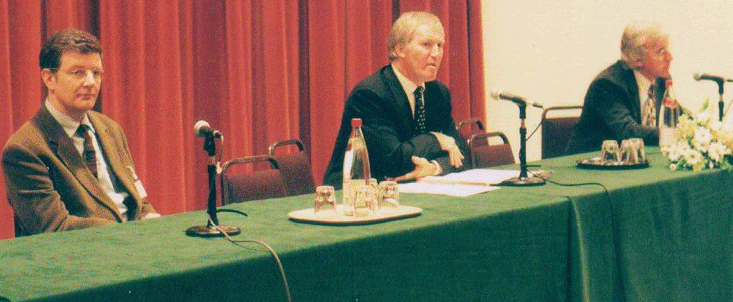 L-R; Lorcan Dempsey, Brian Lang, Richard Heseltine.
The first session addressing Information architectures was chaired by Lynne Brindley of the University of Leeds. Perhaps suitably, the first paper, on Moving to distributed environments for library services, was presented by Lorcan Dempsey of UKOLN. The current situation was sketched, where information services exist as unconnected islands and users face a variety of problems in separately accessing heterogeneous resources. The adoption of 'broker' architectures has been identified as one way of providing an integrated, managed service. The MODELS Information Architecture approach is not library-specific, having equal relevance for archives and museum services.
Recognising that research is increasingly inter-disciplinary, Dan Greenstein of the Arts and Humanities Data Service then described their broker implementation which will provide integrated discovery, delivery and use, for five diverse services. The 'gateway' service is based on the use of Dublin Core and Z39.50; even so, some unexpected search results can be returned, due to differing practices. Delegates were privileged to see one of the first demonstrations of the working service.
Mike Stapleton of System Simulation provided a view of architecture developments in the museums' world, where ownership of resources can be problematic. Similarly to other domains, common semantics are an issue. A number of the required technical building blocks are now in place (e.g. database repositories, gateways, brokers, protocols), but sound project management is recognised as a key enabler in networking cultural heritage services.
Finally David Kay of Fretwell-Downing Informatics looked at their experiences of implementing a general architecture in multiple domains. The most important lesson learnt is that metadata is king! The idea of 'repurposing' information to serve different needs was introduced. Individual services must 'think global, act local', since the issues are too broad for any single group to resolve.
Session 2, Information landscapes, was chaired by Bruce Royan of SCRAN. Peter Lyman of the University of California Berkeley pointed out that landscapes may change into wildernesses and vice versa. The distinguishing feature of a landscape, is its sense of place; the challenge is to create this in libraries by harnessing both technical and social architectures. We should abandon the concept of user, in favour of learner; the focus should be on fostering 'communities of learners', since the creation of knowledge happens within groups, and not via individuals.
Hilary Hammond from Norfolk County Council discussed regional and cross-sectoral co-operation, in the context of non-traditional entry to HE, and the resulting increased demand for learning resources. Partnership is seen as vital for building the required information landscape and involves public, HE and FE libraries, as well as archives and other information repositories.
Ray Lester of the Natural History Museum looked at the question of who is in command. A variety of network architectures exist, since there is no-one directing strategic development, either across communities or funders. It was argued that 'leaving well alone' is not advisable - the panoply of access and management issues will not solve themselves: a commander is needed.
The final landscapes paper was presented by Cris Woolston of the University of Hull, using film clips to illustrate the challenges to be addressed in creating learning environments. He maintained that if emerging networked 'places' are to support rich learning experiences, then they must be designed, organised and managed in ways that address different learning styles and mesh with user behaviour.
Session 3, Information and the public sphere, chaired by Chris Batt, the Director of Leisure Services for Croydon, moved the debate into the public sector.
Andrew Blau, from the Benton Foundation in the US, argued that in a richly networked society the existing ordered information world will become 're-chaosised' resulting in a changing public sphere. The traditional stable relationships between information providers and users will be undermined and new forms of social organisation will necessarily emerge.
John Dolan, Head of Birmingham Central Library suggested that new technology could assist in democratic renewal by making government more accessible and recognised the potential for public libraries to shape the communities they serve.
Having described the present distributed system of the national archive, Sarah Tyacke of the Public Record Office, went on to describe how the PRO are taking advantage of technical and organisational developments to repurpose their service to meet future anticipated needs of both their present users and potential users.
Andrew McDonald, from the University of Sunderland, provided a practical example of the successful cross-sector partnerships between the University, City College and public library in Sunderland, 'a learning city'. That this project was a success despite having to overcome many difficulties relied to a great extent on the attitudes of those involved. They learnt to think 'learner' not library and an attitude of 'just do it' and 'don't look and wait for perfection', prevailed.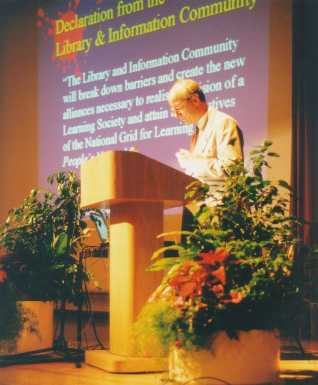 Andrew McDonald, delivering his presentation 'Joined-up thinking: strategic partnerships for lifelong learning'
Bob Fryer, of the Northern College and Chair of the Government's National Advisory Group for Continuing Education and Lifelong Learning, presented the range of challenges that we face if we are truly to enter the learning age. He urged us to regard learning as truly lifelong, and not neglect the pre-16 or post-55 population or those that are not in paid employment but contribute to society by working, for example, in the community or voluntary sector or as carers. He challenged us to produce reality not rhetoric.
The penultimate session of the conference started with an exploration of the current issues that need to be addressed to ensure that library staff are trained to meet these new challenges. The session was chaired by Monika Segbert of The British Council and DG XIII European Commission, and included papers by Lars Børnshauge, from the Technical Knowledge Centre of Denmark, Biddy Fisher, of Sheffield Hallam University and Grace Kempster, from Essex County Council. Libraries will need to reassess both the roles of their staff and the way in which they provide their services. There will need to be a greater emphasis on taking learning out to the user and ensuring that staff are prepared to meet the needs of lifelong learners. Public libraries, it was suggested, will soon become the institution of choice for the general public for access to learning and education.
The final session of the conference was chaired by Richard Heseltine and looked to the future of libraries in this area. David Bearman, of Archives and Museum Informatics explored some of the issues involved with developing unified access to cultural resources currently held in institutions with different collection, provision and cataloguing traditions. By developing an electronic common ground that could negotiate these differences it would allow our fractured cultural memory to be electronically unified. The following paper by Frank Webster, Professor of Sociology at Oxford Brookes University was somewhat controversial. He debunked the notion that the development of the 'New Library' would lead to a more democratic society. He pointed to the lessons to be learnt from the early days of television and radio when they too were expected to lead to a more democratic society through public access to greater information. He called for public librarians to assess the information value of the Internet carefully and wondered whether a more useful information source was not simply government institutions.
Clifford Lynch of the Coalition for Networked Information presented the closing keynote address which looked at libraries as mediators in the digital culture. He argued that ecologies, rather than landscapes, are more characteristic of the information world; a rich ecology or landscape is populated not just with resources, but also with business interests. Strong expectations about information include the ability to 'repurpose' it and use without being tracked. He suggested that there could be a higher degree of referral in future between libraries and commercial services such as bookshops. Services could be converged in novel ways, taking advantage of synergies.
The conference proceedings will be published by Library Association Publishing and details will be found on our web site once the publication is available
---
Andy Powell, Systems and Technical Develop Group Co-ordinator
The European Commission has now signed contracts for the new project PRIDE and DESIRE-II, a continuation of the DESIRE project and we will be starting work on these shortly. Work on the following projects has continued:

Along with other partners in the project, UKOLN have helped to develop both the User Requirements Specification and the Function Specification for the BIBLINK Workspace. These documents describe in detail a workspace that will enable the sharing of metadata between publishers, National Bibliographic Agencies and other third parties. A sub-contractor, Jouve, has now been selected to develop the software required for the BIBLINK Workspace and several of the BIBLINK partners are in the final stages of negotiation with Jouve about the exact details of what will be developed. The workspace will form the basis of the cross-European BIBLINK demonstrator. Selected publishers will be able to submit metadata about their electronic publications to the BIBLINK workspace as Dublin Core records or SGML headers. The workspace will be accessible using both email and Web-based technologies.

The first phase of the NewsAgent for Libraries project has now come to an end. The trial NewsAgent service is still being run on a server at UKOLN but will not be developed further until the second phase of the project, NewsAgent for Libraries II, starts later this year.
Experience gained during the trial service was used as the basis for a User Evaluation, written by CERLIM. A Technical Evaluation, providing a critique of the software and metadata formats developed during the first phase of the project, was written by UKOLN. Both documents will feed into the software enhancements that will be made during the next phase of the project. NewsAgent for Libraries II hopes to see the development of a commercial current awareness service for library and information staff.

Michael Day, Research Officer
As part of the Interoperability strand of ROADS, UKOLN has been carrying out a study of eLib subject services current cataloguing policies and practice. This involves looking at a sample of completed ROADS templates which are being assessed with regard to cross-searching ability and quality. Documentation covering editorial policies with regard to validation processes and error checking will also be collected. As part of this work, an up-to-date statistical analysis of ROADS services' use of templates will also be gathered. Further details are available at: <URL: http://www.ukoln.ac.uk/metadata/roads/recci/>

The CURL Exemplars in Digital ARchiveS project (CEDARS) is funded by JISC through eLib. The project aims to promote awareness of the importance of digital preservation, to identify strategic frameworks for digital collection management policies and to promote methods appropriate for long-term preservation. Lead sites in the project are the Universities of Cambridge, Leeds and Oxford. The production of demonstrators at each of these sites will be an important part of the project.
The project commenced in April 1998 and will run for three years. UKOLN has involvement with the parts of the project that relate to metadata. Metadata can be used as a means of preserving technical data about digital resources, for recording migration strategies and enabling the construction of software emulators. It can also be used to help ensure the construction of software emulators. It can also be used to help ensure the authenticity of digital objects, for noting associated rights management information and to aid relevant collection management strategies.
The first part of the metadata work within CEDARS will be to identify current initiatives and formats which are being developed to store this metadata and work on this will be starting shortly.
The CEDARS web pages are available at <URL: http://www.leeds.ac.uk/cedars/>
---
Rosemary Russell, Research Officer
MODELS
The MODELS project has been continuing its work in developing a structured approach to the management of the growing mass of currently unconnected information services. Two MODELS workshops have been held so far in 1998, with one more scheduled for the autumn.
A Distributed National Electronic Resource? was the sixth workshop, held in February. It was one of the largest to date, involving around 50 invited participants. Discussions about the content of a DNER have been taking place within other JISC fora - MODELS focused instead on what the 'distributed' part might mean. The workshop therefore developed further the MODELS Information Architecture, a framework for talking about distributed information resources with a shared vocabulary and set of concepts. MIA includes the concept of information landscapes, a term used to describe an organised, personalised view of information resources.
MODELS 7 took place in May, addressing the deployment of MIA. It looked at ways of developing the framework into a practical tool which can be used by library and information services and systems developers. The need to define interfaces between distributed components in the broker model was recognised, and this work is being taken forward, concentrating on external interfaces. The current state-of-the-art is individually designed brokers which are built by one vendor. However it is possible that these could be the basis for a generic broker that would allow new resources (which conformed to the defined standards) to be 'plugged in' by library staff in a routine way (and similarly, obsolete resources to be removed in the same way).
We are pleased that eLib has extended its funding for MODELS until July 1999. Two further workshops will be held between January and June next year; topics for these are currently being discussed.
Further information about MODELS can be found at <URL: http://www.ukoln.ac.uk/dlis/models/>
Z39.50 profile work
Several Z39.50 library profiles (including the MODELS Profile) have already been developed in different countries, to improve systems interoperability and search results.
Given the international nature of the library systems market, it is unrealistic to expect vendors to conform to a number of profiles. The development of an international Z39.50 profile is therefore being explored, which would support effective cross-border Z39.50 searching.
UKOLN is collaborating on this with a wide range of organisations, including the National Library of Canada, the National Library of Australia, the US Committee on Institutional Co-operation (CIC), the ONE project and others in the EU Libraries Programme. We are also seeking input from other UK bodies such as the British Library and the clumps projects. The work is being coordinated by the National Library of Canada. The new Interoperability Agency post will take UKOLN's role forward.
eLib Supporting Studies
UKOLN has continued to manage a series of eLib supporting studies. Reports recently completed and available on the web include A survey of the content and characteristics of electronic abstracts by Alan Wheatley & C.J. Armstrong and The publishing of electronic scholarly monographs and text books by Ray Lonsdale & C.J. Armstrong. Hard copies of the reports are being published by LITC on behalf of eLib and distributed to UK university library and computing services. Reports are also available at:
<URL: http://www.ukoln.ac.uk/services/elib/papers/supporting/#ukoln>

Work has recently started on AGORA, one of the eLib phase 3 'hybrid library' projects. It was initiated by UKOLN and is being led by UEA.
AGORA will be implementing the architectures and approaches developed by the MODELS project. UKOLN is co-ordinating the service provider involvement and technical input, as well as organising communications and dissemination. The service structure of the AGORA hybrid library prototype is currently being developed, together with the technical partner, Fretwell-Downing. The first demonstrator will be available during the summer. This will initially demonstrate cross-domain searching for mixed media and search through to delivery for monographs and serials. There are five university library associates involved who will use the 'Hybrid Library Management System' developed by AGORA to deliver services. Feedback will be collected from users at these sites, which will shape the first real working system, to be delivered in 1999. AGORA is working closely with other eLib phase 3 projects, including RIDING and Music Online.
Agora web pages can be found at <URL: http://hosted.ukoln.ac.uk/agora/>
---
Sally Criddle, Resource Co-ordinator
New Library: The People's Network
New Library: The People's Network is continuing to have a major influence on our work in the public libraries area.
The Government signalled its commitment to public libraries in its response to New Library which was published in April. The proposals emphasise the role public libraries have to play in underpinning education, social inclusion and the modernisation and delivery of public services. A nationwide public libraries IT network, linked to the National Grid for Learning will help to deliver these objectives. The Government has pledged £70 million of National Lottery funds over the next four years. £50 million will be available for the digitisation of education and learning materials and £20 million will be provided for the IT training of all 27,000 library staff in the UK. It is envisaged that the implementation of these proposals will create investment opportunities for the private sector and opportunities for partnerships between the private sector, local authorities and the Government.
The LIC have established three task groups that will advise the Government on the way forward. These address network development and procurement, ICT training for public library staff and digital content creation. Sarah Ormes is providing support to the LIC for the Content Creation Task Group.
New Library Briefing Pack
All chief librarians have now been sent a New Library briefing pack. UKOLN developed the content for this, and the pack was designed and published by the LA with support from EARL. The pack consists of a presentation describing why the report was needed, what it says and how the proposals can be implemented and is designed to be given to library staff by their managers. The presentation is flexible and options are provided to tailor it to particular audiences. PowerPoint slides are supplemented with notes for the speakers and a briefing text provides additional background information on New Library. A series of five worksheets have been designed to be used to initiate discussions about the implications of New Library on the role of public libraries and the types of services that they provide. In addition the pack contains a hands-on introduction exercise to the WWW. This was adapted from materials that we produced for the Internet Open Day held last year as part of National Libraries Week.
Briefing Pack materials can be downloaded from the UKOLN web site at <URL: http://www.ukoln.ac.uk/public/services/briefing-pack/intro.html>
Other activities
Sarah Ormes and myself were invited by the Arts Council to facilitate a seminar at their Reading for Life conference to look at how public libraries can use the Internet to enhance and develop their literature services.
A report of the seminar can be found at URL: http://ukoln.ac.uk/public/present/reading/intro.htm
The participants were practitioners from library, community and cultural service backgrounds. The salient points that emerged from the lively discussions that ensued were that the development of these services will be better achieved through co-operation and the implementation of a nationally agreed strategy. The importance of working in partnership with the public and private sector was recognised, as was assuring public access to equipment and facilities else these literature services will only be available to people who can afford their own computer equipment.
Sarah was able to get a feel for the current state of the American public library service, and meet up with Elvis (!) when she attended the 7th American Public Library Association National Conference in a very cold Kansas City, Missouri. The conference highlighted many of the networking service developments that have already been achieved in the US. Although at first sight American libraries would seem very well resourced and developed in terms of networked services, there appears little sense of a co-ordinated approach to developing Internet services at a national level. There is no American New Library.
By contrast, I travelled to a warmer, but wetter Norwich, to the UK public libraries conference. Unsurprisingly New Library set the agenda. The meeting was both inspiring and motivating.
Full reports of the US and UK conferences can be found at <URL: http://www.ariadne.ac.uk/issue15/public-libraries/> and <URL:http://www.ariadne.ac.uk/issue16/pub-lib/> respectively.
Our involvement in the People Flows, CIRCE and Stories from the Web projects continues. Since our last project update, Niall MacKenzie has left his post of Co-ordinator of the Stories from the Web BLRIC funded project. We wish him well in his new job.
---
Ann Chapman, Research Officer
Multi-source currency survey
Since September 1996, UKOLN has been surveying the currency of records in a number of bibliographic databases, in addition to the on-going monitoring of the BNB files of the British Library. The additional databases are the library and book trade services of Bibliographic Data Services, Book Data and J. Whitaker and Sons, the databases of the library management systems of BLCMP and SLS (Information Systems) Ltd, the inter-lending facilitation services of LASER and Unity, and the large bibliographic databases of CURL and OCLC.
Enough data is now available to produce statistically valid figures and a report has been written on the results of the survey for the period September 1996 to August 1997. The first part of the report presents the findings of the survey, which shows that, overall, there is a good provision of bibliographic records for titles in the UK imprint being ordered by libraries in the UK. A number of issues are also identified and discussed. The report looks at how much database update frequency affects availability, the types and quality of records found, the proportion of more recent titles being ordered, the proportion of titles ordered in different subject areas and whether there are differences for the public and academic sectors.
The second part comprises the database profiles. The profile for each database gives an overview of the database (e.g. size, files held, record format, standards in use, availability of records) together with the results for the database with an accompanying discussion of the results and possible implications.
New UKOLN Publication
Bibliographic record provision in the UK: measuring availability against demand, by Ann Chapman.

Published by UKOLN, priced £12.00 plus p+p (£2.50 for UK orders). ISBN 0-9516856-5-1. Avaiable from UKOLN.
Future Currency Survey work
The participating databases in the Multi-source currency survey have agreed to the survey continuing till August 1998. At present the extended survey is carried out using an ordering stage sample for titles in the UK imprint only. UKOLN is currently exploring collecting a new sample of titles without restriction to the UK imprint.
An extensive amount of data, from 1980 to the present, is held in the Currency Surveys database compiled for the surveys. UKOLN is exploring the possibility of further analysis of this data in collaboration with LISU (the Library and Information Statistics Unit at Loughborough University).
---
Philip Hunter, Information Officer
Web Service Developments
The ISG group continues to work closely with the Systems and Technical Development Group, particularly in connection with the automation of various services. The eLib pages were restructured during July in order to facilitate site-wide updates, partly to keep pace with the development of that particular part of the UKOLN web service, and also to optimise the technology for UKOLN's requirements before applying it to other parts of the service.
The UKOLN web service holds some 22,000 html documents (in public access areas and the intranet). We are now exploring site management issues which can be expected to bear down on other sites in the future as they expand far beyond their envisaged parameters and a number of site management tools have been evaluated. Some of the site management requirements of the UKOLN web service can be met by using CGI scripting and other established techniques, and it is likely that in future we shall use a spread of technologies, without relying on single and vulnerable applications.
Plans being developed to expand the use of metadata for the UKOLN web service. Currently metadata is available for the later editions of Ariadne, key eLib pages, and some of the Metadata pages. As the various pre-Phase 3 eLib projects wind down, the UKOLN eLib pages will increasingly become the first port of call for information about completed and current projects. An expanded ROADS database using Dublin Core metadata will facilitate searches for information in this part of the web service. The metadata will be included on the fly from an external database, as is the case currently with Ariadne.
European Library Telematics
UK eLib projects have benefited from the wide circulation of their progress reports gained from publication in Ariadne. At the moment there is no comparable publication for the EU Telematics programme. The UKOLN ISG group is involved in the development of a new web magazine to fill the gap for library telematics projects in both western and Eastern Europe. Funding is now available for this magazine - which is still in search of a suitable title. The magazine will be managed with the aid of site tools evaluated by UKOLN, and mounted on an NT server. As much as possible of the production of the magazine will be automated. The aim is to produce the magazine using HTML 4 Cascading Style Sheets, so that the layout of the publication remains separate from the actual markup of the magazine pages.

Ariadne magazine is one of the original eLib projects, funded under the 'training and awareness' part of the programme. Along with other original projects, its initial funding is coming to an end. It is hoped that the magazine will continue in some form, as a valuable dissemination tool for UKOLN, electronic libraries projects, and the UK information technology community as a whole. We will be working to ensure that Ariadne continues in some form. More details will be available in the next Newsletter.
The latest edition of Ariadne is available at <URL: http://www.ariadne.ac.uk>
UK Web Focus UK
Brian Kelly, UK Web Focus
Web Focus UK Web Focus is the JISC-funded post for monitoring web developments and keeping the UK Higher Education community informed of the key developments and their implications.
Web Focus presentations can be found at <URL: http://www.ukoln.ac.uk/web-focus/presentations.html>
In April 1998 I attended the Seventh International World Wide Web conference which was held in Brisbane, Australia. The conference is the key international event for the international web research community to report on their web-related activities. The conference also provides an opportunity for the World Wide Web Consortium (W3C) to give an update on their activities, including developments to web protocols.
This year's highlight was RDF, the Resource Description Framework. RDF, which is an XML application, provides a framework for the development of metadata applications, such as resource discovery (in particular Dublin Core), authentication, content labelling, rights management, privacy and electronic commerce. In his keynote talk at the conference Tim Berners-Lee, the father of the web, spoke about 'evolvability'. The aim in the development of web protocols is to ensure that the web can evolve. The evolution should cover both developments to the mainstream protocols (so that today's software will be able to at least partially understand tomorrow's data) as well as developments which happen independently of W3C activities. Tim Berners-Lee described how RDF has an important role to play in this area, and in providing 'knowledge representation' or machine understandable metadata for the web.
Interesting themes which emerged from the conference itself included several papers highlighting the importance of link information for improved searching and navigation, including the Google search engine, available at <URL: http://google.stanford.edu/>. A number of papers also covered the potential for intermediaries, systems which can perform processing on behalf of a web browser. Intermediaries may provide a mechanism for deploying various new web developments which have been outlined above.
WWW 7 conference report is available at <URL: http://www.ukoln.ac.uk/web-focus/events/conferences/www7/>
WebWatch
Ian Peacock, WebWatch
The BLRIC funded WebWatch project has been analysing the use of web resources within various communities. Recent work has included analysing robots exclusion files, analysing UK academic library web sites and carrying out a number of smaller surveys for individual institutions.
Recent reports have provided information on HTTP headers (which may include server-software, platform and caching directives), hyperlink profiles (including locating links which will result in transatlantic traffic), the use of technologies (such as Java, scripts and event-handlers), HTML conformance and the use of HTML-embedded metadata.
Current technical work is focusing on integrating the robot-gathered data with a relational database which should provide the facility for users to perform their own analyses. A web front-end will allow users to execute SQL-queries on the database containing the information for their site.
WebWatch analyses are available at URL: http://www.ukoln.ac.uk/web-focus/webwatch/
---
In the last few months we have said goodbye to Isobel Stark, Penny Rogers and Glen Monks. Isobel has left UKOLN, but not the University, as she has taken up the post of Subject Librarian in Chemistry, Pharmacy, Pharmacology and Chemical Engineering in the Library and Learning Centre here at the University of Bath.
Bernadette Daly joined us in early July as our second Information Officer, to support the web service. Penny has left to concentrate on her freelance book editing activities. Susan Stidolph now assists Ann Chapman, part-time, with her survey work. Tracy Gardner, a Ph.D student based in the Mathematics department of the University, is supporting the ISG group on a part-time basis, programming dynamic site structures for the UKOLN web service.
Manjula Patel has also joined us on a part-time basis and is currently working on the BIBLINK project.
And finally, we have said (a final) goodbye to Glen Monks who, after graduating, has left the University to take up a post at the Open University in Milton Keynes. Glen originally joined UKOLN as a placement student in 1996, and continued to be a familiar face around the UKOLN offices right up until his move to Milton Keynes. We wish Glen, and all our other former colleagues good wishes in their new ventures.
UKOLN staff:
Director
Resources and Administration Group
Ruth Burt (Office Administrator)
Ali Cook (Financial Administrator)
Sally Criddle (Resource Co-ordinator)
Research Group:
Metadata
Rachel Heery (Co-ordinator)
Michael Day (Research Officer)
Bibliographic Management
Ann Chapman (Research Officer)
Susan Stidolph (Research Assistant)
Distribulted Library Systems
Rosemary Russell (Research Officer)
Public Library Networking
Sarah Ormes (Research Officer)
Information Services Group:
Brian Kelly (UK Web Focus)
Philip Hunter (Information Officer)
Ian Peacock (WebWatch)
Bernadette Daly (Information Officer)
Events:
Hazel Gott (Events Manager)
Birgit Kongialis (Assistant)
Systems and Technical Development
Andy Powell (Co-ordinator)
Eddie Young (Network Systems Officer

---

Current UKOLN publications

To order a copy of Bibliographic Record Provision in the UK: measuring availability against demand, please UKOLN at the address given below.

The proceedings of the 1998 UKOLN Conference will be published by Library Association Publishing in the New Year.

Also available from the Library Association is: The Internet, Networking and the Public Library, edited by Sarah Ormes and Lorcan Dempsey; ISBN 1-85604-202-2; £29.95.

---

UKOLN
The Library
University of Bath
BATH
BA2 7AY

Tel.: +44 (0)1225 826580

Fax: +44 (0)1225 826838

Email:ukoln@ukoln.ac.uk

URL: http://www.ukoln.ac.uk/

If you have any comments on the newsletter, please contact, Sally Criddle, Newsletter Editor, at the above address or by email on s.criddle@ukoln.ac.uk
UKOLN is funded by the British Library Research and Innovation Centre, the Joint Information Systems Committee of the Higher Education Funding Councils, as well as by project funding from the JISC's Electronic Libraries Programme and the European Union. UKOLN also receives support from the University of Bath where it is based