UKOLN Newsletter
25 March 2002
ISSN 0963-7354
---
Contents
Implementing the new Strategy
Liz Lyon
Director
Following the successful outcomes of last year's Review initiated by Resource and in collaboration with the Joint Information Systems Committee (JISC), we are pleased to be able to report on progress with implementing the new UKOLN Strategy 2001-2004 which is now available on our Web site. The Strategy is a high-level document which is complemented by a more detailed internal Work Programme, many elements of which are reported in the Newsletter. These key documents have been created as a collaborative effort with UKOLN staff and will be updated in future on an annual basis.
The work themes outlined reflect the continued commitment to influence policy, inform practice and initiate innovative development activities but also show UKOLN's widening sphere of influence and impact through new activities in new market sectors.
One such area is the Grid / e-Science arena. Members of this community need to discover, locate, access, store and preserve information which may include large numeric datasets, e-print archives, satellite images, and molecular structures in a similar manner to users of equivalent resources within the "Distributed National Electronic Resource" (DNER). The information is distributed across networks and access may be via a variety of portals (Grid, institutional, subject, personal). Through our work developing a service architecture for the JISC Information Environment, we are exploring areas of synergy with parallel Grid Services architecture developments within the e-Science Core Programme. This work is ongoing and will be disseminated through forthcoming articles, conference papers and events, and is a significant new thread offering valuable opportunities for collaboration and sharing of knowledge and expertise.
Our Policy and Advisory functions have recently been strengthened through the new JISC Quality Assurance Focus post, which is hosted jointly by UKOLN and the Institute for Learning & Research Technology at the University of Bristol . We see valuable links between this role and the Technical Advisory Service for the NOF Digitise Programme and I think this is indicative of the emerging trend towards a shared view of the networked information space and the resources within that space.
UKOLN is also making a significant contribution to wider digital library developments in thecultural heritage sector, the harmonisation work, begun last July in partnership with Resource and CIMI, has progressed and will shortly culminate in a second International Meeting on National Digital Cultural Content Creation Strategies in the United States. We have also contributed to recent international standards developments including the Open Archives Initiative and the Dublin Core Metadata Initiative and this work continues to underpin and inform our core activities.
More information about the UKOLN Strategy can be found at:
http://www.ukoln.ac.uk/ukoln/newsletters/issue13/strategy2001/
More Successes In 2001
In September 2001 the Library Association Cataloguing and Indexing Group unanimously agreed to award the 2000 Alan Jeffreys Award to Ann Chapman.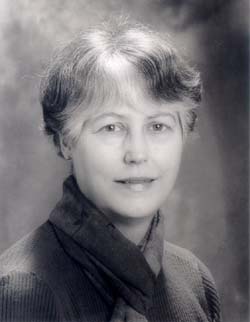 Ann Chapman of UKOLN wins National Prize.
The award was made in recognition of a "significant contribution to the understanding and development of statistical evidence within professional fields of interest". The announcement in Catalogue and Index (no. 141, autumn 2001, p.12) continues "the continuity of such information has played a significant part in rebuilding the importance of cataloguing and indexing skills and data".
The Alan Jeffreys Award was established in memory of the former chairman of the group, who died in 1994. Previous holders of the award are Ross Trotter (1996), Keith Trickey (1997), Brian Holt (1999) and Stuart James (1999).
Welcome to the first edition of our newsletter for 2002. Following last year's review by our funders, Resource and the Joint Information Systems Committee (JISC), this issue focuses on the implementation of the 2001 – 2004 UKOLN strategy.  The past six months have seen further growth at UKOLN with new staff joining the Information and Communication, Policy and Advice, Research and Development and the Distributed Systems and Services teams. In line with our new strategy we are expecting there to be further developments in 2002.
Along with updates on our ongoing projects, this edition contains articles on some of our new projects. UKOLN has hosted the Collection Description Focus – funded for 12 months - since June 2001. The first briefing was held in October 2001 and the first workshop in November 2001: both were a great success.  Workshops in 2002 are being held on 8 February in Birmingham, 21 March in Edinburgh, and the final briefing will be held at The British Library on 14 May.
Other new projects include the Open Archives Forum, of which UKOLN is the coordinating partner, which will provide a Europe-based focus for communication and dissemination of information about European activity related to open archives and the Open Archives Initiative (OAI).
The Augmented Representation of Cultural Objects (ARCO) project started in October 2001 and is funded as part of the EU's Information Society Technologies (IST) Programme.
UKOLN is also contributing an introductory review of metadata for digital images to the JISC-funded FILTER (Focusing Images for Learning and Teaching - an Enriched Resource) project.
The Digital Preservation Coalition was also established in 2001, with the aim of fostering joint action to address the preservation of digital resources in the UK and also of working with others internationally to secure a global digital memory and knowledge base. UKOLN will be contributing some help towards this.
This year we are proud once again to be coordinating the JISC/CNI (Coalition of Networked Information) conference which will be held on 26 and 27 June in Edinburgh. And, due to the success of the Public Librarians Web Managers Conference in 2000, we are looking forward to hosting it once again at the University of Bath in September.
Policy and Advice
Interoperability Focus
Paul Miller
Interoperability Focus staff continue to be active across a range of activities, reaching all of the sectors with which UKOLN is engaged.
One important - and promising - area of new activity for 2001 was the organisation of an international meeting in London which explored synergies between programmes funding the digitisation of cultural content. Working in partnership with Resource and The Consortium for the Computer Interchange of Museum Information (CIMI), Interoperability Focus organised this event, and is taking a lead in progressing outcomes from the meeting.
This first meeting is reported in issue 5 of Cultivate Interactive and in the January 2002 issue of D–Lib Magazine, and preparations are well underway for a second meeting to be hosted by the US Institute of Museum & Library Services (IMLS) in Washington, DC., in March 2002.
Reports can be found at:
http://www.cultivate-int.org/issue5/giants/ and http://www.dlib.org/dlib/january02/gill/01gill.html
Details are also available at: http://www.ukoln.ac.uk/interop-focus/ccs/
UKOLN's involvement with the Metadata for Education Group (MEG) also continued, including further work to develop the MEG Registry. This tool, based upon earlier UKOLN work in the European–funded DESIRE project, is being employed to describe the metadata used by various educational projects and services in the UK and elsewhere.
Interest in MEG continues to grow, with more than 60 major signatories to the Concord, and interaction with a wide range of stakeholders at all levels.
More information about MEG can be found at: http://www.ukoln.ac.uk/metadata/education/
and: http://www.ukoln.ac.uk/metadata/education/documents/concord.html
Further information on the work of Interoperability Focus is available from the website: http://www.ukoln.ac.uk/interop-focus/
and via the interoperability JISCmail list at: http://www.jiscmail.ac.uk/lists/interoperability.html
UK Web Focus
Brian Kelly
UK Web Focus is a Joint Information Systems Committee (JISC) funded post which provides advice to the Higher Education and Further Education communities on Web developments. Activities include monitoring Web developments, informing the community through articles in refereed and other publications (both print and online), giving presentations, organising workshops and other events together with a variety of coordination activities.
The main UK Web Focus activity is the annual Institutional Web Management workshop - a three-day event for institutional Web managers. The fifth in the series took place at Queen's University Belfast on 25-27 June 2001. The 2001 workshop had the theme "Organising Chaos", and was the largest to date with 150 delegates. It was also the longest workshop, lasting from Monday morning until Wednesday lunchtime. The extra half-day compared with the previous three workshops allowed us to run a full day of interactive parallel sessions. The workshop had also moved from September to the summer in order to make it easier for delegates from the FE sector to attend and to provide more flexibility for the date and location of future events, as finding venues in September is becoming increasingly difficult.
Planning for this year's event is well underway. The workshop will be held in the University of Strathclyde, Glasgow, during the week of 17 June 2002.
Papers were presented at a range of conferences, workshops and seminars. A briefing session on "The Web For The PR And Marketing Community" was given at the annual Council for Advancement and Support of Education/ Higher Education External Relations Association (CASE/HEERA) conference in September, a talk on "Automated Benchmarking Of Local Authority Web Sites" at the Royal National Institute for the Blind (RNIB) Techshare conference in November, a talk on "Exploiting The E-Book" at the EuroWeb 2001 conference in December and a talk on "Automated Benchmarking Of UK Museum Web Sites" at the UK Museums and the Web 2001 conference. A talk on "The Web In The 21st Century" and two interactive sessions (on "Auditing and Monitoring Your Web site" and "Disseminating News Within Your Organisation") were given at UKERNA's JANET User Support Workshop in September.
New areas of work which have been addressed include usage statistics for e-journals and benchmarking Web sites. UK Web Focus has joined the Usage Statistics working party of the PALS (Publisher And Libraries Solutions Committee) group and is leading a task force which is addressing the data processing issues associated with the provision of meaningful usage statistics of e-journals. A number of workshops on benchmarking Web sites have been given and several articles on this subject have been written.
Public Library Networking Focus
Penny Garrod
Penny Garrod took up the appointment as Public Library Networking Focus in September 2001. For the past seven years Penny has worked mainly in research and development in the academic library and information services sector. She was the research officer for two projects within the Joint Information Systems Committee's (JISC) 'Electronic Library' programme, both of which were based at the University of Plymouth.  Prior to this Penny was researcher on a British Library funded project, based at Loughborough University to evaluate benchmarking,.  Penny has worked in acquisitions in a college of higher education library, and managed a one-person research library. Public libraries add a new dimension to her field of work and present new challenges which will enable her to build on her previous experience.
Conferences
Penny Garrod attended the "Libraries and learndirect - Succeeding Together" Conference in December 2001. The conference was held at Learn MK, De Montfort University in Milton Keynes, and was attended by approximately 130 delegates. Keynote speakers included Ann Limb, Chief Executive of UfI Ltd., and Bob McKee, Chief Executive of the Library Association. The central message of this event was that "we are all educators now", and that learning is neither linear nor timebound. The vision was that the UfI would become as successful as the Open University, and that the UK would become a leading knowledge economy, through the convergence of e-learning, e-skills, and e-commerce.
Penny presented two papers in November 2001 on the ever popular topic of e-books. The first event took place at Derby University, and was organised by the Universities, Colleges and Research Group of the Library Association, East Midlands Section. This event was entitled: "E-books for everyone", and papers included one from JISC and the reference materials publisher Xrefer. The second event was held in the delightful Lincolnshire town of Stamford, and was organised by Capital Planning Information/Instant Library as part of their policy seminar series. The findings from these events, and an update on e-books, will form the basis of a future article in Ariadne.
Networked Services Policy Task Group
The work of the Networked Services Policy Task Group was temporarily discontinued following the wind up of Electronic Access to Resources in Libraries (EARL) in September 2001. However, former representatives of  the group met in November 2001 to discuss how the work of the group should continue. The group is scheduled to meet for a second time in January 2002. Further information can be found at: http://www.peoplesnetwork.gov.uk/forum-series/nsptg/index.html
The Networked Services Policy Task Group, in collaboration with the Library Association and UKOLN, were responsible for the Issue Papers series. The online edition of the papers is now available on the UKOLN website at: http://www.ukoln.ac.uk/public/earl/issuepapers/
The 12th paper in the series, entitled: "Wireless Networks" by Deborah Liddle and Stuart Smitton of Walsall Libraries, Learning and Archive Services, was published in October 2001, and is now available online.  Penny Garrod has taken over as editor of the series.
Lis-pub-libs email discussion list
The membership of this email discussion list stood at approximately 830 members on the 7 January 2002 - up by 130 since the publication of the May 2001 edition of the UKOLN newsletter. However, there are 5,835 members of the library profession working in public libraries, so this represents a mere 14.2 % out of a potential list membership (see Library & Information Statistics Tables for the UK, 2001: http://www.lboro.ac.uk/departments/dis/lisu/list01/gen01.html)
It would be very rewarding to see the membership increase to around 25% of the potential list membership, and the Public Library Networking Focus will be taking positive steps to increase awareness of the benefits of joining the list, and to clarify the joining process. In the interim, information on how to join the list can be found at: http://www.jiscmail.ac.uk/lists/lis-pub-libs.html
Stories from the Web
UKOLN developed the Treasure Island Project back in 1996 as a pilot for the successful Stories from the Web service. Treasure Island is a well known piece of literature with strong themes, and the aim of the project was to explore how the Internet and books can complement each other, whilst encouraging children to learn a number of Internet skills. The site remains active to this day, with children regularly contributing their descriptions of pirates to "Ben Gunn", some of which are gruesome enough for horror film makers, see: http://www.ukoln.ac.uk/services/treasure/
Funding for Stories from the Web ended in June 2001, but Birmingham Libraries are continuing to fund the salaries of the Stories from the Web team until the end of March 2002. UKOLN continues to host the Web site on a dedicated server, but our future role, and the future of the service itself, were the subject of a meeting held on 6 December 2001 at the Shakespeare Memorial Room in Birmingham City Centre. The meeting was for existing and future Stories partners, and was set up to discuss and evaluate viable funding models for the future. More information will be provided on this when a solution to the funding issue has been found.  The Stories web site is at: http://www.storiesfromtheweb.org/
Bibliographic Management
Ann Chapman
Reveal
The programme to improve library and information services to visually impaired people, which is funded by the Department of Culture, Media and Sport, and began in 1999 was extended into 2001/2002 and UKOLN continues to contribute to the Reveal project which remains a priority within the programme.
Further work has been carried out on the bibliographic standard following the decision to use the MARC21 format. Other work has been an evaluation of Library of Congress Subject Headings (LCSH) and Guidelines for Subject Access to Individual Works of Fiction and Drama (GSAFD) for use in Reveal. UKOLN has also assisted the National Library for the Blind in the mapping stage of the migration of their catalogue from UKMARC to MARC21.
Work has continued on the web-accessible register of collection descriptions for Reveal, in particular in providing test data, running test sessions and writing guidance and help documentation. (For fuller details on the Collections Register see the Research Group section.)
Performance Measurement
UKOLN continues to monitor the availability of bibliographic records on the BNB files on the British Library database as it has done since January 1980. Results of this survey are available from the Bibliographic Management pages of the UKOLN web site.
UKOLN also continues to monitor the quality of records contributed to the British National Bibliography (BNB) files through the Copyright Libraries Shared Cataloguing Programme (CLSCP). This is carried out as an annual snapshot and the results are reported to the British Library and the CLSCP Steering Committee.
Dublin Core Library Application Profile
As Dublin Core is taken up by different information communities it is reviewed by those communities to see whether it can be used as it is or requires changes to definitions or additional elements. The international library community is currently developing a Library Application Profile, which will record any modified definitions and additional elements or sub-elements. As a member of the working party on this, UKOLN contributed to the draft version produced in summer 2001 and will continue this effort as the profile is developed.
Catalogue Quality Self Audit Tool
This project began as a collaboration with Essex County Libraries to develop a simple tool that libraries could use themselves to assess the quality of their catalogues. A pilot study was carried out at the University of Bath Library in 2000. The study formed part of the Master's degree work of Owen Massey of the Department of Library and Information Science at Loughborough University. ["Auditing catalogue quality by random sampling", by Owen Massey. MA dissertation, Department of Library and Information Science at Loughborough University, August 2000.]
The dissertation concluded that the technique was effective in picking up errors in descriptive cataloguing. A simplified technique was proposed and UKOLN has now revised the procedure and accompanying documentation in line with the recommendations.
The audit procedure and documentation will be made available from the bibliographic management pages on the UKOLN web site during January 2002. A paper on the pilot study and its findings has been accepted by the journal Library Management for publication in spring 2002.
New Opportunities Fund
Sally Criddle Resource Co-ordinator
UKOLN, in partnership with the Arts and Humanities Data Service (AHDS), is providing the Technical Advisory Service for the New Opportunities Fund's Digitisation Programme.
During the autumn, the Advisory Service took part in a series of nation-wide workshops for all NOF Digitise funded projects. These workshops provided an opportunity for applicants to learn more about the technical standards for the programme and for the service to gain an insight into the issues that projects have to deal with as they implement their technical solutions. In addition to these, Paul Miller (UKOLN) also led a workshop that considered the issues relating to the use of Geographic Information Systems in the NOF Digitisation Programme.
The NOF Digitise Programme Manual was published in September. This provides NOF project managers and team/consortia members with a range of guidelines and information to assist and support in the practical implementation of the funded projects. It will also be of value in planning, managing and evaluating digitisation projects in future programmes funded in the UK and elsewhere. Sections already published include project management, human resources, procurement and tendering, digital preservation, metadata sharing and XML and collection descriptions.
Support for the technical aspects of project implementation for individual projects is provided through an email query service.
From the beginning of January, Pete Dowdell, a recent addition to the UKOLN staff, and Marieke Napier (UKOLN) have been working as technical advisors for the service. Both of them will be contributing to the series of workshops scheduled for the next few months.
All supporting resources, including a list of FAQs, are available from the service's Web site at: http://www.ukoln.ac.uk/nof/support/
Research and Development
Renardus
Leona Carpenter
Technical Development and research

This two-and-a-half-year, EU-funded project haspassed some important milestones since last spring. The pilot broker, making it possible to search and browse across a range of subject gateways through a single user interface, is now available through the Renardus website. UKOLN's Pete Cliff made records from UK-based gateways available via harvesting into an RDN Z39.50 target which is installed on a dedicated Renardus Z39.50 server. RDN accounts for about half of the records currently available to the Renardus broker for searching. Richard Waller (UKOLN) carried out a successful trial installation of the broker at UKOLN. His report on the process is a significant contribution to the UKOLN-led work of documenting the Renardus system.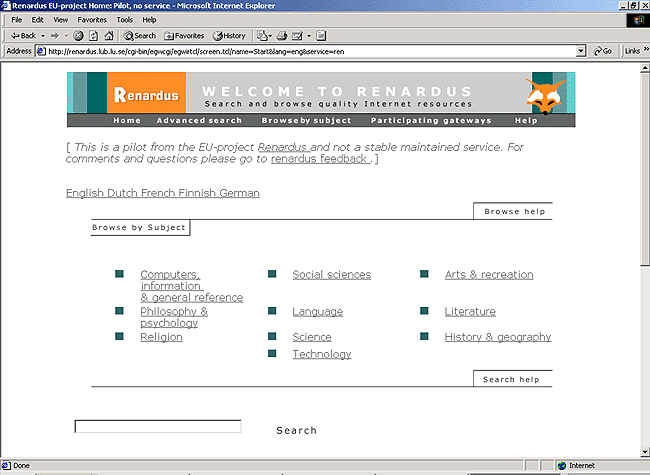 Renardus pilot broker screen
A Renardus workshop was held on 15-16 November 2001 at the Technical Knowledge Centre and Library of Denmark (DTV) in Lyngby, near Copenhagen. This brought together people from existing gateways and related organisations across the whole of Europe. Renardus was introduced via a series of presentations, demonstrations and evaluation sessions. Gateway representatives had an opportunity to introduce their own initiatives and discuss possible involvement in Renardus.
Michael Day (UKOLN) is a member of the Renardus project's working group on classification mapping. This group has co-ordinated the development of guidelines and technical support for the classification mapping work in Renardus. Most participant gateways provided mappings by early summer 2001 and the browsing interface was included in the beta pilot issued for evaluation at the beginning of June. The working group produced a paper describing the rationale and implementation of the mapping-based Renardus subject browse that was presented at the IFLA satellite meeting "Subject Retrieval in a Networked Environment", held at OCLC Online Computer Library Center in Dublin, Ohio on 14-16 August 2001. A draft of this paper is available at: http://www.ukoln.ac.uk/metadata/renardus/papers/ifla-satellite/ UKOLN is the co-ordinator of the Renardus workpackage on business issues. This is primarily concerned with the longer-term sustainability of the Renardus broker service. Project partners have discussed this at various meetings, including a brainstorming session on 19 January 2002, facilitated by Koenen Baak en Partners of Voorburg, Netherlands. Work on developing a more formal 'business plan' is in progress.
A range of Renardus activities involving significant UKOLN contribution was discussed by Rachel Heery, Leona Carpenter and Michael Day (all from UKOLN) in Renardus project developments and the wider digital library context, published in D-Lib Magazine in April. In September, Leona Carpenter contributed a Talking Heads interview on usability issues in the Renardus context. More information on the Renardus project can be found at: http://www.renardus.org/
IMesh Toolkit
Richard Waller Software Developer

Monica Bonett Software Developer
Work on the IMesh Toolkit has recently focused on developing components for providing annotation and personalization services for subject gateways. Personalization enables users of subject gateways to set up a personal profile in order to tailor the subject gateway service to their needs. Annotation enables users to make and read digital comments and guidance in connection with a gateway's original resources. The Simple Object Access Protocol (SOAP) standard is being investigated against the requirement that components in the IMesh toolkit need to be able to work independently of a particular service, whilst being general enough to be used by more than one service. We are working closely with the Resource Discovery Network (RDN) to test these requirements and the usefulness of SOAP to fulfil them. Results of our experiments will be disseminated as they become available. SOAP forms part of the activity of the W3C XML Protocol Working Group which has recently produced working drafts on SOAP version 1.2.
At the end of May 2001 we participated in the Synthesis meeting organised by the Distributed National Electronic Resource (DNER) Programme for projects which, like the IMesh Toolkit, are funded by the Joint Information Systems Committee and National Science Foundation (JISC/NSF) Digital Library Initiative 2. This provided an opportunity to disseminate the experiences of the IMesh Tookit Project group whilst benefiting from the views and findings of representatives from other projects. The IMesh Toolkit Project group gave a presentation and participated in the lively discussions.
One outcome of the Synthesis meeting was the suggestion to pursue the possibility of holding a second IMesh meeting. We have started investigating this option through an informal meeting held at Darmstadt, Germany, during European Conference on Research and Advanced Technology for Digital Libraries (ECDL) 2001. This was attended by those active in subject gateways in Europe and beyond and, as an initial response, showed that there is interest in the proposal. We will be working to refine the scope further and suggest a date for another workshop. Interested parties have been invited to suggest topics and initiate discussion through the IMesh mailing list. This is open to those with an interest in subject gateways, particularly anybody willing to share, collaborate and build closer ties with equivalent groups and services internationally. Information about the mailing list is available at: http://www.jiscmail.ac.uk/lists/imesh.html

In January we will be taking part in the DNER all-projects meeting, where we will be able to establish connections with projects similar to our own. We have already begun collaboration with the Subject Portals Project (SPP) in which a number of UK subject gateways are involved.
Sadly, in July 2001, we learnt of the death of Susan Calcari of the Internet Scout Project, our U.S. partner. Susan played a major part in the establishment of the IMesh Toolkit Project, and contributed a great deal in the field of digital library development.
SCHEMAS
Rachel Heery
Assistant Director and
R & D Team Leader
The SCHEMAS project has been running for two years as an accompanying measure to the European Commission's Fifth Framework Programme. It is funded as part of the Information Society Technologies (IST) Programme. UKOLN's partners in this project are PricewaterhouseCoopers, Luxembourg, who are the project co-ordinators, and the German National Research Centre for Information Technology, recently merged with Fraunhofer-Gesellschaft. The project has provided a forum for sharing information about metadata schemas between projects in the IST Programme and other national initiatives in Europe. The workshop programme, which formed part of the project, has proved a particular success. A total of four workshops have been held attracting audiences from throughout Europe and beyond. Workshop attendees fully supported the need to share the effort of creating metadata schemas and several projects have put forward their schemas for publication in the SCHEMAS registry.
The project investigated and prototyped various approaches to implementation of the SCHEMAS registry, first implementing a simple HTML based registry linking to existing schemas then looking at the more challenging option of an Resource Description Framework (RDF) based registry. We settled on implementing a registry based on the DESIRE demonstrator, also being used by UKOLN for the Metadata for Education Group (MEG) registry,  and were able to  populate this registry with a number of schemas including application profiles.
The fourth SCHEMAS workshop was held in November, a one-day event at Koninklijke Bibliotheek, the National Library of the Netherlands, in the Hague. During the day partners reviewed progress made in various aspects of the project, and UKOLN looked in particular at the work done on application profiles. Feedback from previous workshops had confirmed that customisation and localisation of standard metadata schemas is widespread. Building on  the concept of 'application profiles' we suggested means to express such variants, and proposed best practice guidelines. Manjula Patel (UKOLN) demonstrated the SCHEMAS Registry which now contains several metadata element sets as well as a large number of activity reports which describe and comment on various metadata related activities and initiatives.
Outputs from the SCHEMAS project informed much discussion of schemas, application profiles and registries at the DC2001 workshop in Tokyo which Rachel Heery (UKOLN) attended in her role as co-chair of the Dublin Core Metadata Initiative (DCMI) Registry Working group. Several contacts made at SCHEMAS workshops were renewed, and project partners were able to consider connections between development of the SCHEMAS and the DCMI registries
Collection Description Focus
Bridget Robinson
Research Officer, Collection Description Focus
Pete Johnston
Research Officer, Collection Description Focus
From June 2001, UKOLN has hosted the Collection Description Focus. This is a national post, jointly funded for a 12-month period by the Joint Information Systems Committee/Distributed National Electronic Resource (JISC/DNER), the Research Support Libraries Programme (RSLP) and the British Library.
The Focus aims to improve co-ordination of work on collection description methods, schemas and tools, with the goal of ensuring consistency and compatibility of approaches across projects, disciplines, institutions and sectors. The Focus provides support both for projects actively involved in collection description work and for those investigating or planning such work.
The work of the Focus is shared between Bridget Robinson and Pete Johnston (UKOLN), and builds on the earlier RSLP collection description work carried out at UKOLN by Andy Powell (UKOLN).
The Focus staff at UKOLN are supported by their partners in the CD Focus proposal, the Archives Hub and the mda, and also benefit from collaboration with the Interoperability Focus, CIMI (the international museums consortium), the Dublin Core Collection Description Working Group, and the work at UKOLN contributing to the development of the technical architecture for the DNER.
A Web site was established for the Focus at an early stage, and its launch was publicised widely via mailing lists and print and Web publications. A monthly digital "newsletter" on the activity of the Focus has been circulated and the Focus has responded to queries from projects and individuals on collection description.
An introductory article on the Focus and its work was published in the September issue of Ariadne. A first "briefing paper" on the general subject of collections and collection description has been published. The briefing paper is available via the CD Focus website or a printed copy on request by emailing :cd-focus@ukoln.ac.uk. Further briefing papers will be published over the coming months.
As part of the Focus information gathering activities, a number of visits have been made to projects working in the area of collection description. These include projects funded by RSLP and under JISC 5/99. The Focus has had a particularly active role in supporting Crossroads, a project which is developing a Web-accessible database of "high level" (collection-level) descriptions of the resources of museums, galleries, archives, and libraries in the West Midlands. UKOLN is providing guidance on collection description (CD Focus) and on technical implementation (Marieke Napier).
The Focus collaborated with CIMI on the design and distribution of a survey questionnaire on collection-level description activity. A preliminary report on the results of the survey will be published in January 2002.
An important area of the Focus work is to try to improve compatibility between different approaches to collection-level description and to avoid redundancy and duplication of effort. To support this, the Focus published a draft mapping of the elements of the major standards for archival description (ISAD(G) and EAD) to the properties of the RSLP Collection Description schema.
The Focus is hosting a number of events to disseminate information about its own work and the work of projects and initiatives in this area, to raise the profile of collection-level description generally and to engage with specific issues which must be addressed in order to improve co-ordination.
The first such event was a "Briefing Day" held at the British Library,   St Pancras, in October. The programme included presenters from the funding partners and from projects and initiatives involved in managing and describing collections of resources. It was aimed primarily at staff engaged in policy-making and attracted more than 80 delegates. Presentations given at the Briefing Day are available at: http://www.ukoln.ac.uk/cd-focus/events/bd1/programme.html
The second event was a workshop, aimed at practitioners actually describing collections, held at UMIST, Manchester, in November. The workshop provided an overview of approaches to collection-level description, and combined presentations with discussion sessions. Presentations given at the workshop are available at: http://www.ukoln.ac.uk/cd-focus/events/ws1/programme.html
A second workshop will be held at Aston Business School, Birmingham, in February and a third at the University Library, Edinburgh, in March. A second Briefing Day is scheduled for May at the British Library, St Pancras.
Building on the discussions at the first Briefing Day, it is planned to establish a Collection Description Forum, following the approach successfully employed by the Interoperability Focus in setting up the Metadata For Education Group. The Forum will be an open body with a broad representation of the different parties interested in collection-level description. It is hoped that such a group can agree on the importance of working together and can progress towards consensus on common solutions to a defined set of problems. More information about the work of the CD Focus is available on the website at: http://www.ukoln.ac.uk/cd-focus/
Subject Portals Project
Julie Stuckes
Subject Portal Project Manager
Julie Stuckes recently joined UKOLN as the Subject Portals Project Manager and her role is to co-ordinate the many and varied contributors. Julie will be acting as a facilitator to enable the development teams within the project to best achieve their objectives.
The Resource Discovery Network  (RDN) Subject Portals Project,  is funded by the Distributed National Electronic Resource (DNER) Development Program. The proposal was successful under the Joint Information Systems Committee (JISC) 5/99 call and full funding was allocated.
The work being currently undertaken represents phase two of the project. The first phase, known as SAD1 (Subject Access to the DNER). was successfully completed in August 2001. This first phase resulted in the setting up of prototypes for subject based portals in three key areas: social science; engineering; and biomedical. Phase two welcomes the addition of a humanities portal.
The Subject Portals Project (SAD2) is intended to enable further development of these portals and produce a recommended 'software tool-kit' that can be used to construct subject based portals in the future. The project is looking to provide the user with the sort of high quality functionality typically associated with a top-ten consumer portal. The key functional elements include authorisation, cross-search, news feeds/alerts and user profiling. We will also look to include recommendations for using community building tools and additional services. Other aspects of the project cover the selection and inclusion of subject based target web destinations whose data can be searched using the tools developed. These elements are being worked on both centrally and via dispersed development groups across the portal teams. The central co-ordination will concentrate on how these elements fit together and will develop the framework within which these elements can be employed.
We held our first project meeting in February, at which we discussed the project plan, division of work, technical methodology and identified some focus groups to work on finalising specific elements of the project. We have now completed the user requirements and functional specifications for the majority of the development work. We will shortly be beginning work on the system specifications, leading directly into software development and implementation/testing phases. We will be doing a full review at the twelve-month stage (August 2002) at which time we should be entering our first testing phase.
Digital Preservation Coalition
Digital Preservation Coalition was established in 2001 in order to promote joint action on digital preservation in the UK and to help facilitate UK collaboration with international partners on this important issue. Throughout 2002, UKOLN will be providing a small amount of support to the Coalition, chiefly by contributing information about UK digital preservation activities to the National Library of Australia's PADI (Preserving Access to Digital Information) subject gateway and to the JISCmail digital-preservation mailing list. More information on the Digital Preservation Coalition can be found at: http://www.jisc.ac.uk/dner/preservation/prescoalition.html
FILTER
Michael Day
Research Officer
UKOLN are contributing an introductory review of metadata for digital images  to the JISC-funded FILTER (Focusing Images for Learning and Teaching - an Enriched Resource) project. FILTER is funded by the JISC as part of the DNER (Distributed National Electronic Resource) Learning and Teaching Programme and is led by the Institute for Learning and Research Technology (ILRT) at the University of Bristol. The project is concerned with facilitating the effective use of images in learning and teaching. To that end, FILTER, in association with partner Learning and Teaching Support Network (LTSN) subject centres, is creating an exemplar database of subject-specific image datasets. These will contain digital images and some practical examples of how these could be used in a variety of pedagogical contexts. The UKOLN review will cover a wide range of metadata types, including standards developed for use by initiatives in the cultural heritage, geospatial and learning resources domains. It will also make some recommendations for the image and learning resource metadata that will be needed to support the implementation of the FILTER exemplar database. More information on the FILTER project can be found at: http://www.filter.ac.uk/
Open Archives Forum (OA-Forum)
Leona Carpenter
Technical Development and Research
UKOLN is the co-ordinating partner in this new EU-funded project to facilitate communication among projects, national initiatives and others interested in open archives. OA-Forum will provide a Europe-based focus for communication and dissemination of information about European activity related to open archives and the Open Archive Initiative (OAI). It will stimulate European involvement in the OAI and aims to ensure that validation of OAI specifications are co-ordinated within Europe, that the European perspective is fully articulated within the OAI, and that European organisations are ready to exploit the benefits of the OAI approach.
In addition to project management, UKOLN has responsibility for analysing and raising awareness of organisational issues relating to implementation of the OAI metadata harvesting protocol and participation in open archives. We will also participate in dissemination and communication activities including an interactive Web site, a series of workshops and in the investigation of tools for open archives. UKOLN's partners in the project are Istituto di Elaborazione della Informazione, Consiglio Nazionale delle Ricerche, Pisa (IEI-CNR), and Rechenzentrum / Computing Center, Humboldt-Universitaet zu Berlin (HUB).
More information on the Open Archives Forum can be found at: http://www.ukoln.ac.uk/metadata/oa-forum/
Other URLs that may be of interest include  Istituto di Elaborazione della Informazione, Consiglio Nazionale delle Ricerche, Pisa (IEI-CNR) at: http://www.iei.pi.cnr.it/ Rechenzentrum / Computing Center, Humboldt-Universitaet zu Berlin (HUB) at: http://www.hu-berlin.de/rz/wegweiser/english/ and the Open Archive Initiative (OAI) http://www.openarchives.org/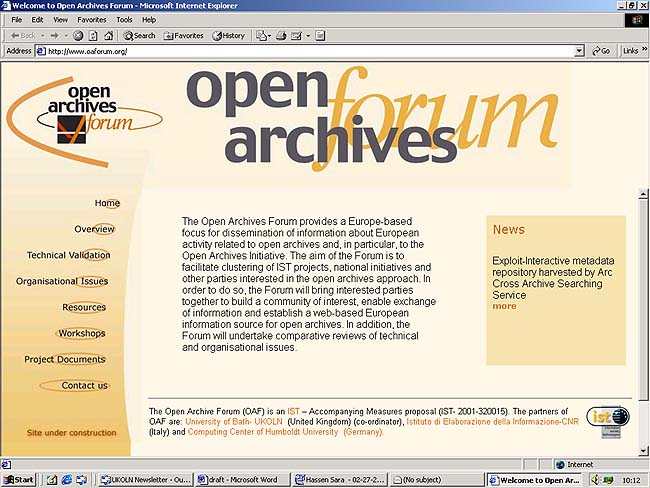 Open Archives Forum home page
Cedars
Michael Day
Research Officer

The Cedars project is a Joint Information Systems Committee (JISC) funded project that is investigating problems associated with the long-term preservation of digital information resources.
The final year of the project - which is due to end in March 2002 - has largely focused on the consolidation and dissemination of project outputs rather than on the undertaking of new research. In this regard, UKOLN is following up its involvement in the development of the draft Cedars outline metadata specification by contributing a guidance document on preservation metadata. This will be one of a series of Cedars publications that are intended to be concise, accessible documents aimed primarily at librarians working in research institutions. UKOLN will also contribute to a project workshop, due to be held in Manchester in February. As part of Cedars, UKOLN will also produce a short report comparing the draft Cedars metadata specification with selected library metadata standards.
Michael Day (UKOLN) gave a general presentation on Renardus, the Resource Discovery Network, and the Cedars project at the conference Electronic Resources: Definition, Selection and Cataloguing held in Rome, 26-28 November 2001.
More information on the Cedars project can be found at:http://www.leeds.ac.uk/cedars/
Reveal Collections Register
Richard Waller
Software Developer
UKOLN, in partnership with Samsara Research is completing the development of a Web-based collection register which has been based on the Research Support Libraries Programme (RSLP) collection description schema. The register will include data on the accessible format types held in particular collections, an indication of subject coverage, the number of titles held, what catalogues are available, individual and group membership conditions and charges, and contact details. This work on collection level descriptions is funded by Resource as part of the Reveal initiative to improve library and information services to people with visual impairments. It will bring together information about collections of materials in accessible formats held by more than 230 organisations in the UK.
The application provides access to public users and Reveal partners as well as to Reveal administration staff.  Users of the register will be able to search for collections that hold materials of interest to them in their preferred format and find information on how to contact the holding organisations. UKOLN is currently drafting guidance to users on how to search the register which provides both a simple free text search process and a more advanced version that supports controlled indexing terms. Reveal partners will be able to access and edit their own entry via a Web form so that details are kept up to date. Documentation for their benefit is also being completed, as is particular advice for Reveal collection officers on initial record creation. Furthermore, the Reveal service will use the register for housekeeping data about each organisation's participation in the Reveal project, for example how organisations will contribute bibliographic records to the Reveal Union Database. The search page, results display and the Web entry form have been designed with accessibility for users with visual impairments in mind. Whilst all three aspects of the register are now running quite robustly, more detailed testing and last revisions are being completed to reflect final improvements in the implementation. The stability of the application has allowed us to demonstrate the register to the Reveal Steering Group, with very positive feedback.
ARCO
Manjula Patel
Research and Development Officer
The Augmented Representation of Cultural Objects (ARCO) project started in October 2001, funded as part of the EU's Information Society Technologies (IST) Programme. The project will run for three years and has seven partners in total with the University of Sussex acting as coordinator.
The overall aim of the project is to develop techniques for capturing, representing and manipulating cultural objects and artefacts. UKOLN is largely involved in coordinating and specifying user requirements from several museums. Work on the user requirements specification has begun and was progressed at a meeting held at the Victoria and Albert Museum just before Christmas. A follow up meeting is planned for 10 January 2002. This will be followed by a project meeting on 11 January. UKOLN will also be involved in providing technical advice with regard to metadata and XML. Preparatory work to fulfill this role has also begun.
Information Services
Ariadne
Philip Hunter
Information Officer and Editor of Ariadne
Ariadne magazine continues to play an important role in disseminating information to information science professionals. Although its main focus is the UK Higher and Further Education community, it is widely read in the US and worldwide within the broad networked information community. Access statistics continue to rise, and an analysis of the figures for the whole of 2001 will be published in Ariadne 31 (March 2002).
Issue 29 (September 2001) featured a number of articles exploring the architecture of the digital library idea – Judith Clark wrote on the subject portal in the context of the Distributed National Electronic Resource (DNER) development programme; Tracy Gardner introduced Web services (applications talking to other applications over the Web); Stephen Pinfield and John Kirriemuir supplied separate views of the institutional issues surrounding the digital library; and Paul Miller (UKOLN) wrote an informative account of a UKOLN event held at the Office of the e-Envoy, "Architects of the Information Age". There were other interesting items including one by Susi Woodhouse on the building of the NOF-digitize programme, and no fewer than six conference reports –  two from US events, and another from the digital libraries Summer School at Tilburg in the Netherlands. Ariadne 29 also included a software review.
Ariadne issue 30 (December 2001) featured follow up items to our recent coverage of the Open Archives Initiative (OAI) and the developing interest in the idea. Leslie Chan contributed  "Open Archiving Opportunities for Developing Countries: towards equitable distribution of global knowledge"; and Pete Cliff (UKOLN) explained how the Resource Discovery Network (RDN) is now utilising the OAI metadata harvesting protocol.  The portal concept was revisited in a review article by Paul Miller, and David Pearson suggested in: "Digitization: do we have a strategy?" that the library sector should find a way to put digitization high on its agenda. "Reference Books on the Web" were explored by Adam Hodgkin of xrefer.com. Ariadne 30 also featured an introduction to the JISC User Behaviour Monitoring and Evaluation  Framework by Jenny Rowley. There was room also for items on Managed Learning Environments (MLEs),  Web-accessibility for the visually impaired,  Content Management Systems, Personalization of the humanities hub HUMBUL, and the Archive 2 Archive project (Caroline Thibeaud), plus three event reports.
Cultivate Interactive
Marieke Napier
Information Officer and Editor of Cultivate Interactive
Cultivate Interactive is still going strong. Issue 6 was launched on 11th February 2002 and contained 20 articles, including four Feature articles covering DIGICULT projects. Some of the more popular pieces include: an article on Content-Based Multimedia Information Handling which discusses retrieval and navigation as ways of accessing multimedia information and the use of content as an aid to these activities; a description of how new funding is being used at the Russian State Library and an introduction to Virtual reference and the first Web Reference Center for libraries. Over the last month the magazine has been receiving an average of 402 Visitor Sessions a day.
This January, Cultivate-Russia was launched in Moscow and UKOLN ran a tutorial workshop teaching members of the consortium how to publish their own Cultivate Interactive magazine in Russian. Details of the kick off meeting and other information about Cultivate-Russia are published in issue 6.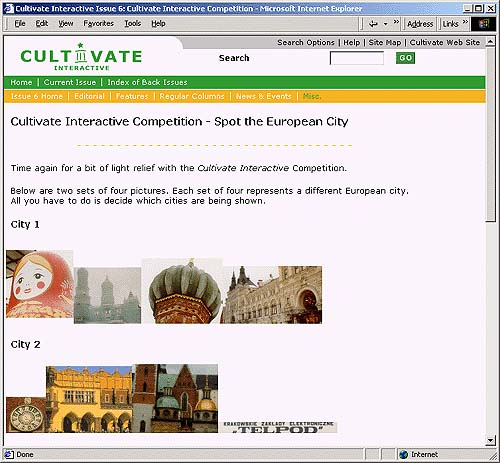 Cultivate Interactive, Issue 6
Technical development also continues, and issue 5 introduced the new 'view similar articles' feature which searches on Dublin Core metadata. A new regular column was added in issue 4 called 'Praxis', which aims to give advice on how to put various applications and theories into practice. Subject areas covered have included Streaming Video and Audio and Video Encoding.
At the start of October last year UKOLN took part in a successful Cultivate Project annual review in Budapest, Hungary. The review was amalgamated with the Cultivate Central and Eastern Europe (CEE) meeting and as an outcome of this, the CEE theme was chosen for issue 6
Distributed Systems and Services
Andy Powell
Assistant Director and Distributed Systems & Services Team Leader
Resource Discovery Network (RDN)
UKOLN provides a technical support service to the RDN. This service includes the provision of advice about interoperability and standards to all RDN partners as well as support for the central RDN Web site, the operation and development of the ResourceFinder and other central shared services.
ResourceFinder provides a cross-search facility for the RDN, allowing people to search all the RDN gateways in one go. Originally based on a cross-searching approach, ResourceFinder now searches a centralised database of all records. Records are gathered into the central database using the Open Archives Initiative (OAI) Metadata Harvesting Protocol and stored in a Cheshire database. To enable this, we have developed OAI tools that allow each of the RDN gateways to turn their databases into OAI-compliant repositories and a central record gathering utility.
August saw a new design for the RDN Web site and UKOLN staff spent some time layering the new design over the existing site.  This work also included the development of a highly accessible text-only version of the new site based on the Betsie tool developed by the BBC.
The RDN continues to try to make information available in new and interesting ways. There is continuing interest in RDN-Include, our technology for embedding ResourceFinder into institutional and other Web sites in such a way that their look-and-feel is preserved. We have been developing a more lightweight way of doing this based on JavaScript and HTTP. We have additional plans to make a Simple Object Access Protocol (SOAP) interface to RDN-Include available over the next few months.
So that others can use the news on our site, we make it available as an 'RSS channel'. This includes general news about the RDN and our Behind the Headlines service, which that provides background information about current affairs news stories based on the resource description in the RDN databases. (Note that the content of the Behind the Headlines service is maintained by our RDN colleagues at King's College London.)
UKOLN have proposed a number of shared services to the RDN, covering areas such as news and alerting, authentication, user-preferences and personalisation, annotation services and reading lists.  We are working closely with the UKOLN staff involved in the IMesh Toolkit project to develop our user-preferences and authentication ideas into real services that can be used within the RDN.
UKOLN is a partner in the Renardus project and UKOLN RDN staff have worked closely with members of the R&D team to contribute to this project. Based on this collaboration we have made all RDN records available to the project through a Renardus-compliant Z39.50 target, as part of its European-wide cross-searching service.
We have also contributed to the Joint Information Systems Committee (JISC) funded Gate-Z project. Working closely with Crossnet Systems Ltd, we have enhanced our directory of UK Z39.50 targets, using robot software developed by Crossnet. The information generated by the robot is made available using the Explain-Lite XML application. The robot and proxy software developed by Crossnet during the project is now in the final stages of testing and is freely available for downloading on an open source basis
Metadata Tools
DC-dot, UKOLN's Dublin Core metadata generator and editor, continues to be widely used. It has been used to describe well over 50000 different resources since it was first made available, and as part of several library and information science courses world-wide. DC-assist, a metadata help utility, continues to be popular. Both DC-dot and DC-assist have been kept up to date with current DCMI standards. For example DC-assist now includes support for the DC-Education application profile. RSS-xpress, UKOLN's Web-based RSS editor, has been enhanced to offer a lightweight mechanism for embedding RSS channels into any Web page RSS-xpress is used by the RDN to create their central news page and Behind the Headlines service as well as by several Learning and Teaching Support Network (LTSN) subject centres.
OpenResolver
Recently there has been some significant interest in the use of OpenURLs. To help clarify the ways in which OpenURLs might be useful to institutional and other library services, we developed a simple, open source, OpenURL resolver, known as OpenResolver. This tool is freely available for use through the UKOLN Web site or by downloading the source code. This work formed the basis for an introductory article about OpenURLs in Ariadne, as well as underpinning some contributions to the discussion about OpenURLs within the DC-Citation Working Group.
JISC Information Environment Architecture
Liz Lyon
Director
Andy Powell
Assistant Director and Distributed Systems and Services Team Leader
UKOLN continues to be involved in the development of a generic technical architecture to underpin the JISC Information Environment. This work started out as a single study of the 'DNER architecture', though more recently it has transitioned into a more wide-ranging technical support and advisory service for the JISC Development team. The technical architecture describes a framework within which the JISC Information Environment can be delivered, covering both end-user functionality, and the technical standards and protocols necessary to support it. The study considers two key problems: the portal problem or 'how do you provide discovery services across multiple content providers'; and the appropriate copy problem or 'having found something, how do you provide access to the most appropriate copy of it?'. The study proposes an information environment comprising content providers, fusion services, presentation services, infrastructional shared services, and specifies the machine-to-machine interfaces that allow the different components to interoperate. This work has been widely disseminated, both within JISC and externally. The architecture was presented to the IMS Digital Repository Working Group, where it contributed to the development of the group's initial White Paper, to the European Library Automation Group and elsewhere. We are also actively encouraging architectural links with UK e-Science Grid activity and with the e-Government Interoperability Framework.  Part of this work will look at aligning the architecture with wider Web Services developments.  At the time of writing, we are currently in the final stages of planning a joint UKOLN/e-Science 'Information Grid Workshop' in Edinburgh during April 2002.
Events
Sara Hassen
Events and Marketing Manager
As ever the UKOLN events team were kept busy in the second half of 2001. The 5th Institutional Web Management Workshop took place at Queen's University Belfast on 25-27 June 2001. The workshop covered a range of topics of interest to members of Web management teams in Higher and Further Education Institutions including multimedia, dynamic content, personalisation, Web design, e-business, Web strategies and general management issues. A total of 150 delegates attended the event. This year's conference is being held at Strathclyde University on 18 - 20 June 2002. The theme of this year's workshop is "The Pervasive Web". The call for speakers has already been issued and further information can be found at: http://www.ukoln.ac.uk/web-focus/events/workshops/webmaster-2002/"
The first Collection Description Briefing day was held on 22 October at the British Library Conference Centre, London. Called "Collected Wisdom: managing resources and enhancing access through collection-level description", it was well attended by more than 85 delegates who have an interest in developing and directing policy in this area. Two more workshops have been held since then - "Thinking Collectively: approaches to collections and collection description", was held in Manchester on 1 November 2001; and "Multi-purpose metadata for collections: creating reusable CLDs" was held in Birmingham on 18 February. The events have been a great success with plenty of positive feedback from the delegates who have attended. This has meant that places for the forthcoming third workshop being held on 21 March in Edinburgh have been in great demand. Details with regard to the third workshop "Raising standards for collection description: subjects and strength in CLDs" and also the final Briefing Day can be found at: http://www.ukoln.ac.uk/cd-focus/
The fourth and final of a series of SCHEMAS workshops was held on 30 November 2001 at The National Library of the Netherlands in The Hague, and was attended by 44 delegates. The purpose of this workshop was to review means by which projects could share information about metadata in use and to consider how collaboration in this area might be made more effective. Feedback from the workshop indicated that the overall content of the workshop proved to be valuable. For further information about the SCHEMAS project (and a review of the workshop), visit the SCHEMAS website at: http://www.schemas-forum.org/
UKOLN was sad to see the departure of the Events Manager Joy Fraser in July 2001, after working tirelessly for the department for over two years. The position was filled in November 2001 by Sara Hassen whose role will also encompass some of UKOLN's marketing activity. Sara has slipped straight into the role by helping Philip Hunter, with the final arrangements for UKOLN's first appearance at the Online Information 2001 exhibition, held on 4 - 6 December at Olympia, London.  The three day event was a great experience for the UKOLN team who attended.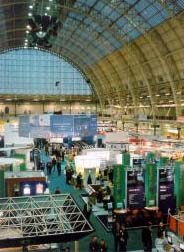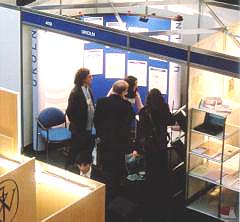 UKOLN Exhibits at On-Line Information 2001
This year will also be a busy year for the events team, who are proud to be co-coordinating the 4th JISC/CNI conference to be held in Edinburgh on 26 and 27 June 2002. Arrangements for the conference and the JISC/NSF workshop being held prior to the conference on the 24 and 25 June are well underway, and will no doubt once again attract plenty of interest from the UK and the USA.  For more information about the conference and to register go to: http://www.ukoln.ac.uk/events/jisc-cni-2002/
UKOLN and the UK e-Science Core Programme are jointly organising an international workshop "The Information Grid - an interoperable environment to support research, learning and teaching". The event will be held at the e-Science Institute in Edinburgh on 30 April 2002. The Workshop will explore common approaches and challenges to the service provision and description of datasets and information resources within the Research Grid/e-Science communities and those working with the JISC Information Environment. It will also aim to raise awareness of the service architectures and to describe current activities to progress thinking in this area. Attendance will initially be by invitation. However if you are interested in attending and would like to know more about the workshop please go to the website: http://umbriel.dcs.gla.ac.uk/Nesc/general/esi/esi
Plans are already underway for the third Public Library Web Managers Workshop which will be held on  4 – 6 November 2002. Watch the UKOLN Web site for more information or email Sara Hassen  s.hassen@ukoln.ac.uk
The UKOLN International conference dates have also now been booked for 2 – 4 July 2003. Please watch for more information about the  Conference and other UKOLN coordinated events in the coming year on the Web site: http://www.ukoln.ac.uk/
Staff News
Sally Criddle
Resource Co-ordinator
Four new members of staff have joined UKOLN in the last few months.
Penny Garrod was appointed to the post of Public Library Networking Focus in August 2001. Penny was previously at the University of Plymouth. Her recent work has included: involvement with a British Library funded project; two Electronic Library (eLib) projects (funded by JISC); and a Higher Education Funding Council funded project to develop a qualification for staff working with disabled students in FE and HE.
Sara Hassen joined UKOLN in November as Events and Marketing Manager. Sara started her working life at the Bristol and West Building Society - but after a seven-month break to travel around the world and take stock of her life she decided that her real passion in life was to organise and manage events. Sara has spent the past three years working for an event and conference management company, based in Bristol, where her job included working on a number of high profile international conferences that attracted more than 700 delegates. She is currently completing the Chartered Institute of Marketing Advanced Certificate.
Julie Stuckes has recently joined UKOLN as Subject Portals Project Manager. Julie has a background in graphic design, having worked for an advertising agency in Bermuda after graduating and then for a number of years as a magazine designer, before moving into Web design about five years ago. Prior to joining UKOLN Julie was the UK Operations Manager for the Internet division of Future Publishing Ltd. There she helped set up and run the company's Web division and managed the launch of more than 50 Web sites using the content generated by the company's many specialist interest consumer magazines.
Peter Dowdell joined UKOLN at the beginning of this year.  He will be spreading his workload 50/50 between New Opportunities Fund (NOF) digitise projects and the resource Discovery Network (RDN). For NOF-digitise, he will work as a technical advisor fielding queries from the projects and providing advice on best practice. At RDN he will assist with the development of Web services and other functions.  Peter has a background in petroleum exploration, acquiring and analysing digital data suites, and more recently in commercial Web development where he has produced many fine sites for the architectural and property development industry.
We are also in the process of completing a (limited) re-structuring exercise within UKOLN to align work more closely to the Review recommendations and to support the new Strategy more effectively. This means that all our "customer-facing" activities are located within one team: Information & Communications. This has brought together events, marketing activities, electronic publishing including Web editorial functions, our e-journals and our hosting/mirroring services.
UKOLN in Print
Criddle, S., McNab, A., Ormes, S. and Winship, I. The public librarian's guide to the Internet. London: Library Association Publishing, 2000, ISBN 1856043282.
The first Internet book specifically aimed at public librarians to be published in the UK.
Russell, R. (ed.) Making sense of standards and technologies for serials management. London: Library Association Publishing, 2000, ISBN 185604338X.
An edited collection of studies by well-known strategic and technical players, covering key enabling standards and technologies for serials management and access.
Chapman, A. NUCAF to REVEAL: the national union catalogue of alternative formats, inLibrary services for visually impaired people: a manual of best practice. London: Resource, 2000, ISBN 1902394437.
This manual is also available in Braille, audio cassette and computer disk formats, and on the Web site of the National Library for the Blind at: http://www.nlbuk.org/bpm/
Chapman, A. Bibliographic record provision in the UK: measuring availability against demand. Bath: UKOLN, 1999, ISBN 0951685651.
Report available from UKOLN, priced £12 plus £3 p+p.
Chapman, A. and Spiller, D. Trend analysis of monograph acquisitions in public and university libraries in the UK. Loughborough: LISU and UKOLN, 1999, ISBN 1901786293.
Report available from LISU, at Loughborough University, priced £17.50.
UKOLN Contact Details
UKOLN
The Library and Learning Centre
University of Bath
Bath
BA2 7AY
Tel: +44 (0)1225  38 6580
Fax: +44 (0)1225  38 6838
Email: mailto:ukoln@ukoln.ac.uk
UKOLN Staff
Director
Liz Lyon
Policy and Advice
Ann Chapman
(Bibliographic Management)
Pete Dowdell
(RDN Systems Developer/NOF-digitise Technical Advisor)
Penny Garrod
(Public Library Networking Focus)
Paul Miller
(Interoperability Focus)
Pete Johnston
(Interoperability Research Officer)
Marieke Napier
(QA Focus/NOF-digitise Advisor)
Brian Kelly
(UK Web Focus)
Bridget Robinson
(Research Officer)
R&D
Rachel Heery
(Assistant Director, Team Leader)
Monica Bonett
(Software Developer)
Leona Carpenter
(Technical Development and Research)
Michael Day
(Research Officer)
Manjula Patel
(Technical Development and Research)
Julie Stuckes
(Subject Portals Project Manager)
Richard Waller
(Software Developer)
Distributed Systems and Services
Andy Powell
(Assistant Director, Team Leader)
Pete Cliff
(RDN Systems Developer)
Pete Dowdell
(RDN Systems Developer/NOF-digitise Technical Advisor)
Eddie Young
(Systems Support)
Information Services
Brian Kelly
(Team Leader)
Sara Hassen
(Events and Marketing manager)
Philip Hunter
(Information Officer)
Shirley Keane
(Web Editor)
Resources and Administration
Sally Criddle
(Resource Co-ordinator, Team Leader)
Ruth Burt
(Office Administrator)
Ali Cook
(Financial Administrator)
Birgit Kongalis
(Administration Assistant)