---
The MEG Concord
As reported in the last issue of the Newsletter, Interoperability Focus facilitated the creation of the Metadata for Education Group (MEG) last summer. This group draws together stakeholders from across the public and private sectors, all of which have an interest in ensuring that various types of resource can be described, found and used as effectively as possible.

Face-to-face meetings of the group are chaired by Professor Bruce Royan of the Scottish Cultural Resources Access Network (SCRAN), and work is moved forward on an associated mailing list.

The first notable deliverable from this group is the MEG Concord, announced at the beginning of December. The Concord attempts to capture the key objectives for MEG members, and points to ways in which MEG members can work together in order to improve upon the current situation. By early April, 45 organisations had signed the Concord, including the New Opportunities Fund (NOF), the JISC and the University for Industry (UfI).

More information about MEG can be found at:

http://www.ukoln.ac.uk/metadata/education/ In November, over 100 people gathered in London for the Interoperability at the Coalface event, organised by UKOLN.

The event was billed as a management briefing, and covered such topics as what interoperability is and why it is useful, the role of large-scale managed funding efforts such as the New Opportunities Fund's digitisation programme, collection level description and current e-government initiatives.

Copies of the PowerPoint slides from the day are available at:

http://www.ukoln.ac.uk/events/interop-2000/presentations.html Since it started two years ago, the work of Interoperability Focus has largely been undertaken by a single individual. At the start of January this year, however, Pete Johnston joined UKOLN as Interoperability Research Officer.
---
The fourth Institutional Web Management Workshop was held at the University of Bath on 6-8 September 2000. This year's workshop, Institutional Web Management: the Joined-up Web,was the most popular to date, attracting about 150 delegates. The workshop covered a range of topics of interest to members of Web management teams including multimedia, dynamic content, personalisation, Web design, e-business, Web strategies and general management issues. A report on the workshop was published in issue 25 of Ariadne, see:http://www.ariadne.ac.uk/issue25/web-focus/
Brian Kelly has given a number of presentations on the subject of externally hosted Web services including talks at the Public Library Web Managers Workshop, hosted by UKOLN in October 2000 (see Public Library Networking Focus for further details). He also spoke about approaches to resource discovery in the UK HE community at the VERITY Conference, New Advances in Information Retrieval and Information Skills Development for Young People, held in Athens, Greece on 30 November-1 December 2000.
At the Internet Librarian International 2001 Conference held in London in March, Brian gave a presentation, 'Beyond design: advertising on your Web site'. At the same event, in conjunction with Marieke Napier, he ran a half-day post-conference workshop on publishing Web magazines, e-journals and Webzines.
'Advertising on the network' was published in Vine, issue 120. This article was based on a workshop session on this subject given at the JANET User Support Workshop held at the University of Cambridge on 4-6 July 2000.
Presentations given by Web Focus can be viewed on the Web site.
---
American Library Association Conference
Sarah Ormes attended the American Library Association Conference in July 2000. The conference was held in Chicago and had 20,000 delegates and over 1,300 exhibitors. Sarah gave a presentation and a poster session about 'Stories from the Web', both of which were very well received. The hot topic for the conference was e-books, which were discussed in workshops, presentations, on the bus and over lunch. A full report about the conference is available in Ariadne 25, at: http://www.ariadne.ac.uk/issue25/pub-libs/ August 2000 brought a new arrival to UKOLN. After an early morning delivery UKOLN was the proud owner of a Rocket eBook. The eBook weighed a healthy 22oz but initially failed to show any signs of life. After an anxious night in an intensive recharging unit the e-book was soon completely healthy. A review of the Rocket eBook can be found in Ariadne 26. An additional article exploring how e-books are likely to impact on public libraries has also been written by Sarah Ormes and published as a Networked Services Policy Taskgroup paper. Sarah has also given a number of presentations about e-books which are available on the UKOLN Web site. The Networked Services Policy Taskgroup has now published 10 issue papers. This series began in autumn 1998 and aimed to provide UK public librarians with guidance on developing policies for networked services. Over the last six months papers on acceptable use policies, partnerships, equality, digitisation and e-books have been published. Papers on wireless networks and Web site standards are due to be published soon. All the issue papers are available on the Taskgroup's Web site at: http://www.earl.org.uk/policy/ Lis-pub-libs is the most well-known email discussion list for UK public librarians. It was established by UKOLN in 1995 when very few public librarians had individual email addresses. Since then the list has gone from strength to strength and now has approximately 700 members. Originally hosted by Mailbase this list moved to a new service provider, JISCmail, in November 2000. Information on how to join the list can be found at: http://www.jiscmail.ac.uk/lists/lis-pub-libs.html UKOLN has continued to work with the New Opportunities Fund and Resource on the development of technical standards for the Nof-digitise programme. Nof-digitise is a £50 million programme for creating digital content. It will make the unique resources of libraries, archives, museums, galleries, education sectors and a wide range of other organisations accessible online for the first time. The development of programme-wide technical standards will ensure that the resources created are accessible by all, conform to good practice and are technically robust. As part of the work to support the implementation of the standards, UKOLN took part in five nationwide workshops with NOF to explain their importance and relevance to the programme. UKOLN also provided a technical support service over the second stage of the Nof-digitise application process. As part of this service information papers on content management systems, digitisation and income generation and sustainability were produced.

The Advisory Service Web site is at:

http://www.ukoln.ac.uk/nof/support/intro.htm

In October 2000, the second annual workshop for Public Library Web Managers was held at the University of Bath. Over 40 public library Web officers attended the workshop, which ran for three days. The aim of the workshop was to bring public library Web site managers together to give them an opportunity to share their experiences, learn about some of the tools that are available to assist with the creation and maintenance of sites and to hear about future Web developments. Like the previous year the emphasis was on the practical aspects of Web site management. Highlights of the workshop included case-studies from three successful public library Web site developers, an introduction to the Data Protection Act, a guide to accessibility and a very damp and cold open-top bus tour of Bath. A full report of the workshop has been published in issue 26 of Ariadne. Presentations given at the workshop are available at: http://www.ukoln.ac.uk/public/events/managing/
The Public Librarian's Guide to the Internet
The public librarian's guide to the Internet was published in July 2000. Co-authored by Sally Criddle and Sarah Ormes with Ian Winship and Alison MacNab, this book provides a practical introduction to the Internet for public librarians. It has been gathering good reviews and is currently Amazon.co.uk's 365,228th bestseller!
And finally …
After five and a half years, Sarah Ormes bows out as UKOLN's Public Library Networking Focus. For her predictions for what's likely to happen to public libraries in the next five years, see 'Public libraries focus: lights out and silver boots on', in Ariadne 27 at: http://www.ariadne.ac.uk/issue27/pub-libs/
---
UKOLN has continued to work on the project to develop and maintain the National Union Catalogue of Alternative Formats (NUCAF), which was set up to assist visually impaired people. In 1999, UKOLN reviewed NUCAF, concluding that some form of union catalogue was vital to bring together the resources of more than 230 specialist producers in this field, but that such a database needed to be more widely accessible. Recommendations made included relaunching an enhanced database on a Web-based platform, supported by CD-ROM products and with the file held on other union catalogues such as V3.Online and Unity. The commissioning group accepted the recommendations, and named the new database Reveal.

A feasibility study for the project, funded by the British Library Cooperation and Partnership Programme (BLCPP), was carried out between May and August 2000 by a team from UKOLN, the Royal National Institute for the Blind, the National Library for the Blind together with an independent library systems consultant. A report was submitted to BLCPP and the Reveal Development Steering Group and the recommendations and implementation plan accepted.

UKOLN will continue to contribute to work on Reveal, with the current focus on developing a bibliographic standard for the database, supporting work for the retrospective conversion project, and addressing issues related to the requirement for fiction indexing.

Ann Chapman has contributed a chapter on NUCAF and Reveal to Library services for visually impaired people: a manual of best practice, which was published by Resource in November 2000. A free copy has been sent to every public library authority, university and college library in the UK, and further copies are available for purchase. In addition to the print version, it is available in Braille, audio cassette, and computer disk formats, and on the Web site of the National Library for the Blind at: http://www.nlbuk.org/bpm/

Together with Helen Brazier of the National Library for the Blind, presentations about the Reveal project were made at a British Library project showcase day on 17 October 2000 and at the first International Conference on Tactile Diagrams and Maps, at the University of Hertfordshire, 9-10 October 2000.

Ann Chapman is a member of the Book Industry Communication Bibliographic Standards Technical Sub-group (BIC BSTS). Following the group's work on the report for the MARC Harmonisation consultation for the British Library (BL), the public consultation has now been completed and publication of the results by the BL is awaited. BIC BSTS is now looking at ONIX International, the new standard for bibliographic data transmission, developed by the book industry. In parallel with this, BIC has commissioned Celia Burton to carry out a survey of libraries to evaluate ONIX International as a possible format for transmitting data to/from libraries. In 1997, UKOLN began working with Essex County Libraries to develop a simple tool that libraries could use themselves to assess the quality of their catalogues. Research showed that this could be achieved by defining a sampling procedure and a checklist of potential errors in catalogues, and that this could be applied to an entire catalogue, or a catalogue subset. In 1998, an initial version of the tool was ready for testing in a pilot study. Essex was to have carried out the pilot study but, for a variety of reasons, this proved impossible at that time. A number of other libraries were contacted but, although there was much interest in the project, none was able to commit sufficient staff time to carry out the pilot.

Then in 2000, an opportunity arose to offer the pilot study as a dissertation topic for the MA course of the Department of Library and Information Science at Loughborough University. It was selected by student Owen Massey, who carried out the pilot study in June 2000 using the University of Bath Library, with kind permission of the Librarian, Howard Nicholson. Technical and other support was given by library staff members Gavin Rea, Ann Cox and Diana Gibney.

The dissertation concluded that the technique was effective in picking up errors in descriptive cataloguing but less sound for name and subject headings. A simplified technique was proposed, reducing the amount of detail to be recorded, and a recommendation made that the audit be considered just one tool for evaluating catalogue quality. The next stage is for UKOLN to revise the audit tool and make it available via the Web site for other libraries to use.

'Auditing catalogue quality by random sampling', by Owen Massey, MA dissertation August 2000, is available from the Department of Library and Information Science at Loughborough University.
---

Philip Hunter, Information Officer and Editor of Ariadne
Ariadne has carried a number of significant articles in the past three issues (25–27) which draw together some of the main strands and themes in the UK digital library world. Ariadne 25 (September 2000) opened with an interesting discussion of how the subject gateways began, as part of the eLib Programme (Lorcan Dempsey and Derek Law). The article was a timely look at how the policy landscape used to be, since new programmes are now beginning in a changed policy environment - principally, the Distributed National Electronic Resource (DNER) and the Research Libraries Support Programme (RSLP). Ariadne also looked at the institutional implications of networked approaches to learning in Jonathan Foster's 'Virtual universities'. Two major e-learning sites were also covered by issue 25, in 'Knowledge management in the Perseus digital library' (Jeffrey Rydberg-Cox et al.,) and Martin Muller's 'Electronic Homer'.

Issue 26 marked the wind down of the eLib Programme after five years, with reviews of several of the Hybrid Library projects. This issue of Ariadne contained a retrospective personal overview by the Programme Director, Chris Rusbridge. There was also a review of the CLUMP projects; and Brian Kelly (UK Web Focus) used SiteServer tools to survey the whole range of eLib project Web sites. Lorcan Dempsey and Stephen Pinfield contributed an overview of the DNER, effectively opening our coverage of the Programme.

Several UKOLN staff members contributed to Ariadne 26, including Michael Day, who wrote an excellent review of the Preservation 2000 Conference in York (December), jointly organised by UKOLN, the Research Libraries Group (RLG) and OCLC. Sarah Ormes provided two substantial items - one of which looked at the e-book from a public libraries perspective. Bridget Robinson collaborated with David Palmer of UEA on a review of user case-studies for the AGORA project. Reflecting the changing interests of the community, Ariadne ran two articles looking at both the requirement for e-commerce technology in the UK HE sector (Andrew Aird), and the Microsoft Siteserver products which might be used to set up such services

(Brett Burridge).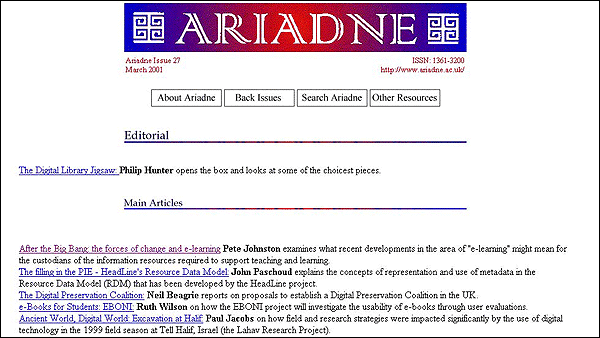 Figure 2: Ariadne 27 contents page Ariadne 27 continued to follow the e-learning theme with articles on e-books, on the forces of change-shaping developments in the field, and two articles on metadata issues – one on MEG (the Metadata for Education Group), and the other on a method by which machine parsable citations might be embedded into Dublin Core records. Ariadne also concluded its coverage of the Hybrid Libraries projects, and made streaming video available for some of the presentations at a Manchester HL event.

Ariadne continues to tailor itself to the requirements of its users: issue 26 features our third questionnaire, and the results of this survey, as before, will be fed into the commissioning process. Ariadne's access statistics continue to climb, and are very nearly double what they were a year ago. The average number of user sessions per day, for the period July–December 2000, was 1,450; in October 2000 we received over 540,400 hits to the site.

Marieke Napier - Information Officer and editor of Exploit Interactive

All seven issues of Exploit Interactive Web magazine have now been produced. The final issue was published on 16 October 2000 and included a number of review articles on the project. During its life-span Exploit Interactive has covered 32 Telematics for Libraries projects and contained 137 articles, including news and editorials, written by 102 individual authors. The magazine received 67,369 visitor sessions between 23 April 1999 and 30 October 2000, an average of 121 visitors a day.

More recently a database has been added to the site allowing users to obtain lists of articles or authors. The database can be found at:

http://www.exploit-lib.org/database/

The final report on the Exploit Interactive Web magazine is now available from the home page at:

http://www.exploit-lib.org/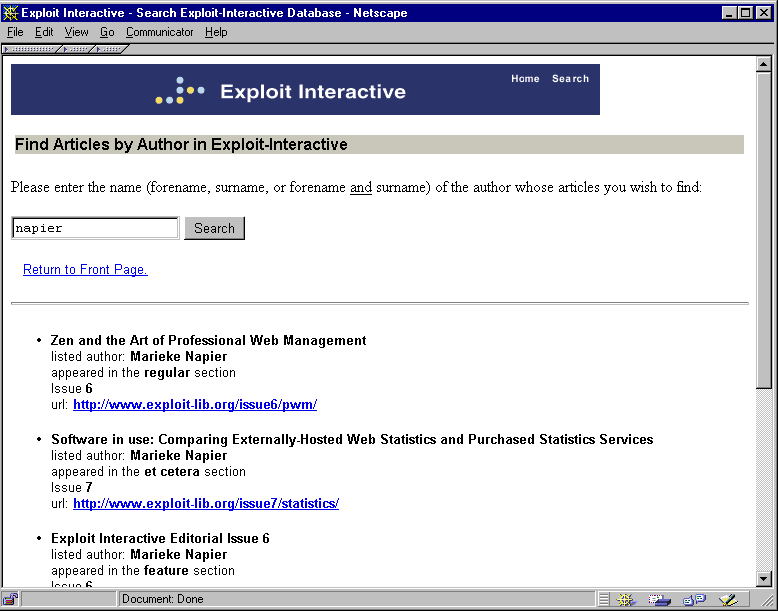 Exploit Interactive Database

Marieke Napier - Information Officer and editor of Cultivate Interactive Issue 4 of Cultivate Interactive, UKOLN's pan-European Web magazine for the digital heritage and cultural content communities, is due to be published on 7 May 2001. The format is similar to that of its predecessor, Exploit Interactive, but it covers the broader digital cultural heritage remit. The feature articles in the magazine either detail relevant projects or focus on issues that will arise for projects submitting proposals. Areas that have been and will be covered include eurospeak, intellectual property rights, current trends and policy in the cultural heritage field, available technologies and sources of information.

Project articles to date have included a guide to the HEREIN project, which monitors heritage policies, an exploration into the symbiosis between content and technology by the Perseus digital library team, and an outline of the concept of application profiles on the SCHEMAS project. More general articles have dealt with using graphics on the Web, giving presentations at conferences and recent calls for proposals - a piece was written for Cultivate Interactive by Bernard Smith, Head of the Cultural Heritage Applications Unit of the European Commission. There have also been a number of pieces on the theme of machine translation including an article by one of the top translation software distributors, WorldLingo.com. Although the majority of articles cover projects or services, opinion pieces on the current trends in the digital cultural heritage field are very welcome and readers are encouraged to email in any comments they have.

Cultivate Interactive has received widespread dissemination since its launch giving it a high public profile within the digital heritage and cultural content communities from the onset. Poster displays on the magazine and the Cultivate project have been given at events such as EVA 2000; additional presentations and workshops are planned for the future. It is also now easier for readers to register for an email announcement of new issues through the notification service that is available at:

http://www.cultivate-int.org/notification/
---

Andy Powell - Assistant Director and DS&S Team Leader, Pete Cliff, RDN Systems Developer
UKOLN continues to provide technical support services to the RDN. This work includes operating the central RDN Web site, maintaining cross-RDN search services, co-ordinating the interoperability framework and standards guidelines for the RDN as a whole and developing tools that support those standards.

The RDN was a participant in the Open Archives Initiative alpha test. Through UKOLN's participation in this activity, we have been able to develop tools that will allow the RDN to experiment with a record-sharing rather than cross-searching approach to searching all RDN descriptions. The intention is to use the OAI Harvesting Protocol to share records between co-operating RDN gateways, enabling the development of a central RDN database. Our work with the OAI Protocol was presented at the OAI European Open Day in Berlin. We have also successfully submitted a poster session on this topic for the tenth World Wide Web Conference in Hong Kong.

The RDN has a licensing agreement with Routledge which is using RDN records as part of its Routledge Encyclopaedia of Philosophy and Philosophy Arena Web sites. UKOLN staff have developed a record exchange format and developed software tools to facilitate the transfer of data from the RDN hubs to Routledge. Also, part of the RDN agreement with Routledge is the creation of an RDN REP database containing RDN philosophy data. This database is hosted by UKOLN but made available for searching through the Routledge site. With other RDN staff, UKOLN staff have attended meetings with Pearsons (publishers), UK Mirror Service, DfEE, the British Library, the DEF project (Danish Electronic Library), MIMAS, LTSN and OCLC.

Pete Cliff co-presented a workshop at the Institutional Web Management event in September which looked at issues surrounding getting a variety of different institutional systems to work together. Pete also gave a presentation at the Public Library Web Managers Workshop on Web site management. From this, a Site Design Strategy for the RDN was developed. This document accompanies the RDN Style and PR Guidelines.

In addition to developing RDN-Include (described below), forthcoming UKOLN activities will concentrate on the development of shared tools and services within the RDN. These will allow lecturers and others to create and share their own resource descriptions and make them available alongside full RDN records as part of an integrated search and browse interface. All records will be available for use within RDN reading lists. The intention is to wrap this functionality within a more personalised RDN Web site. Part of the intention is to make the RDN service more useful within the context of institutional virtual learning environments. This work complements our involvement in the Subjects Portal Development project, a JISC 5/99 funded project that is developing three prototype subject portals to the DNER.

RDN-Include allows other organisations to integrate the RDN's ResourceFinder and, optionally, the RDN top level browse hierarchy while retaining their own look and feel. The software uses an open- ended approach that may be adapted to allow future RDN services to be included on host Web sites. At UKOLN we have developed and improved the software to provide better integration with back-end database technology and improved software maintenance.

One of the implementation problems of RDN-Include has been the requirement for some technical effort at the host organisation. RDNi-Lite has been developed to counter this and can be implemented by anyone who can create a Web page.

RDN-Include is currently being used on the Manchester Metropolitan Library Web site and Oxford Brookes University Intranet. Other sites are testing the software. It will be used as part of a collaborative project with the British Library. In conjunction with BIOME, we are assisting the NHS in its implementation as part of the National Library for Health Virtual Branch Libraries.

Z-directory Another JISC 5/99 project we are involved in is Gate-Z. This project aims to develop a Z39.50-to-Z39.50 gateway that can be used to interface Bath Profile clients to non-Bath Profile targets. By placing Gate-Z in front of their servers, Z39.50 service providers will be able to offer Bath Profile compliant targets without having to modify their existing server configuration or software. Software development for this project is being subcontracted to Crossnet Systems Ltd and all software will be made available on an open-source basis.

As part of the project we are trying to build up a comprehensive picture of existing UK Z39.50 targets. If you offer a target in the UK, please register it (or update your existing registration if necessary) using the Z-directory. We are trying to simplify the registration process with Z-directory by automating the collection of detailed information about the protocol features supported by each target using a Z39.50 robot. Information held in the Z-directory is also available as a set of Explain-Lite XML files as well as in human-readable form.

Metadata tools update UKOLN continues to develop and make available small-scale metadata-related tools and demonstrators. RDF Site Summary (RSS) is an XML application for sharing news feeds on the Web. UKOLN has developed RSS-xpress, a tool for creating, registering and viewing RSS news channels.

We have continued to enhance DC-dot. This metadata editor has been regularly updated, to support the most recent recommendations emerging from the Dublin Core Metadata Initiative, and continues to be a popular DC creation tool. It has been used to describe over 32,000 different Web resources since it was first made available. We have also developed DC-assist, a small, flexible Web-based help utility designed to sit alongside other metadata tools. DC-assist can be configured to provide information tailored to your application and the metadata schema in use.

DNER Architecture Study Liz Lyon - Director, Andy Powell - Assistant Director and DS&S Team Leader On behalf of the JISC DNER Programme Team, UKOLN have been undertaking a study looking at the architecture of the DNER. This work has developed a functional model for the DNER, based largely on previous MODELS Information Architecture work, and has used this as the basis for a DNER systems architecture – the components and services that need to be made available on the network to support that functionality. The intention is to underpin the development of the DNER as a managed collection of resources in an integrated information environment and to provide a standards-based framework that supports a coherent set of co-operating network services. The findings of this study will be made available in a variety of formats through the UKOLN Web site at:

http://www.ukoln.ac.uk/distributed-systems/dner/arch/

Deliverables will include a 'DNER Architecture' document, annotated PowerPoint presentations about the architecture, a set of usage scenarios, summaries of the functional model and a number of other supporting documents. These resources will be added to the Web site over the next month or so.
---
Joy Fraser, Events Manager
The Events Management Team had a busy autumn and winter period. The annual Institutional Web Management Workshop and the Public Library Web Managers Workshop were held at the University of Bath in September and October respectively. Reports on these workshops are available at: http://www.ariadne.ac.uk/issue25/web-focus/ and http://www.ariadne.ac.uk/issue26/pub-libs/

On 1 November a one-day workshop, entitled The Future is Hybrid: Libraries in the 21st Century, was held at the British Library in London. 50 delegates braved the rail network, after the floods of the previous weekend, to hear presentations from the Agora, BUILDER, HeadLine, HyLiFe and MALIBU projects, with small groups in the afternoon providing an opportunity for a more in-depth look at the projects. The demand for this workshop was so high that it was repeated at Manchester Metropolitan University on 20 February and at Edinburgh University Library on 27 February. Links to the Hybrid Library project presentations can be found at:

http://www.ukoln.ac.uk/events/hybrid/programme.html

UKOLN's Interoperability Focus hosted a one-day management briefing, Interoperability at the Coalface, which was held at Church House, Westminster, on 24 November. 100 delegates enjoyed the surroundings of the venue and heard presentations by Susie Woodhouse from Resource, and from Paul Miller and Andy Powell of UKOLN. More details of the event are available at:


http://www.ukoln.ac.uk/events/interop-2000/

The second SCHEMAS workshop took place in Bonn on 23–24 November. This event attracted about 40 delegates from all over Europe. The third workshop will be held in Budapest on 10–11 May.

For more details, see: http://www.schemas-forum.org/workshops/ws2/schemas-ws2.html.

On 6–8 December the CEDARS project held a one-day workshop followed by a two-day conference at the Viking Moat House Hotel in York. About 70 delegates attended the workshop, Information Infrastructures in Digital Preservation, and were joined by another 80 delegates for the conference, Preservation 2000: An International Conference on the Preservation and Long Term Accessibility of Digital Materials. The conference was sponsored by OCLC and RLG. The delegates enjoyed stimulating presentations from an international list of speakers; the keynote addresses were given by Lynne Brindley, Chief Executive of the British Library, and Jim Michalko, President of the Research Libraries Group. The event was a great success bringing together projects from around the world. Details are available at:

http://www.ukoln.ac.uk/events/cedars-2000/

Other events planned for 2001 include a MODELS workshop on authorisation on 24–25 April, the fifth Institutional Web Management Workshop, which this year is being held on 25–27 June at Queens University, Belfast, and the fourth and final SCHEMAS workshop in Amsterdam at the end of November.
---
Sally Criddle, Resource Co-ordinator
As well as a new Director, UKOLN welcomes Pete Johnston and Shirley Keane in this issue of the Newsletter.

Pete Johnston has recently joined UKOLN as Interoperability Research Officer, to support the work of the Interoperability Focus. Pete was previously working on a digital records management project at the University of Glasgow. The project was based in the University Archives, and he also contributed to work in the area of archival description using EAD, supporting the department's role as a data provider to the HE Archives Hub. Pete's technical experience is largely in the field of markup technologies (SGML, XML, XSL-T, XSL-FO etc.); he has a degree in Latin American Studies from the University of Liverpool.

Shirley Keane joined UKOLN as Web Editor in January of this year; her duties include responsibility for the Division of Access and Continuing Studies (DACS) Web site. Shirley has spent a number of years working in the classical record business - in Tokyo, Hamburg and London - before deciding to re-train as a Web designer. She qualified as a Certified Internet Webmaster (CIW) site designer in the spring of 2000 and joined Motortrak, a leading motor industry Web design company, as a Web designer in May 2000.

Sarah Ormes is taking a career break after spending five and a half years at UKOLN where she has been a leading light in advocating the adoption of networking technologies in the public library. We wish Sarah well in her new (ad)ventures.
---
Criddle, S., McNab, A., Ormes, S. and Winship, I. The public librarian's guide to the Internet. London: Library Association Publishing, 2000, ISBN 1856043282.

The first Internet book specifically aimed at public librarians to be published in the UK.

Russell, R. (ed.) Making sense of standards and technologies for serials management. London: Library Association Publishing, 2000, ISBN 185604338X.

An edited collection of studies by well-known strategic and technical players, covering key enabling standards and technologies for serials management and access.

Chapman, A. NUCAF to REVEAL: the national union catalogue of alternative formats, in Library services for visually impaired people: a manual of best practice. London: Resource, 2000, ISBN 1902394437.

This manual is also available in Braille, audio cassette and computer disk formats, and on the Web site of the National Library for the Blind at:

http://www.nlbuk.org/bpm/

Chapman, A. Bibliographic record provision in the UK: measuring availability against demand. Bath: UKOLN, 1999, ISBN 0951685651.

Report available from UKOLN, priced £12 plus £3 p+p.

Chapman, A. and Spiller, D. Trend analysis of monograph acquisitions in public and university libraries in the UK. Loughborough: LISU and UKOLN, 1999, ISBN 1901786293.

Report available from LISU, at Loughborough University, priced £17.50.

Criddle, S., Dempsey, L. and Heseltine, R. (eds.) Information landscapes for a learning society: networking and the future of libraries 3. London: Library Association Publishing, 1999, ISBN 185604310X.

Proceedings of the most recent UKOLN conference.
---
UKOLN
The Library
University of Bath
BATH
BA2 7AY
Tel.: +44 (0)1225 826580
Fax: +44 (0)1225 826838
E-mail:ukoln@ukoln.ac.uk
URL: http://www.ukoln.ac.uk/
---
Director: Liz Lyon
Policy and Advice Services
Paul Miller (Interoperability Focus)
Pete Johnston (Interoperability Research Officer)
Brian Kelly (UK Web Focus)
Sarah Ormes (Public Library Networking Focus)
Ann Chapman (Bibliographic Management)
Research and Development
Rachel Heery (Assistant Director and Team Leader)
Monica Bonett (Software Developer)
Leona Carpenter (Technical Development and Research)
Michael Day (Research Officer, Metadata)
Manjula Patel (Technical Development and Research)
Bridget Robinson (Research Officer, Distributed Library Systems)
Rosemary Russell (Research Officer, Distributed Library Systems)
Richard Waller (Software Developer)
Distributed Systems and Services
Andy Powell (Assistant Director and Team Leader)
Pete Cliff (RDN Systems Developer)
Eddie Young (Systems Support)
Information Services
Brian Kelly (Team Leader)
Philip Hunter (Information Officer)
Shirley Keane (Web Editor)
Marieke Napier (Information Officer)
Resources and Administration
Sally Criddle (Resource Co-ordinator and Team Leader)
Ruth Burt (Office Administrator)
Ali Cook (Financial Administrator)
Joy Fraser (Events Manager)
Birgit Kongalis (Admin Assistant)
If you have any comments on the newsletter please contact Sally Criddle, Newsletter Editor, at the above address or by e-mail.
---
UKOLN is funded by Resource: The Council for Museums, Archives and Libraries, the Joint Information Systems Committee of the Higher and Further Education Funding Councils, as well as by project funding from the JISC and the European Union. UKOLN also receives support from the University of Bath where it is based.
---
Web page by Sally Criddle of UKOLN.
Last updated on 29-May-2001
Email comments to webmaster@ukoln.ac.uk