SUE Training Programme: SUETr
From DigiRepWiki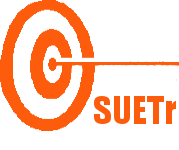 The SUETr (Start-up and Enhancement Training) project was a one-year project funded by the JISC between 2008 and 2009 to provide training associated with the Repositories Start-up and Enhancement (SUE) projects:
The objectives of SUETr were to develop and deliver a series of comprehensive targeted training workshops and seminars for JISC Start-up and Enhancement (SUE) projects to address their shared concerns in a collaborative and practical context. The training provided by SUETr was aimed to help projects and repositories funded under the SUE strand to meet the overall aim of the funding stream – 'to stimulate the population of existing repositories, enhance interoperability and embed repositories within institutional working practices such as research and learning as well as supporting the establishment of repositories where this will be sustained in to the future.'
SUETr Events
Six SUETr events were held between 2008 and 2009. The full programmes (and, in many cases, presentation slides) are available from the event web pages or blogs.
The SUETr Blog (now closed)
Project overview
The project initially consulted with the project staff in the SUE strand to develop a complete landscape picture of their training requirements. This informed the subsequent development of the training programme. Where possible, training modules were developed in collaboration with other JISC projects and external experts, and delivered through a selection of appropriate delivery mechanisms.
The scope of the project was limited to addressing training requirements expressed by SUE projects. Training was targeted primarily towards SUE project staff, though applications from delegates from JISC-funded projects outside this strand were considered if there was spare capacity.
Aims and objectives
Aims were:
To equip staff in SUE projects with skills to contribute to successful completion of their projects
To assist SUE project staff in developing sustainable and successful repository services
To facilitate communication and knowledge sharing between SUE projects on issues of shared concern
To take a practical and hands on approach wherever possible
Objectives were:
To consult with SUE staff in identifying training requirements
To liaise with other JISC projects to minimise duplication of effort
To develop a comprehensive training programme with a practical focus
To organise and deliver training events in varying locations
To reproduce materials for subsequent online consumption
To evaluate the success of the programme in meeting SUE projects training needs
Project methodology
SUETr drew on input from SUE projects and a SUE project focus group to inform and guide development and delivery of the training programme. External experts, particularly from other JISC initiatives, were also involved in creation and delivery of training modules.
The project was run by UKOLN, with support from the Repositories Support Project (RSP), Aberystwyth University, and the Digital Curation Centre (DCC)
Anticipated outputs and outcomes
Tangible deliverables included:
Training Requirements Landscape report
Training programme
Training modules & content
Training opportunities (events, one-to-one meetings, seminars, online)
Intangible deliverables included:
Closer networks between SUE project staff
Greater collaboration between relevant JISC funded initiatives, particularly those that provide training (e.g. SUETr, RSP, RRT, DCC)
Increased knowledge of sustainability issues for SUE staff
Awareness of outstanding issues or further training requirements post March 2009 within SUETr and JISC
The main target outcome of this project was increased knowledge and ability of staff on SUE projects to address issues impacting repository sustainability and success. It was hoped that knowledge and abilities developed as a result of participation in SUETr would subsequently be disseminated amongst other project and repository staff and eventually embedded in the repository infrastructure. It was hoped that this would lead to more sustainable and efficient repositories, with the potential to expand the national and global networks of repositories and to further facilitate opportunities for re-use of stored data.
Duration
12 months: 01 April 2008 - 31 March 2009
Lead Institution
UKOLN at the University of Bath
Project Manager
Stephanie Taylor
UKOLN
E - s.taylor@ukoln.ac.uk