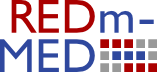 The REDm-MED Project
About the Project
The Research Data Management for Mechanical Engineering Departments (REDm-MED) Project was one of a number of projects funded through Phase 2 of the JISC Managing Research Data Programme. The project scoped, specified, designed and implemented a research data management plan suited especially to the needs of the Department of Mechanical Engineering at the University of Bath. This work built upon the team's work investigating the research data management needs of the Innovative Design and Manufacturing Research Centre (IdMRC) at the University of Bath during the JISC-funded ERIM Project and other contemporaneous work by the Managing Research Data Community.
Work completed in the ERIM Project in specifying a Research Activity Information Development (RAID) Associational Tool was taken forward by the development of a prototype tool, RAIDMap, for integration within the specified research data management infrastructure. The presumption was made that the research data management needs of the participating department would intersect closely with those of similar departments in other research institutions, not only of higher education but in the wider commercial world. Thus, the aim of the research was to implement effective and practical research data management where there was little or none and that can be adopted easily elsewhere.
The work took place in conjunction with the DCC at Bath, and with the support of the University of Bath's Department of Mechanical Engineering and the Bath University Computer Service (BUCS). The REDm-MED project was complementary to the University of Bath's JISC-funded Research 360 Project.
The REDm-MED project ran between November 2011 and May 2012.
Project partners
| | |
| --- | --- |
| | Innovative Design and Manufacturing Research Centre (IdMRC), University of Bath |
| | UKOLN/DCC |
Reports
Presentations
Poster
Project Management Report
Staff working on the REDm-MED Project