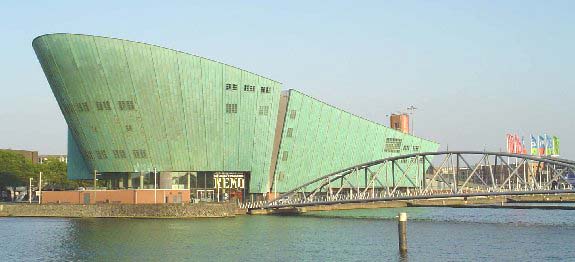 IDCC13: Registration Now Open
8th International Digital Curation Conference 2013: Infrastructure, Intelligence, Innovation: Driving the Data Science agenda
14-16 January 2013
Mövenpick Hotel, Amsterdam, Netherlands

Registration is now open for IDCC13.
The programme will open with the Pre-Conference Drinks reception which will be held in the Innovation Gallery at the NEMO Science Center in Amsterdam. NEMO is the largest science centre in the Netherlands and is located at the Oosterdok in Amsterdam-Centrum. The welcome address at the reception will be given by Konstantinos Glinos, who leads the Géant & e-Infrastructures Unit of the Directorate General for Information Society and Media at the European Commission.
The main conference will run from Tuesday 15 - Wednesday 16 January 2013.
The theme of the conference recognises that in recent years there has been an explosion in the amount of data available, whether from tweets to blogs, data from sensors through to "citizen science", government data, health and genome data and social survey data. There are challenges in finding data and making it findable, in the ability to use it effectively, to take and understand data, to process, to analyse and extract value from data , to visualize data and then to communicate the stories behind it.
This process is now being termed data science. It is being used across sectors to describe a wide range of data activities in the commercial, government and academic sectors dealing with information whose primary purpose is often not research-related. Activities are not discipline-specific; in fact data science is being described in some quarters as a new discipline.
The programme will reflect on the theme and will include speakers from a range of disciplines, institutions and organisations:
Hans Pfeiffenberger, Alfred Wegener Institute
Anthony Beitz, Monash eResearch Centre
Patricia Cruse, University of California Curation Center
Kaitlin Thaney, Digital Science
Clifford Lynch, Coalition for Networked Information
Herbert Van de Sompel, Los Alamos National Laboratory
Chris Greer, National Institute of Standards and Technology
Additional speakers will be announced in the next few weeks.
There will be an exhibition of posters and demonstrations throughout the conference, a full programme of research and practice papers and an interactive symposium which will pose the question "What is a Data Scientist?".
There will also be a programme of pre- and post-conference workshops on Monday 14 January and Thursday 17 January.
The full workshop programme and registration information will be available in October, once the workshop submission process has been completed. The closing date for workshop submissions is 20 September 2013. Submissions can still be made via Conftool.
This is the first time that IDCC has been held in mainland Europe and the DCC is delighted to have support from two major institutions in the Netherlands - Data Archiving and Networked Services (DANS) and Delft University of Technology (TU Delft).
IDCC13 is organised by the Digital Curation Centre UK, in partnership with the Coalition for Networked Information (CNI) and with sponsorship from Microsoft Research.
Note: You can find latest updates on our home page and previous articles in Feature archive.