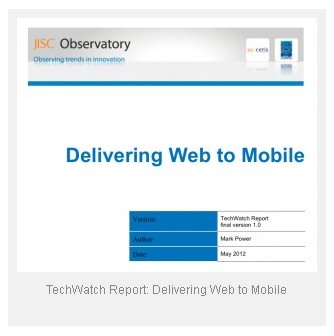 JISC Observatory Report Launched: Delivering Web to Mobile
The JISC Observatory team is pleased to announce the launch of a TechWatch report entitled Delivering Web to Mobile. As described in the introduction:
This report is intended to help staff of UK education institutions, involved in the development of content, gain an understanding of the emerging approaches to delivering services and content for mobile devices using the Web.
This report looks at the growth of mobile and the state of the Web while giving an overview of approaches to delivering content and services optimised for the mobile environment. This includes approaches to Web design for responsive sites, leveraging access to device functions and capabilities, as well as the use of Web technologies to build mobile applications. The following sections are included in the report: State of the Mobile Web (including UK HEI findings); Mobile Web Browsers; Responsive Web Design; Mobile First; Progressive Enhancement; Server-side Device Detection; Dedicated Mobile Sites; Mobile Web Apps; HTML5; Device APIs; HTML5 Frameworks and Hybrid Apps.
The report, which was written by Mark Power, JISC CETIS, is the latest output provided by the JISC Observatory, a JISC-funded initiative provided by the Innovation Support Centre at UKOLN and CETIS. As described on the JISC Observatory Web site, the Observatory aims "to systematise the way in which the JISC anticipates and responds to projected future trends and scenarios in the context of the use of technology in Higher & Further Education in the UK".
Last year the JISC Observatory published a TechWatch report entitled Augmented Reality for Smartphones. Two further TechWatch reports, on ebooks and data-driven infrastructure issues are currently in preparation. Also note that a JISC Observatory workshop session on Identifying and Responding to Emerging Technologies will be given at UKOLN's Institutional Web Management Workshop, IWMW 2012, which takes place at the University of Edinburgh over 18-20 June.
Note: You can find latest updates on our home page and previous articles in Feature archive.