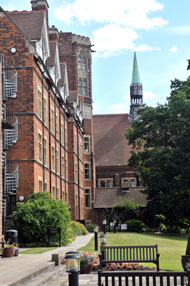 Registration Opens for DCC Cambridge Roadshow
The UK Digital Curation Centre (DCC) is running a series of free inter-linked regional workshops designed to support institutional research data management planning and training. The DCC Roadshows are being produced to allow every institution in the UK to prepare for effective research data management and to understand more about how the DCC can help. Registration is now open for the sixth DCC Roadshow which is being organised in conjunction with Cambridge Library and will take place from 9 - 11 November 2011 in the Paston Brown Room at the Homerton Conference Centre, Cambridge.
The roadshow runs over three days but each workshop can be booked individually. Delegates are encouraged to select the workshops which address their own particular data management requirements. The workshops will provide advice and guidance tailored to a range of staff, including PVCs Research, University Librarians, Directors of IT/Computing Services, Repository Managers, Research Support Services and practising researchers.
Day one is an introductory day for researchers, data curators, library staff, etc. It provides an introduction to the DCC and the role of the DCC in supporting research data management. Day two is a more interactive day planned for senior managers, PVCs Research/Directors, Directors of Information Services, etc. and looks at strategy and policy implementation. Day three is a hands-on day and consists of the workshop Digital Curation 101 – How to manage research data: tips and tools.
To find out more about the workshops take a look at the DCC Cambridge Roadshow page. Registration for the workshop is free but places are limited.
If you can't decide if the roadshow is for you, Steve Walsh from the Interoperable Geospatial Data for Biosphere Study( IGIBS) Project, Aberystwyth University, has written a review of the most recent workshop held in Oxford.
The next roadshow will be held at the University of Cardiff/Royal Welsh School of Music & Drama over 14 – 16 December 2011. Details of further roadshows will be announced soon on the DCC Web site.
Roadshows the Route to Addressing Key Data Challenges
Contemporary interest in data management has a particular focus within the Higher Education research community, where the major funders of research increasingly require grant applicants to submit data management plans as an essential component of their bids for funding. Moreover, successful grant holders may be held accountable for the stewardship of the often irreplaceable digital resources generated by their research.
This new emphasis is often driven by the need to demonstrate value for money from the investment of public funds and reflects the desire of government to make clearer links between academic research and benefits to the economy or society at large. On a practical level, a good data management plan would address the costs and responsibilities necessitated by the long-term stewardship of data – two crucial factors that have a tendency to be overlooked!
The expectation that the sector is fully prepared for such a responsibility does not reflect the situation on the ground. A requirement for researchers to share their data may conflict with traditional research practice, compounded by fears that intellectual capital may be weakened or lost. Not all university infrastructures are designed to support the management and curation of large datasets. Studies have repeatedly shown that a considerable proportion of the research community (and its support) is not yet equipped with the skills to undertake effective data management.
The Digital Curation Centre (DCC), is the UK's national centre for advice and offers help in all matters related to digital data management and curation. Via our Web site, we provide a broad array of tools and resources, from interactive data management planning with DMPOnline to a series of practical training events that are tailored to specific audiences, and augmented by a host of guidance material and case notes. News and events about our range of measures to support and develop the research community's capability in data management are regularly updated on the DCC Web site.
UKOLN is a partner in the Digital Curation Centre and is closely involved in the work of the DCC roadshows. For an introduction to the key data challenges facing the research community and how to address them, please join us at one of our roadshows.
Note: You can find latest updates on our home page and previous articles in Feature archive.