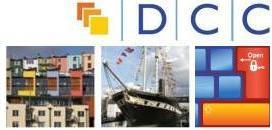 7th International Digital Curation Conference: Key Speakers Announced
IDCC11: Public? Private? Personal? navigating the open data landscape
Marriott Royal Hotel
Bristol
UK
5-7 December 2011
The 7th International Digital Curation Conference (IDCC11) will be presented by the Digital Curation Centre in partnership with the Coalition for Networked Information (CNI).
Keynote Speakers
The programme will include opening and closing keynotes from a panel of distinguished contributors. Ewan McIntosh, Founder and CEO of NoTosh, will speak on the subject "Public data opportunities". Professor Philip E Bourne, Editor-in-Chief of PLoS Computational Biology will give a keynote to open the second day of the conference entitled "Open data driving scholarly communications in 2020". The closing keynote address of the conference, "Models, Science, Openness", will be given by Professor Stephen Emmott, Head of Computational Science at Microsoft Research.
The programme will include invited speakers in plenary sessions together with an interactive afternoon, "Community Space" for posters, demonstrations and informal meetings and a symposium on Personal Genomics. Research tracks will allow for presentation and discussion of peer-reviewed papers covering all types of digital curation research and scholarship. Practice tracks allow for presentation of experiences of all sorts in institutions, research domains or regions.
There will be a programme of pre- and post-conference workshops. Registration will open in September but prior to this you can register your interest in the conference on the Conference Web page. This will ensure that you are kept fully up to date with all our conference news.
IDCC11 Call for Papers
Remember you still have time in which to respond to the IDCC11 Call for Papers. The closing date for the submission of papers is 25 July 2011. Submissions will be considered for either the Research or the Practice Track. There is a separate track for the submission of posters and demonstrations with a closing date of 2 September 2011.
The Programme Committee invites submission of papers that reflect current concerns in digital curation and specific concerns arising from our conference theme:
Lessons learned from the inter-disciplinary use of open data: examples of enablers, barriers and success stories
Curation of mixed data collections, with open and sensitive or private content
Gathering evidence for benefits of data sharing
Building capacity for the effective management, sharing and reuse of open data
Scale issues in the management of sensitive data
Tensions between maintaining quality and openness
Linked data, open data, closed data and provenance
Technical and organisational solutions for data security
Developing new metrics for open data
Ethical issues and personal data
Legislation and open data
Full details about the submission process including a submission template are available.
Note: You can find latest updates on our home page and previous articles in Feature archive.