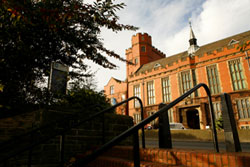 Free Research Data Management Workshops
The UK Digital Curation Centre is running a series of inter-linked regional workshops as part of the DCC Roadshow, designed to support institutional research data management planning and training.
The 2nd DCC Roadshow is being organised in partnership with the White Rose University Consortium and will take place 1-3 March 2011 in Sheffield at the University's Halifax Conference Centre. Running over three days, different workshops will provide advice and guidance tailored to a range of staff, including PVCs Research, University Librarians, Directors of IT/Computing Services, Repository Managers, Research Support Services and practising researchers.
Day 1: The Research Data Landscape (introduction with case studies)
Day 2: The Research Data Challenge for Institutions (strategic policy and planning)
Day 3: Data Curation 101 training course (practice and tools).
Find out more about the workshops at http://www.dcc.ac.uk/events/data-management-roadshows/dcc-roadshow-sheffield
Register now at http://asp.artegis.com/dccroadshowmarch2011
Registration for the workshops is free and workshops can be booked individually.
Note: You can find latest updates on our home page and previous articles in Feature archive.