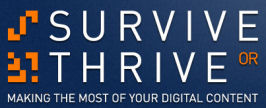 Survive or Thrive: Making the most of your digital content
The growth of digital content and use of content on the Web has been rapidly changing over the past decade. The digital deluge poses opportunities as well as challenges. How best are they both to be exploited and managed? UKOLN is organising the Survive or Thrive 2010 Conference on behalf of JISC to address the questions on this subject that will be of interest to people who have a stake in providing content for learning, teaching and research. This includes policy makers, senior managers, information specialists and technical managers or developers, from both the public and commercial sectors.
There are a few remaining spaces. Please email the UKOLN Events Team events@ukoln.ac.uk if you are interested in attending.
Note: You can find latest updates on our home page and previous articles in Feature archive.