UKOLN Research Officer Wins Remote Worker Award 2009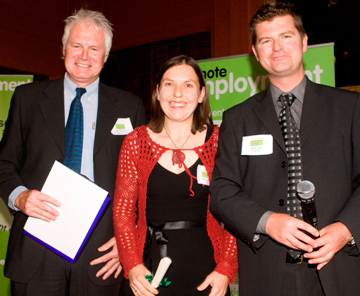 UKOLN Research Officer Marieke Guy has won the Remote Worker Award organised by Remote Employment in association with BT Business. Marieke faced some very strong competition. Hundreds of entries had been received for the awards and the judges selected the winners based on the individuals or companies that demonstrated how remote working had created the greatest positive impact on their work life.
Mick Hegarty, strategy and commercial director, BT Business said, "These awards highlight some of the best examples of how remote workers are helping the environment, increasing business productivity and improving quality of life."
After the ceremony at the prestigious Cliveden House, Marieke, who as part of her work is also Chair of the long-standing annual UKOLN Institutional Web Management Workshop said, "It is incredible to have people appreciate the work I do in this way. I really hope what I've done is useful to others in the same boat, working from home is not always easy. I want to thank my employers UKOLN and the University of Bath who have endorsed the work I do and encouraged me throughout."
Marieke only informed colleagues of her award obliquely by pointing them to the address of her popular blog Ramblings of a Remote Worker. Dr Liz Lyon, Director of UKOLN, who had encouraged Marieke's initiative, was asked for her reaction. "I think I speak for all my colleagues when I say how delighted I am to see Marieke receive this award as a fitting tribute to all her hard work in this area. Both before and since her appointment as Remote Worker Champion at UKOLN in 2008, Marieke has worked tirelessly to refine our remote working systems as well as represent her colleagues who also work entirely online to us. Moreover, as Marieke has pointed out herself, this award also recognises the efforts of colleagues, for example in Software & Systems, and elsewhere in UKOLN, who have played their part to further a new approach to working from which we all benefit."
Note: You can find latest updates on our home page and previous articles in Feature archive.