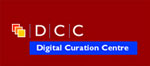 IDCC 2008 - last chance to book workshops!
There is still time to book for the pre-conference workshops - bookings will close on 14 November.
The DCC is presenting an innovative programme of pre-conference workshops to be held in Edinburgh on Monday 1 December 2008. These half-day workshops will cover a range of tools and services including the DCC Data Curation Lifecycle model, the Data Audit Framework Toolkit, the Digital Repository Audit Method Based on Risk Assessment (DRAMBORA) Interactive toolkit and a demonstration of recently developed DCC curation tools. There will also be a Repository Curation Service Environments (RECURSE) Workshop, jointly supported by OGF-Europe and DReSNET. The workshop programme will be followed by a pre-conference drinks reception at Our Dynamic Earth. Booking for the main conference has now closed.
Note: You can find latest updates on our home page and previous articles in Feature archive.