Policies On Blog Comments
About Comments On Blogs
Many blog services allow comments to be made on the blog posts. This facility is normally configurable via the blog owner's administrator's interface. An example of the interface in the Wordpress blog is shown in Figure 1.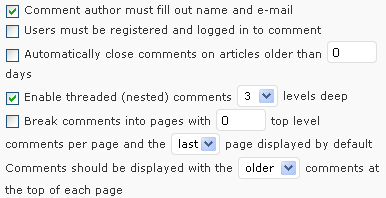 Figure 1: Administrator's Interface for Blog Comments on Wordpress Blog
The Need For A Policy
A policy on dealing with comments made to blog posts is advisable in order to handle potential problems. How should you address the following concerns, for example:
Your comments are full of spam messages.
Abusive comments are posted.
Comments are posted to old messages with content which is no longer relevant.
Excessive amount of resources are need to manage blog comments.
A blog post and subsequent discussion [1] on the UK Web Focus blog identified a number of views on policies on the moderation of blog comments which are summarised in this briefing document.
Moderated or Unmoderated Blog Comments
A simple response to such concerns might be to require all comments to be approved by the blog moderator. However this policy may hinder the development of a community based around a blog by providing a bottleneck which slows down the display of comments. In a situation in which a blog post is published late on a Friday afternoon, a blog discussion which could take place over the weekend is liked to be stifled by the delayed approval of such comments.
The UK Web Focus blog allows comments to be posted without the need for approval by the blog administrator, although a name and email address do have to be provided. It should be recognised, however, that the lack of a moderation process could mean that automated spam comments are submitted to the blog, thus limiting the effectiveness of the blog and the comment facility. The UK Web Focus blog, however, is hosted on Wordpress.com which provides a comment spam filtering service called Akismet. This service has proved very effective in blocking automated spam [2].
Differing Policies for Different Types of Blogs
The policy of moderation of comments to a blog is likely to be dependent on a number of factors such as: (a) the availability of automated spam filtering tools; (b) the effort need to approve comments; (c) the effort needed to remove comments which have failed to be detected by the spam filter; (d) the purpose of the blog and (e) the likelihood that inappropriate comments may be posted.
Publicising Your Policy
It would be helpful for blog owners to make their policies on content moderation clear. An example of a policy can be seen from [3]. It may be useful for your policy to allow for changes in the light of experiences. If you require moderation of comments but find that this hinders submission of comments, you may chose to remove the moderation. However if you find that an unmoderated blog attracts large amount on unwanted comments you may decide to introduce some form of comment moderation.
References
Moderated Comments? Closed Comments? No Thanks!, UK Web Focus blog, 15 Feb 2010,
<http://ukwebfocus.wordpress.com/2010/02/15/moderated-comments-closed-comments-no-thanks/>
A Quarter of a Million and Counting, UK Web Focus blog, 6 Jun 2008,
<http://ukwebfocus.wordpress.com/2008/06/08/a-quarter-of-a-million-and-counting/>
Blog Policies, UK Web Focus blog,
<http://ukwebfocus.wordpress.com/blog-policies/>