Evaluating Your Blog
About This Document
This document provides advice on approaches you can take to evaluating the effectiveness of your blog.
The Role Of Your Blog
In order to evaluate the effectiveness of your blog, you should have a clear idea of its purpose (although you may find that the purpose evolves over time). Possible uses of a blog service include acting as a dissemination channel for an organisation, engaging the user community in discussion and debate acting as a gateway to other resources, or perhaps more speculative purposes, such as experimentation or 'thinking out loud'.
Policies For Your Blog
It may be advantageous to provide documented policies for your blog, which might include details of the purpose(s) of your blog, the scope and target audience and possibly details of quality assurance processes you will use to ensure the blog implements its purposes successfully.
The UK Web Focus blog has published its policy statement [1], which includes details of its purposes (dissemination, user engagement, providing information on and commentary on new Web technologies, experimentation with blog tools and speculative thinking), scope (Web and related issues) and target audiences (Web development community, especially in the UK education and cultural heritage sectors).
Feedback For Your Blog Posts
If your blog aims to provide two-way communications, you should allow comments to be made for individual posts. One policy decision you will have to make is whether to allow unmoderated comments to be made. This can provide a more interactive service, but there may be risks in allowing inappropriate posts to be published.
User comments on individual posts will help you to gain feedback on the content of the posts. In order to encourage your blog readers to post their comments, you should seek to provide speedy responses to comments which are made.
Evaluating Blog Usage
If only small numbers of people read your blog, then it may fail to fulfil its purpose (if the purposes are dissemination and user engagement; for blogs used for other purposes, such as reflective thinking, such usage statistics may not be relevant). Systematic monitoring of your blog site's usage statistics can therefore be helpful in identifying the effectiveness and potential impact of your blog service.

The diagram shows growth in visits to the UK Web Focus blog since its launch in November 2006, with a steady increase in numbers (until August 2007 when many readers were away).
Note that if your blog readers make significant use of RSS readers or your blog is aggregated in other locations, your blog site's usage statistics may under-report the numbers of readers.
What Are They Saying About You?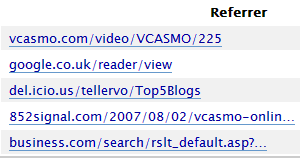 It can be useful to explore the links users follow when they read your posts. Such information may be provided on your blog service. For example the image shows a number of the referrer links to recent posts on the UK Web Focus blog. In this case, two links are from blogs which commented on a post about a Web service called VCasmo. The comments give an indication of the blog's effectiveness and impact.
As can be seen in their use with the UK Web Focus blog, blog search engines such as Technorati [2] and Google Blog search [3] can help find posts which link to your blog.
Systematic Evaluation
It may prove useful to carry out an online evaluation of your blog, as was done towards the end of the first year of the UK Web Focus blog [4].
References