Background
A WiFi network is available for use during the workshop. In order to exploit this technology workshop delegates have been invited to bring along their own networked devices (laptops, PDAs, etc.)
Note that in order to make most effective use of networked applications during the courese of the workshops delegates who intend to bring along a networked PC are requested to familiarise themselves with the information provided on how to connect to the WiFi network and the details provided below on use of the recommended applications.
In addition delegates should familiarise themselves with use of their computer. In particular they should know how to disable sounds (in order to minimise disruptions to others) and how to change any proxy settings on networked applications they may have on their PC.
AUP
In order to ensure the network and tools are used in a productive and effective manner an AUP (Acceptable Use Policy) has been written. Please read this document. Please note that this is intended as a pragmatic document and not a legal document!
The following software applications will be mentioned at the workshop and possibly used during the workshop. You may find it useful to install the software prior to the workshop in order to gain experience or the software and possibly make use of the software at the workshop.
Please note that at the timing of writing we are not sure if the IM clients will work during the event. If these clients do not work we will try to provide an alternative approach, such as a Web-based Jabber or IRC client.
We will set up a number of rooms which can be used during (and prior to the workshop).
| Name | Details |
| --- | --- |
| iwmw-2005-test | To be used for testing, social chit-chat, etc. |
| iwmw-2005 | To be used for discussions about the content of the talks. |
Note that additional rooms may be set up for parallel sessions and discussion groups. You may chose to do this for yourself - if you do so please ensure you create a room with an identifiable but explanatory name e.g. iwmw-2005-discussion-group-london or iwmw-2005-parallel-kellyb.
An illustration of a virtual room is shown below.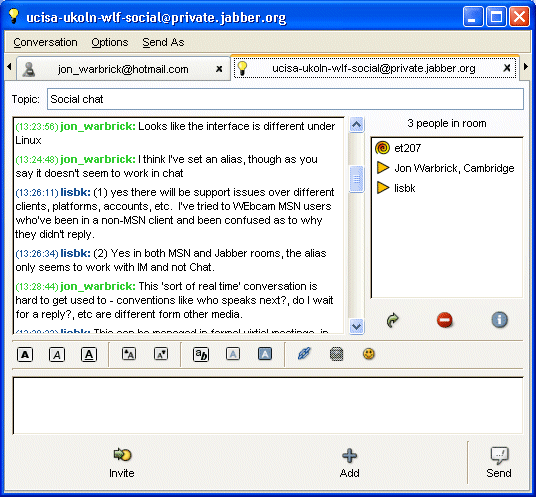 Please note that it may be difficult to follow discussions if many people are posting.
You should obtain an IM id prior to the workshop. We recommend obtaining a Jabber id (e.g. foo@jabber.org. The simplest way of obtaining an ID is to install GAIM (see below) and use this to register an ID.
We recognise that many delegates may have an MSN id. Such user can communicate using a Jabber gateway. However, advice on how to do this is not currently available.
An alternative approach is to use a Web-based browser. The JWCXhat client has been tested and it appear to work successfully for Jabber IDs. This is a simple Web-based client which uses JavaScript. The MSN2Go client is available for MSN users. This is a Java client.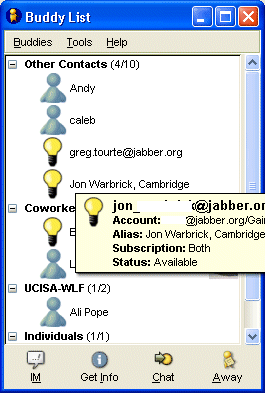 If possible install the GAIM IM client prior to the workshop.
Familiarise yourself with GAIM configuration options. In particular set an alias which gives your name and organisation details (e.g. Brian Kelly, UKOLN). This will provide additional information which allows others to map an ID to a name, as illustrated.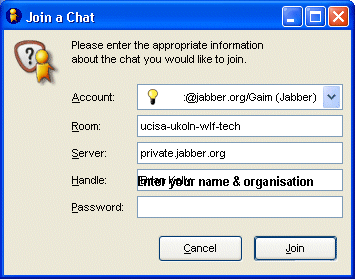 You should also be aware of issues such as privacy, potential danger of IM spam (SPIM), etc. For this reason, we propose that you should join a chat room, rather than the organisers inviting you to join.
When you join a chat room, for the "handle" give your name and organisation, as illustrated.
You should note that there is a major issue of trust here, as users can choose whatever name, organisation, etc. they want! At the workshop this should not be an issue, but this will need to be addressed if such tools are to be used in a wider context.
Note that if you cannot install a Jabber client on your PC, you may wish to use a portable Jabber client which can be used from a memory stick, such as Miranda.
We hope to use the Skype Internet telephony tool to allow a small number of selected remote users to listen to some of the talks. As well as providing free and (over broadband) high quality calls between individuals and to provide conference calls with up to 4 people. It would also appear to have the potential to enable users who can't attend an event, meeting, etc. to be able to listen in and contribute.
A Wiki is a collaborative Web-based authoring environment. We will be providing access to an externally-hoisted Wiki in order for participants to (a) comment on the presentations and (b) use to record discussions at the breakout sessions.
The easiest way of using the Wiki is to install the Firefox browser and the Wikalong extension.
If you can't do this, you can still use other browsers, although the interface is not as nice.
Further details (and a test area) for use of this Wiki is available.
The Firefox browser provides a powerful, richly functional browser together with the extensibility for installing a range of extensions such as RSS readers, Wiki tools, RSS editors, IRC clients, etc.
Note that it it is not possible to install Firefox on your PC/laptop you may find Portable Firefox useful. This allows you to run Firefox by using a memory stick in your PC's USB drive.