YahooGroups
This page gives information on the use of the iwmw-2002 YahooGroups Web site and mailing list to support the workshop.
About YahooGroups
YahooGroups is a freely-available mailing list manager and Web site. It was originally known as eGroups unntil eGroups was purchased by Yahoo!
As well as providing a mechanisms for setting up and managing a mailing list YahooGroups also provides a number of useful services on its Web site including:
An archive of messages
A mechanism for subscribers to manage their settings
A mechanism for the list owner to manage the settings for subscribers
A mechanism for subscribers to set up and use online voting (polls)
A realtime chat facility
A bookmarks facility
The system is very easy to use, which it has to be in order to cater for its large number of users.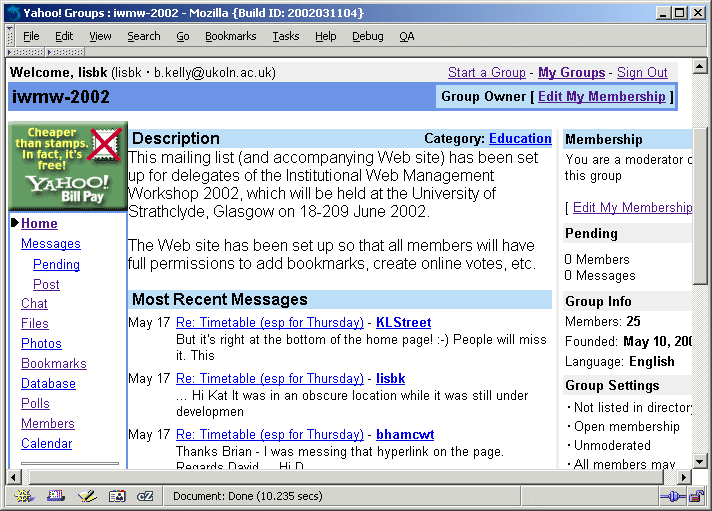 Figure 1: YahooGroups Home Page for the iwmw-2002 Web Site
Why Use It?
YahooGroups is being evaluated to support the Institutional Web Management Workshop for a number of purposes:
Such services appear to be increasingly popular for use by students. It would be useful for institutions to gain experience of such services.
Smaller colleges may not have the resources or technical expertise to install groupware software locally.
The self-management capabilities allow participants to make use of the system without the need for centralised control.
It is useful to see how mailing lists can be complemented by other groupware tools.
One area in which evaluation would be useful is in use of voting mechanisms to establish interest in an area. Asking a question such as "Who is interested in a session on XML?" on a mailing list is likely to generate much traffic, not all of which is relevant to the question. The e-mail traffic is time-consuming for recipients to process, and even more time-consuming for the sender to process the responses.
Use of online voting will eliminate email traffic, and provide access to answers to the question.
In order to evaluate this methodology a vote has been set up to to identify topics for discussion groups sessions at the workshop, as illustrated below.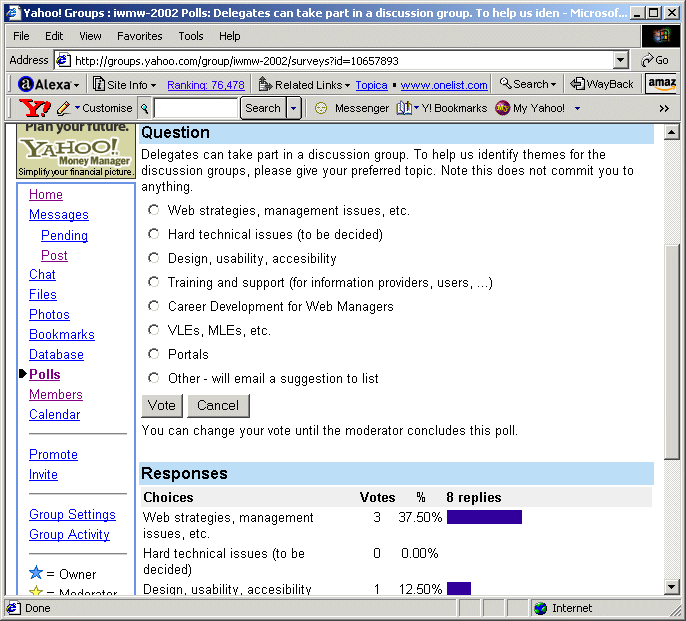 Figure 2: A YahooGroups Poll
Objections To YahooGroups
A number of objections to use of services such as YahooGroups have been raised. These are summarised below.
There is no need to use such services, since the functionality can be provided by locally-installed software.
Such services carry advertising which people may not like.
We should be supporting open source alternatives or software developed within the HE or public sector.
Your email address may be divulged to spammers.
On the other hand:
Installing software locally will require resources.
Many Web users are happy to use other commercial services which carry advertising.
Open source alternatives or software developed within the HE or public sector may not provide the functionality or ease-of-use of widely used commercial software .
Providers of such services will gain adverse publicity if they divulge email details to spammers.
It may be possible to combat spammers by list and membership details configuration options.
The evaluation has been set up in order to gain experiential evidence.