Maureen Pennock
Job Title
Research Officer
Maureen left UKOLN on 31 August 2008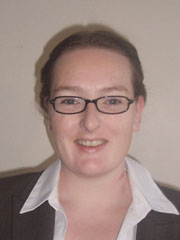 Contact Details
UKOLN,
University of Bath,
Bath,
BA2 7AY
tel: ++44 (0) 7891 790131
fax: ++44 (0) 1225 386256
email: m.pennock@ukoln.ac.uk
Areas of activity
I am a Research Officer in UKOLN's R&D team. I work on numerous projects, including the UK Digital Curation Centre, the Repositories Support Project, and the SUETr repositories training project. I am project manager for SUETr and post regularly on the SUETr blog; somewhat less frequently on the DCC blog. Past activities include managing a small scale synthesis study on the JISC 4-04 Supporting Digital preservation & Asset Management in Institutions programme, the final report for which is available on my Publications pages.
My specific areas of interest include digital preservation approaches, digital archiving & repositories, authenticity of digital objects and e-government.
Before joining UKOLN, I previously worked on the EC-funded ERPANET project and on the Digital Preservation Testbed project of the Dutch National Archives.