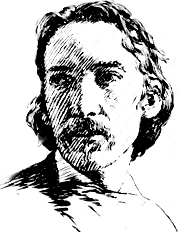 Robert Louis Stevenson
Stevenson wrote Treasure Island for his stepson in 1881. He said that,
"If this don't fetch the kids, why, they have gone rotten since my day".
It's a tale of pirates, a treasure map, a mutiny and a one-legged sea cook.
Treasure Island remains one of literature's best loved adventure stories.


Various Interesting Links
UKOLN is not responsible for the content of external links.