Image:JISC Repositorynet logo sm.jpg
From DigiRepWiki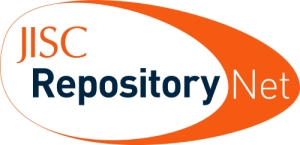 Metadata

| | |
| --- | --- |
| Horizontal resolution | 200 dpi |
| Vertical resolution | 200 dpi |
| Software used | Paint.NET v3.10 |
This repository is contributing to JISC RepositoryNet. The aim of JISC RepositoryNet is to help form an interoperable network of repositories. It will do this by providing UK universities and colleges with access to trusted and expert information about repositories and by supporting some key services that form building blocks for a network of repositories.
File history
Legend: (cur) = this is the current file, (del) = delete this old version, (rev) = revert to this old version.
Click on date to see the file uploaded on that date.
Links
The following pages link to this file: