Metadata

DC-ROADS: ROADS as a (Dublin Core) Metadata Management Environment
---
Rationale
The need for structured metadata to describe resources on the web is widely acknowledged. The Dublin Core [1] provides a standard element set to support resource discovery. Dublin Core metadata can be embedded in web pages using HTML meta tags or using an XML encoding of RDF.

The underlying technology is available to support the embedding of Dublin Core into web pages; the next step is to provide a web site development environment that supports the creation and management of such metadata in an integrated manner.

Requirements are:
The metadata author should not need to understand any particular syntax for encoding Dublin Core. Only an understanding of the Dublin Core element set should be required.
The process of metadata creation and editing should be straightforward and a natural extension to web site development.
It should be possible to view the metadata in a human-friendly format with the option to offer this view as a part of the web site.
Metadata should be accessible via open standards to support the use/development of additional tools - e.g. a site wide search engine.
Proposed Solution
This document describes an integrated environment for associating Dublin Core metadata with the resources on a website. This work develops and extends an approach suggested by Andy Powell [2][3]. The solution is based the ROADS resource discovery toolkit [4]

The result is a system that allows users to enter (or update) metadata for the local resource currently being viewed by clicking a `personal toolbar button' on the browser - this takes the user to the ROADS editor where metadata can be entered using a Dublin Core ROADS template. The metadata is then stored in a ROADS database. By embedding a server side script into HTML resources the metadata for a page can be automatically extracted from the database and inserted into the web page as an HTML meta-tag or RDF/XML representation of Dublin Core.

Additional features of the system are the ability to easily add a search facility to a website using the ROADS toolkit and the simple provision of a viewable form of the metadata also generated dynamically.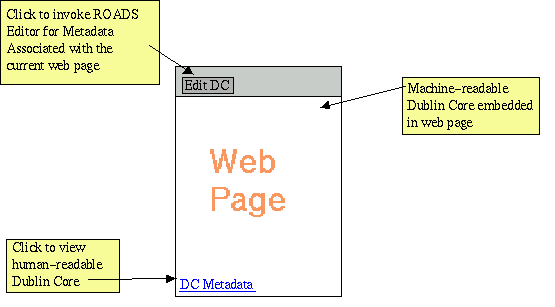 (Note that the `Edit DC' button only appears in the browser of the web editor, not the end user and that access to the editor is password protected.)
Demonstration
The Dublin Core metadata on the eLib website [5] is managed using the approach described here.
Details
The details of this system are described in separate documents: Additionally, there has recently been discussion of the need for a DC-in-a-Box solution for Dublin Core metadata management and deployment. The following document discusses the potential of DC-ROADS as a DC-in-a-Box:
References
[1] - Dublin Core Home Page - http://www.purl.org/dc/
[2] - ROADS Home Page - http://www.ilrt.bris.ac.uk/roads/
[3] - Dublin Core Management - http://www.ariadne.ac.uk/issue10/dublin/
[4] - Using ROADS for Web-site Metadata Management - http://www.ukoln.ac.uk/metadata/roads/metadata-mgmt/original/
[5] - The eLib Website - http://www.ukoln.ac.uk/services/elib/

---
Web page authored and maintained by:
Page created on: 10-May-99
Page last revised on: Wednesday, 26-May-1999 08:05:33 UTC

[<A HREF="http://www.ukoln.ac.uk/metadata/">Metadata</A>] [<A HREF="http://www.ukoln.ac.uk/">UKOLN</A>]