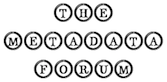 The Metadata Forum - Metadata For Complex Objects
The practical aspects of creating and managing metadata for complex objects

University of York,
Library Offices, Library Portakabin, Harewood Way,
University of York,
Y10 5DD.
Friday, 10th December, 2010.
Venue
For more information about how to get to the venue, please visit: http://www.york.ac.uk/np/maps/
Wireless
Eduroam Wifi is available. Otherwise please inform us if you don't have an Eduroam account and we will try to organise one for you.

Accommodation
If you need to stay overnight in York, you may find this website useful: http://www.visityork.org/accommodation/

For further information
If you would like to ask questions to the event organiser, please contact Stephanie Taylor, s.taylor@ukoln.ac.uk or call +44 (0) 1225 386580