Launching Your Blog
About This Document
This document provides advice on steps you may wish to take once you are in the process of launching a blog.
Claiming Your Blog In Technorati
Technorati is the best known search engine for blogs. If you wish to make the contents in your blog easily found by others you are advised to 'claim your blog' in Technorati.
This process involves first registering with Technorati [1] and then providing the address of your blog to Technorati [2] and keywords which are relevant for your blog. This enables Technorati to automatically index new posts, shortly after they have been published. Please note that, in order to stop others from claiming your blog (which would enable them to view statistics for your blog) you will need to temporarily embed some special code in your blog in order to establish that you own the blog).
Accessing Technorati Information About Your Blog
Once you have successfully claimed your blog you should find that your blog posts will be indexed by Technorati shortly after they have been published. To check this, simply sign in to the Technorati Web site and you should be able to view further information about your blog, including details of the posts which have been indexed. You can also see details of Technorati users who have added your blog to their list of favourites. You may wish to use Technorati to add blogs you find of interest to your list of favourites.
Viewing Technorati Statistics
You will also find that Technorati provides statistics for the Authority and Ranking for your blog. This is based on the numbers of links there are from other blogs (which Technorati knows about) to your blog over a period of 6 months.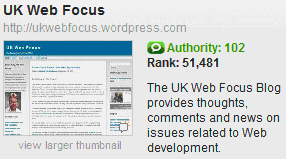 Further information on these statistics is available on the Technorati Web site [3].
Keeping Records
It can be useful to ensure that you keep records related to the usage and impact of your blog from its launch.
Many blog services will provide statistics on the numbers of visitors to the blog Web site, but you may find it useful to complement this with an embedded usage monitoring service such as SiteMeter, used on the UK Web Focus blog [4].
As described on the UK Web Focus blog [5] services such as Blotter can be used to visualise the trends in Technorati ratings, as illustrated. This can be helpful in making it easy to spot sudden jumps or falls in the ratings.
Marketing Your Blog
As well as making use of various Web services which can help users to find your blog, you should also implement a marketing strategy for your blog. Possible approaches to this could include: (a) including details of your blog in your email signature, your business card, etc. (b) providing flyers, posters, etc. about your blog and (c) citing blog posts in other media, such as in responses to email queries, in presentations, etc.
Documented Experience
The experiences gained after launching the UK Web Focus blog in November 2006, including details of 'claiming' of the blog and how this helped people to find the blog and how this helped in attracting traffic have been documented in the blog [6] [7].
References