An Introduction to Wikis
What Is A Wiki?
A wiki is a Web site that uses wiki software, allowing the easy creation and editing of any number of interlinked Web pages, using a simplified markup language or a WYSIWYG text editor, within the browser [1].
The key characteristics of typical wikis are:
The ability to create and edit content within a Web environment without the need to download any special software.
Use of a simple markup language which is designed to simplify the process of creating and editing documents.
The ability to easily create and edit content, often without need for special privileges.
Wikipedia - The Best Known Wiki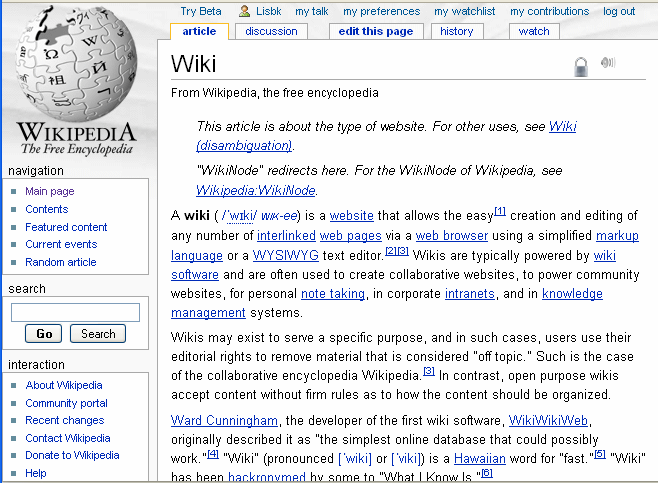 Wikipedia is probably the largest and best-known example of a wiki - see <http://www.wikipedia.org/>.
Wikipedia is a good example of a wiki in which content is provided by contributors around the world.
Wikipedia appears to have succeeded in providing an environment and culture which has minimised the dangers of misuse. Details of the approaches taken on Wikipedia are given on the Wikimedia Web site [2].
What Can Wikis Be Used For?
Wikis can be used for a number of purposes:
On public Web sites to enable end users to easily contribute information, such as the Science Museums Object Wiki [3].
Wikis can support communities of practice. For example see the Museums Wiki site [4], the Blogging Libraries Wiki [5] and the AHA's Archives Wiki [6].
Wikis can be used to allow local residents to contribute to an official archive [7].
Wikis - The Pros And Cons
As described in [8] advantages of wikis may include (a) there is no need to install HTML authoring tools; (b) minimal training may be needed; (c) it can help develop a culture of sharing and working together (cf. open source); (d) it can be useful for joint working when there are agreed shared goals.
However, as described in [9] take-up of wikis in the public sector has been low in the public sector for various reasons: (a) the success of the Wikipedia may not necessarily be replicated elsewhere; (b) concerns that inappropriate content made be added to a wiki; (c) a collaborative wiki may suffer from a lack of a strong vision or leadership; (d) it can be ineffective when there is a lack of consensus; (e) it may be difficult for wikis to gain momentum; (f) there may be copyright and other legal issues regarding collaborative content and (g) there is not a standard wiki markup language. More recently Looseley and Roberto [10] have suggested ways of overcoming such barriers.
References