Social Events - Informal Meeting on Monday 21st July 2008
For those IWMW 2008 delegates who plan to arrive on Monday 21st July 2008 an informal meeting is planned at the Old Blackfriars pub, 52 Castle St, Aberdeen, AH11 5BB. This is a real ale pub which serves food until 8.30 pm.
If you are interested in attending, please let us know using the Eventbrite booking system as this can help us guage demand and inform the pub of the numbers to expect.
Also note that a map showing the route to the pub from the University campus is available.
Social Events - Tuesday 22nd July 2008
The workshop meal will be held on the evening of Tuesday 22nd July in the Elphinstone Hall (see campus map), University of Aberdeen. Drinks will be served at 19:00 with dinner at 19:30. Entertainment, including a ceilidh, will take place after dinner with a cash bar available until midnight.
The workshop organisers would like to thank Nedstat, the sponsors of this year's workshop meal.
Social Events - Wednesday 23rd July 2008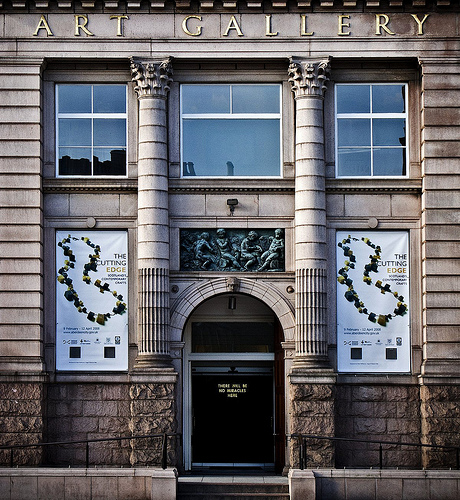 On the evening of Wednesday 23rd July 2008 there will be a drinks reception at the Aberdeen Art Gallery. The art gallery is one of the city's most popular tourist attractions. In its elegant marble-lined interior is displayed a varied collection of works of art, including outstanding examples of Modern Art, and work by the Impressionists, Scottish Colourists and Pre-Raphaelites including Rosetti's Mariana. Visitors can also see contemporary craft, Aberdeen silver and a wide range of decorative art.
Coaches will be provided to take delegates to the Gallery and will pick up from High St on campus near the accommodation at 6.30pm sharp. The drinks reception begins at 19:00 and afterwards there is free time in which delegates can eat at one of the many restaurants in Aberdeen. Please note that delegates will have to make their own way back to campus by bus or taxi.
The workshop organisers would like to thank Eduserv, the sponsors of this year's drinks reception.
Pubs and Restaurants
Most pubs and bars are on or around Belmont Street which has the Gallery at one end.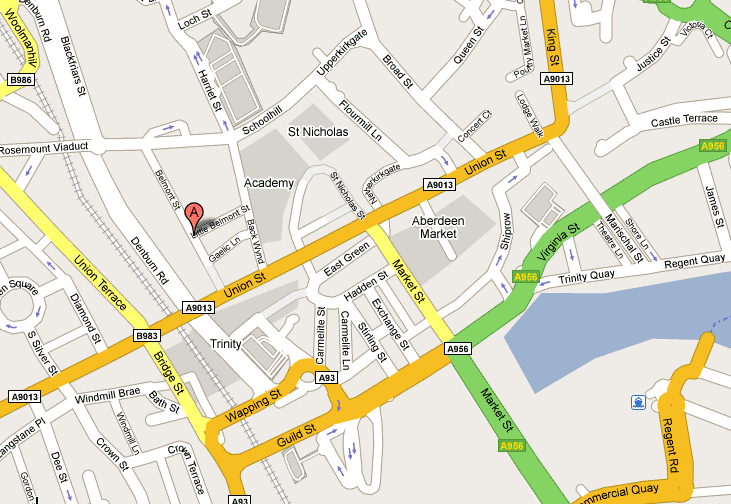 Pubs and Bars
The Bobbin - King Street - Next to Campus
Blackfriars - 52 Castle St (Bottom of Union Street)
Archibald Simpson - 5 Castle St (Bottom of Union Street)
Prince Of Wales - St Nicholas Lane
Revolution - 25 Belmont Street
Soul Bar and Casino - 333 Union Street
Ma Camerons - 6 Little Belmont Street
Vodka Bar - 9 Belmont Street
Under The Hammer - 11 North Silver Street
Triple Kirks - Belmont Street
Machar Bar - On Campus
The Illicit Still - 22 Netherkirkgate
The Blue Lamp - Gallowgate
Old School House - 8 Little Belmont St
The College Bar - 9 Alford Place
Paramount - 21-25 Bon Accord St
Restaurants
Cafe 52 - The Green
Poldino's Ristorante and Pizzeria - 7 Little Belmont St
La Bonne Baguette - 19 Correction Wynd
Bistro Verde - 59 The Green
Moonfish cafe - 9 Correction Wynd
Stage Door - 26 North Silver St
Halo - 470 Union St
Saigon Vietnamese restaurant - Crown Terrace
Prime Cuts Steak and Lobster House - Crown Terrace
Chi Bar and Restaurant - 11 The Academy
Pizza Express - 47 Belmont St and 402 Union Street
Shahbaaz - 19 Rose St
A Googlemap of restaurants and pubs near the centre of Aberdeen is available.
This map was created by Mike Whyment and is based on David Mackland application for creating Googlemaps that has been entered in the innovation comp.
Sports Facilities
For the duration of the conference the University of Aberdeen are able to offer all delegates preferential rates for using the Sports facilities. You will need to take along your conference badge to identify yourself as a delegate. You can then access all the facilities at Staff rate.
More information is available on the Sport and Recreation Services Web site. Timetables for classes and the swimming pool are also available.