MICHAEL: Perspectives on cultural sector resource discovery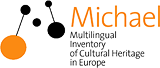 Royal Institute of British Architects, London
Friday 23 May 2008
MICHAEL: Perspectives on cultural sector resource discovery
The MICHAEL project (Multilingual Inventory of Cultural Heritage in Europe) began in 2004 as a partnership between France, Italy and the United Kingdom to create an inventory of the digital and online resources from the cultural sector and to implement a new European information service. With support from the European Commission's eTen programme, the project has extended across Europe and beyond. As the project has rolled out in each country, it has catalogued a wonderful diversity of digital resources details of which are being made available to global audiences through the MICHAEL European Service.
The work that the MICHAEL project is doing takes place in the context of other initiatives to promote the discovery of cultural sector resources and to provide user services.
On the 23rd May, a one-day conference is being held to celebrate the achievements of the MICHAEL project and to consider the perspectives of international audiences, the European Digital Library initiative and education audiences on the UK's digital cultural offer.
Location
Royal Institute of British Architects, 66 Portland Place, London, W1B 4AD
Find the RIBA on multimap.co.uk
Audience
The conference aims to bring together policy makers, national experts and cultural heritage practitioners from the UK and overseas.
Links
MICHAEL European Service: http://www.michael-culture.org/
MICHAEL UK: http://www.michael-culture.org.uk/