Social Events - Wednesday 14th June 2006
The workshop meal, a barbeque, will be held on the evening of Wednesday 14th June 2006 in the UBSA Building, with a drinks reception at 7 pm and the meal starting at 7:30 pm. During the meal there will be a limited number of free drinks. A cash bar will also be open.
Later in the evening there will be entertainment from Northgate Rapper who will be giving a display of the rapper sword dance from the mining villages of the north east of England. Further information on the history of rapper is available on Wikipedia.
Northgate will be supporting el Vino Cheapo, Bath University's resident band.
The workshop organisers would like to give thanks to Nedstat, the sponsors of this year's workshop meal.
Acknowledgements are also given to Martin Hanley for permission to use his photograph. Further photographs of Northgate Rapper are available on Flickr.
Social Events - Thursday 15th June 2006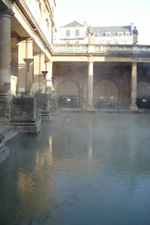 On the evening of Thursday 15th June 2006 there will be a drinks reception at the Roman Baths, one of the best examples of a Roman bath complex in the world. The entrance to the Roman Baths is in Stall Street. See Google Map.
After their glass of wine delegates will then have time to wander round the Great Bath and experience what it must have been like for Romans relaxing and bathing there. There will be tour guides on hand to help answer any questions and point out important areas to view.
This event year's workshop drinks reception is sponsored by TERMINALFOUR.
Afterwards delegates will have free time in which they can have a meal at a restaurant or visit local pubs. Further information on restaurants and pubs will be provided.
Coaches will be provided from the University down to the city centre. Delegates will need to make their own way back either using the Bath Bright Orange Bus ( timetables available), which runs till fairly late, or by taxi.
Details of pubs and restaurants near the Roman Baths are given below.
The Rummer
6 Newmarket Row, Grand Parade, Bath BA2 4DF
Cosy small pub with single bar opposite the River Avon and the weir. Real ale.
See Google Map.
The Boater
9 Argyle Street, Bath, BA2 4BQ
Across the river, over Pultney Bridge and on the right. Large pub with large beer garden to be found downstairs. Suitable for large numbers. Real ale.
See Google Map.
Coeur De Lion
17 Northumberland Place, Bath, BA1 5AR (opposite Guildhall)
Smallest pub in Bath. Real ale.
See Google Map.
Old Green Tree
12 Green Street, Bath, BA1 2JZ
Wonderful pub, but small. Real ale.
See Google Map.
Pig and Fiddle
2 Saracen St, Bath, BA1 5BR
Lively pub with outside drinking area. Real ale.
See Google Map.
Crystal Palace
10-11 Abbey Green, Bath, BA1 1NW
Large pub, with beer garden. Real ale and food.
See Google Map.
Star Inn
23 The Vineyards, Paragon, Bath, BA1 5LY
Bit of a walk, but worth it to see a gem of a pub. The Star Inn now has its own Web site which describes the history of the pub.
See Google Map.
The Bell
103 Walcott Street, Bath, BA1 5BW
Near the Star Inn. Live music on Monday and Wednesday evenings, but likely to be crowded.
See Google Map.
The Salamander
2 John Street, Bath, Avon, BA1 2JL
Friendly pub with Bath ales.
See Google Map.
Central Bar
10 Upper Borough Walls, Bath, BA1 1RG,
A bar - for those of you so enclined!
See Google Map.
Further Pub information
The Firehouse Rotisserie
2 John Street, Bath, Bath BBA1 2JL
Cosy restaurant doing californian cuisine. Next door to the The Salamander.
See Google Map.
The Moon and Sixpence
6a Broad Street, Bath, BA1
Down a cobbled passage through an arch in an old Bath warehouse. Varied menu.
See Google Map.
Rajpoot House
4 Argyle Street. Bath, BA2 4BA
Big Indian restaurant that has won lots of awards. It is named after the "Rajpoots", a warrior race of Rajastan in Northern India. Cross Pultney bridge and look for a small doorway.
See Google Map.
Demuths
2 North Parade Passage, off Abbey Green, Bath, BA1 1NX
Vegetarian restaurant that uses lots of locally sourced, fair-trade and organic food.
See Google Map.
Yak Yeti Yak
12 Argyle St, Bath, BA2 4BQ
Nepalese restaurant just over Pultney Bridge.
See Google Map.
The Hole in the Wall
16 George Street, Bath, BA1 2EH
Very good restaurant serving 'British Modern cuisine'. Entrance is next to the Porter pub.
See Google Map.
Za za
88 Walcot St, Bath, BA1 5BD
New Italian restaurant with plenty of space inside.
See Google Map.
Las Iguanas
12 Seven Dials, Bath BA1
Fun Latin American with lots of interesting spirits on the drinks menu.
See Google Map.
Walrus and Carpenter
28 Barton Street, Bath, BA1 1HH
Small, intimate but lively bistro. Lots of variety, excellent vegetarian food.
See Google Map.
Mai Thai
6 Pierrepont Street, Bath, BA2 4AH
great Thai restaurant on the walk back to the train station.
See Google Map.
Further Restaurant information
General Tourist Information
For more general tourist information try the following Web sites:
VisitBath - a site created by Bath Tourism Plus
Note that Brian the Brain, IWMW's very own chatbot, can also provide tourist information.