Social Events
First Evening (Tuesday 27th July)
The Institutional Web Management Workshop series always provide a social programme which provides an opportunity for workshop delegates to meet other members of institutional Web management teams.
On the first evening (Tuesday 27th July) there will be a conference meal which will be held in Staff House at the University. The meal will take place in the Avon Room in the University Centre (building no. 28 on the campus map). The conference meal will be preceded by a drinks reception.
After the conference dinner the bar next to the accommodation will be open from 9-11 pm.
Second Evening (Wednesday 28th July)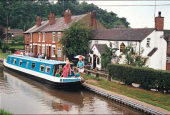 On the second evening (Wednesday 28th July) we will provide a canal trip on a narrow boat which will take delegates from the University to the centre of Birmingham where delegates will have free time in which they can try have a meal at a restaurant, perhaps trying out one of Birmingham's renowned Balti houses and visit a local pub.
Delegates will board the narrow boat from the canal pick up point (the Vale) which is next to the accommodation at 18:30.
Delegates will make their own way back from the city centre to the University. We will provide details of transport.
Note that the bar next to the accommodation will not be open on this evening.
Local Pubs
The Birmingham branch of CAMRA provides some useful information. Additional information is available from R. A. Wilson's list of pubs.
Restaurants and Cafés
The BirminghamPlus Web site provides details of restaurants.
Dress Code
There is no formal dress code for the workshop or social events.