---
Contents
---
An exciting new public library web site for children aged 8-11 is now available. Stories from the Web is about stories, writing and reading and has been developed by UKOLN, Birmingham City Library Services, Bristol City Library Services and Leeds City Library Services.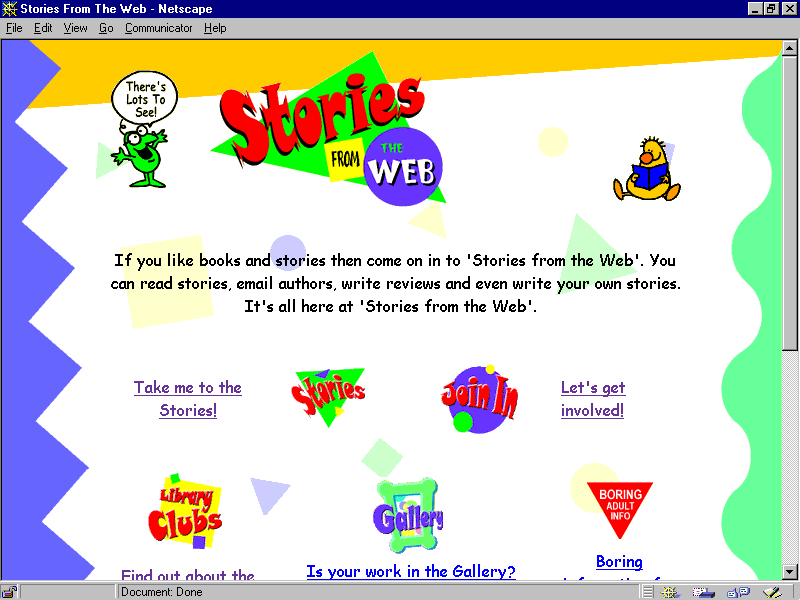 Figure 1: Stories from the Web home page
The web site is part of a Library and Information Commission funded project, managed by the Centre for the Child in Birmingham Central Library which is exploring how public libraries can use the web to provide reading promotion and development services to children in an electronic environment. Described by the TES as an 'irresistible site', it allows children to read extracts of stories and poems from high profile authors online and then send in reviews, their own stories and enter competitions. Authors involved include Laurence Anholt, Julia Jarman and Pete Johnson.
As well as the web site, computer clubs for children are being held in libraries in Birmingham, Bristol and Leeds. These clubs will use the Internet as a tool to get children to read, borrow and buy more books. Stories from the Web will provide valuable research findings which will be shared with the wider library, publishing and education worlds.
If you would like more information contact Lydia Matheson the Project Co-ordinator at the Centre for the Child in Birmingham Central Library An email Newsletter, available by subscription, provides updates on the project.
---
Welcome to the July 1999 edition of the UKOLN Newsletter, the twice yearly update on our work in the areas of digital libraries, web technologies and public library networking.
This issue's cover story features Stories from Web, the Library and Information Commission funded project that aims to stimulate the imagination of children and encourage them to share, explore, read and enjoy stories in a geographically distributed, electronic environment.
Elsewhere in the Newsletter, the mysteries of IMS are explained by Tracy Gardener, we give an overview of our involvement in the Dublin Core Metadata Initiative and we provide the latest news on all of our project work. Sue Howley from the LIC reports on the recent changes within our funding organisations and we update you on changes within our staff and our Management Committee.
Also, we are pleased to announce that the proceedings of last year's UKOLN conference, Information landscapes for a learning society: networking and the future of libraries 3, are now available from Library Association Publishing. Further details are given in the Recent Publications section on page 20.
This Newsletter is available free of charge. To be added to the mailing list please send your name, job title and address to the Editor Sally Criddle at s.criddle@ukoln.ac.uk.
Management Committee
There are a number of recent changes within the Management Committee to report.
Professor James Davenport, University of Bath Director of IT, replaces Professor George Lunt on the Committee. Professor Davenport is the University's liaison with the JISC for all JISC funded services at the University of Bath. We would like to thank Professor Lunt for his support over the last few years.
Since the reorganisation of the research grants function of the British Library (see below) Sue Howley has replaced Adrienne Muir as the representative of our funders on the Committee.
Alice Colban has replaced Dave Cook as Secretary to JISC's Committee on Electronic Information and as such has also replaced Dave on the UKOLN Management Committee. Dave has taken over as the Secretary to JISC's Advisory Committee on Networking and as senior support to all JISC activities.
We extend a warm welcome to James, Sue and Alice.
In conjunction with reducing his involvement in the Committee on Electronic Information of the JISC, Richard Hesletine the current chair is stepping down from the Committee. Richard has been a staunch supporter of UKOLN for a number of years and his input and support has been greatly valued. He will still be working with UKOLN however, through his involvement with the Resource Discovery Network.
News from our Funders
Sue Howley, Deputy Chief Executive and Head of Research at the Library and Information Commission writes:
"On 1 April 1999, the research grants function of the British Library transferred to the Library and Information Commission and, along with it, responsibility for the joint funding with JISC of UKOLN. Subsequently, the LIC has produced a new three-year Research Plan (available on its web site) which includes commitment to continued funding for UKOLN. LIC is very aware of the potential contribution UKOLN can make in helping to achieve the objectives set out in the Plan."
---
Metadata and Resource Discovery
(Rachel Heery, Metadata Projects Co-ordinator)
Recently UKOLN have made available a review of products designed to enable resource discovery. This review places ROADS in the context of other available software, and considers some criteria for evaluation. The product comparison is influenced by the requirements of information gateways such as the eLib Subject Gateways. We hope to expand and update this review with details of additional products as they come to our attention.
By the end of July this year the ROADS code-base will be available in version 3, and it will be at this time that the eLib funding for the ROADS project will come to an end. However this does not mean the end of ROADS development and support. Maintenance and development of the software will continue under the Open Source model with software being written and co-ordinated by committed technical users. The Resource Discovery Network Centre has funding to support for its member gateways for the time being, and the ILRT at the University of Bristol will offer support to other users on a consultancy basis.
We would like to mark the end of the ROADS project by noting its success in producing software tools that are now in widespread use for resource discovery. Uptake of ROADS has spread outside the UK subject gateways (a number of whom continue to use ROADS) to other parts of UK HE and beyond in Scandinavia, the Netherlands, Australia and the USA. The benefits of the ROADS project go further than the software itself. The ROADS project has funded much of UKOLN's participation in standards-making activity such as the Dublin Core Metadata Initiative and Resource Description Framework (RDF) model and syntax development. ROADS has also been significant in supporting UKOLN's dissemination activity regarding the importance of metadata in building a viable infrastructure for the web.
(Manjula Patel, Technical Development and Research)
BIBLINK is now in the second phase of the project which extends to December 1999. During this phase UKOLN and other partners will be running a demonstrator involving publishers of electronic material exchanging information regarding their publications with national bibliographic agencies. The BIBLINK Demonstrator will consist primarily of a BIBLINK Workspace which is a shared database containing BIBLINK Workspace Records. Publishers will be able to input records either in Dublin Core or SGML formats. BIBLINK will extend Dublin Core with some 'BIBLINK elements' to allow for additional metadata to be held. National bibliographic agencies will access the workspace to enhance the records by adding subject headings and applying authority control for names. Other parties may have access to the BIBLINK Workspace such as ISBN, ISSN and DOI agencies.
During the last few months a French software house, Jouve, have been developing the software for the demonstrator. UKOLN have been responsible for managing the alpha and beta testing of this software. Unfortunately software development has progressed more slowly than originally planned and testing has been more time consuming than expected. Despite this delay, we hope the demonstrator will start soon and that publishers will begin participating in the gathering of metadata describing their resources.
(Rachel Heery, Metadata Projects Co-ordinator)
DESIRE partners attending the TERENA - NORDUnet conference in Lund early in June took the opportunity to organise an exhibition stand to demonstrate some of the DESIRE early deliverables. The conference was followed by a project meeting at which all partners were represented. This meeting proved valuable for sharing information regarding progress on deliverables and identifying areas where closer co-ordination is required.
UKOLN have now completed their contribution to a report on Quality Rating Vocabularies, which is now available as is Quality Ratings Implementation, software prototype and documentation.
Building on this initial work, Tracy Gardner has developed a demonstrator showing some 'proof of concept' scenarios for using quality ratings, first to rank hit lists and secondly to display ratings for resources linked within a web page. The demonstrator uses the ROADS subject gateway SOSIG to illustrate how search results might be ranked based on quality ratings from an accessibility ratings service. Future possibilities might be for end-users or services to choose from a variety of 'quality criteria' to rank search results, depending of course on services creating such quality rating metadata. For example the ratings provided by a third party service might use criteria such as number of references in resources, ranking by peer reviewers or number of citations. A second demonstration shows how an end user might display ratings for links within a page, to assist the user to decide whether that link is worth following. This enables the end user to gain additional information about a resource from another 'metadata service', so for example a service might provide ratings (metadata) describing the target audience of a resource or its relevance to a particular curriculum level.
Such ratings services offer interesting possibilities for enhancing 'base-line' metadata with additional information from other specialised services. The technology used in the demonstrator is based on ratings held in a ROADS database transported via WHOIS++ or via HTTP in an RDF/XML format. Retrieval of ratings depends on availability of a mechanism to search the ratings database by a URL, and this feature has been fed back into the ROADS software.
Further work on ratings enables 'peer communities' to create their own ratings for particular web resources and to view the ratings alongside the resource by using the 'What's related' feature in Netscape.
Within DESIRE we are starting work on a prototype metadata registry. It is intended that this registry will provide information on the various metadata schema used within the DESIRE services. This work will investigate how registries might be used; by metadata namespace managers to offer authoritative definitions of their schemas, by implementers to register local usages, and by schema creators to find information about existing schemas. We intend to offer human and machine readable interfaces to this information using ISO 11197 syntax for the former and RDF schemas for the latter. The registry might also be used to inform users of equivalent fields based on existing mappings used within services, disclosure of this information requires a database structure to be built into the registry.
Other DESIRE partners are progressing work on integrating white pages directory services with existing search services to allow cross searching of descriptions of people as well as web resources. Collaboration between NetLab at the University of Lund and OCLC has produced a demonstrator of automatic classification technique to add classification codes automatically to harvested metadata.
(Lou Daly, Technical Development and Research)
PRIDE (People and Resources Identification for Distributed Environments), a European DGXIII funded project, has recently published two reports and is now in the detailed software design phase. In addition we are fleshing out the details of a number of scenarios in which we hope PRIDE will demonstrate the benefits of a directory-based approach to resource discovery and access. The two reports, PRIDE Requirements and Success Factors and PRIDE Architecture and Interfaces & PRIDE Logical Components and Integration Designs are available as HTML from the UKOLN metadata PRIDE web pages.
IMesh Toolkit
(Andy Powell, Technical Development and Systems Group Co-ordinator)
UKOLN are pleased to announce that a consortium proposal for a project known as The IMesh Toolkit: an architecture and toolkit for distributed subject gateways, by UKOLN, the Institute for Learning and Research Technology (University of Bristol) and the Internet Scout Project (University of Wisconsin-Madison) to the Joint National Science Foundation in the US and the JISC's International Digital Libraries Initiative has been awarded funding. Recent years have seen the emergence of the subject gateway approach to Internet resource discovery and leading gateway initiatives have recently been collaborating informally under the name IMesh. The IMesh Toolkit project aims to advance the system framework within which subject gateways and related services operate by defining an architecture which specifies individual components and how they communicate.
(Andy Powell, Technical Development and Systems Group Co-ordinator)
DC-dot, UKOLN's web-based Dublin Core generator and editor, has been available since April 1997. During that time it has been used to describe almost 10,000 different web resources. To mark this milestone, here is a short summary of the way it is being used.
Usage over time. In April 1997 when it was first launched, DC-dot was typically used between 100 and 200 times per month. During 1998 usage grew steadily to around 350 accesses per month. This year has seen continued growth, with well over 500 new resources being described each month.
Usage by domain. DC-dot is accessed from all over the world. A quick check of the URLs for the resources that it has been used to describe, indicates over 1,800 in the UK, 1,400 in the '.com' domain, 1,000 in the '.edu' domain, almost 800 in Australia, 500 in the '.org' domain, 350 in New Zealand and so on.
Usage by Dublin Core element. Not surprisingly, the elements that DC-dot generates automatically are the ones that appear in most resource descriptions. Identifier, Format, Title, Subject, Date, Publisher and Type elements appear in over 60% of the descriptions. Around 40% contain Description and Creator elements. Less than 20% of the descriptions contain Language, Rights, Contributor and Coverage elements while only 1% use Source and Relation.
The Perl source code for DC-dot has been available for some time and has been downloaded 120 times from over 100 hosts as well as attracting more formal expressions of interest by several organisations. Finally, the source code for an experimental Java version of DC-dot, has also been available from our FTP server for some time. This has been downloaded 290 times from over 130 hosts.
What does all this tell us? Well, probably not much! DC-dot is primarily intended to raise awareness of the Dublin Core and to give people a simple way of experimenting with its use. As such, it is hard to tell if people are using it for serious resource description or for experimentation and play. Furthermore, there is no easy way to tell if people are embedding the descriptions that they create with DC-dot into their web resources. However, in a very informal way, this summary does tend to endorse the notion that there is now a widespread and growing interest in the Dublin Core and that there is a requirement for simple tools that enable its creation.
UKOLN also provide software tools for handing ,metadata in various formats.
(Andy Powell, Technical Development and Systems Group Co-ordinator)
UKOLN's work on collection description continues. Three things to look out for in the coming months:
Collection Level Description - a review of existing practice is soon to be published. Incorporating work by a number of authors, this eLib supporting study takes a detailed look at the state of the art for collection description as it currently exists in the library, archival, museum and Internet/web communities.
Simple Collection Description, a report by the eLib collection description group, will be available soon. This builds on an earlier report on work in progress, detailing a set of 23 'core' attributes for simple collection description and providing examples of their use. The attribute set will be used as the basis for collection description in the RIDING and Agora eLib phase 3 projects.
UKOLN are currently in the latter stages of discussion with the Research Support Libraries Programme about a short term project in response to the RSLP Circular 1999/1. This will enhance our existing work in the area of collection description to develop a metadata schema and associated tools for projects in the collaborative collection management and research collections in the humanities and social sciences strands of the Programme. This will enable them to describe the collections that they make available in a consistent way. The groundwork for this project will be done in collaboration with Mike Heaney, of the University Library Services Directorate at the University of Oxford, and will be funded by OCLC.
And finally, UKOLN have used the ROADS software to build a database of descriptions of the collections covered by the 'JISC Current Content Collection'. The ROADS database uses the attributes identified by the eLib collection description working group (above) as the basis for these descriptions. We hope to enhance the database over the coming months, in collaboration with the JISC.
(Michael Day, Research Officer)
The aim of the eLib funded Cedars (CURL Exemplars in Digital Archives) project is to explore issues and develop practical exemplars relating to the long-term preservation of digital materials. UKOLN's involvement in Cedars largely relates to the important issue of preservation metadata, building on a review carried out for the project last summer.
UKOLN and the Cedars project officer, based at Oxford University Computing Service, are currently working on the production of a draft metadata specification for the project. A preliminary list of elements has been produced by analysing selected schemes identified in the Cedars metadata review and these were initially organised according to a 'taxonomy of archival information object classes' identified by the reference model for an Open Archival Information System (OAIS). This document - a list of elements with short definitions - was introduced to the project at the Cedars Demonstrators II meeting held in Leeds on the 8-9 March 1999. Since then, the document has been extensively discussed at project working group meetings and at a specially convened 'brainstorming' meeting held in the Main Library of University College London on the 24 May. The next stage will be to produce a new version of the document that will be open for public review.
A presentation entitled 'Metadata for preservation', based on work carried out for Cedars, was given at the Third Metadata Workshop held in Luxembourg on the 12 April 1999 and a report has been produced.
UKOLN involvement in the Dublin Core Metadata Initiative
(Rachel Heery, Metadata Projects Co-ordinator)
The history of the Dublin Core initiative reflects the growth of interest in metadata and the realisation of the importance of metadata in building the infrastructure of the Internet. The first Dublin Core workshop took place in 1995 when 'metadata' was a specialist term used by research workers and software developers. By the time of the 6th Dublin Core workshop in Washington last year metadata and Dublin Core had achieved worldwide popularity, and widespread deployment.
UKOLN and its staff have been very much involved in Dublin Core activities both in terms of the development of the emerging standard, an activity now referred to as the Dublin Core Metadata Initiative (DCMI), and in terms of promoting deployment of the standard by means of prototype implementations (e.g. BIBLINK, CIMI testbed) and software tools (e.g. the DC generator DC-dot).
Our involvement in the DCMI has been valuable in (we hope) giving direction to its development as an effective standard, and in representing the requirements of our communities and projects. We have also gained enormously in having a forum for discussion and dissemination of metadata issues, and in being part of an international community of research workers, information service providers and software developers. Many of our international collaborators and contacts were made initially through DC workshops and DC list discussions.
Looking to the future we see DCMI as becoming more formal in its structure and processes. As the 'emerging standard' becomes formalised through IETF RFCs and ISO then the focus of discussion will shift to enabling richer descriptions through qualification of DC, and to alignment with other schema such as those designed for e-commerce and digital preservation. This shift to a wider focus reflects how pervasive metadata has become across network information systems, and it fits well with UKOLN's interest in the range of information communities.
Up to the present there have been two committees which provide support to the DC Directorate, UKOLN are represented on both:
DC Policy Advisory Committee (Lorcan Dempsey)
DC Technical Advisory Committee (Andy Powell, Paul Miller, Rachel Heery)
These committees are now being merged into one Advisory Committee. The Advisory Committee is made up of representatives of major stakeholder communities and others with particular expertise in appropriate areas, included also are chairs of DC working groups. The committee liases between stakeholder communities and the Directorate. It also provides a forum for discussion and ratification of proposals concerning EDC.
Various proposals are now under discussion to enhance the structure of the DCMI, including formation of a new Executive Group. This will be progressed on the dc-general list for those who are interested.
DC Working groups are established on an annual basis to complete specified tasks. UKOLN staff currently chair four of these Working Groups:
Coverage (Paul Miller)
Subject and Description (Rachel Heery)
Format (Andy Powell)
Data Model (Paul Miller)
UKOLN staff have attended most DC workshops, with UKOLN jointly sponsoring the second workshop in Warwick in 1996. These workshops were:
DC-6: The 6th Dublin Core Metadata Workshop, Washington DC, 2-4 November, 1998
DC-5: The 5th Dublin Core Metadata Workshop, Helsinki, 6-8 October, 1997
DC-4: NLA/DSTC/OCLC Dublin Core Down Under, Canberra, 3-5 March, 1997
DC-2: OCLC/UKOLN Metadata Workshop, Warwick, 1-3 April, 1996
UKOLN have published several articles relating to the context and use of DC which are listed on our web pages. The following references are to documents that form part of the 'official record' of the DCMI:
---
(Lorcan Dempsey, Director)
The Resource Discovery Network, a JISC-funded service being jointly administered by UKOLN and the AHDS (at King's College London), is beginning to take shape. Several 'hubs' have now been selected and negotiations with others are in progress. Hubs which have been agreed include one in the social sciences, business and law (to be led by ILRT, Bristol); one in engineering, computing, maths (to be provided by Heriot Watt University); and one in biomedical sciences (to be provided by the University of Nottingham). Further arrangements, in the creative arts and industries and in the physical sciences, will be put in place shortly. The Resource Discovery Network is scheduled to begin operation on 1 August 1999.
Some commissioned reports are due shortly which will provide background information to the RDN. John Kirriemuir, of OMNI (at the University of Nottingham), is providing a review of international subject gateway activity. One component of this review will be a searchable database of descriptions of subject gateways. Renato Iannella, of DSTC Pty, Ltd., Australia, is carrying out a technical review which will survey interoperability and systems issues. These will be made available over the coming months.
There is growing interest in international subject gateway activity and the RDNC organised the first International IMesh Workshop in Warwick in early June. This brought together over 30 representatives of gateways worldwide to discuss a shared agenda of activity. IMesh (International Mesh) is a loose association of subject gateway organisations. A report of the workshop will be available soon, which will be linked to the web site.
---
MODELS Information Architecture study
(Rosemary Russell, MODELS Project Manager)
As a further development of the MODELS Information Architecture (MIA), UKOLN is undertaking a requirements analysis for hybrid information environments. The requirements for a MIA-like hybrid information environment will be developed together with a set of interoperability requirements for such systems. The MIA logical architecture will be developed further to provide the high-level framework within which these requirements must be met. The MIA architecture has already proved to be a useful tool for understanding the behaviour of hybrid information systems. A set of 'scenarios' will also be developed to capture the basic functionality of hybrid information systems. Having developed a set of generic scenarios a number of providers, or potential providers, of hybrid information services will be approached in order to elicit requirements for particular environments. This work will initially be presented at the MODELS workshop in October 1999. A further task that may be approached if time permits is the comparison of existing digital library system architectures (Agora, BUILDER, MALIBU, etc.) against the generic architecture.
(Rosemary Russell, Agora Communications Coordinator)
Agora Release 1. Work on Release 1 of the Agora hybrid library management system (HLMS) has gathered force, with the date of delivery from Fretwell-Downing scheduled for the end of July.
A public version of the very detailed requirements catalogue is available on the Agora web site.
UKOLN has compiled a set of resources to be accessed within Release 1, based on suggestions from library associates and investigation of other suitable sources (this version is reliant on Z39.50 as the search protocol). It includes library catalogues (UK and overseas), abstract and indexing services, subject gateways and museum image databases. OCLC have kindly agreed to allow Agora to access a subset of FirstSearch databases. Testing access to targets is being carried out at the time of writing.
The Agora system will be installed over the summer in the associate libraries where user evaluation will be carried out in controlled groups, working towards specification of the next release (due summer 2000). We also plan to demonstrate Agora at a number of professional events, to gain feedback. Another meeting for Agora service provider associates will be held in the autumn to demonstrate Release 1, provide feedback and discuss issues.
Agora continues to use the BSCW web groupware product to support internal project communications. A new structure for the workspace was designed, to make navigation around the workspace easier. An article about our selection and trailing of products was published in VINE 109 (February 1999 issue). A training session for library associates and project staff was held in April and a short tutorial covering the basic BSCW features has been developed.
Collection level description. A meeting was held in June to demonstrate Fretwell-Downing's current collection level description/landscaping development to the eLib phase 3 projects using VDX. A followup meeting was organised, in order to discuss a common approach amongst the projects. A joint collection description scheme was agreed, closely based on the draft 'national' attribute set (developed by a working group led by UKOLN, described elsewhere), with the addition of several qualifiers.
The Agora specification was presented at the Internet Librarian & Libtech 99 conference in London in March, as part of the hybrid library session. The eLib phase 3 projects also had a joint stand at the accompanying exhibition, where Agora was represented.
A paper on Agora was presented at the European Library Automation Group (ELAG) 99 meeting in Slovenia in April, as well as co-chairing (with the German NRW Digibib project) a workshop on 'access to heterogeneous information sources'.
(Paul Miller, Interoperabilty Focus)
Six months on from the start of this project, Interoperability Focus continues to work on identifying areas of importance to the community, and invites approaches from those with experiences to share.
Starting with a report for April, the Interoperability Focus web site now carries monthly summaries of activity, extracted from fuller reports submitted to the Interoperability Focus Advisory Committee. Some of the key areas from these reports are highlighted below.
Z39.50 is fairly widely used in large libraries around the world, and is also proving important in parts of the cultural heritage and geospatial sectors both in the United Kingdom and beyond. A continuing problem in linking diverse Z39.50 servers together - as the proposed Distributed National Electronic Resource (DNER) in the UK might seek to do - is both the complexity and occasional ambiguity of the existing standard. Various initiatives are underway within the Z39.50 community to address some of these concerns, and UKOLN aims to provide input to these wherever possible.
One of these efforts, being co-ordinated by the National Library of Canada, is work to define an Interoperability Profile which is simple enough to be readily understood and prescriptive enough that current problems where software packages interpret the standard in different ways are minimised. Current discussions in this group are based around an extremely useful profile being developed in Texas by Bill Moen, and we hope to complete the internationalisation of the profile and initiate some tests of its value in the not too distant future.
The Dublin Core
The Dublin Core Metadata Initiative has been discussed elsewhere in this newsletter, and is an important area of interest for those at UKOLN and elsewhere who seek to enable the effective discovery of diverse resources from across information-holding communities. In recent months, a draft document has been produced by the Dublin Core's Data Model working group which offers guidance on the ways in which Dublin Core can be expressed with reference to two important web-related standards, XML and RDF.
In recognition of the growth of interest in Dublin Core, the existing Dublin Core Directorate has been reviewing the manner in which Dublin Core work is progressed. Part of this review has resulted in the trial formation of a new Dublin Core Executive Committee which will aid the Directorate in setting directions and overseeing completion of work packages. Paul Miller has been appointed as a member of this Committee.
As the landscape in which we work changes, and even government recognises the synergies between related areas such as museums, libraries and archives, work that crosses boundaries becomes both more in vogue and easier to undertake.
The Consortium for the Computer Interchange of Museum Information (CIMI) has a history of conducting significant and successful test beds which have resulted in such deliverables as the Z39.50 Profile for Cultural Heritage Information. The current test bed, with which UKOLN and AHDS are involved, is exploring the relevance of Dublin Core to cultural heritage information. This has resulted in the creation of a test bed database holding several hundred thousand cultural heritage records in a simple Dublin Core format, and a Guide to Best Practice on the use of DC for describing similar resources. The current phase of work is exploring the use of qualification and substructure within Dublin Core records in order to evaluate the extra value that this adds to the record, compared with the extra effort required to create richer descriptions. CIMI is also involved in disseminating these findings widely, and Paul Miller has co-taught two of the CIMI workshops in New Orleans and Tai'pei, Taiwan.
Paul has also just been appointed to the mda Board as the Museums and Galleries Commission's nominee.
---
(Tracy Gardner, Technical Development and Research)
You may have come across the term IMS in recent months, it has started cropping up when metadata or computer-based learning are discussed. In short IMS is an initiative to provide technical specifications to support interoperability across learning management systems. This overview describes the IMS initiative and provides pointers to further information.
The first question is probably 'what does IMS stand for?'. Actually it doesn't stand for anything. It used to stand for 'Instructional Management Systems' but that name proved unpopular so it was dropped. IMS just stands for IMS.
IMS is concerned with developing interoperability standards for learning management systems. The IMS is trying to achieve a future in which course materials can be moved between delivery systems, students can access the same materials whether they are physically in their university or studying from home or in their workplace, and credit can be automatically transferred between degree programs in different universities. At the moment support for these scenarios is limited, there are several learning management systems each with their own proprietary formats and mechanisms.
IMS is working on, amongst other things, standards for packaging up and deploying course materials, standards for the metadata used to describe learning resources and standards for 'user profiles' for students. IMS is not a standards body, it is developing technical specifications which it will channel through appropriate standardisation bodies (such as the Institute of Electrical and Electronic Engineers).
The IMS initiative is a collaboration between companies, organisations and universities (high profile commercial members include Microsoft, IBM Education and Oracle). In the UK, the JISC is an investment member of the IMS and a UK IMS centre has been set up (UKIMS).
IMS specifications should have started to appear earlier this year but schedules have slipped. Public versions of the IMS specifications should start to appear in the near future (IMSPECS), at present only a draft of the Metadata Specification is publicly available.
For further information see the IMS Project Home Page, the UK IMS Centre and the IMS Specifications.
---
(Ann Chapman, Research Officer)
Full Disclosure
In January 1999, UKOLN and the National Council on Archives (NCA) were commissioned by the British Library (BL), the Library and Information Commission (LIC) and the Library and Information Cooperation Council (LINC) to carry out a study on a national strategy for retrospective conversion of catalogues in libraries and archives in the UK. As part of this, the study team reviewed progress in retrospective conversion since 1997 and identified the current options for funding such projects. The views of the library and archive communities were sought through structured telephone interviews to identified representatives of specific sectors and interest groups and at three regional workshops. Additionally the team looked at retrospective conversion strategies outside the UK.
A draft strategy was then presented at a conference held at the BL conference centre at St. Pancras on 10 May 1999. More than 140 delegates from all sectors of the library and archive domains attended. Breakout groups considered both the strategy and the co-ordination focus and possible funding. Input from these groups was used later by the team to 'fine tune' its recommendations. The conference plenary session demonstrated strong support for taking the initiative forward as soon as possible.
The conclusion reached by the team focused on a 10 year plan which is expected to deal with around 80% of the existing catalogue records not presently in machine readable form. Within the overall timescale the initiative is broken down into phases. The first phase should start immediately and a number of tasks were identified for this phase. As no external funding is yet available for the initiative, one important task is to seek such funding. Which of the other tasks can be undertaken will depend on funding available and the willingness of groups within the communities supporting the initiative by contributing effort rather than funds. The initiative needs a co-ordination focus and the team recommended placing this in the long term within the new Museums, Libraries and Archives Council (MLAC). In the short term, the team recommended that the commissioning group should review and widen its composition and operate as a shadow co-ordination focus. The report, Full Disclosure: releasing the value of library and archive collections, is now available in electronic form. Print publication of the full report and a summary leaflet are under consideration by the commissioning group.
LISU/UKOLN Currency Survey analysis
UKOLN and LISU (the Library and Information Statistics Unit at Loughborough University) are currently carrying out additional analysis on the Currency Surveys database. This study will analyse acquisitions patterns in the UK under the following strands. (1) Tracking over time book acquisition dates in relation to publication dates. (2) Quantifying over time the acquisition of paperbacks in relation to hardbacks. (3) Quantifying over time proportional changes in the acquisition of materials on different subjects. (4) Tracking stock retention in selected libraries. The study began in January 1999 with the transfer of data from the survey database to LISU together with additional data supplied by Book Data and LISU is now analysing the data. Data is being collected for the stock retention strand by contacting libraries that have supplied samples in the past. The study should be completed at the end of July 1999.
Multi-source Currency Survey
A report on the first year of this survey was published earlier in 1998 and copies of this report are available from UKOLN. For details see Current UKOLN Publications on page 20.
---
UK Web Focus
(Brian Kelly, UK Web Focus)
Institutional Web Management: The Next Steps
A workshop entitled Institutional Web Management: The Next Steps will be held at Goldsmiths College, London from 7-9 September. This workshop is the third national workshop aimed at institutional web managers which has been organised by UK Web Focus. The workshop will cover a number of topics of interest to those involved in managing University web services, including design and management issues, security and indexing. This year's workshop also features a number of new areas that are growing in interest, including multimedia and e-commerce. The workshop fee is £245, which includes full documentation, accommodation and meals. A number of other booking options are also available.
WWW8 Conference
The Eighth International World Wide Web Conference was held in Toronto from 12-13 May. Brian Kelly attended this, together with the World Wide Web Consortium's Advisory Committee meeting, the WWW8 Developer's Day and the first day of a WAI (Web Accessibility Initiative) meeting.
The papers presented at the conference appeared to be of higher quality than in previous years. This, together with the notable absence of an accompanying exhibition, marked a return to the conference's research roots. Unlike last year, in which RDF was the main conference highlight, and the previous year, with XML being the important new technology, this year the general consensus seemed to be that no major new developments had been announced. This is perhaps, due partly to the increasingly complexity of the web, and also to concerns about several patent claims which cover certain aspects of fundamental web protocols. The intricate inter-dependencies of new protocols and data formats, the resources needed to move along the development of the protocols and interoperable demonstrators and various political barriers are inevitably slowing down developments. Many web developers are no doubt pleased with this news!
In addition to the technical papers, conference delegates also received a copy of the Poster Proceedings. The Poster Proceedings consisted of short, peer-reviewed papers accompanied by posters. The programme provided a two hour slot for participants to view the posters and talk to the authors. The posters were also available for casual viewing for the duration of the conference.
Brian Kelly co-authored a short paper with Roddy MacLeod, of EEVL (based at Heriot-Watt University) which reviewed the work of subject gateways in the UK (including EEVL, SOSIG and OMNI) and outlined some areas of work for the future.
A report of the conference is available in issue 20 of Ariadne.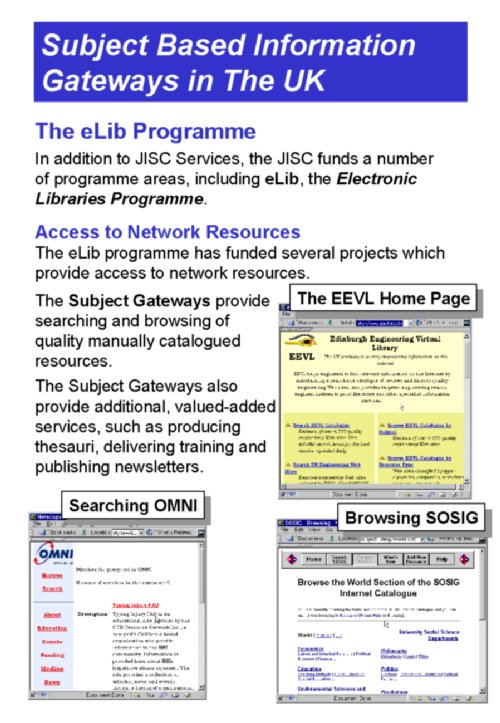 Figure 2: Poster by Brian Kelly and Roddy MacLeod presented at the WWW conference
(Philip Hunter,Co-editor of Ariadne)
Ariadne
As mentioned in the last issue of the UKOLN Newsletter, funding for the print version of the Ariadne magazine has ceased. However UKOLN is continuing to produce the web version of Ariadne.
Ariadne 19 was released in March 1999. As well as featuring four main articles, this edition marked the launch of several new regular columns, including Caching In (news from the National Caching Service), EEVL Eye On Engineering (news from the EEVL engineering gateway), Biz/Ed Bulletin (news from the Biz/Ed gateway) and The Web Editor (the perspective from an institutional web editor).
Since it is now a purely web-based magazine, Ariadne 20, published in June 1999, has been redesigned in-house by the lead editor, both in terms of its graphics and navigation. Issue 20 includes a new regular column: JISC ASSIST, which provides news on the JISC ASSIST awareness unit. The current OMNI column on Internet access within the NHS achieved a high public profile almost instantly, since it was reviewed in the electronic edition of the British Medical Journal.
Exploit Interactive Web Magazine
(Bernadette Daly, Co-editor of Exploit Interactive)
UKOLN produce Exploit Interactive as part of the European Union's DGXIII funded EXPLOIT project. EXPLOIT is designed to promote the results of EU library projects and to facilitate their take-up by the market of library and information systems.
Exploit Interactive has a pan-European focus, with contributions from members of the library and information networking community within the European Union and the Central Eastern European Countries. It serves as a vehicle for dissemination of the 100+ projects within the EU Telematics for Libraries Programme, and also covers general areas of interest such as news, technology, organisational profiles, etc.
Issue 1 was published in April 1999. It contained a mixture of feature articles, regular columns, news items and a crossword.
Ariadne & Exploit Interactive will be included as part of the soon to be released web version of LISA (Library and Information Science Abstracts). In early June the ISG took part in a usability study for the proposed interface along with librarians from the UK in a session led by David Haynes.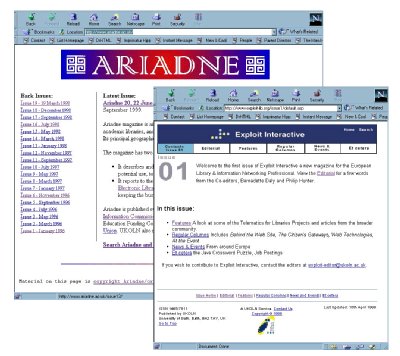 Figure 3: Latest editions of Ariadne and Exploit Interactive
eLib Supporting Studies
(Sally Criddle, Resource Co-ordinator)
The final two supporting studies, commissioned by UKOLN on behalf of eLib, are nearing completion. The Department of Information and Library Studies at Loughborough University were investigating economic models of the digital library and the Department of Information and Library Management at the University of Northumbria at Newcastle were studying the management of organisational change in the hybrid library. Both studies will be available on the eLib web pages, hosted by UKOLN in due course.
---
(Sarah Ormes, Research Officer)
Local Library: Global Community
Sarah Ormes reports on the recent British Council public library Seminar.
"It is during weeks like this you realise both how small the world is and yet how diverse. The week in question was 16-21 May 1999, the location was Aston University Business School in Birmingham and the event was a British Council seminar. The seminar, entitled Local Library, Global Community: the public library in the age of the Internet, was attended by 20 librarians from around the world. Delegates came from 15 different counties from as far as field as Mauritius, Malaysia and South Africa, to the nearer eastern European countries of Romania, Hungary and Poland. John Dolan, Head of Birmingham Central Library and myself were the seminar directors and had put together the programme for the event on behalf of the British Council.
The aims of the week were to raise awareness and explore mutual understandings of the issues and opportunities of emerging networked information and communications technologies for the public library, to explore how the public library will contribute to the Information Society and the roles it will perform - enabling access, promoting learning, encouraging social inclusion, and supporting economic prosperity and to base this on UK achievement in recent years around the proposals for the New Library Network and the plans for its implementation.
Over the course of the week we had 30 speakers who gave eloquent presentations about the state of UK public library networking and the issues that libraries were facing and resolving. Speakers included Matthew Evans (Chairman of the LIC), Grace Kempster (Essex County Librarian), Chris Batt (the newly appointed Chief Network Advisor to the LIC) and Margaret Haines (Chief Executive of the LIC). In addition to the speakers we had visits to local libraries, explored Internet sites together and had an impassioned debate about the use of filtering software. The evenings were just as busy with a reception with the Lord Mayor of Birmingham, a theatre visit, a guided tour of Birmingham and a conference dinner in the old home of the Chamberlain family with the keynote speech given by Claire Rayner (yes, that Claire Rayner!). The week was hectic but stimulating. The delegates were fascinated by developments in the UK which were typically more advanced than in their own countries.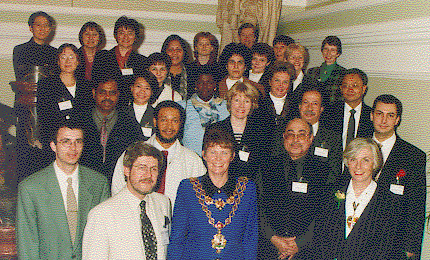 Figure 4: Delegates and dignitaries at the British Council Seminar
What these countries were often missing was the kind of vision New Library: the Peoples Network provided the UK community with. It was the ideas in New Library and its new ways of thinking of the potential of public libraries that were some of the most powerful ideas taken away by the delegates.
My overriding memory of the week however will be taking 20 librarians to a very small corner shop to buy lottery tickets. Having heard so much about New Library and the lottery funding libraries will be able to apply, for the delegates insisted on having the opportunity to contribute in some small way to the future of UK public libraries!".
Networked Services Policy Taskgroup
UKOLN is working with EARL and the Library Association to produce a series of Issue Papers focusing on public library policy for networked services. These papers outline issues that public libraries need to consider when setting policy and the implications of policy decisions. Sarah Ormes is managing the project and was the author of the first paper on filtering Internet services. This paper describes how filtering software works, outlines why filtering is an issue for public libraries and looks at the pros and cons of using filtering software including the legal issues. The second Issue Paper was published in May and considers issues of quality of information and building collections of links to Internet resources. Copies of all Issue Papers are being sent to all Library Authorities and are also available on the EARL Networked Services Policy Task Group web site. Other topics that will be covered in the series include security issues, resource sharing and equality of access.
Our involvement with the LIC funded Stories from the Web continues. The article on the front page describes developments so far.
Network Information Management Workshop
UKOLN and EARL are planning a workshop later this year for public library web site managers. The aim of the event will be to highlight and promote good web site design and practice and to provide an opportunity for people to share experiences and knowledge. A further objective of the event is to develop and identify a public library web manager community. As public library web sites are often designed and managed by local authority IT staff, as well as library staff, there is little cohesion or sense of community at present amongst those involved. By bringing people together we hope to initiate greater communication, interaction and sharing of ideas between public library web site managers.
Details of the event will be available from UKOLN and EARL nearer the time, but we expect the event to take place in Bath on 15-16 November 1999.
---
(Birgit Kongialis, Events Assistant)
Digital Preservation Strategy Workshop
The JISC and the National Preservation Office funded this invitation-only workshop held at the University of Warwick on the 3-4 March 1999. The workshop was a follow-up to a JISC/BLRIC funded workshop on the Long Term Preservation of Electronic Materials held at Warwick in November 1995. Warwick II attempted to review progress made since that workshop and to help build a set of recommendations for a plan of action.
The workshop opened with a series of presentations from UK-based speakers that reviewed recent progress on digital preservation policies, on the extension of legal deposit to digital materials, and some practical exemplars of current activity. Another series of papers kept the workshop informed of developments in Australia, the US and the European Union's Fifth Framework Programme.
The main focus of the workshop was a series of four 'breakout' groups that considered the following topics:
Organisation and co-ordination
Cost benefit analysis
Rights issues and access
Awareness and training.
Each group's initial recommendations were reported back to and discussed at a plenary session, and refined into a list of recommendations. After appropriate development and prioritisation, this list will be the starting point for initiating further activity in the digital preservation area and for helping to develop a plan of action.
Papers from the workshop and a report are now available.
IMesh Framework Workshop
UKOLN through it's involvement with the Resource Discovery Network Centre on behalf of the IMesh initiative with JISC support, organised the IMesh Framework Workshop held at the University of Warwick on 2-4 June 1999.
The goals of the workshop were to explore the potential for international collaboration in subject gateway activity, to identify useful points of contact, and to promote strategies which lever collective effort in mutually beneficial ways.
Library Resource Sharing and Discovery: Catalogues for the Future
This was a one-day workshop presented by the eLib Clumps Projects and co-ordinated by UKOLN, held on 22 March 1999 at the British Library, London, to disseminate information about virtual union catalogues or 'clumps'. The aim was to present delegates with an overview of the technology involved, how a clump would fit into existing user services and what other facilities can be offered.
Delegates had the opportunity to advise as to how the clumps should appear to the user and comment on any aspect of the work undertaken.
---
A number of staff changes have occurred in the last few months.
Lou Daly joined UKOLN in March after having just completed a three-year computer science degree. Through a student placement, he worked in a LAN support role at the Canadian Imperial Bank of Commerce in Toronto and afterwards in a contract position, for the bank's library, offering web site support. Prior to returning to university, he had worked for four years as an EFL instructor. Earlier experiences in computing include a service position in a mainframe environment and work as an electronics technician. Lou has recently begun postgraduate studies in computing on a part-time basis through Open University.

Joy Fraser has joined UKOLN as the new Events Manager, replacing Hazel Gott, who retired at the end of April. Joy is no stranger to the University of Bath having graduated from Bath in 1973, with a BSc in Horticulture!
After some years at home raising her family she returned to the University in 1988 to run the Students Union Travel Shop. During her 11 years there she managed the transition from a small student focused office to a successful computerised business catering for all of the campus community. She has been involved in conference management before, organising a Travel Managers event for 70 delegates at Bath four years ago. Whilst a little in awe of her predecessor, Joy is looking forward to the challenge of her new job, and to meeting lots of new people.
---
The following are a selection of events taking place over the next few months that UKOLN staff have interests in:
Full Disclosure. A presentation of this report (prepared by Ann Chapman) and retrospective conversion of catalogues in libraries and archives initiatives will be given at the following events: U5 Extra Meeting at UmbrelLA 5 on 1 July, at UMIST, Manchester; the Association of Independent Libraries meeting on 2 September, at Cheetham's Hospital, Manchester; and The Public Library Authorises conference, on 21 October, in Torquay.
Institutional Web Management: The Next Steps. Brian Kelly will be hosting this workshop on 7-9 September at Goldsmiths College, London.
Building National and Large-scale Internet Information Gateways, a workshop organised by the DESIRE project will be held on 14-15 September at Koninklijke Bibliotheek, The Hague, The Netherlands.
Public Library Networked Information Management Workshop. The University of Bath, 15-16 November.
---
Chapman, A. Bibliographic record provision in the UK: measuring availability against demand. Bath: UKOLN, 1998, ISBN 0951685651. Available from UKOLN for: £12 plus £3.00 p+p.
Criddle, S., Dempsy, L. and Heseltine, R. (eds.) Information landscapes for a learning society: networking and the future of libraries 3. London: Library Association Publishing, 1999, ISBN 185604310X.
Dempsey, L. and Ormes, S. The Internet, networking and the public library. London: Library Association Publishing, 1997, ISBN 1856042022.
---
UKOLN staff:
Director
Resources and Administration Group
Ruth Burt (Office Administrator)
Ali Cook (Financial Administrator)
Sally Criddle (Resource Co-ordinator)
Joy Fraser (Events Manager)
Birgit Kongialis (Administrative Assistant)
Research Group:
Metadata
Rachel Heery (Metadata Projects Co-ordinator)
Michael Day (Research Officer)
Bibliographic Management
Ann Chapman (Research Officer)
Susan Stidolph (Research Assistant)
Distribulted Library Systems
Rosemary Russell (Research Officer)
Paul Miller (Interoperabilty Focus)
Public Library Networking
Sarah Ormes (Research Officer)
Information Services Group
Brian Kelly (UK Web Focus)
Philip Hunter (Information Officer)
Bernadette Daly (Information Officer)
Systems and Technical Development
Andy Powell (Co-ordinator)
Manjula Patel (Technical Development and Research)
Tracy Gardner (Technical Development and Research)
Lou Daly (Technical Development and Research)
Eddie Young (Network Systems Officer)
---
UKOLN
The Library
University of Bath
BATH
BA2 7AY
Tel.: +44 (0)1225 826580
Fax: +44 (0)1225 826838
Email: ukoln@ukoln.ac.uk
URL: www.ukoln.ac.uk/
If you have any comments on the newsletter, please contact, Sally Criddle, Newsletter Editor, at the above address or by email.
UKOLN is funded by the Library and Information Commission, the Joint Information Systems Committee of the Higher Education Funding Councils, as well as by project funding from the JISC and the European Union. UKOLN also receives support from the University of Bath where it is based