UKOLN Newsletter
Issue 5 May 1997 ISSN 0963-7354
---
Contents
---

UKOLN has moved into offices on Level 4 of the newly refurbished Library at the University of Bath. The Library and Learning Centre is open 24 hours a day and contains over 300 PCs for student use. The building was designed by the Alec French Partnership, Bristol and cost over £5 million, £11/4 million of which came from a grant from the Higher Education Funding Council for England (HEFCE). It was officially opened at the end of October by Nick Park, the Oscar-winning animator and honorary Doctor of Arts of the University.
We are happy to thank Don Greswell Ltd for donating some furniture to us as we refurbish our new offices.
---
.
This is the first newsletter to appear with our new logo - we hope you like it. It is not the only thing to have changed as examination of the following pages will confirm. Over the last year we have grown into a multidisciplinary group well placed to enhance its position as a centre of expertise and influence in networked information management. Side by side, our research, information and promotional services support the library and information communities as we all work towards the construction of a viable digital information space.
Our research and awareness work clusters in two broad areas: distributed information and library systems and public information services. Of note under the former head is our increasingly influential metadata work where we are exploiting the experiences gained in projects to enrich our advisory work; our expanded bibliographic management work, where we have launched a currency survey across all the main UK record providers as well as continuing project work; and our MODELS project which is providing a focus for the generation of a shared view of the future of distributed library services and which has already influenced the direction taken by eLib 'phase three'. We have begun some development work to enhance our understanding of the issues and to provide tools and demonstration services. We will be working to expand this activity and develop synergies with our networked information services. This distributed stream of activity focuses on metadata, data which characterises attributes of resources, and protocol frameworks, the plumbing which will link it all together. Together these will provide the infrastructures for emerging viable digital information services. Without such an infrastructure, the digital information space will be fragmented, cluttered and tedious to use rather than an easily navigable landscape rich in content and opportunity. This infrastructure will support a variety of public information services; we are currently focusing some attention on the public library world. Public libraries are at a critical stage in their development and we are working with public library authorities, the Library and Information Commission, the EARL Consortium and the British Library Research and Innovation Centre on a range of projects which will help sketch what futures might look like and move us towards them. We have also recently produced the first book-length treatment of public library networking in the UK (see page 8 for more details).
We have extended our information and promotional services. We inaugurated the UK Web Focus at the end of 1996; this is a three-year initiative funded by JISC to advise the higher education community on emerging web technologies. In this context we are re-engineering our own web services and aim to develop a reference site for good practice and innovation. Ariadne has established itself as a central part of the library and information communities' communications practice, attracting world-wide attention. We are working to better describe the outcomes of our own work and to build complementary information services through mirroring and other initiatives. Our web site is well on the way to becoming a premier international information service for networked information management issues. A part of this development will be increased exploration of virtual collaborative spaces. But, we are also convinced of the importance of place and of the benefits of bringing people together to share experiences, to think about the future, to plan. We now organise a range of activities which support our own work programme and on behalf of the Committee on Electronic Information. These include the MODELS workshops, the Follett Lectures, and other workshops and events. We will once again be organising a major international conference in the Summer on behalf of CNI, JISC, the British Library and CAUSE and are already looking forward to the UKOLN conference in Summer 1998.
---
Lorcan Dempsey, Director, UKOLN
The library and networking worlds were saddened to hear of the sudden death of Paul Evan Peters in November last year. Paul was the Executive Director of the Coalition for Networked Information, a role in which he excelled as evangelist and mentor.
Paul had many links with UKOLN, always providing encouragement, support and advice. He spoke at our first Networking and the Future of Libraries conference in 1992, and returned to give the keynote at Networking and the Future of Libraries II in 1995. We had begun talking about his participation in our next conference, to take place in 1998, and his warm presence will be very much missed.
I and colleagues at UKOLN felt lucky to have known Paul and to have been touched by his enthusiasms. We send our condolences to Rosemarie Kozdron, his wife, and to his colleagues and friends at the Coalition.
---
There have been some recent changes in the way our funding bodies are organised. The British Library Research and Development Department has become the British Library Research and Innovation Centre. Its new Director is Nigel Macartney. Graham Jefcoate, research analyst for digital libraries, has assumed responsibilities for UKOLN. Graham writes about these changes below. JISC has also been reorganising its committees. Lynne Brindley chairs the new Committee on Electronic Information which takes over many of the responsibilities of the former ISSC and FIGIT committees, including oversight of UKOLN. We look forward to working within these new structures.
---
Graham Jefcoate,Research Analyst,The British Library Research and Innovation Centre
As the Research Analyst for the Digital Library Research Programme at the British Library's Research and Innovation Centre (since July 1996), I am UKOLN's first contact at the British Library. My programme as a whole supports a wide range of research projects exploring ways in which digital and networking technologies can support and enhance library and information services. It also seeks to address the issues raised by rapid technological change for library staff and users. This research is carried out by a number of universities, research institutes, libraries and individuals throughout the United Kingdom. By far the largest such project, however, is UKOLN, which the RIC funds jointly with JISC.

The British Library has supported UKOLN (and its predecessors) as a national resource for networked information management in the library and information communities since its inception. Its development in recent years as an internationally-recognised centre of expertise and research has been warmly welcomed by the Library. We are keen to see this reputation further enhanced as UKOLN's role develops in a rapidly-changing environment.
We work closely with colleagues at UKOLN and enjoy its active support over a wide range of activities. This support extends from checking the currency of data available through BL bibliographic services to conference organisation. Reports of projects and other activities in the digital library field supported by the Centre will increasingly be found on the UKOLN server. But the main support UKOLN provides is as a centre of expertise and advice, our 'eyes and ears' at the cutting edge of networking technology. Across the board, I have been impressed by the quality of the work at UKOLN and heartened by the cheerfulness and inventiveness of its staff.
1997 will be an important year in the developing relationship between the RIC and UKOLN. With our partners in JISC, we will be embarking on a review of UKOLN's current activities and its longer-term plans. Whatever conclusions we might reach during the review, we are confident that UKOLN will respond to the challenge of the tasks we shall set it. We are looking forward to a further period of close co-operation in the field of library and information networking.
---
Rosemary Russell,Research Officer
MODELS
The MODELS (MOving to Distributed Environments for Library Services) project is now moving into its final phase. We have held four very successful workshops, with the fifth to be held in April 1997. Background information about the project can be found on the MODELS web pages, whereas this short piece highlights some of the most significant outcomes so far.
The first of the five project lines focused on the distributed discovery, location and request of journal articles. The main workshop outcomes included recommendations for a series of studies to critically evaluate specific standards for serials (eg terms of availability data). These are currently being carried out, with a meeting in May to discuss preliminary results. An event to promote the use of serial part identifiers such as SICI is also being held in March.
The second workshop was organised in conjunction with OCLC and addressed metadata for networked information objects. The 'Warwick Framework' was its most significant result, "a container architecture for aggregating metadata". This provides a framework for managing and exchanging different types of metadata from different communities. This workshop formed the second in the important Dublin Core series of workshops.
The third line was on national resource discovery: organising access to printed scholarly material. The concept of 'clumps' emerged from discussions at this workshop: groups of distributed resources which can be searched together to facilitate discovery. The planned call for proposals in March under the JISC Committee for Electronic Information development programme aims to fund a small number of pilot virtual clumps. A particularly significant outcome of the workshop was the proposal for a 'National Agency' for resource discovery; a scoping study is currently being carried out, funded by the British Library and JISC.
The workshop, held in December 1996, was on integrating access to resources across domains (libraries, museums, archives etc.). Discussion focused on cross-domain metadata and discovery issues including use of the Z39.50 digital collections profiles. Many of the issues are being taken forward by the forthcoming AHDS/UKOLN metadata workshops. It is hoped to fund pilot cross-domain searching demonstrators as part of the March 1997 CEI call.
The final workshop on managing access to a distributed library resource was held in April 1997 and has a public library focus, to include cross-sectoral resource sharing. This is officially the last one in this phase, although a proposal for a project extension has been made to eLib. This would allow a further phase of four workshops (watch the MODELS web pages for news).
The MODELS web pages can be found at the url http://www.ukoln.ac.uk/models/
Z39.50 work
The Z39.50 protocol for search and retrieval is an integral component of the systems architectures being developed by the MODELS project, so the two areas of work are complementary.
Z39.50 activities during 1996 included an introductory event at Libtech in September, which was organised in conjunction with members of UK-ZIG. This event was over-subscribed, highlighting the growing recognition of Z39.50's importance, and the need for accessible and practical information on its use. Introductory talks in the morning were followed by hands-on interoperability sessions in the afternoon.
A set of Z39.50 web pages continues to be built up, focusing particularly on Z39.50 developments in Europe. These include information on available Z39.50 products and services, current Z39.50 projects, links to useful resources and a Z39.50 glossary.
Discussions at the third MODELS workshop highlighted the need for a UK interoperability profile. A technical group met and a MODELS Z39.50 profile is now in draft form.
More information on Z39.50 is available at http://www.ukoln.ac.uk/z3950/
---
Rachel Heery, Metadata Projects co-ordinator
UKOLN is now participating in two European projects, DESIRE and BIBLINK, as well as continuing work on the eLib project ROADS. Three people work on these projects: Michael Day who has moved from the University of Reading Land Management Resource Centre, Andy Powell from Bath University Computing Services, and Rachel Heery who joined UKOLN in 1995 to work on ROADS. The Group works as a team allowing technical and library expertise to be shared across the three projects.
These projects are concerned with networked resource discovery and, in particular, providing methods to allow management and control of resources. Within the projects, UKOLN is concentrating on issues surrounding the description of networked resources: the formats, creation, gathering and standards for metadata.
There is an increasing acknowledgement of the importance of metadata in providing control of electronic publications. Several recent meetings and conferences have included consideration of this area and the metadata group has participated in a number of these such as the EC UNIMARC workshop, Digital Resources for the Humanities conference at Oxford University, the Anglo-Nordic Seminar in Lund, as well as the Dublin Core workshops at Warwick and Canberra.
More information on the work of the Metadata Group can be found on their web pages at: http://www.ukoln. ac.uk/metadata/
Desire
DESIRE is one of the largest projects funded in the Telematics for Research Sector of the Fourth Framework Programme funded by the European Union and is co-ordinated by SurfNet in The Netherlands. Within DESIRE we are investigating resource description in subject-based services which select high quality resources, as well as examining the creation and format of resource description in automated robot-generated services. An initial review of metadata formats has been completed by the project partners and has been made available on UKOLN's metadata web pages. A wide range of formats is considered from simple Dublin Core, through MARC and TEI, to complex archival and museum-object descriptions. Our current work includes investigation of the use of selection criteria in search services, and the value of the use of classification schemes in the context of these services.

BIBLINK

BIBLINK aims to establish a relationship between national libraries and publishers of electronic resources in order to improve bibliographic control of electronic publications. The project will involve publishers and national libraries looking at the metadata that is already produced by electronic publishers, or that might be produced in future, and how this might be passed to bibliographic agencies and libraries as part of the process whereby authoritative bibliographic records are produced. At UKOLN we are investigating metadata currently in use, particularly among publishers, and also contributing to a study of identification schemes for electronic publications. BIBLINK is part of the European Commission's Telematics for Libraries sector of the Telematics Applications Programme and is co-ordinated by The British Library.
ROADS
The ROADS eLib project is progressing with version one of the software now released. This version incorporates many of the requirements identified by users of the original prototype version, as well as integrating a whois++ server. The introduction of whois++ compatibility is a step towards interoperability, enabling subject services to construct a mesh of summary indexes to allow query routing. Within ROADS, UKOLN has worked with the subject services to identify possible improvements to the ROADS templates. We are also co-operating with other partners and users to formulate the requirements for version two of the software. We are working on the integration of harvesting technologies into the ROADS system, on cataloguing rules and on creating a registry of ROADS templates for example.

We have also begun using ROADS ourselves. We have used it to make available a database of eLib project details and are experimenting with other uses.

NewsAgent
Andy Powell, Technical Development and Research
NewsAgent for Libraries is a project in the Electronic Libraries Programme (eLib). The aim is to create a current awareness service for library and information staffs feeding information from a variety of sources to a user-configurable selection of electronic news 'channels'. Content will include refereed and other papers, reviews and editorial matter from the most highly respected UK journals in the field, including Program, VINE, Ariadne and the Journal of Librarianship and Information Science. News and briefing materials will be provided by the Library Association, the Institute of Information Scientists, the British Library, and LITC, which already produce printed publications in this field and which are all developing web sites in addition.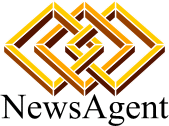 Resources made available to NewsAgent will be described using the Dublin Core metadata element set. UKOLN is actively involved in design, particularly the metadata aspects of the system, which will be implemented by Fretwell Downing based on their existing DALI software. We will be responsible for running one of the three NewsAgent servers and will be providing content in the form of the Ariadne newsletter.
Andy Powell, Isobel Stark and Lorcan Dempsey of UKOLN all contribute to the NewsAgent project. More information about NewsAgent is available from the project's web pages at the url http://www.sbu.ac.uk/litc/newsagent/
Collaboration with the Arts and Humanities Data Service
AHDS and UKOLN have been awarded funds by JISC to hold a series of workshops throughout 1997. These will explore metadata issues and the problems of providing unified access across different domains: archives, electronic texts, libraries, museums, and so on. The initiative formalises the working relationship which has been quickly established between UKOLN and AHDS, as they recognise a clear convergence of interest. The series was inaugurated by the fourth MODELS workshop held in December 1996, and will provide a useful complement to our metadata and distributed library work.
---
Sarah Ormes, Public Library Networking Research Officer
Much of the work undertaken over the last year had the aim of developing a national picture of the current state of networking in public libraries. This work began with the Library and Information Commission public library Internet survey and continued with the development of an overview and directory of current public library networking research projects. This overview was the first of its type and provided a clear picture of current trends in networking research which may develop into future services in public libraries.
More information about public library networking can be found at http://www.ukoln.ac.uk/publib/plrd.html
The overview was published in early 1997 as part of The Internet, Networking and the Public Library, published by LA Publishing. See below for more information.
One highlight of the last year was a week Sarah spent in Denmark visiting public libraries. She is currently writing a paper about these visits. This paper will be published in 1997.
Other work includes a number of public library research proposals which are currently being considered for funding. One of these proposals has developed out of the Treasure Island WWW site which UKOLN created in order to explore how children's libraries could integrate the Internet into their services. UKOLN's partners on this project will be Birmingham City Library, Bristol City Library and Leeds City Library Services. If funding is secured this will be a high profile and exciting project.
Research is also underway on developing service and costs models for general public library Internet services.
UKOLN is working with the Centre for Information Research and Training at the University of Central England on a British Library Research and Innovation Centre-funded project entitled People Flows. This project will explore the cross-use of libraries in the public funded sector with one aim being the identification of whether networking technology could allow libraries to manage this cross-use more effectively.
UKOLN will also be developing a literature review of the potential use of networking technology in the provision of certain public library services such as community information and business information. This work is being undertaken in association with Liangzhi Yu who will be based at the Department of Information and Library Studies at Loughborough University.
Public library networking has gained a much higher profile over the last year due to a number of national initiatives such as the LA/LIC Millennium Bid, EARL and the long awaited Government's response to the Public Library Review. UKOLN aims to support these initiatives and hopes to continue to support EARL and work with the Library and Information Commission and the Library Association.
The Internet, Networking and the Public Library
The Internet, Networking and the Public Library was published in January 1997 by LA Publishing and is the first published study to examine UK public library networking in detail.
Edited by Sarah Ormes and Lorcan Dempsey it aims to communicate recent developments in the use of the Internet in public libraries while also presenting a comprehensive analysis of future possibilities. It brings together contributions from leading figures in the public library and research fields and examines the findings of UK public library networking projects.Among the issues discussed in the book are:
the political and social context in which public library networking is taking place, by Geoffrey Hare
public library networking in the UK and USA, by Sarah Ormes and Charles McClure
the potential of networking in mobile library services, by Julie Carpenter
the impact of networking on a videotext/community information system
charged access to the Internet, by James Golfar and Iona Cairns
networking in rural areas, by David Drewitt and David Morris.
The book also contains a directory of all UK public library networking projects which were taking place when the book was written - this is the first overview of these projects and so offers a unique picture of how public library networking looks set to develop.
Sarah Ormes and Lorcan Dempsey, editors
The Internet, Networking and the Public Library
Library Association Publishing, published in association with UKOLN
176pp; hardback; 1-85604-202-2; £29.95
Treasure Island on the Web
In order to explore how a children's library can integrate the Internet into its services UKOLN has created a set of Web pages based around Treasure Island. The Treasure Island url is http://www.ukoln.ac.uk/treasure/ (and below is Captain Flint)
Children's libraries have traditionally supported the development of writing and reading skills but, so far, solely in a print-based context. However, with the development of the Internet and other electronic information tools children now need to develop electronic literacy skills. If children's libraries are to remain up to date and relevant to children's needs they need to help develop and support the learning of these new skills. The Treasure Island web pages were an experiment by UKOLN to discover how the Internet could be integrated into more traditional children's library services.
By using Treasure Island as a starting point the pages encourage the user to learn a number of Internet skills in a literature-based environment. Users of the site can contribute book reviews, do a quiz and explore a real-time interactive environment called a MOO. When these activities are translated into Internet skills the users are learning how to:
communicate via e-mail
move around WWW pages
communicate in real time via the Internet
have work published on the WWW.
The aim of the site is not to encourage the children to use the Internet instead of books, but to explore how the Internet and books can be made to complement each other in a children's library.
The site is very colourful and a lot of fun and was written for UKOLN by Steve Hill. UKOLN is hoping to expand the site into a full-scale project involving a number of children's libraries in the UK. The site has been awarded a number of 'site of the week' awards.
The Millennium Bid and the Public Library Review
UKOLN was closely involved with the joint Library Association/Library and Information Commission Millennium Bid. The bid was managed by a company, Information for All, set up for this purpose. Lorcan Dempsey is on the board of Information for All and Sarah Ormes and Isobel Stark provided the web pages for the bid. We were all very disappointed when the bid was turned down by the Millennium Commissioners. Shortly after this, the Government announced its Public Library Review setting out its view of future public library provision. As part of the review a working group has been commissioned to prepare a report on public libraries and IT for completion in July 1997. UKOLN will be working with the Library and Information Commission on the report.
---
Ann Chapman, Research Officer
Currency Survey
Since 1980, libraries in the UK have been providing random samples of titles with UK imprints and publication dates of 1974 or later, for currency survey analysis. From January 1980 samples have been provided for items about to be catalogued, and from January 1988 samples for items about to be ordered. The survey results can be found at the url http://www.ukoln.ac.uk/bib-man/surveys/bnbmarc/summary.html A review of the survey, the hit-rates recorded over the years and the effect of various BL initiatives was published in Library Resources and Technical Services (v.39 (4) October 1995 pp 345-357).
Originally this survey was designed to monitor the currency (availability at the time required) of BNBMARC records, but over the years the samples have been used to monitor the currency of records available from other sources of bibliographic records. However, these additional short term studies have been undertaken on a commission basis with the results remaining confidential, unlike the BNBMARC results which have been regularly published. We have now obtained the co-operation of a number of sources of bibliographic records in order to carry out a multi-source study. Therefore, in addition to the data collected on the British Library BNB files, data will also be collected on Bibliographic Data Services, Book Data, J. Whitaker and Sons, BLCMP, CURL, LASER, OCLC and SLS (Information Systems) Ltd. UNITY have also joined as of February 1997.
The period from May to August 1996 was used to agree access arrangements and to manage the technical aspects of the database access. A pilot search was carried out on all source databases using the August sample, and the first results to be used are from the September sample. Publishable results will not be available from this study for a year, since published results are the cumulated results of twelve months of samples. It is hoped that the progress of the study will be recorded in a series of articles.
Quality Survey
UKOLN has continued to carry out the assessment of record quality for the Copyright Libraries Shared Cataloguing Programme (CLSCP) since it began in August 1994. Each month a random sample of records is checked by UKOLN for accuracy and consistency. As there is currently no provision for records to be checked against physical items, the checking which can be done is limited to some extent. Records are checked for consistency between the same information held in more than one field, for accuracy in spelling and punctuation, for correct use of filed tag indicators and specific fields used. They are also checked for the presence of all added fields required.
Retrospective Conversion
Ann Chapman and Steve Prowse have continued to provide an element of support for Philip Bryant in his study on 'Retrospective conversion of library catalogues' in the non-higher education sector. An article, by Ann Chapman, based on the previous study on retrospective conversion in the HE sector, was published in Libri this year (v. 46 (1) March 1996 pp16-24).
---
Hazel Gott, Promotions Officer
UKOLN's Promotions Group has been heavily involved during 1996 with the organisation of conferences and symposia of various lengths, as well as the Follett Lecture Series.
1997 will be equally (if not more!) busy. Events already passed include a Workstations symposium on behalf of the BLRIC and the fifth MODELS workshop; events in preparation include the second JISC/BL/CNI/CAUSE conference; a UKOLN public libraries conference; a symposium on the CIC's Electronic Journals Collection project; the '97 Follett Lecture Series programme; and so on.
The Events pages can be found on at the url http://www.ukoln.ac.uk/events/ or, if you prefer, contact Hazel Gott on 01225 826256 or h.a.gott@ukoln.ac.uk
A UK journey: the Follett Lecture Series two years on
On the evening of 25 September 1996, audiences gathered in Derry City, Cardiff, Manchester and Glasgow to take part in the Follett Series' first video conferenced lecture. After Sheila Creth's talk on the transformation of libraries and librarians for the 21st century, questions came from all four groups. There were some small hiccups in the technology but those attending found the experiment well worth-while.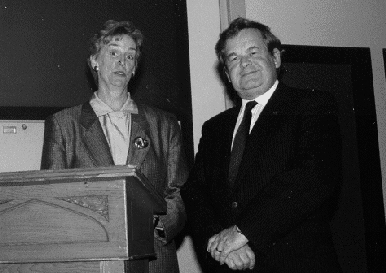 Shelia Creth, Follett Lecturer and Professor Fabian Monds, Provost, University of Ulster, Magee
Developed from an idea put forward by members of JISC's Follett Implementation Group on Information Technology, the series (which has now been running for two years) began with Clifford Lynch's lecture on The Role of Libraries in the Networked Information Age.
It has always been the aim to take the lectures to the audience. So far, venues have ranged from London, through Birmingham, Manchester, and Leeds to Glasgow, Edinburgh and Northern Ireland. Most recently, Carla Stoffle spoke in Cardiff on Education and Knowledge Management/Electronic Publishing in Libraries.
The speakers themselves have found the experience a challenge and a delight. Miriam Drake felt the challenge was to present material which would stimulate thought and discussion. And, for her, the delight was in meeting and talking with colleagues and friends. Colin Steele remembers intellectual stimulus and warm hospitality, plus the audience's surprise at hearing a speaker from Australia with a north-eastern English accent.
The venues, too, have become memorable to the speakers. Bill Arms was particularly pleased to be lecturing at the Western Infirmary at Glasgow, with its scholarly traditions. Sheila Creth was delighted to be speaking at the University of Ulster. While Peter Lyman, facing his audience in the British Library's Novello Room, felt he should be singing, but despite the mysterious and fascinating link between computing and music, remembered just in time that he cannot carry a tune!
The series will continue through 1997. In March, Peter Graham spoke in Leicester taking intellectual preservation as his theme.
Organised by UKOLN on behalf of JISC, full details of previous lectures, papers and the future programme, are available at the url http://www.ukoln.ac.uk/follett/
Networked Information in an International Context: future developments
The full report of the conference can be found at http://www.ukoln.ac.uk/services/papers/bl/rdr6250/blintro.html
In February 1996, 150 senior managers from the UK and US information resources worlds beat the snow to arrive at a Heathrow airport hotel for this two-day conference organised by UKOLN on behalf of JISC, the BL, CNI and CAUSE. Delegates were welcomed by Lynne Brindley (BLPES, UK), the late Paul Evan Peters (CNI, US) and Jane Norman Ryland (CAUSE, US).
Two busy days of sessions followed. Between parallel briefings on US and UK projects, delegates came together to hear addresses by speakers from both sides of the Atlantic. Opening and closing keynote addresses were given by Sir Brian Follett, Vice-Chancellor of the University of Warwick, and Richard West, Vice-Chancellor of California State University. Sir Brian reported on the achievements, plans and problems of the University Libraries Review Group, while Richard West presented his view of the changing costs of information in the networked environment.
The whole conference showed impressively high levels of energy and participation, with a great deal of interest being generated in the various projects. Delegates concluded that "in today's global information society there are many opportunities for multi-national collaboration on networked information projects".
The success of this event was such that a follow-up conference, Beyond the Beginning: the Global Digital Library, will take place in central London in June 1997. Also the symposium highlighting the CIC's Electronic Journals Collection project was held in April 1997. Further information will appear at the url http://www.ukoln.ac.uk/events/global-digital-library/
---
The Information Services Group (ISG) in UKOLN has undergone significant expansion in the last year with the creation of two new posts - those of Web Officer and UK Web Focus. It now comprises Brian Kelly, John Kirriemuir, Isobel Stark and Glen Monks. The ISG maintains the UKOLN web service including the central eLib pages and mirrors of significant Internet resources. It produces the web version of Ariadne and the UKOLN newsletter, has interests in a number of eLib projects is planning a series of articles and research papers and is currently re-engineering UKOLN's web service. As with many other organisations, we are moving our web site to a more automated environment and are evaluating site management software and procedures. We plan to make UKOLN a reference site for good practice.
UK Web Focus - Brian Kelly
The Web Focus post has been funded by JISC to help address some of the issues associated with the rapid development of the World Wide Web within the UK HE community Since the start of November I have been involved in a variety of Web Focus activities. In my first week I helped to run, in conjunction with Chris Rusbridge and Kelly Russell, the eLib Technical Issues Concertation Day - an event devoted to presentations and discussions on web developments aimed at software developers working on eLib projects. I also attended the second OMNI conference and gave a talk on An Introduction to Metadata.
In my role as the JISC representative on the World Wide Web Consortium (W3C) I attended the W3C Advisory Committee meeting, held at Rutherford Appleton Laboratories on 15/16th January 1997. A report on the meeting is available atthe url http://www.ukoln.ac.uk/web-focus/w3c/reports/ac-jan1997/ac-jan1997.html I have set up a Mailbase mailing list to discuss W3C activities, such as developments of web protocols. To join the mailing list, send the message join uk-web-focus-w3c firstname surname to the address mailbase@mailbase.ac.uk Note, however, that this list is likely to cover technical issues, such as the developments of web protocols.
A more mainstream activity is organising a workshop for managers of institutional university web services. I am currently looking for speakers. The workshop will cover issues such as document management tools, security issues, integration of databases, systems management and management of end-user applications. Any potential speakers should contact me - my email address is B.Kelly@ukoln.ac.uk
My work within UKOLN has centred on the activities of the Information Services Group. UKOLN has a long-standing presence on the web - its web server was installed way back in 1992. Since then the service has steadily grown, from an experimental service back in the days when gopher was seen as the strategically important tool, to its current role in hosting a variety of services, such as eLib and British Library papers, a prototype service for the public library community (Treasure Island), the Ariadne online journal and UKOLN research activities mentioned elsewhere in this Newsletter. The Information Services Group is currently making plans for re-engineering its web service. Following an audit on the services currently provided, we are looking at the underlying structure of the service, management of the resources, the information flow model, the tools needed by information providers and web and systems managers, the user interface and the potential for new technologies in the management and provision of our services.
Ariadne Reaches the Halfway Mark
John Kirriemuir, Information Officer
Ariadne is an eLib (Electronic Libraries Programme) project, the initial aim being to produce a bi-monthly parallel print and web magazine of interest to the UK academic library community. At the time of writing, the project has successfully produced eight issues, with another two still to come under the current JISC-funded agreement. The University of Abertay Dundee produces the print version, while UKOLN manages the Web component of Ariadne; this consists of all of the material in the equivalent print version, as well as many other articles, features and resource or service descriptions.
The audience for the web version of Ariadne has grown steadily, in terms of numbers and the type of person reading it, since the first issue was released in mid-January 1996. The audience is now more global, with roughly half of the traceable accesses to the web version coming from outside the UK. This is mainly due to the number of Web-based resources that link to Ariadne (over 400 as of September), including most of the major LIS resources, such as the Library of Congress web pages. In addition, the Web version has a number of columns by regular contributors who are well-known in their field: for example, Charles Oppenheim writes on copyright issues. The issue 8 update increased the total number of articles to 250.
The high profile of the magazine now means that more people and organisations directly approach us for submission of material than are approached by us. For the fifth issue, we were approached by 109 potential contributors, ranging from unacceptable adverts for barely relevant products to in-depth descriptions of useful web-based journals for the academic library community. Overall, this means that the initial main problem of obtaining enough relevant material has been replaced with the problem of maintaining a fair content balance, thus ensuring that all parts of the wider target audience are covered.
John Kirriemuir is the editor of the web version of Ariadne, with responsibility for the overall balance and content of the issue, commissioning of material and issue production; Isobel Stark is also involved in issue production, while Lorcan Dempsey is a co-Director of the project. Several UKOLN staff were involved in the design and evolution of the web version, and have also written articles; Sarah Ormes, for example, produces a 'Public Libraries Corner' column for every issue.
Developments in network and software technology, as well as the rapidly shifting needs of our target audience, mean that a resource such as Ariadne will require constant structure and content evolution if it is to stay an effective information resource for the academic and library communities.
The web version of Ariadne can be found at http://www.ukoln.ac.uk/ariadne/
Networked Systems Officer - Glen Monks
I joined UKOLN in April 1996 to replace Chris Brown as the UNIX system administrator and general networked systems support, including PCs, printers and the web servers. As UKOLN has grown, the diversity and sophistication of its part of the University of Bath network has grown also, to include new ATM technology, powerful new servers, PCs running Windows 95 and WinNT and a number of laptop computers.
As part of the ISG, I am involved in the re-engineering our web service, and looking at ways to develop the web server architectures in a manageable and scaleable fashion. I also deal with the technical issues of our current web, gopher, ftp and telnet services, assists owners of our hosted services such as LISSPS and, until recently, BUBL and also provides support for office automation.
When not in front of one of UKOLN's computers, Glen rides a unicycle to and from work, around the City of Bath and to Bristol and recently from Birmingham to Liverpool for charity.
Introducing the Editor - Isobel Stark, Web Officer
I took up my post at UKOLN at the start of July 1996. Previously I worked as a Project Officer at the Open University Library with special interests in Internet and online searching end-user education and provision of library support to students through electronic conferencing.
As well as playing my part in the web re-engineering at UKOLN and acting as overall web site manager, I works on NewsAgent and Ariadne. Along with Sarah Ormes, I taught the Internet sessions in the Information and its Users II module on the MSc in Information and Library Management, jointly run by the Universities of Bath, Bristol and the West of England. I am also interested in accessibility issues of the web for those with disabilities, and the use of Medieval Studies resources on the Internet. Currently I am working towards my Library Association chartership, along with my colleague, Sarah Ormes.
We are pleased to report several other initiatives which will start later this year, all funded by the British Library Research and Innovation Centre. We will be inaugurating a 'WebWatch' project which will work with the UK Web Focus. This initiative aims to develop a set of tools to audit and monitor design practice and use of technologies on the Web and to produce a report outlining the results obtained from applying the tools. We will also be working with several public library authorities on projects. One will be developing the themes of the Treasure Island project reported elsewhere in association with Bristol, Birmingham and Leeds libraries. This project is being led by Birmingham. We initiated a project, People Flows, now led by the School of Information Studies at the University of Central England, which is looking at cross sectoral flows of people in a group of libraries in Birmingham, and at the implications of this for network services. We also hope to be doing some work on community information in a distributed environment. More of these and other developments in the next newsletter.
UKOLN continues to grow and new staff members have been introduced elsewhere on these pages. We regret to have to report the retirement of Steve Prowse. Steve has worked for UKOLN and its antecedent organisations at Bath for many years and will be known to many readers. Steve has taken early retirement on health grounds. Since the last newsletter, Thay Gordon, Secretary, and Chris Brown, Network Systems Officer, have moved to new jobs in Bristol and to new homes also. We wish them all well.
The picture below was taken at the UKOLN staff meeting at the Stakis Hotel, Bath in July 1996.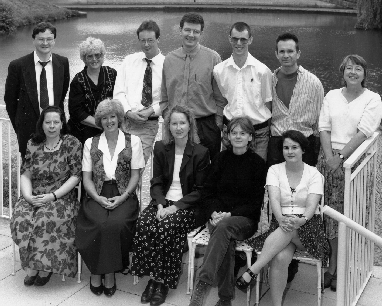 Back Row (L-R): Michael Day, Hazel Gott, John Kirriemuir, Lorcan Dempsey, Glen Monks, Andy Powell, Rachel Heery.
Front Row (L-R): Ruth Burt, Ali Cook, Rosemary Russell, Sarah Ormes, Isobel Stark
Not pictured are Ann Chapman, Penny Rogers and Brian Kelly
UKOLN Staff
Director

Lorcan Dempsey

Administration

Ruth Burt (Office)
Ali Cook (Financial)

Bibliographic Management

Ann Chapman (Research Officer)
Penny Rogers (Research Assistant)

Distributed Library Systems

Rosemary Russell (Research Officer)

Information Services

Brian Kelly (UK Web Focus)
John Kirriemuir (Information Officer)
Glen Monks (Network Systems Officer)
Isobel Stark (WWW Officer)

Metadata

Michael Day (Research Officer)
Rachel Heery (Metadata projects co- ordinator )
Andy Powell (Technical Development and Research )

Public Library Networking

Sarah Ormes (Research Officer)

Promotions

Hazel Gott (Promotions Officer)
UKOLN,
The Library,
University of Bath
BATH
BA2 7AY
tel.: +44 (0)1225 826580
fax: +44 (0)1225 826838
email:
ukoln@ukoln.ac.uk
url:
http://www.ukoln.ac.uk/
If you have any comments on the newsletter, please contact, Isobel Stark, Newsletter Editor, at the above address or by email on i.a.stark@ukoln.ac.uk