A CONFERENCE ORGANISED BY UKOLN IN ASSOCIATION WITH THE BRITISH LIBRARY, CNI, CAUSE AND JISC

9th and 10th February 1996 at the Ramada Hotel, Heathrow, UK
IT POINT: NETWORKING IN THE COMMUNITY
GULSHAN KAYAM, IT POINT Manager & SUE TURNER, Library Manager, Chelmsley Wood Library
This account was prepared for this report by The Marc Fresko Consultancy. It is based on edited and merged versions of papers and slides supplied by the speakers.
---
ABSTRACT
IT POINT is about bringing the benefits of IT to the community, and to create a vision of the public branch library of the 21st century. The project involved the installation of PCs with a wide range of facilities for public use into a branch library. This paper describes the aims of the project, the implications for the public library service, and community involvement and awareness. Statistical details of usage are provided, and the paper concludes with a glimpse into the future for IT POINT and information networking in public libraries.
INTRODUCTION
IT POINT is within Chelmsley Wood Library, a large branch library situated in the North of Solihull, to the East of Birmingham. It is the second largest library in the borough, serving a community of about 24,000 with a collection of some 60,000 items.
IT POINT
IT POINT is a part of the public library. It contains facilities for members of the public to book and pay for the use of one of six PCs to access a range of facilities. The facilities include:
Internet access;
electronic mail;
word processing & desktop publishing;
other software;
CD-ROMs;
open learning facilities;
scanning and colour printing;
computer magazines and manuals;
careers and training data;
teletext services.
Customers can use training packages to learn how to use software packages at their own pace.
IT POINT is not only a fully functioning service but also a research project funded by The British Library Research and Development Department. The research nature is illustrated by the fact that the service was originally free when opened in August 1994. Charges were introduced in October 1995, to test ways of sustaining the project, and are likely to stay. The project has been an opportunity to provide public library managers with a well-tested model which can be adapted to their own services. Its present funding from the BL R&DD ends in March 1996; the future of the service and how it can be sustained are examined below.
The project has created an opportunity to redress the imbalance of IT development in the library community where academic libraries have benefited from the development of JANET and special libraries can often call upon the finances of a large parent organisation.
Aims of the project
The aims are to:
bring the benefits of IT to the people in Chelmsley Wood;
increase awareness of IT;
remove "technofear", among both staff and public;
make IT facilities available for local people and businesses;
discover usersí reactions to the facilities and services provided;
test various IT-based services as prototypes for elsewhere in the UK.
Results
Early findings are described below; the final report is planned to be available in May 1996.
LIBRARY IMPLICATIONS
These IT services are managed not by library staff but by an IT expert (Gulshan Kayam). The libraryís role has been to support the project and ensure it complements the library service offered to the community. The advantages of having such a facility within a branch library have been enormous. Access to the Internet and CD-ROMs is an excellent boost to any library service.
Staff training and awareness have been fundamental to the acceptance and utilisation of these new formats. But there remain a number of challenges to using IT for information provision:
staff perceptions: IT is still seen as a last resort for answering an enquiry. The culture is still geared to print-based media; staff find it easier to use, and are more "comfortable" with paper. We are hoping to change this culture by further training;
keeping up to date with the latest information and databases available on the Internet and CD-ROM, then disseminating the information;
public perceptions which question the reliability of information which is supplied in a format other than the printed word;
the question of whether or not to charge for the service. There are fine lines to be drawn and real issues for public libraries. For example, it is possible to charge a member of the public for using the equipment to make an enquiry, but it is usual not to charge if the same person asks a member of staff who then uses the same equipment.
Statistics for the use of IT POINT by staff for public enquiries have not been collected, but on average there are some two or three such per week. The volume probably would increase if there were greater integration into the library service, for example if there were CD-ROM and Internet access at the Information Desk. This will come with a change in culture and with younger, more IT-literate, staff.
COMMUNITY INVOLVEMENT AND AWARENESS
In addition to using IT for public enquiries, we have also used more direct methods to introduce our customers to the advantages of IT.
The greatest success has been in schools. Not all local schools have PCs and CD-ROMs, so IT POINT has provided a real advantage. We have organised an annual contest between primary schools, called the CD-ROM challenge. In this competition, groups of students race against each other to answer questions using CD-ROM encyclopaedias. We have also organised a Print vs IT challenge to encourage recognition between the different formats of information.
We use CD-ROMs with younger customers as well, in story time sessions for under-fives. This encourages parents to recognise that they may have a need to understand IT in order to support their childrenís education needs.
Using the libraryís links with the careers service has also ensured the high profile of IT POINT, as it becomes a showcase once a year when the library hosts the annual Careers Convention for the locality. Therefore, young adults and their parents have an opportunity to view and use the facilities.
Informal coffee mornings and introductory tours have been an opportunity to encourage our customers to recognise the advantages of IT and the role it has to play within the library.
All these activities have been ways of changing peopleís perceptions of libraries by ensuring the use of IT is customary within libraries.
EARLY FINDINGS
Geographical distribution
IT POINT currently has 1,100 members. 50% of members are local, from Chelmsley Wood. A further 24% of members come from nearby neighbouring areas in North Solihull, 5% come from South Solihull and the rest come from neighbouring cities such as Birmingham and Coventry. See chart 1 below.
Age and Sex
IT POINT's membership ranges from 5 years of age to 75. Chart 2 shows the division of men, women, boys and girls using the services.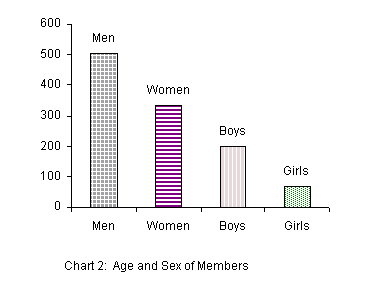 Usage
Usage increases noticeably during the Summer months, when school children are on holiday, and make greater use of the service. For example, in August 1995 Internet usage reached 279 hours. Chart 3 shows the change in usage by month, for selected applications over a four month period in Summer 1995.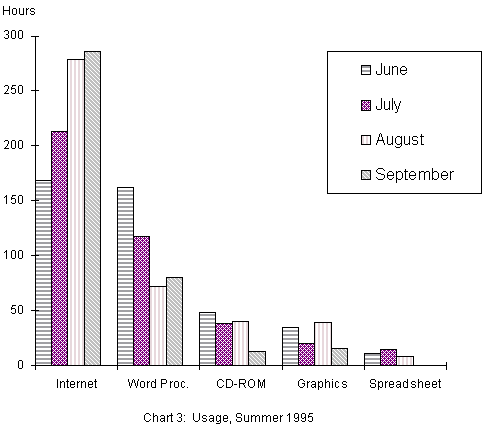 Usage of the service dropped in October 1995, which is when usage charging was introduced. The decrease can be seen by comparing chart 3 with chart 4, which shows usage for the following four months. Usage is now steadily progressing, and with further marketing of IT POINT's services we anticipate that usage will increase anew. Internet usage here includes Electronic mail, Web browsers, Telnet, Gopher and FTP.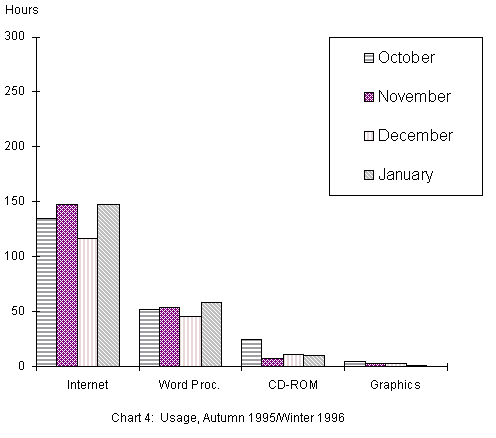 KIND OF USAGE
The usage is shown above in strictly statistical terms. What impact IT POINT has had on the community, we do not know yet. This is the subject of research work in progress; it is being carried out by researchers from the University of Central England. However, we already see a wide diversity of kinds of usage:
we see school children using the Internet and CD-ROMs to conduct research for their homework, and to use a word processor to type essays. Students also use IT POINT for similar purposes;
we see the unemployed using IT POINTís services to create curriculum vitae, and they use the IT Open Learning Centre to develop their IT skills while they are waiting for interviews;
we see small businesses using our services as a test centre before purchasing their own system, including access to the Internet, software or training packages;
we see families come together to use the various services with their children or grandchildren, who recognise this is the way forward for public libraries. They are glad to be able come to their local library to find out or access information which they otherwise would have difficulty in finding.
We also see fascinated individuals who are totally taken by what the Internet has to offer and over the past 7 months we have been providing Internet awareness sessions to the community.
TRAINING
People attending training sessions are not necessarily members of IT POINT. Some are from the private sector. As well as aiming to raise the awareness within the community , IT POINT has been used to train internal staff to use the Internet and CD-ROMs. And not staff just from Libraries but also from the IT Department, Arts & Tourism, Careers and Housing Departments. We also have close relationships with the local Job Centre and the Citizensí Advice Bureau. We have provided awareness sessions for their staff, enabling them to refer clients with confidence having seen what we have to offer.
EVOLUTION OF IT POINT
We see three main themes emerging:
general library use: library staff using the systems to answer reference enquiries, and members of the public using IT POINT as a library resource;
education and training - life long learning;
specific information resource retrieval, where the potential is not in terms of information but also information publishing.
FUNDING
Chelmsley Wood is eligible for European Objective 2 funding, where the aims are to help alleviate problems arising from the decline in traditional industry. One of the reasons to locate IT POINT in Chelmsley Wood was because of funding; a means of maintaining the service when the British Library Research and Development grant ends.
We have applied for European Funding namely, European Social Fund and European Regional Development Fund. We have worked with the local college, Solihull College, and together we are planning to implement a Telecollege, which has resulted as part of a successful Single Regeneration Bid (SRB). It will run for five years starting this year. The total funding from SRB, European money and Further Education would be £350,000.
All the courses offered will be accredited courses leading to qualifications. The Telecollege project will involve local firms and will build IT-based courses relevant to their skill needs. We hope they begin to make a financial contribution, in order to ensure maintenance of the service when the SRB funding comes to an end.
THE FUTURE
Taking a look at the future of IT POINT, three main issues emerge:
The Immediate Future;
The Value of IT POINT to the community and corporate objectives of Solihull Council;
Networking.
Immediate Future
The immediate future will be completing the original project, specifically the research dimension. in terms of British Library Funding which comes to an end at the end of March 1996. We will also continue with the training work and the Single Regeneration Bid and Telecollege already mentioned.
Value of IT POINT to the Community and Corporate Objectives of Solihull Council
In terms of value to the community and corporate objectives to the council, it is already evident that there is a need for:
information dissemination: this will play a part in Solihullís economic development strategy and tourism development;
Life Long Learning Resource - SRB and the Telecollege - project LISTED.
The purpose of Project LISTED is to develop a dynamic cataloguing system of distance learning materials accessible from libraries. Solihull is the co-ordinating partner of Project LISTED and the project is due to start mid March. Chelmsley Wood has been chosen as one of eight test sites, the testing is due to take place approximately 9 months after the start of the project.
Community Networking
A number of important questions arise. Where does this leave the library service? How do libraries ensure they will have a lead role ? How does this fit in with the digital information that is being delivered by cable to the home and will there be as many public kiosks as there are telephones? We look to this sort of research to try to answer these questions.
There is now a plethora of networks. We see community networking, libraries networking, schools and higher education networking... but how can this all come together? How do we bridge the gap? The answer may be government funding through the LA millennium bid, public access kiosks and networking with cable companies and BT which is already in progress. And this is suggested by the document produced by the Local Government Management Board, called Tomorrow's Town Hall. A key passage of this report states:
"...Councils were better placed to deal with "information imbalance" in society than any other institution [...] and now an Internet service is at the heart of all its librariesí services, heavily subsidised for all and free to those on benefits or low incomes."
We fervently hope that this will happen before the year 2000.
Higher education depends on the community for its intake and context, and not just on the students currently "in the mill". All public libraries need to benefit from the Electronic Libraries Programme. They have no benevolent central funding. To conclude, what we need is co-operation and project co-ordination.
CONCLUSION
After 20 months experience with IT POINT, it is obvious that Information Technology has a vital role to play within public library provision. This should be not only for the purpose of accessing greater amounts of information with greater ease, but also to support life long learning skills in the community. However, public libraries are not going to achieve this in isolation.
FURTHER INFORMATION
Further information can be obtained at URL: http://www.itpoint.org.uk
Electronic mail can be sent to the project team at info@itpoint.org.uk
---
British Library R&D Report 6250
© The British Library Board 1996
© Joint Information Systems Committee of the Higher Education Funding Bodies 1996
The opinions expressed in this report are those of the contributors and not necessarily those of the sponsoring organisations.
RDD/C/187
The primary publication medium for this report is via the Internet at URL http://www.ukoln.ac.uk/services/papers/bl/rdr6250/
It may also be purchased as photocopies or microfiche from the British Thesis Service, British Library Document Supply Centre, Boston Spa, Wetherby, West Yorkshire, LS23 7BQ.
This report of the conference was prepared by The Marc Fresko Consultancy Telephone +44 181 645 0080 E-mail marc@easynet.co.uk
Converted to HTML by Isobel Stark of UKOLN, July 1996