UKOLN Annual Report 1995-6
British Library Research and Innovation Report no. 9
---
---
UKOLN ….. a cutting edge organisation, at the centre of the flux between libraries and the networking world.
Library Association Record, February 1996
Change, growth, reorganisation …. These words will crop up many times over the following pages. We have had an exciting eighteen months in which much has happened. I would like to preface this report with a note of thanks to those who have contributed to UKOLN's success in this period.
UKOLN benefits from having a highly motivated and hard working staff, many of whom have joined within the last year to eighteen months, who will ensure its continued and growing success. Long may they find UKOLN an interesting place to work!
Our Management and Advisory Committees provide valuable guidance, support and advice and we are grateful to the many busy people who are willing to serve on these committees. In particular, I would like to acknowledge the encouragement and support of Professor Mel Collier, Chair of our Management Committee, and Sheila Corrall, Chair of our Advisory Committee.
We also benefit from the continued interest of our funding bodies, and the supportive assistance of our primary contacts within them. Many thanks to Caroline Bardrick, Dave Cook, Alice Colban, and Joe Hutcheon at the JISC Secretariat and to Terry Cannon, Margaret Croucher and Graham Jefcoate at the British Library Research and Innovation Centre. I would especially like to thank Terry Cannon, recently retired from the British Library after many years of service in the R&D Department, for his long-standing support of UKOLN and its activities. Our funding bodies are also undergoing reorganisation and we look forward to working within new structures and learning the new acronyms!
We are grateful to the University of Bath and its officers for providing us with a home and a range of support services. I would like to thank Howard Nicholson, University Librarian, and Professors Lunt and Jamieson, members respectively of our Management and Advisory Committees, for local advice and assistance.
Lorcan Dempsey
Director, UKOLN
August 1996
A time of change: Introduction
This report is for the period 1 August 1995 to 31 July 1996. It covers a period in which the growth and reorganisation noted in last year's report have continued apace.
This report will document key work achievements:
• Coordination, awareness and research work which makes UKOLN an authoritative focus of advice and research in each of its main areas of interest (metadata and resource discovery; public library networking; distributed library systems; bibliographic management).
• Specific achievements include the organisation of and participation in the workshop which produced the Warwick Framework, an architecture for exchange of metadata; the groundbreaking survey carried out for the Library and Information Commission into Internet access in public libraries, shaping the discussion of future distributed library services in the MODELS project; and extending our bibliographic work to a wider range of sources.
• The creation of a leading web-based information resource for digital library and information networking developments.
• Specific achievements include Ariadne (the web version), the eLib information centre, and specialist pages in each of UKOLN's areas of interest. UKOLN is undertaking a collaborative initiative with the British Council where it will create a 'showcase' for digital library developments in the UK.
• A highly regarded series of professionally organised workshops, conferences and other events.
• Specific achievements include the Follett Lectures and a major international conference in Networked Information organised on behalf of JISC, BL, CNI and CAUSE.
• Further developing UKOLN's capabilities through additional European and UK project work (ROADS, DESIRE, BIBLINK and Newsagent).
It is a period which has seen UKOLN grow into a multi-disciplinary group which is now well-positioned to enhance its position as an international centre of expertise and influence on networked information management.
We have actively sought external partnership in our activities, to lever our effort and also as a way of ensuring continued relevance and applicability of work done. Through partnership and increased external project funding, we are creating a collaborative environment which enhances the effectiveness and impact of a small team.
This report is laid out following the guidelines issued by the Information Services Sub-committee of the JISC.
UKOLN mission: Mission
UKOLN is a national centre for support in network information management in the library and information communities. It provides awareness, research and information services and has the following goals:
• to promote awareness of emergent issues at technical, service and policy levels
• to provide a focal point for research, development, and performance measurement
• to influence policy makers and service providers in the interests of the communities it serves
• to demonstrate high-quality information services.
Looking back: A brief history of UKOLN
UKOLN and its antecedent organisations have had a continuous home at the University of Bath for almost 20 years.
Recent years have seen the emergence of a multi-disciplinary research and development unit with well-developed information and promotional services and a focus in the area of networked information management. It receives funding from the Information Services Sub-committee of the JISC, the British Library Research and Innovation Centre, the Electronic Libraries Programme, and the European Union.
Some salient aspects of its development in that period are noted here.
1979
Centre for Catalogue Research established.
The establishment of this office, funded by the British Library R&D Department, was preceded by several projects looking at catalogues and bibliographic data, including the Bath University Programme of Catalogue Research (1977-79). This work was initiated by Maurice Line, sometime University Librarian at Bath, and Philip Bryant, technical services librarian. Philip Bryant became Director of the CCR. People who worked with the Centre in this period included Alan Seal, Janet Kinsella, Gill Venner, Steve Prowse, Jo Lye and Carolyn Hall.
1987
Centre for Bibliographic Management established. The change of name recognised the wider role the Centre was playing in the UK library world. Lorcan Dempsey and Ann Chapman became research officers at CBM during this period, and Thay Gordon joined as secretary. Ali Cook began doing support work, before becoming Financial Administrator.
1989
UK Office for Library Networking established after a grant is made by the British Library Research and Development Department (BLRDD). UKOLN was set up to work alongside CBM. John Smith became the National Project Officer for UKOLN and its only full-time member of staff.
1992
CBM and UKOLN merge to form UKOLN: The Office for Library and Information Networking. UKOLN is jointly funded by the ISC (now the JISC) and BLR&DD
1994
Philip Bryant retires as director of UKOLN
Lorcan Dempsey appointed as director of UKOLN (November 1994).
1995
Restoration of UKOLN as an acronym: it is now called UKOLN: The UK Office for Library and Information Networking. UKOLN recruit several new research and information staff, including Rosemary Russell, Rachel Heery, Sarah Ormes, and John Kirriemuir. Hazel Gott joins as Promotions Officer to manage a growing range of workshops and events. Ruth Burt joins as Office Administrator.
UKOLN begins work on the eLib ROADS project and begins planning for the Ariadne magazine.
1996
As the library is refurbished, UKOLN moves into new offices on Level 4. Several more new staff are recruited, including Andy Powell, Glen Monks, Michael Day, Isobel Stark and Penny Rogers.
UKOLN begins work on DESIRE and BIBLINK, EU funded projects. UKOLN also begins work on Newsagent, a FIGIT funded project.
UKOLN set up the UK Web Focus with ISSC funding (activities here to begin in November 1996).
The sources of funding: Funding - core and project work
UKOLN now attracts additional project funding which enhances what is historically known as the 'core' - the shared body of work jointly funded by the ISSC and the British Library Research and Innovation Centre. ('Core' implies no priority.)
Additional funding is now received from a number of sources:
European Commission
BIBLINK
Desire
Electronic Libraries Programme
MODELS (technical consultancy and workshop costs)
Resource Organisation and Discovery in Subject-based services
Newsagent for libraries
In addition we receive eLib support for promotional activities and for information services, in recognition of the effort that goes into Ariadne and the eLib information pages.
Bibliographic services
UKOLN does some consultancy work in bibliographic management. The income derived from this work supports additional work in this area.
The above work is subject to separate reporting procedures. However, for completeness it is described here. The next section describes how staff time is divided across core and project work.
The people: Staff
UKOLN has doubled in size in the last 18 months. Last year's report coincided with a transitional period in which UKOLN was under strength as it reorganised. We are happy to report that we are now at full strength
Staff
Director
Lorcan Dempsey
Administration
Ruth Burt (Office Administrator)
Ali Cook (Financial Administrator)
Promotions
Hazel Gott (Promotions Officer)
Information services group
Brian Kelly (UK Web Focus, from 1 November 1996)
John Kirriemuir (Information Officer)
Isobel Stark (Web Officer)
Glen Monks (Network Systems Officer)
Research and development
Metadata research group
Rachel Heery (.8, Projects Coordinator)
Andy Powell (Technical Development and Research Officer)
Michael Day (Research Officer)
Distributed library systems
Rosemary Russell (Research Officer)
Public library networking
Sarah Ormes (Research Officer)
Bibliographic management
Ann Chapman (.8, Research Officer)
Penny Rogers (variable, Research assistant)
Steve Prowse (.5, Technical support)
Associates - working part-time with UKOLN during 95/96
Frances Blomeley (.2, King's College London, until December '96)
Philippa Dobson (.1, LA/EARL/UKOLN adviser, until October '96)
The following staff are supported from 'core' ISSC/BLRIC funding: Lorcan Dempsey, Ruth Burt, Ali Cook, Hazel Gott (.5), John Kirriemuir, Isobel Stark (.1), Glen Monks, Rosemary Russell, Sarah Ormes, Ann Chapman, Steve Prowse.
The metadata group are funded from project work. Rachel Heery, Andy Powell, Michael Day work on ROADS, Desire and Biblink. Isobel Stark and Andy Powell work on Newsagent.
Additional FIGIT funding supports .5 of Hazel Gott and .6 of Isobel Stark. Additional ISSC funding will support the UK Web Focus. The bibliographic research assistant, Penny Rogers, is funded from bibliographic consultancy work.
Staff changes
Several staff members took up post at or near the beginning of the reporting period. These were Rachel Heery, John Kirriemuir, Sarah Ormes, and Hazel Gott. Penny Rogers also joined in a part-time capacity during the year.
Isobel Stark, Glen Monks, and Andy Powell took up post towards the end of the reporting period.
During the year, our Network Systems Officer, Chris Brown, left to work as Internet Adviser at the University of the West of England, Bristol. We are pleased to be joined by Glen Monks, a University of Bath placement student, who will be providing systems administration services during the forthcoming year. After several years as UKOLN secretary, Thay Gordon found a job closer to home and Ruth Burt has joined us in the wider role of Office Administrator. We wish Chris and Thay all the best in their new posts (and in their new homes in Bristol and Portishead, respectively!).
A think-tank for the library and information communities: Research, coordination and awareness
UKOLN research, publications, events and committee work have helped shape the policy and service debate in the UK and Europe since its inception. UKOLN has made a significant contribution to policy issues through participation in committees and working groups, and has raised awareness and understanding through publications and presentations.
Research activity is focused in several complementary areas which are central to current developments and where our contribution can have maximum leverage. Currently, these are: bibliographic management, distributed library and information systems, metadata and resource discovery, and public library networking. Parallel information services, promotional activities, and committee and coordination work share and draw upon research results.
During 1996/97 we shall extend our activities in the Information management area as the UK Web Focus becomes active.
One objective of UKOLN has been to initiate some systems development activity. This has been partly realised through aspects of our contribution to the Desire and Newsagent projects.
Bibliographic management - Research
BNBMARC currency survey
This survey, measuring the currency (availability at the time required) of BNB records for post 1974 published titles with UK imprints currently being acquired by UK libraries, has been carried out continuously since January 1980 at the cataloguing stage and since January 1988 at the ordering stage. Results of the survey are available on UKOLN's web pages, and are to be published in the British Library NBS newsletter Select. A review of the survey results was published in Autumn 1995; the data for 1994 was analysed for further information and a paper based on the results has been accepted for publication in 1997 (see publications below for further information).
Researcher: Ann Chapman; Research Assistant: Penny Rogers; Technical Support: Steve Prowse.
CD-ROM currency surveys
The samples collected for the BNBMARC Currency Survey have continued to be also used for surveys on the currency of records on the Book Data BookFind and the J.Whitaker & Sons BookBank CD-ROM services. The results are reported regularly to the companies concerned. Both companies have extended the contract for this work to summer 1996; after this they will both be participating in the new multisource currency survey.
Researcher: Ann Chapman; Technical Support: Steve Prowse.
CLSCP quality audit
UKOLN has continued to monitor the accuracy and consistency of the records contributed through the Copyright Libraries Shared Cataloguing Programme (CLSCP) during the period 1.8.95 to 31.7.96. The results are reported regularly to the British Library and the CLSCP Steering Committee. In consultation with the Steering Committee, the guidelines and schedule of areas to be monitored were revised to take account of changes in cataloguing policy.
Researcher: Ann Chapman; Technical Support: Steve Prowse.
Multisource currency survey
The design and planning for an extension to the currency survey was carried out during the year, and it is hoped to start the new survey in late summer / early autumn 1996. The survey will use the sample already being collected for the BNBMARC currency survey. A number of sources of bibliographic records have been approached and agreed to participate in the survey, providing UKOLN with access to their databases. The record originators group comprises Book Data, J.Whitaker & Sons, and Bibliographic Data Services; the cooperatives group comprises BLCMP, OCLC, SLS, CURL and the Viscount database from LASER.
Researcher: Ann Chapman; Research Assistant: Penny Rogers; Technical Support: Steve Prowse.
Bibliographic management - coordination and awareness
UKOLN acts as an advisory and referral focus in this area, particularly to do with issues close to its survey work and with retroconversion of bibliographic records.
Ann Chapman contributes to discussions about MARC and other standards issues through the BIC Bibliographic Standards Technical Sub-group.
UKOLN liaises closely with the ongoing work of Philip Bryant, Senior Research Fellow in Bibliographic Management at the University, in areas of mutual interest.
Public library networking - Research
With the appointment of Sarah Ormes as Research Officer - Public Library Networking in September 1995, UKOLN has increased its activity in this area.
Library and Information Commission Public library Internet survey
This was a high-profile survey carried out at short notice for the Library and Information Commission. This survey produced the first statistics on the number of public libraries with Internet access and the type of services that were being developed. The survey has been heavily used by academics, public librarians and policy makers and copies are still being requested 9 months after its publication. The survey has received considerable media attention, and has been used in the preparation of the first Library Association Millennium Bid, and various policy and planning initiatives. The survey was managed by the (then) British Library R&D Department on behalf of the Commission who were responding to a request for information from the DNH. (Sarah Ormes is collaborating with Charles MacClure on a comparative survey of US and UK public library Internet access, based on this survey and some US work.)
Researchers: Sarah Ormes, Lorcan Dempsey. Technical assistance: Steven Prowse. Additional consultancy support. Part funded by the Library and Information Commission.
Public library networking in the UK - an overview
We have completed an overview of networking projects and initiatives in UK public libraries. This is especially timely as networking has assumed a high profile. The report will be published in the Autumn in a collection of essays on public library networking edited by UKOLN (see next item).
Researcher: Sarah Ormes.
The Internet and public library networking in the UK
A volume of essays is being prepared for publication by Library Association Publishing in Autumn 1996. It will include the overview and comparative UK/US studies mentioned above and other contributions solicited from UK practitioners.
Editors: Sarah Ormes and Lorcan Dempsey.
Internet service models and costs
This work takes as its starting point some work done in the US by Charles MacClure and colleagues at the University of Syracuse. This identified several putative public library Internet service models and estimated the cost of their implementation. Preliminary investigation has shown that the models are not directly transferable to the UK. In the UKOLN project appropriate models will be developed in consultation with several library authorities and associated costs calculated. This work begins in August 1996, and will liaise with ongoing work by Logica in the context of the Millennium Bid.
Research: Sarah Ormes. Some technical consultancy may be procured as the project progresses.
Research activity being planned
UKOLN hopes to work with Birmingham and Bristol children's' libraries (and possibly one other) to explore how the Internet can be integrated into children's' library services. The project will look at how reading, writing and communication skills in an electronic library can be encouraged and supported by a children's' library. Preliminary discussions have been held with respective staffs and the libraries are considering a start date.
As a prelude to this project, UKOLN has been experimenting with a web-based resource which is based on Treasure Island, creating links and informational pages. This is to show what types of things are useful or possible. This work is being done by Stephen Hill, a student on work experience for August, 1996.
People Flows is a project which will explore how and why people use different types of libraries. It will examine and measure cross-sectoral use (e.g. the use of public libraries by students) and suggest ways in which services might benefit from network links. It was initiated by UKOLN and will be run by UCE library school. A proposal has been submitted to the British Library and we are awaiting to see if it has received funding. UKOLN will work with UCE and a group of Birmingham libraries on this if it succeeds.
Public library networking - Coordination and awareness
National developments
This has been a very busy year in this area, given a range of national developments and initiatives which have made public library networking an issue at various levels.
UKOLN has continued its support for Project EARL, a collaborative initiative which seeks to provide a framework for public libraries to explore policy and development issues to do with networking. Lorcan Dempsey is a member of the EARL Management Board and has participated in various planning activities. Sarah Ormes has published the results of an analysis of current networking developments among EARL members. UKOLN is also coordinating some of the EARL 'task-force' activity in the distributed systems area.
Philippa Dobson has been active in her post as LA/EARL/UKOLN Public library networking advisor. This post was funded by BLRIC after a joint proposal from the three involved organisations. Philippa has spent much of the year working on the first LA Millennium Bid, in which UKOLN was a partner. She has also worked on Project Earl.
Following the failure of the LA bid, a revised bid is in preparation. The bid is being coordinated by a Company set up for this purpose by the Library and Information Commission and the Library Association. Lorcan Dempsey has been invited to be a member of the Board of this company and is on the LA/LIC Millennium Bid Steering Group. UKOLN expects to contribute significantly to the revised bid, which is due for submission` by November 11 1996.
Awareness activities
UKOLN receives a considerable number of outside enquiries about its public library work each week. Through its project work, UKOLN now has a unique awareness of public library networking activity in the UK.
It has established a close working relationship with the Library and Information Commission and other relevant organisations.
Sarah Ormes 'owns' the lis-pub-libs Mailbase discussion list and publishes a regular column about public library networking in Ariadne (which may be published in parallel in Public Library Journal). Sarah also maintains extensive and widely used pages on public library networking research on the UKOLN server.
Planned awareness activities
Planning has begun on a conference which explores public library networking issues from technical, service and organisational perspectives. A target date in Spring 1997 has been provisionally set. This will be organised by UKOLN in association with the Library and Information Commission.
A MODELS workshop (to be supported by BLRIC) will examine issues of resource sharing with special emphasis on public library networking.
Distributed library systems - Research
MODELS
MODELS (Moving to Distributed Environments for Library Services) is a UKOLN initiative supported by the Electronic Libraries Programme. It is motivated by the recognised need to develop an applications framework to manage the rapidly multiplying range of distributed heterogeneous information resources and services being offered to libraries and their users. Without an appropriate framework, use of networked information will not be as effective as it should be. MODELS will provide a forum within which the UK library and information communities can explore shared concerns, address design and implementation issues, initiate concerted actions, and work towards a shared view of preferred systems and architectural solutions.
To allow progress to be made the project has partitioned the problem into a number of project lines. These inevitably involve overlapping concerns and none will deliver a universal view, but we hope that by progressively working towards a model that incorporates the insights of each we will help contribute towards future developments. At the same time, each is of self-standing interest.
A Steering Committee has been appointed comprising Richard Heseltine (University of Hull), Chris Rusbridge (eLib Programme Director), Neil Smith (British Library) and Peter Smith (LASER).
Five project lines have been identified:
• distributed article discovery and request
• resource discovery and metadata
• national resource discovery: organised access to printed scholarly material
• integration of electronic and print resources
• managing access to a distributed library resource.
Each line follows a similar pattern. An invitational meeting of stakeholders is convened to discuss issues. Briefing materials are prepared for each meeting. Each line develops recommendations, which generate further work. The overall results are being consolidated into monograph form. Interim results and work in progress is being reported on the UKOLN server. To date, three workshops have been held.
Article discovery and request. This first line looked at the discovery, location and request of journal articles. It is especially interesting because of the highly fragmented and variable levels of metadata content (abstracting and indexing services, catalogues, ...) and the hierarchical nature of the information object (title, volume, contribution). Accordingly, many of the necessary issues were raised in this line. A number of recommendations were made which are now being progressed with eLib support.
Metadata for network information objects. The second line looked at current approaches to metadata for network information objects and a workshop was organised jointly with the OCLC Office of Research. This built on previous work with the Dublin Core - a common set of metadata elements, and introduced the Warwick Framework, a container architecture for aggregating metadata. The outcome of this work, of international significance, has been reported in the July/August issue of D-Lib Magazine.
National resource discovery: organised access to printed scholarly material. This line examined the problems of providing unified access to existing catalogue data based on the heterogeneous, fragmented resource that currently exists in the UK. The focus was on discovery, not on request or delivery of materials. It considered how federating software might be used to conceal underlying differences. This line will introduce business and organisational considerations which will influence any developments. This line again resulted in a number of recommendations which are being progressed. Especially important is the suggestion that JISC and the BL jointly establish a Development Agency which oversees the framework in which unified systems can emerge in a managed environment.
Project manager: Rosemary Russell. Additional research: Lorcan Dempsey. Technical consultancy: Robin Murray, Fretwell Downing Informatics.
(A full report for MODELS for 1995/96 is being submitted to the Follett Implementation Group on IT.)
Reports
As a result of MODELS work to date, UKOLN will be carrying out some research work and commissioning other work on behalf of eLib. UKOLN, for example, will be investigating requesting protocols in association with the MODELS consultants, Fretwell Downing.
Distributed library systems - Coordination and awareness
MODELS has a dual focus: on awareness activities and on research which helps shape a national view of preferred future directions. UKOLN also carries out a range of other activities in this area.
Rosemary Russell provides secretariat services to the UK Z39.50 Implementors' Group, maintains informational web pages on aspects of European deployment of Z39.50, and is organising a special awareness and 'interworking' day on Z39.50 at Libtech in September 1996. She is also facilitating an EARL 'task-force' which is looking at how public libraries should be preparing their systems for future networking activity.
UKOLN staff advise eLib, the EU and other organisations in this area, and regularly speak at conferences. Lorcan Dempsey 'owns' the Mailbase list, uk-zig.
Metadata and resource discovery - Research
UKOLN has now established itself as an important site for metadata research and development, especially within a European context. This position will be enhanced as the work described below comes on stream.
Work in this area is carried out by the metadata research group:
Projects coordinator: Rachel Heery. Technical development and research officer Andy Powell. Research Officer: Michael Day. Additional research: Lorcan Dempsey.
Resource Organisation and Discovery in Subject-based Services
UKOLN conceived the ROADS (Resource Organisation and Discovery in Subject-based services) project, which is funded by ISSC as part of the Electronic Libraries Programme. ROADS partners are UKOLN, SOSIG project (coordinators) and Loughborough University of Technology. It aims to create a systems platform for distributed resource discovery systems based on emerging network standards (IAFA templates, WHOIS++). One of UKOLN's roles within the consortium is to look at issues of resource description. It also provides the public web pages for the project and will provide some information retrieval expertise (supplied by John Kirriemuir). ROADS is scheduled to finish in August 1997.
We have also done some work on interoperability between WHOIS++/IAFA and Z39.50/MARC. Frances Blomeley, King's College London, is working with UKOLN to create an application which interworks across services based on these different technologies.
(A full report on ROADS for this period is being submitted to the Follett Implementation Group on IT by the University of Bristol.)
Metadata research group. ROADS informational web pages: John Kirriemuir. Additional technical work: Frances Blomeley.
DESIRE
DESIRE addresses the needs of European researchers to locate and retrieve information relevant to their research activities. It is a project within the Telematics for Research area of the European Union's Fourth Framework Programme. Desire is a large project examining many issues to do with the use of the web (security, authoring, caching, training and other areas); it is coordinated by Surfnet in The Netherlands.
One component of Desire looks at Indexing and Cataloguing of web resources. Within this, a dual approach has been taken. A robot-based web index is being developed to assist in locating information objects in an indefinitely large information space: it aims to provide exhaustive, 'vacuum-cleaner' coverage of web pages, working with a network-friendly, distributed approach developed within the Nordic Web Index project at the University of Lund. At the same time several information gateways are being developed in particular subject areas (social science, art, engineering) which are based on quality-controlled resource catalogues containing full descriptions of resources which meet specified quality criteria. The systems framework for the information gateways will be an enhancement of the software developed in ROADS. Lund, the National Library of the Netherlands, and the ROADS group are the partners in the Indexing and Cataloguing subconsortium within Desire. UKOLN is working on a number of parts of the project with a focus on template issues and will do some development work in the area of harvesting.
Work began on Desire in early 1996. Among the first deliverables of Desire will be state of the art reports on metadata formats (coordinated by UKOLN) and on robot-based web indexing (coordinated by the University of Lund). These reports will be made publicly available on the web in Autumn 1996. DESIRE is scheduled to finish in early 1998, but may have some possibility for extension.
Metadata research group.
BIBLINK
BIBLINK is a project of the Telemetics for Libraries strand of the Fourth Framework Programme. It is looking at the exchange of data between publishers of electronic materials and national libraries. The ambition is to streamline the processing of Cataloguing in Publication-type data in this new environment. The project is coordinated by the British Library and involves several other European national libraries. Sponsoring partners are BIC and SPAG. UKOLN is involved in various components of the project, again with a focus on metadata issues. Work began on BIBLINK in April 1996, and it is scheduled to continue for 18 months, at which stage a decision will be taken on whether or not to continue for a further 18 months again.
Metadata research group.
Metadata and resource discovery - Coordination and awareness
UKOLN is centrally involved in the current active debate about metadata services, seen as crucial to successful deployment of network information services. Its position is informed by a growing body of research and development, and by a range of international collaborations and coordinating activity.
The second MODELS workshop, jointly organised with the OCLC Office of Research, provided an international focus for advancing thinking in this area and produced several important recommendations which are still being actively pursued in a number of fora. These include conventions for embedding metadata in web documents, an encoding for the Dublin Core metadata element set, and a description of the Warwick Framework, a convention for aggregating disparate packages of metadata. Through this activity, and our collaborative work in ROADS and Desire, UKOLN is helping to shape the international agenda for discussion and development. We are currently in discussion with AHDS and the CNI about organising another international event which looks at developing consensus about tools and techniques for interworking across rich domain-specific metadata stores.
An interesting dimension to UKOLN's work here is the link it provides between traditional library approaches to metadata and newer Internet approaches. In Biblink and MODELS, in particular, one can see important convergences between these approaches.
Lorcan Dempsey sits on the FIGIT/ISSC panel on access to network resources and owns the very active COUSNS Mailbase list on which much of the relevant discussion takes place. Michael Day is coordinating the development of informational web pages on metadata, which will describe UKOLN's work and link to other related materials.
Recent initiatives
We have just embarked on some new areas of work which are continuous with other interests and will complement them. They form connections between our research and awareness work and our information services work. The focus is on technologies for the delivery and management of information services.
Newsagent for libraries
This is an eLib funded project which is looking at the creation of a current awareness service for libraries based on a distributed systems framework and multiple data streams. It will cater for dynamic notification of items of potential interest based on stored user profiles. The project is led by South Bank University and includes as other partners UKOLN, Fretwell Downing Informatics, and the Department of Information and Library Studies at Aberystwyth. Content will be provided by SBU, Aslib, Bowker Saur, UKOLN and others. The system will manage a 'virtual content store' distributed across SBU, UKOLN and Fretwell Downing. Z39.50 will be a key integrative technology. The project started in April 1996 and lasts for two years. UKOLN will contribute technical and editorial advice, one of the test sites, and some development effort.
Technical development and research: Andy Powell. Editorial input: Isobel Stark.
UK Web Focus
This is a potentially very high profile addition to UKOLN's portfolio. Among its other duties the Focus will act as JISC representative to the World Wide Web Consortium and coordinate UKOLN's information services group.
The UK Web Focus will help address some of the issues the rapid development of web technologies poses for UK Universities and service providers. The Web Focus will provide awareness, coordination and advisory services using a variety of approaches. It will not duplicate other services, but seek to add value to them by bringing them into a common framework and facilitating appropriate concerted action. Its overall mission will be to help maximise the effectiveness of the UK HE community's investment in Web technologies for the delivery of teaching, learning and research materials.
This activity begins in November 1996 and we are pleased that Brian Kelly will be taking up the post. It is funded by the ISSC, initially for a three year period.
UK Web Focus: Brian Kelly (from 1st November).
A leading international web-based resource for digital library information: Information services
This is a new area of activity for UKOLN: this year was the first in which dedicated effort was put into web-based information services. An Information Officer (John Kirriemuir) was appointed at the beginning of the year, joined towards the end by a Web Officer (Isobel Stark). The Web Officer post is part-funded by FIGIT in acknowledgement of the volume of eLib related work now carried out by UKOLN. Our expectations in this area have been much exceeded, as UKOLN has rapidly developed several key information resources, and begun to promote its own work more effectively through the web.
The evolution of UKOLN into an international information resource for the library and information communities in this period is a major achievement.
The new ISSC-funded UK Web Focus will join in November 1996, providing further momentum to developments in this area. An information strategy for UKOLN is in preparation.
The larger part of our work in this year was carried out by John Kirriemuir with technical support from the Network Systems Officer. We are pleased to have met our objective of stengthening the Information Services Group during the year.
UKOLN network information services
(Note: usage statistics for selected information services follow.)
Ariadne
Ariadne is a bi-monthly magazine for library and information specialists, which appears in print and electronic forms. It is an eLib supported project, which is jointly run by the University of Abertay, Dundee, and UKOLN. 'Common' material appears in the print and web versions. UKOLN contributes eLib editorial material and occasional interviews and articles to the 'common set'. UKOLN creates the web version which contains the common material and significant additional material. Additional material includes articles, conference reports, longer versions of articles carried in the print version, and several regular columns (Brian Kelly, Jon Knight, Sarah Ormes, Charles Oppenheim). Four issues have appeared in this reporting period. Ariadne has quickly established itself as a central resource for the library and information communities, and attracts significant international attention. Requests have been received to reprint several contributions to the web version in other print publications.
John Kirriemuir is the web editor, and since July has been assisted by Isobel Stark.
(A fuller report on Ariadne for 1995/96is being submitted to FIGIT by John MacColl and Lorcan Dempsey.)
Electronic Libraries Programme pages
UKOLN provides an information service for eLib. This contains project descriptions, links to projects' own pages and other relevant services, copies of reports and papers, and other material. In addition, UKOLN answers project queries about their own web pages and publicity, and brokers other information enquiries within and without eLib.
The Information Officer gives presentations on eLib publicity. The Information and Web Officers are co-owners of the Mailbase lis-elib list. Ariadne is an important vehicle for eLib information.
We are planning to use ROADS V.1 to provide a project database for eLib and we have designed a 'project' template for this purpose.
Reports and papers
UKOLN has been mounting BLRDD reports on an experimental basis and has had recent discussions with BLRIC about developing this further. We also mount reports on behalf of FIGIT and UKOLN-generated material.
Mirror
UKOLN mirrors several key library and information resources. These include D-Lib Magazine, which has become the authoritative source of information about US digital library initiatives. We are looking at how this service might be extended, as well as at general issues arising out of mirroring.
UKOLN research areas - Informational pages
We provide public library networking research pages (maintained by Sarah Ormes), Z39.50 pages (maintained by Rosemary Russell), and growing metadata pages (maintained by Michael Day).
UKOLN's own work
We are working to use the web more effectively to disseminate the results of our work and as a publishing medium. Currently, the results of our bibliographic management work are reported on the web, and overviews of other work exists. We aim to publish all significant reports and papers across the full range of our activity on the web.
ROADS pages
John Kirriemuir maintains the informational pages on ROADS.
British Council collaboration
UKOLN was pleased to be approached by the British Council to take part in its Britain Direct scheme, and also to cooperate in an electronic libraries 'showcase' which will be used to promote UK experience and expertise overseas. Isobel Stark is coordinating these developments.
UKOLN-supported network information services
UKOLN continues to provide technical support to BUBL and to host the BUBL Information Service. It had been agreed that BUBL will move to Strathclyde in the Autumn of 1996. The BUBL Information Service is the subject of an independent report to the ISSC.
UKOLN continues to host the web pages of the LISSPS group (Library and Information Science Students and Prospective Students). UKOLN also manages a Majordomo list for this group.
UKOLN information services -- usage statistics
Web usage statistics are given for selected UKOLN information services.
(Note: These are generated using the Analog package. It should be noted that these figures do not give reliable usage figures, as the impact of caching on locally collected statistics is unknown. In fact, UKOLN encourages sensible network use by encouraging caching of its services.)
UKOLN information services -- aggregate usage statistics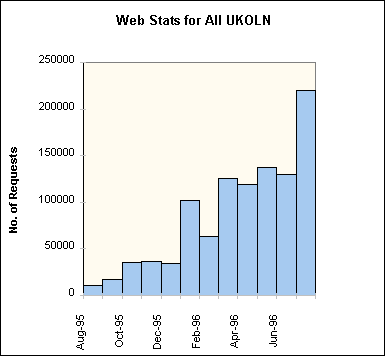 Ariadne -- usage statistics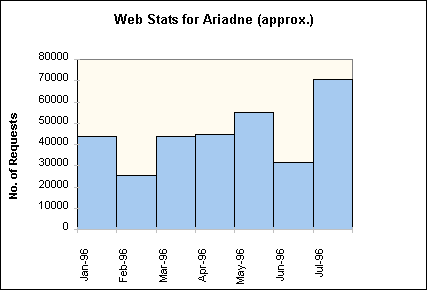 eLib web pages - usage statistics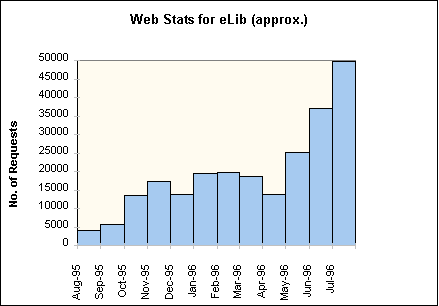 Public library networking research pages - usage statistics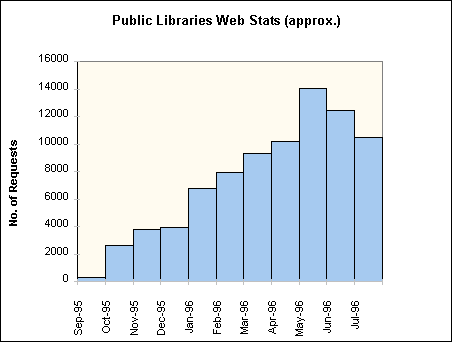 Hardware and software
UKOLN public information services are provided from a Sun 670MP with 128Mb of physical RAM and 7.5Gb of disk space. The server runs SunOS 4.1.3 with Kerberos login authentication software. This machine is also used for internal office work.
We run the CERN httpd server, alongside two gopher servers (one for BUBL) and Majordomo for serving email lists.
Network connection is via a switched LAN to a connection to SuperJANET, and so can go to a maximum of 10Mb/s.
From September 1996, we will introduce several changes.
The Sun 670MP will become a dedicated Internet server machine. It will run under Solaris 2.5. UKOLN's information services will be served up using Apache V1.1.
We will use a Sun SPARCstation 5 with 32Mb of RAM as our office network file server and this will operate as a backup web server. The web server on this machine will also be Apache and will run in parallel to the main server, with each being able to serve the same set of files. This machine is connected to SuperJANET via a 10Mb/s link and ATM switches.
This configuration will be reviewed when we decide how to provide the Newsagent service.
Availability
UKOLN Information Services fall within 99% availability. There has been some down-time, most of which has been due to power sub-station failure.
Research and awareness activities
We have a wider interest in the investigation of and promotion of good practice for web-based information management. John Kirriemuir presented a paper on aspects of this work at the Elvira conference.
As noted above, our Information Services Group acts as a focus for advice and referral on web management issues for eLib projects and more widely.
We are looking forward to exploiting the synergies between our information services and the UK Web Focus.
Professionally organised conferences, workshops and other events: Promotions
UKOLN significantly extended its activities in this area during 1995/6. This has been greeted very positively and our work in this area has been highly regarded for the professional standards achieved. Hazel Gott joined UKOLN as full-time Promotions Officer in August 1996. Half her time is devoted to FIGIT activities such as the Follett Lectures and half to supporting UKOLN activities
Of special note is the Networked Information in an International Context conference organised in association with JISC, BL, CNI and CAUSE. One hundred and fifty-seven attendants shared experiences about digital libraries initiatives across the Atlantic. It has been agreed that a follow-on conference will be organised in London in the summer of 1997. Planning has begun for other events next year, including a conference on public library networking, the concluding MODELS workshop, and another transatlantic collaborative event looking at issues surrounding archiving and accessing electronic journals on the network. The latter will be held in association with the CIC Center for Library Initiatives. Discussions have also begun with BLRIC about some cooperative events.
Events organised
Follett lectures
11-09-95. Follett Lecture, Glasgow (Bill Arms)
05-03-96. Follett Lecture, London (Miriam Drake)
06-06-96. Follett Lecture, Leeds (Richard Lucier)
Planning is underway for the next Follett lecture to be given by Sheila Creth at the University of Ulster at Magee College and in London. Arrangements are made more interesting by the use of videoconferencing, for the first time in this series, to extend the audience. Follett lectures typically attract upwards of seventy attendants.
MODELS workshops
11/12-11-95. MODELS One Workshop, Bath, Distributed article discovery and request
01/03-04-96. MODELS Two Workshop. Warwick, Metadata Workshop
10/11-07-96. MODELS Three Workshop, Bath, National Resource Discovery Workshop
Other events
01-09-95. eLib Programme, Electronic Journals Project Day, London.
27-09-95. Round Table on the use and transfer of derived bibliographic records. Birmingham.
04-10-95. eLib Programme, Access to Network Resources Project Day, London.
27/28-11-95. Preservation Conference, Warwick.
09/10-02-96. Networked Information in an International Context - JISC/CNI/BL, Heathrow.
05-09-96. Z39.50 day at Libtech, Hatfield.
Spreading the word: Publications, presentations, committees, visitors
Publications
Publications appearing this year are listed here. Shortly to appear is the work described in the public library networking section, a report on metadata practice being prepared within Desire, and work in progress on MODELS.
Ann Chapman
1994 revisited: a year in the life of the BNBMARC currency survey. International Cataloguing and Bibliographic Control Submitted March 1996; accepted April 1996 for publication in 1997.
Retrospective catalogue conversion: a national study and a discussion of selected literature. Libri Submitted November 1995; accepted January 1996 for publication in 1996.
National Library bibliographic record availability: a long term survey. Library Resources and Technical Services 39(4) Oct 1995 pp345-357
Lorcan Dempsey
Scientific information supply - building networked information systems. The Electronic Library, Vol. 14 No. 4, August 1996. (With Maria Heijne)
The Warwick Metadata Workshop: a framework for the deployment of resource description. D-Lib Magazine, July/August, 1996. (With Stu Weibel)
ROADS to Desire: some UK and other European metadata and resource discovery projects. D-Lib Magazine, July/August, 1996.
Meta detectors: metadata and resource discovery. Ariadne, Issue 3, May 1996.
eLib standards guidelines. Feb. 1996. (with Anne Mumford, Alan Robiette, and Chris Rusbridge on behalf of FIGIT). (on UKOLN web server)
Library and Information Commission public library Internet survey. Bath: UKOLN, 1996. (Also on UKOLN web pages and reprinted in New Review of Information Networking, V.1, 1996) (With Sarah Ormes)
Towards distributed library systems: Z39.50 in a European context. Program , 30 (1), January 1996, pp. 1-22. (With Rosemary Russell and John Kirriemuir)
Net use in public libraries. Library Association Record, 98(4), p.200. (with Sarah Ormes)
The public library and the Internet: a UK perspective. Ariadne, 2. (with Sarah Ormes) (an adapted web version of Net use in public libraries above)
Readbites: the scandal of serials holding data. Catalogue & Index, number 118, Winter 1995. p. 9.
Road to resource discovery. Library Association Record , July 1995, 97(7), p. 374. (with Debra Hiom and Frank Norman)
Networking and the future of libraries 2: managing the intellectual record. London: Library Association Publishing, 1995. (Joint editor with Derek Law and Ian Mowat, introduction)
Hazel Gott
The Follett Lecture Series. Ariadne (the Web version), Issue 4, 1996.
Rachel Heery
A review of metadata formats. Program, 30(4), October 1996 (in press).
Further down the ROADS. Ariadne, Issue 3.
Coping with the deluge: SOSIG, OMNI, ROADS. SCONUL Newsletter, No. 7 Spring 1996. (With Debra Hiom and Sue Welsh)
John Kirriemuir
Report from Boston: the 4th WWW Conference. Ariadne (The web version), Issue 1. (With Debra Hiom)
Towards distributed library systems: Z39.50 in a European context. Program , 30 (1), January 1996, pp. 1-22. (With Rosemary Russell and Lorcan Dempsey)
Identification of duplicate and near-duplicate full-text records in database search outputs, using Hierarchic cluster Analysis. Program 29(3), 1995, p.241-256. (With Peter Willett)
Cataloguing in the electronic age: future librarians' cataloguing of Internet resources. Vine, No.99 (June 1995), pp 55-60 (with Nigel Ford)
Sarah Ormes
Public Libraries and the Information Society. Ariadne (the web version), Issue 4, 1996.
Internet Activity In Public Libraries. Ariadne (the web version), Issue 3, 1996.
EARL Information Audit. Public Library Journal, Vol. 11, No.2, March/April 1996
The Public Library and the Internet: A UK perspective. Library Association Record, April 1996 Vol.98(4) -(also available in Issue 2 of Ariadne, the web version).
Net use in public libraries. Library Association Record, 98(4), p.200. (with Lorcan Dempsey)
Library and Information Commission public library Internet survey. Bath: UKOLN, 1996. (Also on UKOLN web pages and reprinted in New Review of Information Networking, V.1, 1996) (With Lorcan Dempsey)
Rosemary Russell
Towards distributed library systems: Z39.50 in a European context (Lorcan Dempsey, Rosemary Russell and John Kirriemuir). Program, 30 (1), January 1996.
From VINE to UKOLN: four months on. VINE, 100, September 1995, 29-32.
Isobel Stark
Spotlight on BIDS. Ariadne, Issue 2, 1996.
In progress
A report on the use of templates in ROADS. Rachel Heery.
<URL:http://www.ukoln.ac.uk/metadata/templates.html>
A report on the interoperability between metadata formats. Michael Day.
<URL:http://www.ukoln.ac.uk/metadata/interoperability.html>
Selected presentations
UKOLN staff are frequently asked to speak at conferences and other events. Here is a list of the more important. Several presentations about UKOLN and its activities have not been included.
Ann Chapman
A presentation on UKOLN's quality audit. Copyright Libraries Shared Cataloguing Project Steering Committee, Oxford, 26 April 1996.
Lorcan Dempsey
Adapting to reality: computers and change in libraries. Keynote speech at the conference of the British and Irish Association of Law Librarians, Jordanstown, 7 September 1996.
Standards and technical background: ROADS. ROADS Workshop, London, 8 August, 1996.
National resource discovery: the rationale. National resource discovery: MODELS workshop 3. Bath, 10-11 July 1996.
Save the time of the user ...?. INULS conference, Galway, 21-23 June 1996.
Introductory session. Second invitational workshop on metadata organised by UKOLN and OCLC Office of Research. Warwick, 1-3 April 1996.
Resource organisation and discovery. Networked Information in an International Context, Heathrow, 9-10th February 1996 (A conference organised by UKOLN in association with CNI, CAUSE, JISC and BLRDD).
Networking - national initiatives. North West Regional Library System networking forum, Manchester, 24th January 1996.
The future of networking. Collaborating on the future for library and information services in the West Midlands region, a WMRLS/PALS seminar, 18th January 1996.
Resource discovery: some relevant standards. ISSC/FIGIT access to network resources project day, London, 4 October 1995.
Picking up the threads. LINC/BL networking initiative: second workshop. Coventry, 2 October 1995.
John Kirriemuir
The electronic libraries programme. Avon University Libraries in Cooperation, Bath, 21 June 1996.
Meta-guidelines for designing and building World Wide Web documents/sites. ELVIRA 3 Conference, De Montfort University, 2 May 1996.
Publicising your project on the web. eLib project coordinators meeting, Warwick, 18/19 March 1996.
Ariadne - how it was built, designed and maintained. Ariadne launch party, London, 17 January 1996.
eLib projects. OMNI seminar, London, 30 November 1995.
Publicising your project on the web. eLib training and awareness day, London, 28 November 1995.
Rachel Heery
Template issues: ROADS. ROADS Workshop, London, 8 August, 1996.
Resource discovery tools. Digital resources for the humanities 1996. Oxford, 1-3 July, 1996.
ROADS and metadata. European Library Automation Group. Berlin, 24-26 April 1996.
Use of templates in ROADS. Second invitational workshop on metadata organised by UKOLN and OCLC Office of Research. Warwick, 1-3 April 1996.
Sarah Ormes
The current state of public library networking. The 1996 AAL Weekend School, May 1996.
The Library and Information Commission public library Internet survey. A CPI organised workshop in March 1996.
Rosemary Russell
MODELS introduction and update. National resource discovery: MODELS workshop 3. Bath, 10-11 July 1996.
MODELS overview and issues. Presentation to CERN and University of Geneva library staff. Geneva, 23 May 1996.
Metadata options. eLib concertation day for electronic journals, pre-prints and quality assurance. London, 18 April 1996.
European Z39.50 developments. Libtech, University of Hertfordshire. 6 September 1995.
Isobel Stark
Towards a strategy for supporting distance learning students through networked access to information. NetLinkS 1st Symposium on Networked Learner Support, Sheffield, 17/18 June 1996. (with Joan Carty, Robert Vanderzwan, and Nicky Whitsed.)
Medievalists and the Internet. International Medieval Congress, Leeds, 8-11 June 1996.
Committee membership
Ann Chapman
• BIC Bibliographic Standards Technical Sub-Group
Lorcan Dempsey
• JISC Technology Applications Working Group (temporary group advising on JISC strategy - now ceased)
• JISC Standards Working Group
• JNT Association Board (University of Bath representative)
• Library and Information Commission International Sub-committee
• Library Association/Library and Information Committee Steering Committee for the Millennium Bid
• Information For All Board (company managing LA/LIC Millennium Bid)
• EARL Management Board
• FIGIT/ISSC panel on Access to Network Resources
• Steering boards/committees for ROADS, Ariadne and Newsagent
• Art, Design, Architecture and Media Information Gateway Steering Committee
• BSI DOT/7 - mechanisation of information storage, retrieval and interchange
Editorial boards
• New Review of Information Networking (of whose predecessor, Journal of Information Networking, he is founder editor), 1993 -
• Program, 1991-
• Public Access Computer Systems Review, 1992-
Glen Monks
• Campus Information Services Group, Bath University
Sarah Ormes
• Croydon Libraries Internet Project Board
Andy Powell
• Chair, Campus Information Services Group, Bath University
Rosemary Russell
• Janet User Group for Libraries Committee
• BIC Network publishing committee
• UK Z39.50 Implementors' Group (secretariat)
Visitors
02-08-95 Jan Frederik Solem (Oslo College)
09-08-95 Peter Burnhill (Edinburgh University)
08-09-95 Christine Burton (Comedia)
11-10-95 Nigel McCartney and Margaret Croucher (BLRDD)
(presentation from UKOLN staff)
31-10-95 David Martin (Book Data)
20-11-95 George Brett (at UKOLN for 4 Weeks)
07-12-95 Patricia Marchiori (Universidade Federal do Parana, Brazil)
15-12-95 Rob Froud (PLJ editor)
19-12-95 Don Watson (Library Association Record)
12-01-96 Peter Littlewood (Essex Data Archive)
15-01-96 Helen Carley (Library Association Publishing)
12-02-96 Maria Sliwinska (Nicholas Copernicus University, Poland)
14-03-96 Janet Jordan & Carolyn Winter (Bristol City Library)
19-03-96 Clare Nankivell (UCE)
26-04-96 Michael Thompson (British Council)
29-04-96 Bridget Powell & Margaret Sheridan (Unity)
15-05-96 Donna Runner-Ruda (Edith Cowan University, Australia)
21-05-96 Jan Hagerlid & party (Royal Library, Sweden & other
Swedish libraries)
30-05-96 Patricia Methven (King's College London)
04-06-96 David Barton (CPI)
05-07-96 International Summer School; Lucy Tedd (Aberystwyth)
(presentation about UKOLN)
08-07-96 Toby Burrows (University of Perth, Australia)
16-07-96 Philippa Dobson (LA/EARL/UKOLN)
24-07-96 Ross Bourne & Paul Gath (BIBLINK)
25-07-96 Chris Rusbridge (eLib) & Anne Mumford (Loughborough)
Mailing lists
UKOLN manages a number of electronic mailing lists which relate to its activities. It uses Majordomo software. In addition, it manages a list for LISSPS (Library and Information Science Students and Prospective Students).
The following Mailbase lists are owned or co-owned by UKOLN staff:
cousns
lis-elib
lis-pub-libs
lis-uknfp
UKOLN and the world: International work
UKOLN has always maintained a strong international component in its work. This is now even more so, as much of its work has an inherently international focus. We have sought international participation in all areas of our work, and staff attend international events (e.g. ELAG, EFILA, ...). We have good relationships with other organisations who have similar interests (e.g. CNI in the US, and NetLab in Sweden) and have a large range of international contacts accumulated over many years of research and conference activity.
Information and promotional services also reflect this international interest, looking both East and West for collaboration and contact.
European Union
UKOLN has strong links with the Libraries Unit of the Commission of the EU, stretching back over many years. Lorcan Dempsey has been an evaluator on all calls under the Third and Fourth Framework programmes, was one of the drafters of the framework document for the current work programme, advises on networking issues, and routinely reviews projects (several this year).
This year Rosemary Russell has been invited as an expert to a Z39.50 meeting and Sarah Ormes has represented UKOLN at a meeting on Public Libraries and the Information Society, both in Luxembourg. Lorcan Dempsey is a member of the International Sub-committee of the Library and Information Commission which has a special interest in European Union issues and advises the National Focal Point. Rosemary Russell co-owns the Mailbase list lis-uknfp, devoted to discussion of the Libraries Programme.
Several sections of the web server have a broad European focus (e.g. Z39.50 pages), and Ariadne and other services will increasingly carry more international content.
This year also, our relationship with the Commission has acquired an additional dimension as we have embarked on two Commission-funded projects: Biblink and Desire (described elsewhere). Biblink is a Telematics for Libraries project, managed from Luxembourg; Desire is a Telematics for Research project, managed from Brussels. Each gives us formal links with a range of European partners.
Transatlantic cooperation
This year has seen some significant collaborative transatlantic cooperation.
We jointly organised the second invitational Metadata workshop with the OCLC Office of Research and invited participants from all parts of the world.
We have collaborated extensively with CNI in the organisation of the Networking in an International Context conference, a collaboration that looks set to continue. The organisation of the Follett lectures has brought over several distinguished US librarians.
We mirror some US network resources, and have established a very good working relationship with the staff of D-Lib Magazine.
Advice and guidance: UKOLN committees
UKOLN is pleased to have two active committees to guide its activities and is grateful to the many busy people who have agreed to serve on them. During the year the Management Committee have met three times and the Advisory Committee twice.
A number of changes can be noted. John Dolan is now a member of the Management Committee, moving over from the Advisory Committee. David Buckle and John Cox have resigned from the Advisory Committee, for reasons of retirement and moving abroad respectively. Seamus Ross has joined the Advisory Committee.
UKOLN Management Committee
Prof. Mel Collier (Chair) De Montfort University
David Cook JISC Secretariat
Sheila Corrall Reading University
Shirleen Craig ISSC Coordinator
Lorcan Dempsey UKOLN
John Dolan Birmingham City Libraries
Graham Jefcoate British Library Research and Innovation Centre
Richard Heseltine University of Hull
Prof. George Lunt University of Bath
Howard Nicholson University of Bath
Sally Whitaker J. Whitaker & Sons
UKOLN Advisory Committee
Sheila Corrall (Chair) University of Reading
John Akeroyd South Bank University
David Buckle OCLC (resigned)
Lou Burnard Oxford University Computing Services
Paul Capewell Liverpool Institute of Higher Education
Neal Clements BLCMP
John Cox Wellcome Centre for Medical Science (resigned)
Jonathan Darby CTI Support Service
Joan Day University of Northumbria at Newcastle
Nicky Ferguson Centre for Computing in Economics
Frances Hendrix LASER
David Hill Sage Publications Ltd
Trevor Hing B.H. Blackwell Ltd
Mike Holderness Freelance journalist
Prof. Ian Jamieson University of Bath
David Kay Fretwell Downing Data Systems Ltd
Ray Lester Natural History Museum
Prof. Denise Lievesley The Data Archive
Howard Nicholson University of Bath
Judith Palmer Healthcare Libraries Unit
Seamus Ross British Academy
Bruce Royan University of Stirling
Chris Rusbridge Electronic Libraries Programme
Alan Singleton Institute of Physics Publishing
Barry Smethurst BIDS, University of Bath
Neil Smith British Library
Peter Stone Independent consultant
Ray Templeton Library Association
Linda Tomos University of Wales, Aberystwyth
Getting and spending: Summary of accounts
The BLRIC funding period is a financial year; the ISSC's an academic one. UKOLN presents accounts for financial year periods, as required within the claim-based BLRIC framework. The following tables summarise accounts for the financial year 1 April 1995 to 31 March 1996 and for the first quarter of the current year, 1 April 1996 to 31 March 1996. (The budget is calculated on the sum of the British Library and ISSC grants.)



Annual

budget

Expenditure

Balance

% budget spent

Staff costs

180793

159140

21653

88%

Travel and subs.

6734

8739

-2005

130%

Recurrent

18028

17072

956

95%

Non-recurrent

14207

13994

213

99%

Total

£219,762

£198,945

£20,817

91%
Table one: 1 April 1995 to 31 March 1996
Table 1 summarises expenditure on the 'core' grant between 1 April 1995 and 31 March 1996. The surplus on salaries is caused by the fact that during reorganisation, UKOLN was understaffed for a period.



Annual

budget

Expenditure - first quarter

Balance

% budget

spent

Staff costs

195460

41123

154337

21%

Travel and subs.

7154

2127

5027

30%

Recurrent

17170

2564

14606

15%

Non-recurrent

17044

80

16964

0%

Total

£236,828

£45,894

£190,934

19%
1 April 1996 to 30 June 1996
This figure presents preliminary summary accounts for the first quarter of financial year 1996/97.
Looking forward: Plans
This report has documented the initial results of a reorganised UKOLN. We have an adventurous programme of work in place which will build on this and produce further significant outputs in the coming year. Among these are the results of the MODELS project consolidated in book form; a multisource bibliographic survey; further research, conference and coordination work in public library networking and metadata. Experiences gained during Newsagent will extend our research and development activity as well as feed into our information services.
At the same time we will build on the success of our information services and promotional activities. Our information services will increasingly become a testbed for new web technologies and a model of good practice. We are planning several high-profile events, which will inform and help provide a focus for consensus and agreement over preferred future directions.
The inauguration of the UK Web Focus post will complement and enhance this activity.
During 1996/97 we will consolidate around our current staff and programmes of work, while remaining alert to new possibilities and the needs of the communities we serve. We are working close to the fore of developments in fast-moving areas (metadata, distributed library systems, web technologies and services, public library networking) and through our current work hope to decisively influence the course that these developments take in the UK and more widely.