Practical Details
Conference fees
The residential fees include all accommodation and meals. The non-residential fee includes all meals except breakfast:
Accommodation on campus is in single rooms, available with or without en suite facilities; those without are provided with a washbasin. Rooms are fully carpeted, with 2-pin shaver points and 13-amp sockets. A desk unit and chair are part of the fittings. Toiletries and linen are included. Tea and coffee-making facilities are available.
£380
residential in Polden Court. Rooms are ensuite with bath, and have radio/alarm clocks, and hairdryers.
This category of accommodation is now fully booked (29-Apr-98)
£360
residential in Westwood. Rooms are ensuite with shower.
£335
residential in Brendan. Rooms have washbasins only. Other facilities are shared.
£290
non-residential.
Delegates will be able to access their email in the University's new Library and Learning Centre.
Bookings
The closing date for bookings is Monday 8 June 1998. Cancellations between this date and Monday 22 June will incur a cancellation fee of £50. There will be no refunds for cancellations received on or after Monday 22 June. However, a substitute delegate is acceptable in all cases.
Further information
Please use booking form.
All bookings and enquiries about the conference should be directed to:
Hazel Gott
Promotions Officer
UKOLN
The Library
University of Bath
Bath BA2 7AY, UK
telephone: +44 (0)1225 826256
fax: + 44 (0)1225 826838
email:
h.a.gott@ukoln.ac.uk
Occupying an attractively landscaped site situated on one of the hills surrounding Bath, the University is just over a mile from the city centre, with a regular bus service between the two. On campus there are bank cash machines, a bookshop, post office and small grocery store.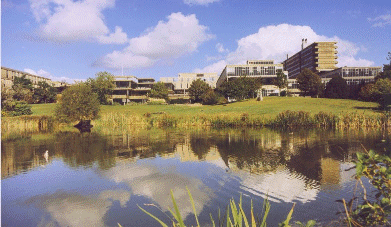 The University of Bath, from the lake [© University of Bath Photographic Unit]
The University campus is situated on Claverton Down, to the east of Bath. The A4 and A36 roads run through the city; the M4 motorway is approximately 10 miles distant. Bath is well connected to London and the major airports by rail and road.
An ideal backdrop for the UKOLN conference, Bath is world famous as the Roman town of Aquae Sulis and for its 18th century Georgian crescents and parades. With a tradition of welcoming visitors that extends back 2000 years, conference attendees and tourists alike enjoy the river setting, the architecture, the specialist shops, and its many museums and parks. The City of Bath is a UNESCO-designated World Heritage Site.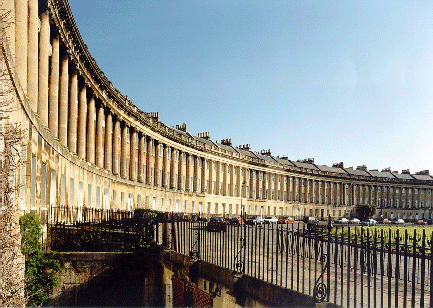 The Royal Crecent, Bath [© University of Bath Photographic Unit]
The Bath Tourist Information Centre is at Abbey Chambers, Abbey Churchyard, Bath, BA1 1LY (telephone (0)1225 477101) or at URL: http://www.bath.co.uk/