Executive Summary
PRIDE will enable access via a single point to a global range of information resources in a way that supports a large number of services and functions. It will provide:
A single source of descriptions of both library-based and internet services
Identification of suitable resources and services as a prelude to searches
Declaration of personal profiles accessible to disclosure agents
Authentication and authorisation for service access and electronic payment services
One-stop declaration of personal information in place of multiple service registrations
These distributed services will be of equal importance to the user and the service provider.

The PRIDE solution brings information via wide area networks to more people by opening up services in a cost effective manner to the whole on-line community, not just to local or physically present subscribers - thus giving people more choice and opportunities in the use of widespread existing resources.

The PRIDE application will act as a broker for the independent user accessing multiple services; it will improve the interface between distributed library services and the wider world of electronic commerce and information supply including digital lifestyle offerings such as tele-shopping, entertainment and training.

PRIDE opens opportunities for libraries and their suppliers to develop high impact, value added services for the information age. Libraries envisage supply of better information more efficiency to European researchers and enterprises. Commercial partners wish to establish strong positions in global markets.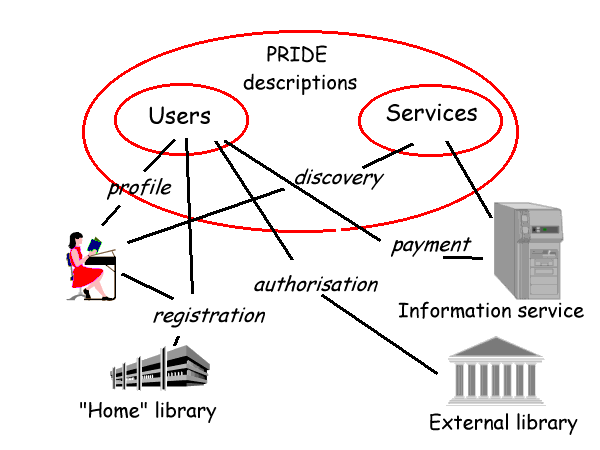 How PRIDE will work
PRIDE will be a directory of User and Service information. The availability of distributed User information (not restricted to the local library automation system or "home" library) will make available a range of services to users regardless of their library service affiliation (membership). These include:
Agent Management
Registration and Certification
Authentication
Payment (Credit, Debit etc)
Other Relationship Services.
Distributed service information (both service and collection descriptions) will be a major element in building the global library space.

It will make possible effective delivery of services, such as:
Disclosure (Selective Dissemination, Current Awareness, etc)
Discovery
Intelligent Query Routing
Interlending
Document Delivery
PRIDE will enable information services to interoperate with generic and focused services which will be developed for the home, the office and the public place by major corporations, using
The same infrastructure (Internet)
The same presentation technology (WWW)
The same administrative services (such as authentication & payment)
And the same discovery techniques (query protocols)
PRIDE will provide distributed User and Service / Collection information which can be integrated with the broader offerings in the wider digital services marketplace.

The three parts of this document outline:-
User needs in relation to application areas and the issues involved in developing PRIDE
State of the Art review of the services, protocols and techniques currently used in the information society for their support of and utilisation in PRIDE
Legal and Commercial Issues which will need to be taken into account in the construction, development and use of networked infrastructure services in the future
Scope Statement
This document provides the first deliverable of the European Union 4th Frame work Telematics Project, which commenced in June 1998 and is of two years duration.
---
| | |
| --- | --- |
| 1999-01-22 | PRIDE Requirements and Success Factors |