Welcome to UKOLN
UKOLN is a centre of expertise which advises on digital infrastructure, information policy and data management. We provide resources and services to the Higher and Further Education sectors including Web journals and other publications, Web services and tools, innovation support, research and development, and events management.
The Innovation Support Centre (ISC) is a JISC-funded service that delivers technical development, community support, and technical advice to Higher and Further Education.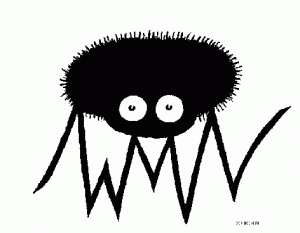 IWMW2013: Your Speakers
This year's Institutional Web Management Workshop, IWMW 2013, will be held at the University of Bath over 26-28 June.
The 17th in the series of IWMW events designed for practitioners with responsibility for providing institutional Web services, this Workshop is the largest ever, featuring no fewer than 13 plenary talks which are summarised on the UK Web Focus blog. The plenary talks aim to provide an overview of new opportunities which may be available for those with skills in the provision of online services. The talks are grouped in the following themes: Opportunities and Openness, Supporting Key Institutional Drivers, The User Experience, The Changing Technical Landscape, The View from Outside, Institutional Case Studies and What Does the Future Hold? The plenary speakers are:
Cable Green, Director of Global Learning at Creative Commons, on Open Education: The Business & Policy Case for OER,
Doug Belshaw, formerly of JISC infoNet and now working for the non-profit Mozilla Foundation who will describe Mozilla, Open Badges and a Learning Standard for Web Literacy.
Kyriaki Anagnostopoulou, head of the e-leaning team at the University of Bath, on Et tu, MOOC? Massive Online Considerations.
Amber Thomas, manager of the academic technologies team at the University of Warwick who will describe how her team is Turning our Attention to Supporting Research.
Jonathan Hassell, lead author of BS 8878, the British Web Accessibility Standard, who will explain how Web managers should Stop Trying to Avoid Losing and Start Winning: How BS 8878 Reframes the Accessibility Question.
David Cornforth, Jisc infoNet, on his experience in Adapting to Responsive Web Design.
Martin Hamilton, Head of Internet Services at Loughborough University, articulates his thoughts on The Inside-Out University.
Paul Walk, Deputy Director, UKOLN, argues in a talk entitled Working with Developers that "if institutional Web managers are to stay on top of their game, they need to be able to get the most out of the software and systems they rely on" and to do this there is a need "to learn how to work well with the developers who build and maintain them".
Ranjit Sidhu, founder of Statistics into Decisions, will ask 9am, 16th August, 2012: "What the fcuk just happened then?".
Paul Boag, co-founder of Headscape, will describe how Institutional Culture Is Crippling Your Web Strategy!
Tim Kaner, Director of Marketing & Communications at the University of Bath, will discuss the implications of a changing marketing model for HE institutions and reflect on the challenges and opportunities ahead in a talk entitled Marketing 2.0.
Dai Griffiths, Professor at the Institute for Educational Cybernetics, University of Bolton, will argue in a talk on The University in a Bind that as they find themselves subject to increasing financial, regulatory and marketplace pressures, which are pushing them in a number of different directions, institutions are constrained in their ability to adapt or reinvent their identity.
Finally Neil Denny will describe The Delicious Discomfort of Not Knowing: How to Lead Effectively through Uncertainty.
In addition to the plenary talks, there are 17 parallel sessions which last for 90 minutes which will enable participants to address topics in greater depth.
In the light of the relevance of these talks to those with responsibility for managing institutional Web services - and the attractions of a visit to Bath in June (including a wine reception at the Roman Baths) - we advise early booking. Note that the 3-day event costs £360 which includes accommodation for two nights.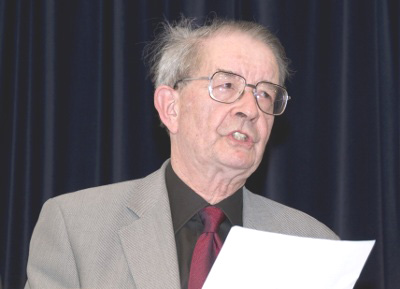 Former UKOLN Director Honoured by University
The first Director of UKOLN, Philip Bryant, has been awarded an Honorary Fellowship by the Senate of the University of Bath for his significant contribution to the development of bibliographic management. The award also recognises that his establishment of the Centre for Catalogue Research (1975-1980), the Centre for Bibliographic Management (1980-1992) and finally UKOLN (1992-) at the University created a reputation for excellence in this field.
Dr Liz Lyon, the current UKOLN Director said, 'I am delighted to learn of this award. Philip Bryant was instrumental in critical digital library development areas which have directly influenced how we routinely use online catalogues in all types of library today e.g. university, public, and national institutions such as the British Library. Philip also initiated the organisational mergers of Centres within the University which led to the creation of UKOLN in the early 1990s, funded by the British Library and Jisc. More recently, Philip joined Lorcan Dempsey and myself on the stage at the 30th Anniversary of UKOLN in 2008 at the British Library and we are deeply indebted to his foresight and dedication which have helped to progress the key library infrastructure that most people take for granted in 2013'.
Philip, who served as Technical Services Librarian to the Library alongside its Librarian Maurice Line, was noted for his ground-breaking research into library catalogues which had a major influence on library planning for the electronic age.
Initially Philip worked with Maurice on several projects looking at catalogues and bibliographic data, which led to the Bath University Programme of Catalogue Research (1977-79). Philip became Director of the newly formed Centre for Catalogue Research, funded by the British Library R&D Department, in 1977. He then oversaw the Centre's transformation in 1987 into the Centre for Bibliographic Management in recognition of the role the Centre was playing in the wider book world, both in the UK and internationally. He was also instrumental in the recruitment of Lorcan Dempsey and Ann Chapman as research officers. Some two years later, the UK Office for Library Networking was established after a grant was made by the British Library Research and Development Department (BLRDD).
In 1992 Philip oversaw the merger of the CBM and UK Office for Library Networking into UKOLN before stepping down as Director some two years later. Philip continued to work for the University of Bath as Senior Research Fellow in Bibliographic Management. During this time he investigated the quantity and subject matter of items for which there were no entries in online catalogues in Higher Education and non-Higher Education libraries, funded by Jisc and BLRIC respectively. After completing this work Philip retired in August 1997.
It is no exaggeration to assert that Philip Bryant's work on library catalogues and their uses had the effect of placing the University on the map of the library world. A series of conferences in the 1980s and 1990s on bibliographic management, online access to library catalogues and networking digital information drew international delegates to the campus. In 1994 the University Librarian, Howard Nicholson, reported that Philip Bryant's work during the 1970s informed a whole generation of library managers about how students used university libraries.
Later Philip's study to establish 'whether a national retrospective catalogue conversion programme is justified and to explore the implications of much wider access both to records and to actual collections so converted', as recommended by the highly influential Follett Report, was of national importance (and international relevance) at the time, and remains relevant today. In addition to addressing the questions of how much retrospective conversion of research collections had already been undertaken, what remained to be done, what benefits would accrue to users from national investment in this conversion activity, and what was the evidence of the demand for access to such material which was not as yet being met, Philip and his colleagues investigated the likely costs, methods of assisting the process, and sources of funding that might be drawn on for carrying out such activities. The result was the strategy for the Retrospective Conversion of Library Catalogues in Institutions of Higher Education in the United Kingdom presented by Philip Bryant, Ann Chapman and Bernard Naylor to the Follett Implementation Group on IT (FIGIT) in June 1995, which resulted in additional funding being made available to libraries to make more catalogue records available online.
As a leader Philip expected staff to meet his high standards regarding the rigorous collection of data, use of scientific method and quality of prose in all written reports and publications, and did much to widen the horizons and experience of his staff who shared his outlook. He saw the Centre as an integral part of the University and built strong relationships with the Library, Computing Services and Statistics staff in the Maths department. Moreover, Philip was generous in acknowledging the efforts of other people in the success of the work undertaken by UKOLN and its antecedents.
UKOLN - Looking Ahead
Following nearly 20 years of supporting Jisc innovation activities, UKOLN is now looking ahead to new challenges. In response to the Wilson review of Jisc, the organisation has confirmed that it will only provide core funding to the UKOLN Innovation Support Centre, up to July 2013 but not beyond.
Since Jisc's inception in 1993, UKOLN has worked collaboratively to support the development and use of digital libraries and digital information management in many innovative areas. The decision to cease funding in no way reflects on the contribution of UKOLN to this agenda for education and research, but rather the new ways in which Jisc innovation activity will need to be taken forward into the future. There will be more targeted innovation where Jisc works directly with its stakeholders and although the scale of activity will be reduced, there will be new innovation taking place in line with the changes in the environment.
During these years, UKOLN has established a substantive global reputation, and has led innovation work to develop information environments, repositories, resource discovery, metadata registries, metadata standards, collection level descriptions and software tools. We are currently supporting innovation in areas such as research information management, repository metadata and infrastructure, and resource discovery. We continue to support and facilitate communities of practice, notably Web managers and software developers working in higher education. UKOLN has also published the Ariadne Web journal since 1996.
We would like to take this opportunity to thank the many people with whom we have worked closely, for your participation and engagement in our Innovation Support Centre activities. While the Innovation Support Centre will cease operating after July 2013, UKOLN will continue and as the organisation enters a new phase, it is a time to reflect on what we've achieved. We'd be interested to hear from you about how UKOLN's work has made an impact. From August 2013, we will continue to build on this reputation and we very much look forward to working with you again in the future.
Dr Liz Lyon, Director UKOLN
Paul Walk, Deputy Director UKOLN

Ariadne Issue 70 Now Available
Ariadne Issue 70 is now available with its usual range of feature articles, reviews and event reports. The issue contains a wide range of material which we hope will engage everyone's interest.
The issue contains a timely article entitled Gold Open Access: Counting the Costs which presents new data on the cost of Gold OA publishing at the University of Edinburgh. The article explains the significance of the recent RCUK amendment to their Open Access policy requirements of researchers and the importance assumed by the cost of publishing the Gold Open Access route. Theo Andrew aims to cast what light he can on the matter by presenting data on article processing charges (APCs) gathered at Edinburgh over the last five years. The findings and questions which Theo raises are not without interest. In their article Upskilling Liaison Librarians for Research Data Management Andrew Cox, Eddy Verbaan and Barbara Sen explore the design of a curriculum to train academic librarians in the competencies to support Research Data Management. They consider the new roles HE libraries are likely to adopt in meeting new demands from researchers, and how they address the complex, large-scale and transitory nature of current data practices.
In another contribution entitled The LIPARM Project: A New Approach to Parliamentary Metadata Richard Gartner outlines a collaborative project which aims to link together the digitised UK Parliamentary record by providing a metadata scheme, controlled vocabularies and a Web-based interface. He explains how the JISC-funded project employs XML to link the essential elements of the parliamentary record within a unified metadata scheme together with the use of its own Parliamentary Metadata Language (PML) and controlled vocabularies. In "Does He Take Sugar?": The Risks of Standardising Easy-to-read Language Brian Kelly, Dominik Lukeš and Alistair McNaught highlight the risks of attempting to standardise easy-to-read language for online resources for the benefit of readers with disabilities. Further information is available in a blog posting on the Innovation Support Centre site.
In their 'tooled up' article Motivations for the Development of a Web Resource Synchronisation Framework Stuart Lewis, Richard Jones, and Simeon Warner explain some of the motivations behind the development of the framework. They point to the wide range of types and scenarios where it is necessary to synchronise resources between Web sites, including preservation services and aggregators and the care that must be applied in consideration of the protocols and standards that exist to underpin such operations. Meanwhile Leo Lyons confidently predicts in his account of The ARK Project: Analysing Raptor at Kent that the advent of many more mobile devices will only serve to increase the trend to use electronic resources. He describes how University of Kent librarians are benefitting from Raptor's ability to produce e-resource usage statistics and charts and how the ARK team is currently examining the uses to which they can put the MS Reporting Services in order to provide usable analysis and presentation tools. Moreover, Leo identifies a raft of uses for Raptor which go deeper than direct identification of e-resource downloads.
In their article entitled SUSHI: Delivering Major Benefits to JUSP Paul Meehan, Paul Needham and Ross MacIntyre begin by highlighting the benefits to UK HE and publishers afforded by the automated data harvesting of the Journal Usage Statistics Portal (JUSP) employing the Standardized Usage Statistics Harvesting Initiative (SUSHI) protocol. They also describe the enormous time and cost benefits in using SUSHI to support rapid gathering of journal usage reports into the JUSP service. Stepping down from his pivotal role as CEO at ALT in May 2012, Seb Schmoller may not have expected to be pursued by the media for his thoughts on his career, but he was kind enough to respond to a few questions from Ariadne. In Seb Schmoller Replies he talks about online learning - which, it will come as a great surprise to some, began to develop before the Web - and what he has gleaned along the way in his own career. Seb also supplies some of his philiosophy and his thoughts about the people whom he considers to have had a telling impact on the development of learning, the Web and more. In 21st-century Scholarship and Wikipedia Amber Thomas explores the ways in which emerging research practices and Wikipedia illustrate the changing boundaries of academic work. While she she does highlight Wikipedia's statement that its entries should not be cited as primary sources in academic work, Amber contends that scholarship is in the process of changing and describes in her article four key trends linking scholarship and Wikipedia.
Meanwhile in offering us Case Studies in Web Sustainability Scott Turner highlights the fact that Web resources that have been built with public money may be wasted unless thought is given to their future sustainability in the event of their hosts being closed down. He draws attention to JISC-funded work in this area and provides readers with some general principles behind the notion of Web site sustainability before turning to two different case studies. We are particularly indebted to Martin White who has been Mining the Archive: The Development of Electronic Journals and declares at the outset a fascination with the history of the development of information resource management. He finds that Ariadne is able to expose her archives far more usefully through her new platform, and as a result, he has found it far easier to mine the Journal's content in his analysis for this article. He then embarks upon a walk around the Journal's archives as he traces the development of electronic journals and stops to point out people whom he considers to have made a significant contribution to the field.
As usual the new issue also offers a variety of event reports and reviews of recent publications. Ariadne welcomes proposals for articles for forthcoming issues. We hope you will enjoy Issue 70.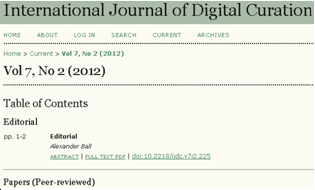 International Journal of Digital Curation, Volume 7, Issue 2
The International Journal of Digital Curation, Volume 7, Issue 2 was recently published by UKOLN on behalf of the Digital Curation Centre. It contains the usual mix of peer-reviewed papers and general articles; eight derive from papers presented at the 2011 International Digital Curation Conference, while two were new contributions received by the Journal through general submission.
The general articles in this issue give a flavour of the broad range of issues surrounding good research data management. On the technical side, there are two articles that describe how specialist systems were designed and implemented to support researchers in managing their data. For MaDAM, described by Poschen et al., the target audience was researchers in a single institution while for TR32DB, described by Curdt et al., the target was a single project, though a multidisciplinary and multi-institutional one.
Bridging the gap between technical systems and human infrastructure, Sallans and Donnelly compare and contrast DMP Online and DMPTool, two services that assist researchers in their data management planning. Molloy and Snow, meanwhile, concentrate on the researchers themselves, and the skills and training they need in order to manage their data effectively. They provide a list of recommendations that should be useful for anyone designing data management training courses.
At this time of economic uncertainty, research data management has to fight for funding among many other priorities. It is timely, therefore, for Beagrie et al. to give an overview of the Keeping Research Data Safe (KRDS) Benefit Analysis Toolkit. It consists of a pair of tools for identifying the benefits of data management and evaluating its impact.
It is in everyone's interest for the scientific record to be of a high standard and sufficiently comprehensive. Grootveld and Egmond describe a pilot project that is encouraging people downloading data from the EASY archive at DANS to provide reviews: exactly the kind of information needed to determine whether data are being delivered in an intelligible and usage state. Littuer et al. champion another research output often lacking from the record, the automated scientific workflow. They provide recommendations on how to share and promote workflows in order to maximise their impact.
The three peer-reviewed papers are linked by a different thematic chain. Digital forensics groups together tools, techniques and formats that are used when extracting information from digital devices for use in court as evidence. Kim and Ross argue that the archival forensic file (aff) format should be seriously considered by digital repositories as an archival storage format. Knight, meanwhile, suggests some forensic tools and techniques that may come in useful when a institutional archive has, for example, the task of ingesting the personal digital archive of a departed academic. Rescuing legacy data is also the concern of Brown, who describes a system giving access to early interactive CD-ROM titles aimed at pre-OS X Mac platforms. This extends a system originally used for Windows-based CD-ROM titles, reported by the Journal back in Volume 5.
To read Volume 7, Issue 2 of the IJDC, please visit the Journal Web site.



Stakeholder Benefits from Research Data Management
---
The JISC-funded Research360 Project has released the summary stakeholder benefits analysis from the Research Data Management (RDM) business case for the University of Bath. The four-page document entitled "Benefits from Research Data Management in Universities for Industry and Not-for-Profit Research Partners" is available to download in PDF format from the University of Bath repository.
The benefits summary covers key stakeholder groups both within the university community (academic staff and researchers, students, professional services and the institution) and for external partners (industry and commerce, public and voluntary sectors, government and society).
Industry and private sector partnerships alongside public sector and voluntary sector partnerships are key elements of many university research programmes. Frequently partners sharing their practice, results data and laboratory methodologies can lead to vital knowledge transfer activities, improved services and products, creation of spin-out companies and further investment in the Higher Education sector.
As part of the Research360 project at the University of Bath, we are examining the data management implications, challenges and benefits associated with Faculty-Industry and Faculty-Not-for-Profit research collaborations. As part of this work, we have developed the summary list of stakeholder benefits that can arise from research data management in these collaborations. This list is now being shared with other universities and their research partners.
The summary list of stakeholder benefits was based on approaches developed by the Keeping Research Data Safe (KRDS) Project, particularly the KRDS Benefits Framework. Those interested in applying KRDS benefits analysis for stakeholders in research data preservation and curation as well as research data management will therefore find the generic list of interest. We hope the list can be used as a brain-storming tool and will assist in articulating benefits for selected stakeholders from research data management. Users can sharpen these short generic expressions of benefits into more focused value propositions for specific stakeholder audiences as required.
The stakeholder benefits were developed by Neil Beagrie at Charles Beagrie Ltd, in collaboration with members of the Research360 and REDm-MED project teams. Helpful insight and feedback were also gathered from researchers working in industry.
The stakeholder benefits analysis forms part of the RDM business case being developed by the Research360 Project to support the implementation of the University of Bath Roadmap for EPSRC. The University published University of Bath Roadmap for EPSRC : Compliance with Research Data Management Expectations in May 2012 in response to the EPSRC's Policy Framework on Research Data. More can be read about how the Roadmap was developed on the Research360 blog.
Research360 is one of a number of projects being funded through the JISC Managing Research Data Programme. It is an 18-month long institutional project designed to develop human and technical infrastructure, policies and training resources to provide high-quality support for research, ensuring that the University and its partners get the best possible value from data generated by research.
For more information and regular updates, please visit the Research360 project blog. Alternatively, please contact Catherine Pink at UKOLN or visit the University of Bath's Managing Research Data Web site.
UKOLN Blogs
Some members of staff at UKOLN make use of blogs to support their dissemination and user engagement activities, either as part of UKOLN's core activities or to support project work.